Caribbean Food: 5 Popular Dishes + 5 Secret Recipe Tips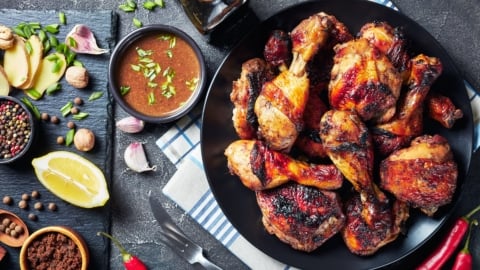 Caribbean dishes reach right into the heart of South America, with influences from Europe, India, and beyond. Find here the most popular dishes of the Caribean cuisine you need to try as well as exciting facts about Caribean food.
The Caribbean cuisine gives us dishes that feature ingredients plucked fresh from the emerald islands. But the magic truly unlocks when you're visiting the Caribbean, seated by aquamarine waters, and sampling delicacies like the Antiguan keshi yena or the Puerto Rican dish, arroz con pigeon peas.
Want to know more? Let's dive into the coal pit and dig out those Caribbean food secrets.
Traditional Caribbean Cuisine
Caribbean cuisine's rich tapestry extends far beyond the traditional dishes of rice and beans, or ackee and saltfish from our friends over in Jamaica.
The ancestral culinary heritage, layered with influences from our Spanish amigos and Indian diasporas, brings you iconic delicacies like conch fritters from sunny Trinidad and Tobago, or the hearty La Bandera from down south in the Dominican Republic.
Most Popular Street Food in the Caribbeans
Walking the streets of the Caribbean, you'll be hit by delectable aromas of tantalizing street food. From Jamaican jerk chicken sizzling fresh off the grill to the scrumptious 'Trinidad doubles' – a wholesome bundle of curries tucked in a soft flatbread – these Caribbean foods are a foretaste of paradise.
Brimming with regional flavors, the foods peppered around these sun-soaked streets are the true epitome of Caribbean cuisine.
Among this delightful cornucopia of Caribbean dishes, one could hardly miss the finger-licking goodness of a humble dish from Puerto Rico – fried pork.
Packed with rich flavors and a crispy crust, it's a roadside treat well worth digging into. If you've got a knack for spicy goodness, Trinidadian Curry Chicken will have your tastebuds dancing in a frenzy. Partner it with some rice and beans and there you have it – street food at its best.
And if you were under any illusion that street food in the Caribbean is all about the meat and the heat, hold on to your straw hats.
Freshly caught fish, transformed into spectacular dishes right on the street side, underscore the islands' inherent connection to the sea.
Flying Fish and Cou-Cou, a beloved staple in Barbados, is a delightful medley of tender fish and cornmeal – a recipe that takes you to the heart of Caribbean living.
Mofongo
Nonetheless, no Caribbean street food experience is quite complete without wrestling with a hearty serving of 'Mofongo'.
This divine import from our African ancestors is a Puerto Rican treasure made of deep-fried plantains mashed together with all sorts of goodness ranging from pork cracklings to vegetables. It's the Caribbean on a plate, the true essence of Caribbean cuisine in the palms of your hands.
Caribbean Food in the World
The essence of Caribbean recipes has not just been confined to the islands, nah, it's busted through the borders and influenced flavors around the globe.
The blend and mix of spicy, sweet, and savory has journeyed across continents. Countries like Puerto Rico, sitting pretty in the Caribbean, have sprinkled a dash of its traditional dishes into the gastronomic worlds of North America, Europe, and even into the far-off lands of Asia.
Now, consider South America. Many a hearty stew down here owes its lip-smacking goodness to Caribbean culinary influence. One such dish is a Puerto Rican dish called "asopao."
It's a rich, thick stew-like soup filled with all kinds of good stuff like chicken, rice, ripe olives, and leafy greens. Oh, and can't forget the adornment of that spicy, tangy pepper sauce, that sneaks up on you and hits those taste buds just right.
Goat Water
One of the lesser-known ambassadors of Caribbean food culture, and you might raise an eyebrow here, is the national dish of the tiny island of Montserrat.
Known as the "Goat Water," it isn't water, nor just about goats. This stew, rich with tender goat meat, veggies, and sweet potatoes and kissed with a hint of burning Scotch bonnet peppers, has found sweet resonance in British and Irish cuisines.
How Healthy Caribbean Food Is
When it comes to healthy eating, the vibrant Caribbean cuisine has a seat at the global high table. With its prime emphasis on fresh, tropical fruits, vegetables, lean proteins, and flavor-packed herbs and spices, it ticks many of the right boxes for balanced nutrition.
But remember, even the healthiest ingredients can take a wrong turn when prepared with less-than-ideal cooking methods. Here's your quick guide to what makes Caribbean food a powerhouse for nutrition, and when you might need to navigate with a caution flag.
Caribbean dishes burst with nutritious servings of fiber-rich tubers like yams and cassava, colorful fruits like mango and papaya, and plenty of leafy greens on the side.
These come packed with vitamins and antioxidants, supporting a strong immune system. And the protein? You get abundant lean choices with seafood, poultry, and legumes.
Oversized portions, generous lashings of fats, and high sodium content can singe the nutrition flag. Still, if you're keeping a watch on your health markers, or just aiming for balance, you'll want to sidestep these.
Famous Caribbean Dishes You Have to Try
When folks consider the islands of the Caribbean, visions of sunny skies, pristine beaches, and azure blue waters might be the first thing that comes to mind.
Ah, though, the magic doesn't stop at the shorelines. The Caribbean culinary scene is anything but dull, blending an exhilarating mix of flavors and textures that'll have your taste buds dancing faster than a quick Calypso beat.
Let's delve into some traditional dishes that showcase Caribbean cuisine's richness and diversity. Close your eyes and imagine yourself in a typical Caribbean joint, glorying in these enticing culinary adventures.
Jerk Chicken
You simply cannot mention Caribbean food without giving a standing ovation to this Jamaican powerhouse, the Jerk Chicken.
A combination of sweet, savory, and hot spices infuses the meat, giving it an out-of-this-world flavor. Plus, it's grilled on an open flame, giving it a smoky richness that sends chills down your spine.
Ackee and Saltfish
Another Jamaican treasure, Ackee, and Saltfish, is the equivalent of Shakespeare in the culinary world. This dish is a harmonious marriage between ackee, a fruit with a resemblance to scrambled eggs, and fluffy salted cod.
The interplay between the delicate ackee and the savory saltfish is a duet you don't want to miss.
Roti
Roti is like a canvas that allows a plethora of fillings to shine. Originally from Indian roots, this flatbread is embraced throughout the Caribbean.
You'll catch Trinidad and Tobago locals politely arguing over what to stuff in their rotis, with options like chicken, goat, shrimp, or vegetable curry taking the front seats. By the end of your meal, you may be the one stirring up a debate on your favorite pick.
Cou-Cou and Flying Fish
Time to venture over to the eastern shoreline, to the island of Barbados. Here, you'll be warmly introduced to the national dish – Cou-Cou and Flying Fish.
The main superstar, Cou-Cou, is a creamy blend of cornmeal and okra oozing with homey comforts. The supporting cast, flying fish, perform an exhilarating sea dance cooked in a spicy and tangy sauce. Together, they make an award-winning show on a plate.
Rice and Peas
Picture a pot of steaming rice and beans, seasoned with thyme and coconut milk, accompanied by a meat dish or jerk chicken.
Humble, yet mouthwatering, rice and peas are the ballet slippers of the stage show that is Caribbean cuisine. Complementing almost every dish, this comforting combo is a testament to simplicity and supreme taste.
No passport? No problem. Whether you're planning a Caribbean getaway or merely exploring some new recipes to whip up in your kitchen, these traditional dishes deliver a treasure trove of flavors that embody the vibrant and delicious essence of the Caribbean.
With these famous dishes, you'll successfully voyage through the Caribbean culinary landscape. Time to bravely venture into this flavor-packed territory, mates. Bon appétit.
Soups & Salads
One steaming bowl of comfort most Caribbeans won't flinch to call breakfast is the Bahamian boiled fish soup. No, it's not your regular cereal or toast affair.
This soup, rich with tender chunks of fish, is as much a celebration of the sea's bounty as it is an assault on the sleep fairy still hovering over your eyelids. It's like taking a morning plunge in the ocean but without the sand in your shorts.
Next up, we got the callaloo. Uh-huh, you heard me right, callaloo. Not some fictional land from a kiddie storybook but a hearty leafy green soup.
The main squeeze in this culinary romance is the callaloo leaves themselves but it won't scoff if you dance in some crab or dumplings. It's the thick, green antidote to the all-the-same chicken soup defrosting in your freezer.
On the salad beat, Caribbean cuisine has a mean roster. From tostones, plantain discs fried to a sweet crunch, to conch salad, a zesty seafood bowl that packs raw conch, peppers, and citrus.
Tip
If you truly want to bite into the Caribbean spirit, ruffle up some ingredients and shoot your shot at the Haitian pikliz. It's coleslaw but with an attitude. Vinegar, cabbage, carrots, and a generous smack of habanero peppers, it's one side dish that's sure to throw a fiesta in your mouth.
Starters, Sandwiches, Sides
The Caribbean palate doesn't lean too far from the festive. And, canapés are no exception. Trust me, Codfish fritters are a starter not to be sneezed at.
There you are, happily munching on these golden brown fish nuggets when, bang, you're hit with the explosion of scotch bonnet peppers concealed inside. It's like a fireworks display in your mouth, and your taste buds are clapping.
If we're chewing the fat about sandwiches, there's none worthier of a chin-wag than the Cuban. Now, this isn't your regular sliced-bread fodder, mate.
Picture slow-cooked marinated pork wedged between two slabs of bread, thrust into a press, and melted to crispy cheesy perfection. It's a confetti thrower of flavors that doesn't miss a beat with each munch.
For sides, you gotta dip your spoon in the world of Caribbean rice dishes: rice and peas, pelau, and jollof rice. They're like that reliable mate who shows up to steady the awkward chit-chat at your party.
Easy to whip up, satisfying, and game to blend in with just about any main served up. Then, there's the roast breadfruit. Sweet, smoky, and creamy, this beloved Caribbean staple is the perfect wingman for your grilled fish or jerk chicken.
Mains in Caribbean Cuisine
Let's chow down on the main courses, the heart of any Caribbean plate. Trust me, you'll find no shortage of finger-licking dishes here.
1. Firstly, we've got Curry Goat, a dish that might have you salivating right away. Slow-cooked 'til the meat falls off the bone, this spicy yet tender dish is almost always flooded with gravy made from coconut milk, amplifying its flavor profile.
2. Moving on, let's talk about Pelau – a classic one-pot dish, a chuck full of chicken, rice, and pigeon peas. It's seasoned with herbs and, of course, a heaping helping of that Caribbean charm. Imagine a warmly spiced taste of heaven, and you've got Pelau.
3. Lastly, you can't forget Ackee and Saltfish, Jamaica's national dish, a joyful mingle of flavors that'll have your tastebuds dancing. The creaminess of the ackee paired with the salty fish creates a harmony that echoes across your palate. Now, isn't that a delight?
Bread, Pastries, Dessert
The sweet side of the Caribbean is loaded with scrumptious delights that could make any meal perfect. Now, who hasn't heard of those delightful rolls, Creole Bread?
Made with heart-loving coconut milk and coconut oil, they carry a distinct tropical taste. It's like biting into a well-kneaded piece of Caribbean charm.
Moving on to pastries, say hello to Johnnycake, a fried dough delicacy known to brighten up breakfasts, lunches, or dinners. It takes the humble dough to another level with its golden hue, crispy edge, and fluffy center. Feast on a plate of these, and you'd be grinning like a Cheshire cat.
Last but definitely not least, we've got the famous Caribbean Rum Cake. Moist, rich, and soaked in a good lashing of rum, it's more of an experience than just dessert.
It's a little boozy, a whole lot tasty, and the epitome of island sweetness. Now, if there was a way to bottle happiness, we reckon it would taste like this Rum cake.
Secret Recipe Tips
Are you looking to add some rhythm to your kitchen with Caribbean flavors? Listen closely cause We are sharing some of the best-kept secrets on this side of the equator.
Use Allspice
First up, we cannot talk about Caribbean cuisine without the so-called queen of the kitchen, Allspice. You can't make an authentic Jamaican Jerk Chicken without it.
Heck, Allspice is used in almost every Caribbean meat dish. Invigorate your dishes with the sweet, spicy flavor of Allspice and transport your taste buds to the tropics.
Amp things up to the next level by using fresh produce whenever available. Caribbean delights are famous for their flavors – thanks to the use of fresh fruits and veggies that grow aplenty in their sunny backyards.
Marination
Marination is a game-changer. No rush, ease down, spice it up, and let it soak. The real beauty of dishes like jerk chicken—or beef, pork, fish you name it – is in the hours-long marination process that allows the spices to fully permeate the meat.
While you're at it, don't be shy about applying Scotch Bonnet peppers. It adds a fiery touch to your dish, just remember it isn't for the faint-hearted.
Low and Slow Cooking
Immersing yourself fully in Caribbean cuisine means embracing the culture of 'low and slow' cooking. Foods like oxtail and goat may come off tough, but give it patience and time, and boy, they become the tenderest bites that melt right in your mouth.
Seafood
Don't forget about our seaside buddies. Yup, seafood plays a pivotal role in the Caribbean diet. For that authentic tropical flavor, banana leaves could be your secret weapon. Used in plenty of recipes, they impart a delicate sweet aroma to whichever food they wrap.
Use Rum
Finally, in the spirit of not kicking a hornet's nest, the rum isn't just for sipping. Caribbean cooks add it to everything from cakes to shrimp. You see, it brings out a flavor profile that just slaps differently on the taste buds and takes your dishes from 0 to 100, real quick.
Beverages
No Caribbean feast is complete without the company of an exotic beverage. You see, these island nectars carry the soul of the Caribbean in every sip. Let's look into their world of flavors, shall we?
Picture this: sun-soaked beaches, cool breeze, the sound of waves… and a cheerful bartender mixing up a rum punch. You know there's a secret to that devilishly good drink, right?
It's the right concoction of fresh tropical fruits, a tad of island spices for cheer, and the use of standard Caribbean rum – full-bodied and delectably dark.
For those of you who aren't so boozy, worry no. The Caribbean got non-alcoholic beverages that are an avalanche of flavors.
Ever heard about the sorrel drink which is a vibrant red, a little tart, a little sweet, and wildly popular during all the island festivals? Or the ginger beer, which isn't really a beer, but a refreshing, spicy-sweet drink made with raw ginger?
Ingredients
Now, when you're talking about Caribbean grub, you can't overlook the ingredients. They are the soul and essence of the dish. Take that scrumptious chicken you enjoy on a Caribbean night, for instance. How does it get its unique flavor, you might ask? Well, a lot has to do with all the diverse ingredients involved.
It starts with lime juice, green onions, and those tricky but delightful garlic cloves. Sounds simple right? Wait till brown sugar adds a sprinkle of sweetness and complexity to the dish.
Now, here comes our esteemed guest – the famous cayenne pepper – shaking things up with some heat. Now y'all see, you combine these elements right, and you've got magic on a plate. But let's not forget, every cook has a secret weapon and with the Caribbean chefs, it's all about love and patience.
Herbs and Spices
Let's swing over to the herbs and spices now. They are to Caribbean dishes what rhythm is to a song- you just can't groove without them.
You'll notice, in every mouthful, hints of thyme, allspice, ground pepper, cinnamon, and nutmeg. It's like a symphony where each instrument adds depth and character to the overall melody.
The spices warm up your palate while the herbs keep things refreshing and alive. If the ingredients are the soul of Caribbean food, then surely, the spices and herbs are its lively footsteps.
Caribbean Food Culture
Caribbean food culture is like no other. It's a vibrant mix of tropical flavors that narrate stories from the past, of indigenous tribes, African influences, European colonies, and Asian traders.
Each dish tells a story – that of people, their lives, their joys, their struggles. It's more than food, it's a celebration of life itself.
Eating Habits
Alright now, the way Caribbean folks eat is just as jubilant and unique as their cuisine. Caribbean meals are not just about satiating hunger but are shared celebrations, bonding time with family and friends. Dinners can stretch for hours with lots of laughter, stories, and music in the midst.
Grilling and barbecuing, are where it's at. Fish fry bash on the beach or jerk chicken on the backyard grill – the outdoor cooking culture is big, especially in the Caribbean.
Also, let's not forget the quick snacks and street food, enjoyed on the move or under the reassuring shade of a palm tree, with a cool breeze for company. Just like their food, Caribbean folks know how to live life with panache.
Meal Structure
In the Caribbean, we place a lot of importance on how a meal is structured. You might think you're getting into some extra pork skin or mashed potatoes, but no.
Typically, meals are structured around a filling dish which could be anything from fried green plantains, which are a staple, to rich, savory pork shoulder, all influenced heavily by West Africa. Jamaican dishes often feature a base of okra and cornmeal, a Caribbean staple.
Midday meals are taken quite seriously. More like a compact version of a feast with fried bread seasoned with garlic, and chopped garlic stirring up a zesty aroma.
For starters, fresh conch meat, often from the clear waters of the Turks and Caicos islands and Saint Lucia, is served as an appetizer. Oh, and don't forget about our authentic Caribbean beverage, typically served with meals, comprising fresh orange juice, pineapple juice, and plenty of fresh cilantro.
It's like a splash of Caribbean sea in your mouth. Bright colors from the fresh herbs and sweet flavors from the juices make it an absolute treat.
Etiquette
Now, look here, our Caribbean food culture isn't just about the food – etiquette is just as key a factor. Caribbean restaurants strive to serve their meals in an environment that is respectful and considerate of everyone's space.
The slow and steady way of serving says a lot about the value we place on relishing each flavor. It's not uncommon to see folks taking their sweet time savoring the dish; it's like they are having a chat with each ingredient. There is a hearty respect for both the food before us and those we share it with.
Food is often shared from food carts, where everything from sweet and savory plantains, and finely chopped onions flavored with garlic, to dishes with French fries are deep-fried and offered to hungry patrons on the go.
This act gives food a communal vibe, allowing for the exchange of smiles, stories, and the occasional recipe tip. Alright, remember, don't just dive in there with both hands.
The French influence in St Lucia and Haitian cuisine suggests it's proper to use the right hand for the fork, and the left-hand remains in your lap. So when it comes to Caribbean food, it's not just curry powder and Jamaican Callaloo; it's more about sharing, respecting, and making memories.
You might also be interested in...