Jamaican Food: 5 Popular Dishes + 5 Secret Recipe Tips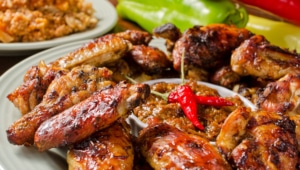 Catch a whiff of Jamaican meals as it takes you through a flavorful path filled with spices, herbs, and everything tasty.  Hang tight, because we're about to dive into a world filled with traditional Jamaican recipes you'd want to jot down.
The delicious meals of Jamaican cuisine reach deep into Jamaica's roots, showcasing the country's diverse mix of cultures, and utilizing age-old cooking techniques.
Traditional Jamaican Cuisine – More Than Ackee and Saltfish
The rich and flavorful national dish of Jamaica, is more than your usual rice and beans. We are talking about the hearty Ackee and Saltfish.
Jamaican culinary heritage is steeped in a history that swirls the taste of ackee fruit, salted codfish, and spices together, a combination so delightful that it is more than just another dish in Jamaica.
This cuisine doesn't limit its prowess to just the jerk pork or the Jamaican rice and peas but extends its arms to embrace a pleasant potpourri of mouth-watering fare.
Most Popular Street Food in Jamaica
Let's shimmy down to the streets of this Caribbean gem, where the air is filled with an irresistible aroma coming from the food stalls that line up every corner. You ask what's cooking? Well, you're about to take a journey of spicy, savory, and sweet experience.
Humming at the top of the list are the popular fried plantains, which are ripe plantains perfectly fried till they wear a beautiful golden coat, seasoned with salt, boasting a sweet flavor that'll make your heart sing. Oh, don't be fooled by the simplicity of this street food, cause the joy they bring is serious business.
Moving along, you'll be introduced to the queen of Jamaican street food – the Patty. This pastry comes in all kinds of flavors – chicken, beef, vegetables, or even lobster. If it were up to me, I'd say go on a Patty tasting spree, cause why not, right?
So, whether it's the golden glow of the fried plantains or the spicy allure of the Patty, street food in Jamaica offers you a taste that'll have you grooving to the Caribbean tunes. Don't forget to try out the coco bread sandwich, it's simply divine.
Jamaican Food in the World
Now, your view on Jamaican food might be limited to jerk chicken or it could expand to other well-known dishes like ackee and saltfish, but what you might not realize is that Jamaican cuisine extends its influence far beyond the island's sandy shores.
From bustling city streets to tucked-away towns, cuisine enthusiasts around the globe have been captivated by the spicy, sweet, and savory offerings of Jamaican cuisine, from Montego Bay to metropolitan Manhattan.
When you talk about Jamaican cuisine, authentic jerk is as vital as the air to a kite. It's rumored that people from all corners, be it Asia, Europe, or the Americas, have been swayed and inspired by these smells and flavors.
What originally started as cooking method by Native Americans has now influenced barbecues from Australia to Argentina. There's an art to it, with a carefully selected blend of jerk spices and fresh herbs meeting your choice of meat in a hot frying pan. It's a melody in the mouth kind of affair.
On the sweeter side, Jamaican desserts have been turning heads and belly buttons at an international level. Mix that with some Tia Maria and you've got something that'd get any coffee cocktail lover breaking into a soft shoe shuffle.
Even the classic Jamaican curry goat has sauntered onto foreign menus, filling them with the charm of coconut milk and spices, served with dumplings and boiled green bananas or even fried plantains. Might have you thinking you took a quick trip to Jamaica instead of the local bistro.
How Healthy Jamaican Food Is
Contrary to what people may think is the cause of its bold flavors, Jamaican food can really be a healthy choice, you know? It often includes ingredients like fresh herbs, spices, and local produce that are chocked full of nutrients.
Protein and Fiber
So, first up, Jamaican cuisine is known for its use of kidney beans in a one-pot dish called 'Rice and Peas.' It's usually made with coconut milk and spices, giving it a delectable creamy flavor that's hard to resist. Those kidney beans? They're all up in protein and fiber, both essential for maintaining health.
Soups and stews typically served with dumplings, and dishes made from boiled green bananas are also common, offering a heap of goodness to your diet. Items like the authentic jerk, spicy Jamaican jerk spices, and Jamaican curry goat are rich in protein and iron, also being low-fat options.
Honey Instead of Sugar
As for the sweet side of things, Jamaican desserts, like the beloved coconut drops, are often made with honey instead of table sugar, reducing the refined carbohydrates in your diet.
Additionally, when you eat in Jamaica, refreshing beverages like cold Red Stripe Beer, Tia Maria, and Rum Cream are popular choices but remember that these should be consumed in moderation.
Finally, Jamaican food often incorporates carbohydrates sourced from indigenous roots like the cassava root, providing an essential amount of energy.
Packed with Vitamind and Minerals
Let's not forget the local tradition. The joy of the frying pan in preparing food prevalent in the island nation points to a low-fat cooking method.
Also, the fresh fruit and vegetables, abundant in any traditional Jamaican food, come to the plate in Montego Bay, and all over the island.
Packed with vitamins and minerals, they contribute to a balanced and nutritious diet. So, folks, Jamaican food is not just about strong flavors- think of it as a kaleidoscope of health benefits packed into one delicious meal.
Famous Jamaican Dishes You Have to Try
Jamaican cuisine brings a whole new meaning to the word flavor. Its unique combination of African, Taino, and European influences creates a delightful melange destined to please your palate.
Let's take an imaginary stroll through this tropical culinary haven and introduce you to some distinctive dishes you won't soon forget.
Ackee and Saltfish
This dish is a national treasure: The Ackee and Saltfish. Ackee, brought to Jamaica from West Africa in the 18th century, pairs perfectly with flaked, salt-cured fish.
It may look like scrambled eggs, but this tasty Jamaican breakfast is much more distinctive and exciting. It's usually served with fried dumplings or boiled green bananas. Soon, starting your day without Ackee and Saltfish will be unimaginable.
Jamaican Patty
Jamaican Patty is the epitome of delicious convenience. This savory, flaky pastry is filled with a choice of spicy meat, vegetables, or seafood.
Many compare it to the British pastures or Spanish empanadas, but once you bite into a perfectly golden Jamaican Patty, you'll know no comparison does justice to this uniquely flavorful treat.
Oxtail Stew
How about something deeply rooted in African cooking traditions? Jamaican Oxtail Stew, rich and flavorful, makes the humble tail of a cow shine.
This dish is slow-cooked until the meat is tender, then covered with a hearty gravy made from the pan drippings. Often served with butter beans or rice and peas, it's the comfort food of your dreams.
Curry Goat
Think goat meat is nothing exciting? Put that thought aside and try Jamaican curry goat. A grand meal usually reserved for parties and celebrations, curry goat is a burst of flavors from a blend of curry powder, allspice, thyme, and Scotch bonnet peppers.
It's slow-cooked until the meat practically falls off the bone, ensuring each spoonful is a memorable, spicy delight.
Jerk Chicken
No exploration of Jamaican cuisine could be complete without a jerk dish. The national specialty Jerk Chicken is a must-try.
Dressed in a fiery marinade of allspice, thyme, onion, ginger, and the infamous Scotch bonnet pepper, the chicken is cooked over charcoal or wood to char the skin to crisp perfection while keeping the inside juicy.
Jamaican cuisine is a world of flavors waiting to be explored. With dishes that range from comforting and hearty to fiery and bold, it's a culinary adventure you need to dive into.
Whether it's the tender, falling-off-the-bone allure of Oxtail Stew, the fiery charisma of Jerk Chicken, or the nation's beloved Ackee and Saltfish, Jamaican dishes are a tantalizing treat for every food lover.
Soups & Salads
When it comes to Jamaican soups and salads, there's a lot more on the menu than plain old lettuce and vegetables. Let's dive right into it.
The first one on the top is Pepper Pot, a standout among Caribbean cooking. This soup is like a rainbow in a bowl, made on medium heat with a cultural clash of ingredients, you know?
It has callaloo, okra, and coconut milk giving it a rich texture. To add some proteins, we toss in some ground provisions and meat.
For those of you worrying about the "pepper" in the name, you can adjust the spice level to your taste. It's ideal for the little ones, as it introduces them to an array of veggies with a playful twist. One bowl of this in the vibrant town of Ocho Rios, and you'll feel the true spirit of Jamaica.
After all that rich soup, why not freshen up with an exotic Jamaican salad? We go beyond the usual green leafy stuff. Imagine crisp bell peppers blended with sweet and juicy pineapple pieces, dusted with chili powder for an extra kick.
Starters, Sandwiches, Sides
Starting your food journey, or in between bites, Jamaican starters, sandwiches, and sides have enough flavor to keep your stomach full and satisfied.
Festivals, which are deep-fried sweet dumplings, are considered a niche of Jamaican cuisine. But it's not a party (like the name may suggest), it's a miniature sugar-coated loaf that's your perfect mate with that spicy jerk chicken you ordered.
Or take a creative turn with some seasoned rice. Marinated in pumpkin or callaloo and spiced to perfection, this staple of Caribbean cuisine fills the room with a comforting aroma that'll make you feel right at home.
If you fancy a sandwich, you have to try the Jamaican Patty. This flaky, turmeric-tinged crust envelops a peppy seasoned meat filling, bursting with flavors. It's sort of the Jamaican 'pie on the go'.
Then, there's nothing like a side of fried plantains or stew peas for a more relaxed sit-down meal. They are soul-warming dishes ready in minutes.
Don't even get us started on turned cornmeal, a down-to-earth dish with a caramelized surface that's crisp from the high heat. It's truly an essential gem of Jamaican cuisine.
Mains
When it comes to Jamaican main dishes, we certainly have a selection that can rival the best in the world. Starting us off right is the famous ox tail stew. Tender, fall-off-the-bone meat slowly simmered in a savory mix of herbs, spices, and gravy – it's the stuff dinner dreams are made of.
Next, we've got our traditional curry goat. This version has a unique Jamaican twist that transforms it from just another curry to the star of the dinner table.
And if we talk about main dishes, then the mention of jerk chicken is a must. Marinated in a delectable mix of local spices and then grilled to perfection over smoky pimento wood, it sets your palate on a rollercoaster ride of flavor.
The last on our list is brown stew chicken, which has its roots in African, British, and Indian cooking, slow-cooked and bursting with savory goodness.
Then on festive occasions, there's nothing like slowly cooked whole freshwater fish, traditionally wrapped in banana leaf, that gives it a unique taste.
Bread, Pastries, Dessert
Now, on to the sweet stuff. Let's not forget the magic that bakers across the island bring to life with their scrumptious bread, pastries, and desserts.
The top of the treasure chest is the coco bread. It is slightly sweet with a hint of coconut milk mingling with the usual ingredients. Imagine a freshly-baked chunk of this heaven with your favorite fillings; it's the kind of simplicity that brings the utmost satisfaction.
In the pastry department, we cannot pass by without paying our respects to the Jamaican patty. Golden, crispy pastry crust filled with spiced ground beef, chicken, or even vegetables, it's an all-day treat you wouldn't want to skip.
And if you're looking for a warming, gratifying dessert to wrap up your meal, how about giving bread pudding a go?
It resembles its British counterpart, but the Jamaican version is off the charts with its unique blend of spices and a generous serving of Dragon Stout (a robust local stout), which gives it a bold depth of flavor.
Grater cake
Rounding off our sweet parade is the incredibly satisfying Grater cake.
Made from coconut, sugar, and food coloring for an eye-popping appeal, this tiny square of sweetness packs a flavorful punch that rounds up any meal perfectly. So there you have it folks – a Jamaican main meal rounded up with heavenly bread, pastries, and dessert.
Secret Recipe Tips
There's an art to cooking authentic Jamaican meals, and every artist needs a few tricks up their sleeve. Elbow-deep in the rich flavors and bold spices of Caribbean food, here's the low-down on five secret recipe tips to help you craft those tantalizing Jamaican recipes.
Scotch Bonnet Pepper
First off, it's all about the scotch bonnet pepper. This fiery, full-bodied spice gives Jamaican dishes their iconic heat. However, tread lightly, folks.
Unless you have a fire hose in your kitchen, keep the heat to your liking by controlling the seeds and membranes while chopping. That's your heat tripwire right there.
Take Time for Marinate
Secondly, time is a friend you don't want to ignore. The longer you marinate, the tastier your food will be. Whether it's jerk chicken or curry goat, marinate those babies for at least 24 hours. The flavors will set into the meat like a good pair of shoes, making each bite every bit delectable.
Cooking Techniques
Speaking of meats, the third tip is about how you cook it. Jamaican cooking techniques often involve slow cooking or stewing meats. Trust us, patience pays off in a tender, flavor-soaked dinner. Your guests won't leave a morsel on their plates.
It's All about Blending
Now, the fourth tip is all about blending. Pursue a harmonious marriage of sweet and savory. Jamaican food is a complex symphony of tastes, not a solo. Balance out the hot peppers with a hint of sweetness, like some pineapple or mango in your jerk sauce. It'll make your taste buds sing.
Lots of Herbs and Spices
The last tip has to do with herbs and spices – lots of 'em. Allspice, nutmeg, ginger, and thyme are just a few of the usual suspects in Jamaican recipes. Remember, a bit of fresh green garnish is more than a pretty face on your plate. It gives your Jamaican dinner the finishing touch it deserves.
Beverages
Moving on from solid ground, let's dive into the Jamaican liquid lagoon. The quintessential Jamaican beverages take you on a refreshing journey, from sparkling springs to lush tropical escapes.
The first stop is the classic 'Rum Punch'. Now don't let the innocent name fool you, it packs a punch like a heavyweight. Good old Jamaican rum, fresh lime juice, some water, and a sprinkle of nutmeg on top, it's a simple concoction that will kick-start any party.
The next station is the non-alcoholic side of the spectrum. 'Carrot Juice', is not your average Bugs Bunny drink, mind you. Spiced up with nutmeg and vanilla, slow-simmered and sweetened, it's a delightful, nourishing beverage.
Ingredients
The soul of any dish lies within its ingredients, and it's no different for Jamaica's mouth-watering cuisine. When you break down a Jamaican dish, you find quintessential ingredients that echo the vibrant spirit of this island nation.
Take popular dishes like ackee and saltfish, for example, where you have salt cod soaked overnight in water, the star being ackee, a tropical fruit that's as Jamaican as it gets.
Then you throw in some finely chopped onion, and red and green peppers pepped up with fresh thyme leaves, and you're well on your way.
But that isn't all folks. Things get even spicier with a Scotch bonnet chili; lord, that thing is hot. A generous pinch of salt and pepper, coupled with a splash of lime juice and a delightful dance of garlic cloves takes the flavor to a whole other level.
Frying these up in a little oil, seasoned to perfection, brings out the true essence of Jamaican cuisine. It's this treasure trove of ingredients that sets apart a Jamaican dish, giving it its distinctive kick.
Herbs and Spices
No kitchen in Jamaica would be caught dead without an impressive array of herbs and spices. That's the secret behind those lip-smacking jerk meat dishes that your folks probably daydream about.
Herbs like thyme and spices like jerk and allspice form the heart and soul of Jamaican dishes. However, a Jamaican special we love, and perhaps fear equally, is the Scotch bonnet peppers.
These little devils are infamous for their intense heat but they lend a unique flavour that's part of the Jamaican culinary identity. It isn't just for the bravest amongst us meat-n-munchers, even seafood lovers find a scintillating surprise waiting for 'em in a traditional Caribbean platter.
And, of course, no Jamaican meal is complete without one of their delicious Jamaican drinks to wash down their spicy dishes, right?
Jamaican Food Culture
There's an artistry to the way Jamaica embraces its food culture, like a never-ending dance. Traditional Jamaican foods, from the beloved jerk chicken to a humble peas soup, represent the culmination of flavors, a festival of sorts.
As folks, Jamaicans prefer their meal just as they like their Montego Bay; hearty, warm, and inviting. Dishes like Jamaican oxtail, butter beans, and Jamaican brown stew chicken are more than just a tasty meal, they're comfort food and an integral part of our island heritage.
Restaurants in Jamaica serve these classic dishes with a side of rice and peas, made from kidney beans, soaked in coconut milk, and cooked till they're melt-in-the-mouth good.
From Jamaican rum cake to Jamaican ginger beer, the island's love for food and drink, fresh, local, and flavorful, peppers every corner and cranny.
Eating Habits
Now, that we've got you salivating, let's talk 'bout how these fine folks eat their food. Jamaican eating habits are as diverse as they come, but they've got a couple of things in common.
Breakfast might be something light and cozy, like cornmeal porridge, but come lunch, they don't mess around; a hearty spread with meat or fish, served with rice and peas or steamed cabbage, is the norm.
An evening snack could be a traditional Jamaican beef patty, fried until golden brown, perfect for munching on the go.
Dinner is yet again a deliciously hefty affair with dishes like chicken cooked to perfection, flavored with a tangy pepper sauce, and garnished with fresh ginger.
Even the sides sing a melody of flavors, with diced coconut and chopped vegetables. Best of it all, since most Jamaicans eat in the comforts of their home, it's always fresh, hearty, and cooked with a whole lotta love.
That's a typical Jamaican eating habit for you, food not as a necessity but a celebration, isn't that something to be a part of?
Meal Structure
Alright folks, let's talk about a typical Jamaican meal structure. In Jamaica, lunch and dinner are the two main meals of the day.
You won't find any nibbling on tiny plates around, it's all about hearty meals. Surely, most Jamaican dishes can shake you awake better than a rooster's morning call.
Let's start with lunch, it's considered as the largest meal often starring good old spicy fish soup or some other hot dish. Dig into a bowl of this soup and it'll warm you up just like a good gossip with the neighbors.
Then comes dinner, served a little later in the evening, mostly after sunset. Now, dinner isn't just some grub you shovel down while watching your favorite show.
Owing to the abundance of seafood and leafy vegetables, dinner dishes in Jamaica are a joyful riot of colors and flavors, mostly served alongside grains. Stick with a hearty dinner and dessert flow, and you might just forget about that uncomfortable chair you've been sitting on.
And the crown jewel of the meal structure is the traditional Jamaican dessert, often something sweet and exotic, that wraps up the meal like a good climax to an exciting movie.
Etiquette
Okay, now let's step into the world of Jamaican dining manners, where respect takes precedence. At the table, you might spot a bowl of punch, not just any punch but a strong, flavorful rum punch.
It isn't a mere beverage but an age-old nod to the island's rum legacy, often served before the meal. Drinking from your glass before a toast isn't exactly keeping with the etiquette. If we play our cards right, we might just get an invitation to another hearty meal.
Sharing meals is kind of a big deal in Jamaica, it's more of a communal activity. Once the food is served, waiting for the elders to start is a good practice. People often exchange food among themselves, starring dishes packed with exotic seasoning like star anise.
Mind your manners, don't snatch that last piece of pie from the platter. Splitting it is the polite and smarter move. Dining etiquette isn't rocket science, folks. Just remember to appreciate the meal and give thanks for the food, flavor, and fellowship.
You might also be interested in...