Greek Food: 43 Popular Dishes + 4 Secret Recipe Tips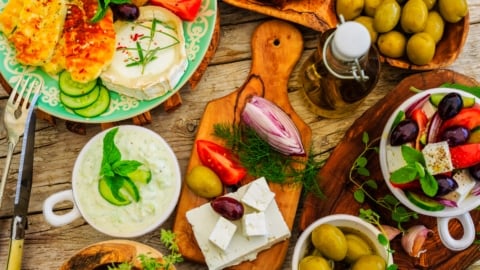 Mouthwatering and healthy, these qualities are rarely present in a single dish. However, Greek cuisine proves otherwise. Many Greek dishes come with both delectable taste and ample health benefits. How? This Greek food guide has a comprehensive answer.
When we mention Greek cuisine, you probably think of the exceptional Greek salad or moussaka dish. Nonetheless, the Greek kitchen, in reality, is incredibly diverse and contains a wide variety of dishes that suit a myriad of preferences.
Foodies, vegetarians, vegans, and healthy diet followers will find many perfect Greek dishes for them. For this reason and more, Greek food is well-recognized worldwide.
Traditional Greek Cuisine – More than Olive Oil-Rich Dishes
Greek cuisine has a long, rich history and includes a massive variety of dishes popular all around the globe. The Greek kitchen has diverse Mediterranean dishes, including fresh fish, zesty salads, pastries, and a few grilled meat dishes.
Generally, the Greek kitchen is well-known for its fresh herbs and superb quality ingredients. Because Greek gastronomy is incredibly healthy and tasty, It's considered a foodie heaven around the world. The following is a more in-depth look at Greek cuisine.
The Most Popular Greek Street Food
Take a short tour in Greece, and you'll notice the country's countless street foods. The following are the most popular ones.
Gyros
Gyros is a prevalent street food in Greece. It consists of a large piece of chicken or lamb meat prepared on a vertical spit. Cooks usually serve it with onion, tomato, and tzatziki sauce, which is made of garlic, yogurt, and cucumber.
To serve the dish, cooks cut the meat using an electric blade. Then, they place the meat pieces on warm pita bread and add the embellishments.
Loukoumades
Loukoumades is a simple, delicious dessert made of sugar, flour, yeast, and salt. Cooks form ball-shaped pieces of this mixture and then deep fry them. After that, they immerse them in honey or syrup. Loukoumades can be served warm or cool.
You can find this dessert almost everywhere on Greek streets. Some shops even specialize in selling this particular caloric dessert. Although this is one of the ancient Greek dishes, many debates exist around its origins.
Some argue it's of Turkish origins, while others say it appeared first in Greece or the Arab region. That said, this dessert has a long record in Greek history. Some say that the winning Olympians were given these loukoumades as a treat.
Spanakopita: Greek Spinach Pie
Many consider it an appetizer or snack, while others consider it a main course. However, all agree on the uniqueness of its flavorful taste. Spanakopita is a pie made of flaky, buttery phyllo pastry filled with spinach, pieces of feta cheese, and lime juice. Some cooks add a bit of dill to the filling as well.
These pies were invented during the Turkish occupation centuries ago as food for field workers. Because they're easy to carry, these workers would place the pies in their pockets and consume them during work. Turkey has an identical dish called Ispanakli.
Kokoretsi
Another street food that is widely available all around Greece is kokoretsi. It consists of tiny pieces of goat or lamb offal cooked over charcoal. These pieces are seasoned with salt, pepper, olive oil, and lemon juice.
Greeks consumed this dish usually as meze on Easter Sunday or as an appetizer. It's worth mentioning that the popularity of this dish isn't limited to Greece; it's widely available throughout the Balkans.
Greek Grilled Sardines
This sardine dish is highly popular in the coastal areas of Greece during the summer when there's an abundance of sardines. To prepare this Greek dish, cooks marinate sardines in a blend of lemon juice, olive oil, black pepper, and salt.
A few people add more spices and herbs in some regions. After marinating the sardines for some hours, cooks grill them over a caracal fire. Greeks usually serve this dish with bread, salad, or boiled potatoes.
Koulouri
Koulouri is a unique and popular Greek bagel. It's a fluffy bread covered by a crispy crust full of sesame seeds. It comes in a traditional plain version and sometimes with fillings. It also has various sizes, with thin versions usually eaten plain or with a dip.
Thicker versions, on the other hand, can be filled with tomatoes, feta cheese, cream cheese, or even jam. Koulouri is available in almost every bakery shop in Greece. It's sold by street vendors as well and is highly affordable.
Koupes
Koupes is a special crust made of flour and bulgur. It's stuffed with meat or other fillings and then fried. This food is incredibly prevalent in Cyprus and Greece.
It's also known as kubbat and kibbe in other countries. However, each region makes this dish with different amounts of onions and herbs. Koupes is served in most restaurants as an appetizer and sometimes as a main dish.
Chestnuts
If you visit Greece in October, you'll definitely find chestnuts everywhere. During these months, they become the number one street food in the country. Greeks sell it in all markets and street food carts.
That said, sellers traditionally prepare chestnuts by roasting them in an oven or over an open flame. To enjoy their smoky flavor, consume chestnuts when still fresh.
Greek Food in the World
Due to its unparalleled deliciousness and quality, Greek food is incredibly popular worldwide. For the same reason, Greek cuisine ranked second in the list of the world's 50 best cuisines in 2022, according to the World TasteAtlas.
That way, no matter where you live, you'll probably find some restaurants that offer this exceptional cuisine.
How Healthy Is Greek Food?
Greek food, which traditionally follows the famous Mediterranean cuisine, is considered one of the best cuisines for heart health, according to Healthline. It also promotes joint and bone health and is diabetes-friendly.
If you look at the main ingredients and food items used in Greek Foods, you'll find that they're one of the finest options humans can consume.
Ingredients like olive oil, seafood, fresh vegetables, and fruits are heart-healthy. In addition, Greek cuisine is generally low in added sugar, saturated fat, and red meat.
Famous Greek Dishes You Have to Try
On your visit to Greece, there are a lot of must-do's. Trying the following dishes is definitely on top of these things.
Moussaka
Moussaka is an ultra-traditional Greek dish you'll find in almost all restaurants in Greece. This dish is made mainly from eggplants, potatoes, and lamb or beef with the finish of bechamel sauce.
This is one of the dishes that have a myriad of variations. If you're a vegetarian, you can find a lot of plant-based versions of moussaka as well.
Souvlaki
Souvlaki is one of the most prevalent Greek foods. This dish consists of small pieces of chicken meat flame-broiled on a stick. These meat pieces are served wrapped in pita bread.
Cooks usually add onion, tomatoes, and fries to the sandwich and finish it with a layer of tzatziki sauce. Alternatively, some love to enjoy it with rich tomato sauce.
We recommend you consume this dish hot. In addition to its classic recipe, souvlaki has multiple variations. One of the popular variations is serving souvlaki only with pita bread and a bit of crisp lemon.
It can also be served with different vegetables other than onions and tomatoes.
Briam: Greek Roasted Vegetables
Briam is a highly nutritious dish that combines a wide variety of roasted vegetables. It provides a unique blend of flavors and benefits. It's usually made of zucchini, potatoes, tomatoes, and red onions.
Some cooks add peppers and eggplant. They also throw in a bit of fresh garlic, oregano, rosemary, and parsley to enhance the flavor. Briam is cooked using extra virgin olive oil.
Dakos
Dakos or koukouvagia is a popular Cretan meze dish. It's made of dried bread covered by a layer of mizithra cheese with chopped tomatoes. The dish is garnished with fresh olives, dried oregano, and a bit of olive oil.
Mizithra cheese on dakos is made of sheep or goat milk. It has a creamy and a little salty taste as well as a soft texture. Some sources say that the origin of this dish dates back to the 1950s. Today, you can find dakos in almost all restaurants and bars in Greece.
Avgolemono Soup
Avgolemono is a soup made of chicken broth, lemon juice, egg yolks, and rice. Sometimes, cooks add pieces of shredded chicken to it as well. As such, Avgolemono eerily looks like chicken soup. It's just as easy to make and is perfect for a cold day.
Greek Soups and Salads
The Greek kitchen offers a plethora of soups and salads. The following are a few that you must try. The following is a short list of the most popular Greek soups.
Revithia: Greek Chickpea Soup
Revitha is a traditional Greek winter soup. It's a simple dish rich in fiber and antioxidants and is incredibly flavorful. This vegetarian-friendly soup is made mainly from chickpeas, olive oil, red onion, bay leaf, and a bunch of other spices.
Greeks usually serve this soup warm and consume it with crusty bread and lots of kalamata olives.
Youvarlakia: Greek Meatball Soup
Youvarlakia is a popular Greek soup made mainly of beef meatballs, lemony broth, and a bunch of herbs. It's comforting, hearty, and light with an exceptional herbaceous flavor. Most Greeks usually consume this soup in winter. Still, some enjoy it all year round.
Fakes Soupa: Greek Lentil Soup
Greek lentil soup is a simple dish made from brown or green lentils and different sauces. It's a protein and fiber-rich vegetarian dish. Besides lentils, cooks add red onion, red wine vinegar, garlic, olive oil, salt and pepper to the recipe. Many prefer the soup with crumbled feta cheese too.
Magiritsa: Greek Easter Soup
Magiritsa is one of the main soups Greeks consume on Holy Saturday. It's a special soup made from romaine lettuce and lamb offal. To garnish it, cooks use fresh herbs and then finish the soup with egg-lemon sauce.
This soup also comes in many variations that include rice, tomatoes, and various vegetables. The vegetarian versions of the soup are made from mushrooms, vegetable stock, and rice.
Horiatiki Salata: Traditional Greek Salad
The traditional Greek salad is a famous dish worldwide. It consists of large slices of cucumber, quartered tomatoes, sliced onions, and a bunch of other ingredients, depending on the region.
Additional ingredients include green peppers, olives, feta cheese, oregano, pepper, salt, and a dressing made of lemon and olive oil.
Horta
Horta is a green, refreshing, and simple salad. It's highly popular during the summer months. The salad consists of a mixture of weeds and wild greens with an addition of olive oil and lemon juice.
The greens used in the salad are usually vlita, dandelion, wild spinach, nettles, mustard greens, and chicory. Horta's taste can be slightly bitter, depending on the included greens.
Patatosalata
If you're looking for a versatile Greek salad, patatosalata is the answer. It can complement a wide variety of other dishes. It's especially a must-have with grilled meats. This salad is made mainly from large potato chunks coated with a dressing of yogurt, olive oil, mustard, and mayonnaise.
Lemon juice is also an integral part of the salad as it gives it the desired freshness. Various variations of this salad can include other types of vegetables, olives, boiled eggs, and parsley or dill.
Greek Starters, Sandwiches, and Sides
Greeks have a myriad of highly delectable side dishes, starters, and sandwiches that can compete with the deliciousness of their main dishes. Here are the most popular ones.
Saganaki
Saganaki is an irresistible appetizer for any cheese lover. It's basically a dish of fried cheese, usually halloumi, goat's feta cheese, or graviera. To prepare saganaki, cooks coat the cheese in flour and fry it until it turns crispy brown. They may serve it plain or top it with nuts and honey.
Stuffed Cucumber Bites
Stuffed cucumber bites are a delicious, refreshing, low-carb appetizer. You can prepare it within a few minutes. It consists of sliced cucumber without pulp filled with feta, tomatoes, red onions, olives, and herbs. You can also add a bit of lemon juice to make the bites more vibrant.
Kolokithokeftedes
This is a delicious dish made of fried zucchini, mint, and feta cheese. It has a unique minty, savory, and salty flavor. That's why it's one of the most beloved Greek starters.
Greek Salad Sandwich
As the name suggests, a Greek salad sandwich is made of Greek salad. Many add yogurts and a bit of herbs to the sandwich as well. Some even add chickpeas. Greeks use multiple types of bread to make this sandwich.
Chicken Bites Sandwich
Chicken bites sandwich is also a beloved food that many Greeks consume often. It's made of small pieces of chicken breasts, pita bread, lettuce, feta cheese, and some vegetables. Like many Greek dishes, this one is served with tzatziki sauce.
Gigantes Plaki
Gigantes plaki is a vegetarian dish made mainly from large white beans and tomato sauce. The word "Gigantes" means gigantic in Greek, which refers to the large size of the white beans. This is one of the most beloved side dishes you can try in Greece.
Bamies
Bamies is a highly nutritious vegetarian dish that combines tomatoes and okra. Cooks add dill, olive oil, wine, and parsley to give it a special flavor. If you like the combination of savory and sweet foods, you'll definitely love this dish.
Lemon Rice
This dish will change your idea about the dull taste of rice. It combines rice, lemon, garlic, onions, and a bunch of herbs to provide a flavorful taste. This rice can be a side for a wide variety of meat and fish dishes.
Greek Main Dishes
As we all know, Greek main courses provide an unparalleled experience for foodies. The following are the most popular ones you should try.
Pastitsio: Greek Lasagna
Pastitsio is the Greek version of lasagna. It's as delicious as the regular lasagna, if not more. This dish consists of a large layer of pasta, aromatic beef, and a top layer of bechamel sauce. It's frequently presented on the Greek dining table as it's highly beloved.
Stifado
Stifado is a beef stew-cooked dish prepared in a special way. Cooks prepare it with tomatoes, cinnamon, onions, vinegar, and sometimes red wine.
They add a wide variety of herbs and spices to complement the flavor. Greeks serve this dish with chip potatoes, rice, or egg pasta. In winter, many serve it with mashed potatoes.
Xtapodi: Grilled Octopus
Because of the extensive coastline of Greece, seafood is an integral part of the country's cuisine. For this reason, grilled octopus has been a prevalent dish since ancient times. Today, it's widely available in the majority of fish taverns all around the region.
To prepare it, cooks hang the octopus in the sun for a few hours to dry after catching it. Then, they season and grill it over charcoal.
This dish is usually served with steamed vegetables or horta and homemade latholemono sauce. You can pair this seafood dish with fresh bread. Some prefer to have xtapodi with creamy pasta or in a stew.
Dolmades
Your visit to Greece can't be complete without giving dolmades a taste. Greeks can enjoy dolmades for lunch, dinner, or even breakfast. It's a vegetarian dish of vine leaves stuffed with rice, pine nuts, onion, and fresh herbs. After stuffing them, the cooks roll the leaves into small rolls.
Many people love to have this dish cold or at room temperature. It's usually served with Greek yogurt and a bit of lemon juice. The name "Dolmades" is of Turkish origin. Still, many resources state that the dish is of Greek origin, and the name was changed in the era of the Ottoman Empire.
Papoutsakia: Stuffed Eggplants
Papoutsakia is another Greek dish that is based mainly on eggplants. The name "Papoutsakia" means "little shoes" in Greek. This name is given to the dish because of its shape, which looks like little shoes.
To prepare this dish, cooks bake eggplants first to make them softer. Then, they fill them with meat with cheese and Bechamel sauce. After that, they bake the pieces until they turn golden. Papoutsakia's taste is highly similar to that of moussaka.
Greek Bread, Pastries, and Desserts
We definitely can't ignore how wonderful Greek desserts, bread, and pastries are. Let's take a quick look at them.
Pita Bread
Fresh pita bread is soft and has an incredible smell and great taste. Greeks serve it beside a myriad of dishes, dip it into cream hummus, consume it with nut butter, and make many sandwiches using it.
One of the things that makes it widely spread is its straightforward preparation. This bread consists of only five ingredients and can be prepared within 40 minutes.
Horiatiko Psomi: Village Bread
Horiatiko Psomi is a special bread known for its crispy crust. It's made of the regular ingredients of bread, from flour and olive oil to sugar and yeast. It pairs perfectly with many dishes. You can enjoy it besides feta cheese and many sauces.
Koulouri Thessalonikis: Sesame Bread Rings
These bread rings have the texture of a soft pretzel with a fascinating crunchy external layer thanks to sesame seeds topping it. Still, its center is chewy and soft.
Their ring-like shape makes these bread pieces aesthetically pleasing. You can enjoy these rings plain, covered with butter, or with savory toppings such as feta or caramelized onions.
Bougatsa
Bougatsa comes at the top of the most popular Greek pastries. It's an integral part of any Greek celebration or gathering. It's also a widely spread street food. Bougatsa's taste and texture can vary from one place to another.
In some areas, it has a special sweet and creamy taste. However, some versions of it are less sweet and a bit crunchy. This pastry is made mainly from phyllo dough sheets.
Cooks brush the dough with butter, fill it with sweet custard, and then bake it.
Tiropita
Tiropita is a tasty snack made from pieces of phyllo dough filled with eggs and cheese. The pieces are wrapped in a triangular shape and baked with a slight brush of butter.
You'll find these pastries in every bakery in Greece. Greeks usually serve them as an appetizer besides many dips. The origin of this pastry is thought to be either Turkish, Roman, or Byzantine.
Kalitsounia
Kalitsounia is a small pastry that can take different shapes. It can also be sweet or savory, depending on the recipe. The traditional recipe of Kalitsounia involves filling the pastry with mizithra cheese.
The sweet variation of this pastry can contain lemon zest and cinnamon. Kalitsounia hails from the island of Crate.
Hortopita
Hortopita is a traditional pastry filled with various greens and feta cheese. It's made mainly of phyllo dough and filled with aromatic herbs in addition to the greens and cheese. Some variations even contain eggs and types of cheese other than feta.
Galaktoboureko
Galaktoboureko is a classic dessert you'll find in almost every pastry shop and tavern in Greece. It's made of phyllo sheets coated with butter and covered with semolina custard.
After baking and chilling it, cooks douse galaktoboureko's end with spiced orange syrup. This allows its layers to absorb all the flavor and turn soft and velvety.
Baklava
Baklava is a buttery and comforting dessert made from multiple layers of phyllo dough lightly coated with melted butter. This dessert also contains a layer of nuts, mostly walnuts or pistachios.
The primary source of its flavor is the orange cinnamon syrup added after baking. Some cooks cut the baklava into rhombus shapes and top each piece with a single clove to add extra flavor.
Rizogalo
Greeks have their version of rice pudding, which is called rizogalo. This dessert is a refreshing summer beverage. It's prepared with a combination of water, glutinous sticky rice, heavy cream, cinnamon sticks, cardamom, and sugar.
Cooks top this rice pudding with ground cinnamon and serve it cold. In some Greek regions, people add drops of rose water to rizogalo before serving it.
Greek Secret Recipes Tips
Talking about Greek food is one thing, and cooking it is another. If you're interested in preparing some Greek dishes, the following are a few secret recipe tips you need to consider:
Use fresh, high-quality ingredients in your recipes. One factor that makes Greek food exceptional is the quality of the ingredients. Regardless of the dish, they pick the freshest, highest-quality components.
Master the preparation of tzatziki sauce. This sauce complements a wide variety of Greek dishes. By learning the ins and outs of preparing it, you'll give your Greek food's taste a boost.
Learn how to best use herbs, spices, lemon, and feta cheese. Greeks are incredibly skilled at using these additions. Most of their dishes are simple and made from only a few ingredients. However, the excellent use of these additions makes these dishes taste awesome.
Use olive oil for more healthy dishes. Olive oil is known for its numerous benefits for heart and overall body health. Adding it to your recipes in the proper quantities can boost their nutritional value as well as their deliciousness.
Beverages
Besides the diverse food options, the Greek kitchen is known for its irresistible beverages. Greeks have a variety of distinct beverages we recommend you try. Here are the most popular ones.
Greek Frappe
Greek frappe appeared first in 1957. It's a combination of instant coffee and iced water prepared manually. People usually prepare it in a hand mixer or shaker.
This beverage is best known for its frothy foam and the tall glass it is served in. Greek frappe comes in many variations; some include milk. It also comes in three sweetness levels.
Turkish Coffee
Turkish coffee is one of the well-recognized beverages in Greece. It has a strong and rich flavor as well as dark color. To prepare it, you need to blend finely ground roasted coffee with water, preferably cold, and brew it over heat.
You can add sugar if you prefer it sweet. This type of coffee is prepared in a pot called ibrik and brewed over low to medium heat. It's then poured into a small mug before reaching the boiling point. When you prepare it perfectly, the Turkish coffee will have a thick foam.
Tsai Tou Vounou: Mountain Tea
Although it's not as popular as frappe, mountain tea is one of the special Greek beverages. As its name suggests, it's prepared from a plant called "tsai tou vounou" that grows in the Greek mountains.
To clarify, it's not technically a type of tea; it's an herbal beverage. What makes this beverage special is its richness in antioxidants. There are also some claims that this beverage treats the flu and colds.
Greeks sell this herb in the form of dried flowers and leaves in supermarkets and a lot of shops around Greece. To prepare it, you only need to place it in a cup and add boiling water.
Then, leave it for ten minutes before drinking it. Some people prefer to add honey to it, while others drink it without additions.
Traditional Greek Ingredients
Greek cuisine uses a plethora of local ingredients. The following are the ingredients that are commonly used in the Greek kitchen:
Olives: They're used in various recipes, added to salads, or eaten beside other dishes.
Olive oil: Greeks use this oil in almost all their cooking activities, including baking and as dressing for many traditional dishes.
Feta cheese: Although it's produced in limited areas in Greece, it's used nationwide. This crumbly cheese is made from sheep's milk.
Herbs: Greece's climate is perfect for growing a lot of herbs. For this reason, the Greek kitchen uses various dry herbs such as oregano, mint, and thyme in different traditional dishes.
Mastic: This resin grows exclusively on the Greek island of Chios. Greeks have been using it for centuries to flavor their foods.
Greek honey: This is one of the primary sweeteners used in the Greek kitchen. Its flavor can differ slightly depending on the season of production.
Fresh fruits: Greece has an abundance of fresh fruits all year round. They're especially known for their apples, berries, and citrus yield. That's why they use a lot of fruits in the recipes.
Seafood: Due to the extensive coastline of Greece, fish and seafood, including anchovies, octopus, and more, are highly popular in the Greek kitchen.
Greek Yogurt: Who doesn't love Greek yogurts? It's one of the most used yogurt types worldwide. It's highly beloved due to its thick consistency and sour taste.
Greek Herbs and Spices
The unique blends of spices and herbs in the Greek kitchen significantly contribute to the food's deliciousness. The following are the most common herbs and spices in Greece.
Oregano
Greeks use oregano extensively in fish and meat dishes. They also use it to complement the flavor of eggs, tomato sauce, cheese, and many vegetables. Some even use it as a tea to improve digestion.
Mint
Greeks have used mint for decades in their dishes due to its sweet smell and special taste. They add it to some meat dishes as well as cheese and rice. Some even use it in tomato sauce. In addition, Greeks add mint to their tea and oils.
Dill
Dill is another herb that Greeks have used since ancient times. They still use it as an ingredient in Greek bread and lemon sauces. They also incorporate it into some seafood dishes, soups, and salads.
Fennel
Greeks use fennel in its green or dried form in many stew meat, vegetables, and seafood dishes. Some use it in pies as well. It has a strong flavor you'll instantly recognize when you taste it.
Basil
Greeks use basil in almost any tomato-containing recipe. They also use it in a wide variety of salads, seafood, meat, and egg dishes. Most prefer to use fresh basils rather than dried ones. As such, many Greeks grow basil at home.
Greek Food Culture
Food sharing has always been a significant component of Greek culture. One of the well-recognized sayings of the ancient Greek philosopher Epicurus is, "We should look for someone to eat and drink with before deciding what to eat and drink."
There's more to know about the food culture of this fascinating country. The following is just a quick look at Greek food culture:
Eating Habits
Most old Greek generations still follow the traditional eating habits of Greece. Their traditional eating habits involve having a light breakfast.
Common breakfast components include pastry, bread, cheese, yogurt, jam, and coffee. In addition, many have only a few koulourakia and a cup of coffee at 11 AM for breakfast.
Lunch is the main meal for Greeks; they usually have it between 2 and 5 PM. At night, they tend to snack on some light foods, such as small quantities of lunch leftovers. Greek yogurt, fruit, and salad are also common dinner items.
That said, some younger Greeks sometimes break the traditional habit of having light meals at night and go for bigger meals. In big festivals and holidays, Greeks spend multiple days preparing food for these events. On the event days, they consume much more food compared to regular days.
That said, new Greek generations have started to change their traditional eating habits. This is due to the spread of fast food. As a result, Greece has experienced an increase in obesity percentage among school kids in recent years.
Traditional Habits
Besides the previous highlights, here are a few of the valuable food-related habits from traditional Greek culture that you may need to try:
Consume salad first in your meal.
Avoid using your phone or watching TV while dining.
Rely on simple herbs to improve the taste of your food rather than caloric ingredients.
Use whole grains and healthy ingredients to prepare your meal.
Meal Structure
Breakfast and dinner in Greece are usually light meals with no specific structure. As for lunch, the typical meal structure includes one or two starters, a few slices of bread, the main dish, dessert, and a glass or two of soft drinks or alcohol.
Etiquette
Greek culture includes a variety of food-related etiquette that most people adhere to. The following are the most popular dining etiquette to follow in Greece:
Don't begin to eat unless the host invites you to.
Placing a napkin on the plate or a table means you're finished with your food.
You should keep your hands visible above the table when you don't hold utensils.
When passing food, pass dishes to your left.
If you're dining with close friends, you can eat from each other's plates to taste different types of food.
When serving food, the most honored or older guest should be served first.
In some informal restaurants, sharing a table with someone you don't know is okay.
Talking about or making important business decisions isn't preferred during dining.
You'll be told where to sit when invited for dinner in someone's home.
The person who invites others for food in a restaurant usually pays the bill. Still, they expect the guest to make some effort to try to pay.
If you want to provide tips in a restaurant, 10 percent is usually enough.
You might also be interested in...