Guatemalan Food: 5 Popular Dishes + 5 Secret Recipe Tips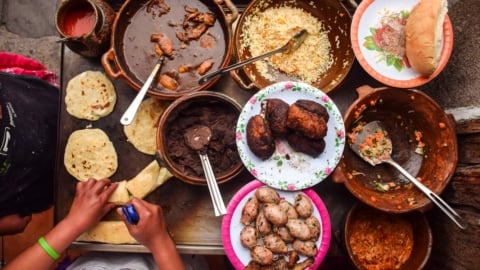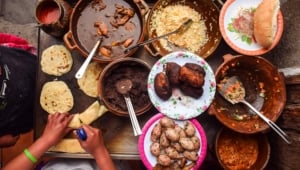 Ever tried Guatemalan food? If so, then we pretty much share a bond. But if you haven't, then you're in for a ride. Learn here everything you need to know about the Guatemalan kitchen with it's most popular dishes and secret recipe tips.
If you're visiting Guatemala, brace yourself for a hearty treat – courtesy of its rich historical tapestry. You see, the country's national dish, Fiambre, is a scrumptious palimpsest of its Spanish and Mayan heritage.
Traditional Guatemalan Cuisine- More Than Fiambre and Mixtas
Picture Spanish cuisine – like scrambled eggs dolloped with sour cream, tossed together with local spices – in an elaborate dance with a prominent pillar of Guatemalan culture.
This popular dish paints a vibrant picture of a country that, like its cuisine, is studded with tantalizing hidden treasures.
Most Popular Street Food in Guatemala
When you visit Guatemala – and you really should – one rule of thumb you want to hold on to is trying the street food. It's a literal window into the heart and soul of the region and a delicious one at that. You'll find a smorgasbord of options, each promising a unique twist on traditional Guatemalan recipes.
Mixtas
First off, we got the Mixtas – Guatemalan-style hot dogs. Now, before you get all worked up, this isn't your regular ball game hot dog; it's a daring culinary roller coaster.
Serving you up a unique blend of the usual hot dog ingredients, matched with a topping of pickled cabbage, garnished with guacamole.
Tortillas
How'd you feel about tortillas? And not just your average Joe tortilla, but one that's packed with a delicious filling of salty cheese. Meet the Pupusas. Originating from neighboring El Salvador, perfect alongside a chill beer, if you ask us.
Corn
No one does corn like the Guatemalans – eaten right off the fire, or cooked into Tamalitos, a traditional combination of fresh maize dough tucked neatly under a corn husk, the love Guatemala has for corn is passionate and infectious.
So when you think of street food in Guatemala, think maize, think color, but most importantly- think unforgettable experience.
Guatemalan Food in the World
When it comes to culinary magic, Guatemalan dishes pull no punches. With a heartfelt blend of Spanish flavors and the rich heritage of the Maya civilization, the flavors of Guatemala are winning hearts globally.
Culinary creations are so tasty, they manage to stake their claim in many a country's palate. This distinctive diversity in meals complements your taste buds, leaving delightful experiences.
Take the Guatemalan tortillas, for instance. In contrast to Mexican tortillas you might've come across, they're thicker, smaller, yet full to bursting with flavor.
Moreover, the chile rellenos; savory stuffings wrapped in chili peppers smoothly blending in a coat of beaten eggs, are an all-time fave, straight from the Guatemalan street corners to international kitchens. Perfectly describing that delightful ingredient known as the typical Guatemalan touch.
The key beauty of Guatemalan cuisine lies in the balance of taste. This is showcased perfectly through their creative use of Mole; unlike Mexico which largely incorporates it with proteins, it is relegated to only sweet dishes in Guatemala.
These surprising culinary twists have been influential in captivating taste buds and enriching multiple cuisines around the globe.
Wrapping up, Guatemalan culinary artistry has far surpassed the nation's borders and has wheedled its way into so many international kitchens, commanding a well-deserved spotlight.
The appetizing taste balance inherent in this beautiful cuisine holds the key to infusing your meals with a scrumptious zing so profound; it lingers, making every bite a moment of perfection. Guatemala's gastronomy, a hidden jewel, is indeed a delectable paradox.
How Healthy Guatemalan Food Is
You might think that all that tortilla-eating and salsa-dipping doesn't do wonders for the old waistline. But did you know, typical Guatemalan food is full-to-bursting with nutritious goodness?
See, Guatemalan cuisine leans towards using fresh ingredients and local produce. Seasonal fruits, vegetables, herbs, and spices; are the building blocks of a diet that's chock-full of vitamins and nutrients.
Now, contrary to popular belief, not all Latin American food is slathered with cheese and deep-fried. Sure, there's a place for indulgence too, but a lot of the dishes are low in fat and high in fiber.
Take the Guatemalan tortillas to start with – they're thicker and smaller than the Mexican kind, crowning your plate with a light fistful of cornmeal bliss.
And what's more, it's not just about how much food you're wolfing down, but what type of food. These tortillas are made from maize, a staple grain that's a rich trove of dietary fiber, antioxidants, and B vitamins.
Then you have the chile rellenos, a dish that does a little dance on your taste buds with its fireworks of flavors. Not only do these stuffed peppers burst with nutritional zings such as vitamin C and dietary fiber, but they also sidestep unnecessary fats by being lightly sauteed not swimming in deep fryer oil.
Of course, this is just a glimpse into Guatemala's pantry. Remember, it's not all about saying 'no' to your cravings, but about exploring new flavors and discovering a balanced plate of nutrition.
Guatemalan cuisine is proof that you can keep your body healthy while keeping your taste buds happy, like the salsa rhythm beating in sync with heart health.
Famous Guatemalan Dishes You Have to Try
The food in Guatemala is a fusion of good old-fashioned home cooking and tantalizing flavors. It tells a gastronomic narrative of cultural heritage and rich history. In what seems like a well-kept secret, traditional Guatemalan foods pack a punch of taste and are undoubtedly a feast for the senses.
Now, if we were to take you on a journey to the heart of the Guatemalan culinary scene, five dishes sit right up there in the food royalty. These are not just any dishes. No, these are famous signature dishes that your palate will be forever grateful for.
Pepian
Guatemala's national dish, Pepian, is the epitome of a hearty meal. This traditional stew-like dish is made with succulent meat (pig, chicken, or beef), vegetables, and roasted chili peppers.
It's slathered with a thick, spicy, and nutty sauce that creates a whirlpool of flavors. Let's just say, if you want to taste Guatemala in a dish, Pepian should be your first stop.
Fiambre
Next up is Fiambre. This is one dish you'd expect to find at a grand family gathering. Fiambre is a salad. But let's be clear folks, this isn't your everyday bowl-of-lettuce-kind-of-salad. Fiambre is a treasure trove of ingredients including more than 50 types of sausages, cold meat cuts, and pickled vegetables. It's quite the gastronomic stroke of genius.
Tamales
Tamales in Guatemala pay a delectable homage to the Mayan legacy. Usually served for breakfast or during special occasions, these are special parcels of paradise. Though these corn dough wonders are found all over Latin America, the Guatemalan version is often dyed a vibrant red and packed with various fillings ranging from meats to fruits. Tamales are indeed a treat worth waking up for.
Pupusas
Now, here's a dish that celebrates unity. Pupusas, originally from El Salvador, have found a flavor-filled home in Guatemala. These stuffed tortillas, typically filled with a combo of cheese, fried pork, and refried beans, are a meal for the soul. Sprinkle some curtido (cabbage slaw) on top for a burst of tangy goodness. Pupusas prove that sharing and blending foods is heartwarming and scrumptious, all at once.
Ron Zacapa Centenario
Last, but not the least, you must give Guatemalan rum a shot, specifically Ron Zacapa Centenario. Now hold on, this is no ordinary rum.
Aged up to 25 years high in the Guatemalan mountains, Ron Zacapa Centenario is super smooth and has notes of sweet fruits, spicy oak, and rich chocolate. It's a finale your taste buds will appreciate.
Soups & Salads
If you're planning on testing out Guatemalan cuisine, leaving out their soups and salads would be a culinary mistake. Let's take a gander at some of these remarkable dishes. Every soup and salad has its unique flavor, let's start with their soups.
Green beans, tender and piquant play a significant role in hearty Guatemalan soups. They could be swimming alongside carrots and potatoes in a steaming bowl of Caldo de Res, a beef and vegetable soup famous during festivals.
Next up is the famed seafood soup. Seafood in a sock would taste good, but this reeks of flavors you never saw coming. It's a veritable ocean of shrimp, fish, mussels, and clams submerged in a spicy broth.
The waves of bold flavors intertwined with a little spice would spark a fiesta in any tongue. Let's face it; the seafood soup is the Mariano Rivera of Guatemalan cuisine, with its capability to tantalize your taste buds, pitch after pitch.
Moving on to the salads. Inspired by freshness, they run a palette from the minimalist Fiambre to brighter concoctions like minimally minced radishes, tomatoes, and onions.
This vibrant blend of veggies knocked up with citrus gives a fresh extravaganza, more glamorous than the Macy's Day Parade And the secret? Chicharrones. These crunchy pork buddies might not be a vegan's dream, but they sure are the life of the salad party.
Starters, Sandwiches, Sides
Guatemalan starters – there's no main-course game without these folks. Bell peppers shining as bright as neon lights in the city at night are a common sight in Guatemalan rice.
They play their part way into that quintessential earthy taste. It's not just a bowl of rice; it's a mural that brings the western Guatemalan scenery to your plate.
Now to the corn dough and its use in Guatemalan tortillas. Once you've tried these corn tortillas, you wouldn't look back. Thicker than your usual tortilla and made of blue corn.
Might look like a smurf, but tastes like heaven dipped in paradise. Plus, these corn tortillas are often accompanied by Frijoles Volteados, the rough-n-tough partner in arms to any dish.
These refried black beans give a thick paste best described as the Harley Davidson of refried beans – black, strong, and full of character.
Now, folks, this is not your everyday breadbasket kind of side. We've got Tamalitos, dumplings made from corn dough, often-sided instead of tortillas.
Occasionally these tamalitos are mixed with other treats like fried plantains. So next time you decide to start a Guatemalan food escapade, don't forget these unsung heroes.
Mains
Amongst Guatemalan cuisine, you'll find a delightful collection of main dishes that are utterly divine. It's usually prepared as a spicy stew, and the burst of flavors could light up a firework display, no kidding.
Guatemala also has a whole lot of love for beef dishes. So, for all you meat lovers who prefer beef or pork, Guatemala won't disappoint.
A classic favorite is the Pepian, a rich, hearty stew slowly simmered with a mix of beef or pork, veggies, and a delectable array of spices. Trust us, one taste, and you'd give up your favorite steak any day.
And if we're talking mains, we've got to throw some light on 'rellenitos', savory plantains filled with black beans or pork, then coated in an egg batter and lightly fried.
The fusion of sweet plantain, earthy beans, and crispy egg batter could make even the pickiest eaters swoon. Now that's something your palate won't be forgetting anytime soon.
Bread, Pastries, Dessert
Guatemalan desserts are a whole different game. They've got a sweet, cushy place in your heart once you're introduced. One of Guatemala's most loved desserts makes use of a rather unique ingredient, the chayote squash.
Picture this. Imagine a humble chayote, cooked till it's as soft as a baby's cheek. It's split open, and the soft innards scooped out and carefully mashed with sugar, raisins, and cookie crumbs till it becomes a shiny paste.
Once it's baked, it might not win any beauty contests, but every bite has its own little fiesta. It's called Chancletas, and it's named after a slipper, but don't let that weird you out, because it tastes extremly good.
Guatemalan pastries and bread hold their own charm. Warm bread from the oven, dusted with a hint of sugar, draped in a delicate quilt of butter, served with a cup of coffee, and I swear, it feels like a warm hug on a winter's day.
From rustic cookies to sugary breads and creamy desserts, Guatemala truly gives you a sweet escape.
Secret Recipe Tips
Now, let's get into the favorite part: the secret tips and tricks to master Guatemalan cuisine. These titbits aren't just pulled out of thin air. They come from generations of Guatemalans passing down their knowledge.
Spices
First and foremost, the very pulse of Guatemalan flavors, spices. Employ fresh herbs and spices like cilantro, achiote, and chilies. If you can't smell those spices from the next room over, you're not using enough.
Simplicity
Secondly, Guatemalan recipes rely on simplicity with staple ingredients like corn, beans, and rice. Keep it basic, you're making food, not launching a rocket. Trust us, get these three right, and the rest falls into place.
Method
The third tip revolves around the method. Slow and steady wins the race here. Guatemalan cuisine utilizes slow cooking techniques to enhance the flavors. So, let that pot simmer, your taste buds will thank you for it.
Thickening Agents
Moving to the fourth pointer, many traditional recipes call for thickening agents like masa or cornmeal. They add texture and depth, transforming your dish from good to "Hold the phone, this is good.
Freh Produce
Last, but definitely not least, don't skimp out on the fresh produce. Whether it's bell peppers for a pepían stew or ripe plantains for rellenitos, quality ingredients make a world of difference.
So, to sum it up: Spice up your life, keep it simple, slow cook it, thicken it up, and only go fresh. We promise you, following these tips, you're en route to creating bona fide Guatemalan dishes.
Beverages
After all that cooking, there's nothing like washing down a homemade meal with a traditional drink made just right.
Guatemalan beverages are as diverse as the country itself, with an option for every taste and season, from the brisk embrace of horchata to the warming comfort of atol de elote. Yes, you heard it right, atol de elote. If that's a new one for you, listen up.
Atol de elote is a unique and flavourful corn-based drink, a staple in Guatemalan cuisine. This delightful beverage trades typical coffee beans for freshly ground kernels, milk, cinnamon, and sugar.
It's like having breakfast in a cup; with its thick consistency, it could count as a full meal. It's usually served during cold weather months.
What can be more comforting than a bracing cup of atol de elote, right? It's served hopped from street vendors in Guatemala on a chilly morning.
Give it a go – it's a sweet, hearty alternative to your regular cup of joe, and a taste of Guatemala should keep you coming back for more. Oh, and don't forget to say Salud (Cheers).
Ingredients
Let's start by saying, Guatemalan food isn't no ordinary chow. It's out of the ordinary, and that's a good thing. Unique flavors rule the roost here, all thanks to the galaxy of ingredients that the country cooks up in its traditional recipes.
Of course, big-match players like beans, rice, cheese, eggs, or corn, are there, just like in most Latin American cuisines. But what sets this country's food apart are the special players.
Take for instance 'jocon de pollo', a chicken dish that gets its distinctive flavorful gravy from a fascinating assembly of tomatillos, cilantro, and sesame seeds.
Coconut milk makes an explosive entrance in dishes like pollo en pina and paches, lending an unforgettable tropical taste.
Guatemalan tamales are another showstopper, faring a bit different from what you get north of the border. See, the magic here lies in the delicate blend of spices like achiote, sweet peppers, or green olives, wrapped in the tender foliage of plantain leaves.
So, it's not just about rice, beans, or shredded beef; it's what you do with these ingredients that give Guatemalan dishes their unique taste.
Herbs and Spices
Dig deeper into the bowl, and you'll find an intricate artwork of herbs and spices. That's right, the Guatemalan palette is full of subtle layers of flavors that come as a surprise.
They all play a fascinating symphony, where each herb and each spice chimes in with its tantalizing note, making Guatemalan food a wholesome culinary opera.
Cilantro, a staple in most Guatemalan dishes, adds its own irreplaceable zing, while the warmth of spices like achiote, allspice, and anise stake a claim with their deep, resonant notes.
Tucked amidst these are chiles, providing a gentle heat that lingers on your palate. Indeed, these ingredients are the wizards behind the stellar Guatemalan gastronomy experience.
Guatemalan Food Culture
Head down to Guatemala for its enchanting attractions, sure, but also for a slice of its authentic culture showcased in its culinary magnificence. It's like a well-stirred pot of Spanish influences, local traditions, and a splash of ancient Maya culinary wisdom.
Even if you've had your fair share of Latin American food, Guatemalan cuisine manages to stand out, not so much with its heat but with its balanced, layered flavors.
So, go ahead, get carried away by the intoxicating aroma wafting from that street-side stall selling empanadas or the comforting brothy goodness of soups and stews that tell a legacy of enriching food culture.
Eating Habits
Guatemalan dining customs are like a delightful dance. Breakfast, lunch, dinner, throw in a few snacks, and you've got yourself a vivacious culinary jig.
Typical Guatemalan breakfasts are hearty, bubbling over with staples like fried plantains, eggs, black beans, and sweet bread, setting you up for a day filled with intrigue. Lunch, the main meal, is when plates brim over with meat, fresh vegetables, and fragrant rice.
Imagine a robust 'caldo de res' or a 'pollo en crema', illustrating a sumptuous spread of traditional delights.
Dinner rolls around and food takes a simpler turn, yet never straying away from the authentic retreat. Think light soups followed by corn tortillas complimented by black bean paste, or a chicken stew, maybe.
Got room for more? There's always street food aplenty, from chuchitos to the humble yet sumptuous shucos, these grab-and-go treats serve up a slice of Guatemalan culture on a platter.
So, from sunup to sundown, Guatemalans have got their chow times sorted, making every meal a celebration of flavors and tradition.
Meal Structure
So, let's talk about the meal structure in Guatemala. Their meals, similar to a symphony, come in perfectly sequenced parts. The staples are corn, beans, rice, and meats like pork, beef, and chicken.
And don't be surprised, sometimes the chicken comes visiting the table with the feet still attached – a little quirky but that's just how they do it. They also use tortillas and cheese to set the rhythm of the dishes.
Further adding flavor and variety, their national dish of Guatemala, meat stew, oftentimes takes center stage. You're certainly in for a meaty treat. Interestingly, Guatemalan cuisine overlaps with Mexican fare, showing their culinary sibling-like relationship.
So, dig in and explore the flavorsome dishes of Guatemala without breaking the bank. And yes, they have their comfort fast-food spots like Chinese food restaurants, pizza joints, and fried chicken spots – call it global gastronomic influence, if you may.
Etiquette
When it comes to food etiquette in Guatemala, there's a thing or two we can learn.
Remember, it's not just what's on the menu that matters, but also how it's consumed. Guatemalan cuisine is a rich and flavorful blend of the country's culinary heritage with influences from South America and the Dominican Republic.
With hearty stew made of chopped meat (think ropa vieja), refried black beans, and ripe plantains, lunch in Guatemala is usually a heavy affair. It could be a dish served with sides of green onions, nourished with a tomato-based sauce, and pork and beef often play lead roles.
And you'd be surprised how great a role corn plays, it's a food staple here, showing up sometimes even as a refreshing corn drink.
The country is known for its beloved traditional desserts, like mole de platano, a rich dessert made from ripe plantains, cane sugar, and rich cacao beans, that speaks volumes of their culinary inventiveness.
Or you may get a bowl of rice pudding, oh they like to call it arroz con leche, cooked with a hearty dose of creamy milk and a sprinkling of cinnamon.
Both are frequent features on a Guatemalan dinner table. Finally, your meal isn't complete until you've indulged in a traditional Guatemalan dessert.
Remember though, the secret ingredient of enjoying and respecting the culinary culture here, is to enjoy it just as it is heavily influenced by their grandmothers' ancestral recipes and the native agricultural goodies.
You might also be interested in...