Swiss Food: 5 Popular Dishes + 5 Secret Recipe Tips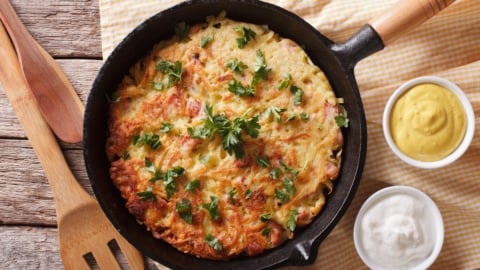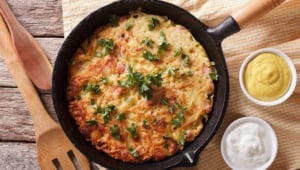 If you're thinking of visiting Switzerland, get ready to give your taste buds a hearty treat. Forget about the calories for a minute, because it's time to explore Swiss food, famous for its local, humble ingredients and comforting dishes. But wait, there's more – stick around to find here some secret recipes.
The path through the Swiss version of food history smells as good as it tastes. Swiss cuisine doesn't just stop at fondue and rösti.
It tells tales of hearty meals with boiled potatoes from the rolling plains of the Canton of Vaud and the best use of delicious butter and jam on rye bread from cozy mountain huts in the Swiss Alps.
Traditional Swiss Cuisine- More Than Fondue and Rösti
Swiss dishes have evolved with the influence of neighboring German-speaking parts of Switzerland, with delicacies like papet vaudois, a traditional dish made from leeks and potatoes, or a Swiss breakfast laden with cured meats and sausages alongside some fine cheese.
It's about sliced veal drenched in a cream sauce known as Zürcher Geschnetzeltes, and the Alpine macaroni, Älplermagronen.
The national dish of Switzerland, fondue, isn't just a fondue pot of melted cheese – it's traditionally served with a side of stories, warmth, and camaraderie.
Most Popular Street Food in Switzerland
Now, let's take a stroll down the culinary lanes of Swiss streets. The street food scene might not be as vivacious as some places, but hey, it promises a jamboree of flavors. Top on this Switzerland itinerary is roasted flour soup, a simple but gratifying dish loved by the locals.
For those with a stuffy sweet tooth, there's Bündner Nusstorte, a special delight from the canton of Graubünden in Eastern Switzerland, a crunchy short-crust pastry filled with caramelized walnuts, wrapped in a blanket of creamy caramel brittle.
Bonus? Grab some Swiss chocolate, because when in Switzerland, you respect the chocolate.
And there's Zürcher Geschnetzeltes, some thinly sliced veal tossed in a cream sauce that you can pair with the hearty Rösti, basically crisped golden potato goodness served with apple sauce.
Savor the cultural blend with a serving of Raclette, hot melted cheese spread over dried meat or boiled potatoes, and don't forget a gulp or two of wine and garlic to wash all that down.
Swiss Food in the World
The influence of Swiss cuisine stretches far beyond the Swiss Alps. Trust us, you don't have to be visiting Switzerland to enjoy the warmth of a cheesy fondue or crunch into a hash brown-like Rösti. The beauty lies in the humble ingredients and simple recipes that lend themselves well to adaptations.
Take Swiss cheese, for instance. It's had a great love affair with America, transforming from a humble dairy staple to a gourmet essential, nestled in deli sandwiches or melting blissfully in premium burgers and quiches.
Switzerland's culinary influence doesn't end at cheese, mate. Swiss chocolates and pastries, with their exquisite taste and craftsmanship, have sweetened palates worldwide, becoming synonymous with luxury and indulgence.
But it doesn't stop there. The hearty, comfort-giving traits of Swiss food have traveled, influencing household kitchens and plush restaurants alike, worldwide.
How Healthy Swiss Food Is
Perhaps folks are asking how Swiss cuisine stacks up on the healthometer? Well, your curiosity is due to be appeased. Considering the hearty ingredients found in Swiss food, health is not left behind.
From pasta to potatoes, meat to cheese, butter, and beyond, there's a whole range of goodness packed into every bite.
Derived from the humble roots of local farms, Swiss ingredients, and dishes represent not only taste but vitality. In colorful presentations of natural health, this cuisine dances in that delightful space between treat-yourself meals and health-conscious dining.
While roaming the fertile valleys of Switzerland, visitors discover a realm of enticing and nutritious food. The variety of agricultural products, ranging from dairy to veggies, well, that's real artistry.
The butter, if you ask, isn't the enemy. Known for its nutritional richness and delicious flavor, Swiss butter is a golden delight. An ideal source of saturated fats and Vitamin A.
Don't even start with cheese – it's a whole world in itself. Rich with proteins and essential minerals, Swiss cheese pampers taste buds and physiques.
To put it into perspective, Swiss meats are a protein powerhouse. A bite of a Swiss dish isn't just a gastronomic delight, it's a sumptuous investment in character building.
Analyzing Swiss health awareness isn't tricky. It's as clear as day. With balanced preparations and a focus on quality ingredients, Swiss cuisine uses health, on a silver platter, as another name for satisfaction.
Famous Swiss Dishes You Have to Try
Swiss cuisine, much like Swiss watches, is a meticulous blend of precision, tradition, and incredible flavor, with each dish representing a piece of a country steeped in diversity. Here's your round-up of the five most famous Swiss dishes making waves on taste buds around the globe.
Rosti
Think of it as the Swiss version of the famous hash browns; only it's much, much better. Known as Rosti, it's a crispy and delectable meal made from coarsely grated potatoes, fried until they are crunchy.
It sounds like a potato pancake, you say? Well, yes, but only if those pancakes were powered up with a secret recipe and had an encounter with a gourmet chef.
Created in the German-speaking part of Switzerland, this potato delight is considered a breakfast dish and often accompanies eggs and bacon.
Fondue
The word Fondue immediately conjures images of gooey, molten cheese.
Swiss Fondue, a pot of melted cheese, is often served with crusty bread on the side. While cheese is the heart of the dish, a blend of white wine, garlic, and cherry brandy called Kirsch amplifies its flavor.
It's like the Swiss culinary team put their thinking hats on, decided to take cheese to another level, and voila. Fondue was born.
Raclette
Raclette the dish and Raclette the cheese go hand in hand as inseparably as salt and pepper. It consists of melted Raclette cheese scraped over potatoes, pickles, and onions. Imagine it as if a warm blanket of cheese is covered over a bed of tasties.
This traditional Swiss dish got its name from the French word "racler" which means to scrape, and rightfully so. It's an embodiment of the comforting, warm embrace we always need in our meals.
Zurcher Geschnetzeltes
Zurcher Geschnetzeltes, a mouthful to say and a delicious mouthful to eat, hails from the city of Zurich. It consists of a white wine, cream, and mushroom sauce, with thin strips of veal that melt in your mouth faster than a Swiss watch keeps time.
Usually, it is served with Rosti and is as close to perfection as you can get.
Swiss Sausages
Does Swiss cuisine boast about its sausages? Well, it doesn't have to, because the taste does that itself. Swiss sausages, much like German ones, are plump, juicy, and packed with flavors as stunning as the Alps.
They're generally enjoyed with a piece of bread, or if you're lucky, smothered in onion sauce.
Soups & Salads
Swiss food isn't just about cheese and chocolate, it extends to a wide variety of soups and salads, each bearing its unique refreshing taste.
This isn't just about tossing lettuce with croutons, no siree. Swiss folks have a knack for whipping up unique dishes that dance a delicate waltz of flavors on your taste buds.
Picture this: a chill winter day, you're tucked in a cozy blanket whilst nursing a bowl of the famous roasted flour soup. It might sound simple, just flour, butter, onion, and beef stock, but trust me, it's like warmin' up by a campfire.
This popular dish is something of a tradition back in Basel. Rumor has it that it was birthed from a cook who accidentally browned flour while chit-chatting.
Rather than toss it, the mishap turned into a dish that has withstood the test of time. It's a must-have at Basel Carnival, which kicks off with a generous serving of this warming treat at the break of dawn.
Of course, a mention of Swiss soup would be incomplete without the spiced carrot and lentil soup. A piping bowl of this soup is just what you need for a belly hug on a cold day. Melding the sweetness of carrots with the earthy flavor of lentils, it's like a sunshine-filled cuddle in a bowl.
Starters, Sandwiches, Sides
The Swiss culinary landscape is a vast expanse of hearty delights, as is evident in their starters, sandwiches, and sides.
Let's take a detour from the usual and tread into the wholesome territory of Swiss starters. Swiss people are blessed with a creative gene when it comes to playing around with ingredients.
You'll find dishes that balance the thin line between 'light-on-the-stomach' and 'bursting-with-flavor'. Whether it's the cheesy Raclette served with pickles and onions or the robust flavors of the smoked trout starter, these are not just appetizers – they're conversation starters.
Their sandwiches and sides are no less impressive. Who would've thought that something as basic as a sandwich could be turned into a brunch star in the Swiss kitchen?
Well, the proof lies in the form of the Zopf bread sandwiches or the Swiss potato rosti – a crispy pan-fried potato cake that could give any standard potato dish a run for its money.
Mains
Undeniably, Switzerland has more to offer its people and visitors alike than just mountains. For instance, exploring traditional Swiss mains one can't help but notice how it offers a wide variety of flavors and textures.
Raclette
Traditionally eaten in winter, Raclette is one of the most famous Swiss dishes. A wheel of cheese is melted and scraped onto boiled potatoes, gherkins, and pickled onions. A real main course, against the cold, it's a fantastic combo of simple ingredients and rich flavors.
Zürcher Geschnetzeltes
Now, anyone tackling this mouthful is privy to this traditional food that sings of hearty culinary elegance: the Zürcher Geschnetzeltes. It's essentially veal cooked in a creamy, white wine and mushroom sauce usually served with a potato dish called Rösti.
Bread, Pastries, Dessert
Swiss are surely renowned for their love of food, including some exceptional creations that surpass the ordinary. Talk about tea or coffee and your mind instantly diverts to the tempting Swiss treats that are traditionally served alongside.
A classic Swiss creation, iconic braided Zopf bread, is a prevalent part of any Sunday breakfast table in Switzerland. Made with flour, yeast, milk, eggs, and butter, this bread is soft and subtly sweet, perfect for accompanying those long, leisurely weekend breakfasts.
Who can forget about Swiss desserts? The enchanting world of Swiss desserts represents a beautiful pastry-like dance, showcasing balance, finesse, and an irresistible allure.
A bite into the famous Swiss Nusstorte, an indulgent caramelized nut-filled pie, can transport anyone to a timeless culinary nirvana.
Cholera, a rustic dessert from the Valais region, balances savory and sweet by combining fruit and vegetables in a flaky pastry crust.
And then, there's the well-loved Swiss Rolls- light and delicate, these traditional Swiss treats are a revelation of luscious cream and jam wrapped in a sponge cake.
Secret Recipe Tips
Top off a dinner, with these five fail-proof tricks to add a Swiss touch to any dish. Learn more about the importance of cheese in the traditional Swiss cuisine and why you should use Swiss-specific herbs in the meals.
Cheese Is Key
The first tip off the block is that cheese is key. But not just randomly chosen cheese, quality Swiss cheese – it transforms a dish from regular to 'rare-find'. Companies like Appenzeller, Emmental, or Gruyère, each have unique flavors that suit different kinds of dishes.
Use Swiss-Specific Herbs
Take your cooking game to another level by using Swiss-specific herbs. Ever heard of Maggi seasoning? Derived from wheat gluten – add a dash or two into your meals to make them truly Swiss.
Use Waxy Potatoes
Let's talk about potatoes. They are staple carbohydrates in Switzerland. When cooking Swiss rosti, the trick is to use waxy potatoes.
After grating, wrap them in a cloth and squeeze to get excess water out. It sounds a bit off-piste, but trust this, it gives the rosti that crispiness that'll leave everyone wanting seconds.
Take Time for Fondue
For tip number four, it's Fondue time. It's all about the white wine and garlic combo. Add the garlic to the pot, then pour the wine, and heat until hot. Then comes the fun part – stir in the cheese until it melts and emulsifies with the wine. Delicious.
It's All about Chocolate
Finally, it is all about chocolate. Swiss Chocolate. Cailler or Frey are valued treasures in Swiss bakeries. Melt it on a stove or in a microwave, use it to glaze cakes, mix it into cookies, or eat it as it is if you can't resist. Pastries dressed in Swiss chocolate are love at first bite.
Beverages
Straying slightly away from food to another comforting Swiss staple – the beverages. Start with something strong, schnapps. Swiss traditional homes usually craft their own in-house version, drawing from generations of secret recipes.
It might spiral you if you are used to a bit of tamer drinks, but it sure does make a statement. And not a weak one, that's for sure.
Looking for something nonalcoholic, or something hot on a Swiss winter day? Look no further than Ovomaltine. It's a delicious chocolate milk drink perfect for any day.
Add hot water for your own steamy mug, and for the kids – just use cold milk. It's a good way to add some sweetness to your day without going overboard.
Ingredients
Ever wondered why Swiss dishes wag your taste buds into a delightful frenzy? Primary go-to goodies that lend Swiss foods their unique flavor include cheese and meat – lots of it – as well as pasta, butter, potatoes, and seafood.
The beloved Zürcher Geschnetzeltes, for instance, is a dish that consists of calf meat cooked in a creamy white wine sauce. Gruyère cheese, a staple in many recipes, gets the nod when it's time to create cheese melts so scrumptious.
The Ticino region also gifts us the universally-loved Saffron Risotto; rich, hearty, and made with local humble ingredients, painting culinary pictures brighter than a Van Gogh masterpiece.
Herbs and Spices
Moving onto the spice of life – herbs and spices. They're like the secret handshake in Swiss gastronomy; they weave their way into traditional Swiss foods, adding a dash of intrigue to every bite.
Subtle yet profound, they can turn a simple meal into an opera of flavors. Easing into first place is saffron, an elite ingredient elevating the humble risotto to celebrity status.
Just when you think the parade of spices is over, the Swiss-German dish of green beans paired with traditional Swiss Cheese Fondue sneaks into the party.
This dish originated in the canton of Graubünden during the 19th century and gets its magic from a cocktail of herbs and spices, the fondue melted in a copper cauldron over a fire.
Swiss Food Culture
The essence of Swiss food culture is grounded in the simplicity of its recipes and the classiness of the meal setup. Think Alpine hospitality meets 16th-century dining standards – it's a beautiful fusion of warm hospitality and tradition.
The key isn't fanciness, but a knack for spinning gold from ordinary, local ingredients. The Swiss meal structure is stellar from soups to sides, and mains to desserts, all served in a style so harmonious, it's no less impressive than a well-conducted symphony.
Eating Habits
Chowing down the Swiss way. Whether it's dipping bread into cheese fondue at dinner or savoring Zürcher Geschnetzeltes on a weekday, there's an air of tranquility in Swiss eating habits.
They keep it simple, like enjoying the pleasures of a Sunday stroll; unhurried, mindful, and content. Most Swiss folks swear by four meals – breakfast, lunch, 'Zvieri', and dinner, maintaining a balance as steady as a tightrope walker.
'Zvieri', a mid-afternoon snack is akin to the British high tea, only heartier. It might be a scrumptious hazelnut and almond loaf or a light salad, just enough to keep the hunger pangs at bay till dinner.
Meal Structure
A typical meal structure in the region of Switzerland is a rich embroidery of flavors, influenced by the country's diverse cultures.
It traditionally starts with starters often made of salads or cold meats served with fresh bread. Main meals often have a meat dish accompanied by a side of vegetables and potatoes; and finally, we wrap it all up with dessert, that's the Swiss way.
Apple, stewed to sweet perfection, is often found in Swiss dishes. A great example is the good old Älplermagronen, the classic herdsman's macaroni.
This isn't your typical mac 'n' cheese; it's a fusion of pasta, cream, potatoes, and cheese. Served with stewed apple on top, it screams Swiss comfort food louder than a yodeler on a mountain top.
Etiquette
The Swiss take their mealtime etiquette quite seriously. Eating is considered a communal event and each Swiss canton has its culinary traditions. Conservatively speaking, it is customary to eat bread with your hands, but all other food, including fruit, is attacked with cutlery.
And yes, time matters too. In major parts of Switzerland, eating generally occurs around three times a day, keeping the age-old saying, "three square meals", alive.
Now, coming to the Canton of Valais, let's just say they do it a little differently. Classic Swiss dishes like smoked pork with pickles and onions find regular spots on their dinner tables.
Plus, it's common to find a plate of hash browns or mashed potatoes accompanying the main dish. It's sort of like the Swiss version of momma's all-time favorite Sunday roast. Well, guess now we know where everyone's skiing to after the Alps – down to the food-heavy Canton of Valais.
You might also be interested in...