Lebanese Food: 11 Popular Dishes + 5 Secret Recipes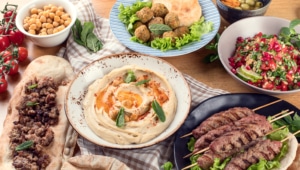 Lebanese food is healthy, delicious, and straightforward to prepare. However, if you didn't grow up cooking and eating Lebanese, it can be hard to know where to start. We'll be taking a deep dive into some insider tips and tricks to Lebanese cooking.
Lebanese cuisine combines the best of the Mediterranean with the best of the Arabian hinterlands. It also promotes good health and is built around a heavily social approach to eating. Many people have tried falafel or hummus, but don't know where to go next with Lebanese cooking.
In this article, we get to grips with the principles and history of Lebanese cuisine, cover the cooking tips that Lebanese chefs have mastered over the centuries, and dive into a few iconic dishes. Let's take a closer look at topics such as:
Traditional Lebanese cuisine and how the culture has affected the culinary scene across the globe
The reasons why the Lebanese diet is one of the healthiest and most flavorful cuisines you'll encounter
A quick look at traditional Lebanese cuisine, featuring 11 must-try dishes
Secret Lebanese recipe tips so your cooking authentically captures the cuisine's complexity
The spices and fresh ingredients that are at the heart of Lebanese cuisine
A crash course on Lebanese food culture, customs, and etiquette.
Grab a sharp knife, chopping board, and fire up your ovens — it's time to learn how to cook like a Lebanese.
Traditional Lebanese Cuisine – More Than Tabbouleh and Hummus
Lebanon sits between the Mediterranean basin and the Arabian hinterlands. As such, the food eaten in Lebanon is influenced by ancient Arab and Mediterranean societies such as the Greeks, Persians, and Byzantines.
Multiple waves of invasion and occupation have also brought culinary influences from the Ottoman Turks and the French. Because of these multiple historical and cultural events, the cuisine of Lebanon is generally considered to belong to the broader tradition of Levantine cooking and food culture.
Here you will learn more about the turkish food.
Lebanese Food in the World
The Lebanese diaspora is large and wide-reaching. Brazil alone is home to at least seven million people of Lebanese descent. Lebanese migrants traveled with their traditional cuisine and an incredible capacity to adapt to local tastes and ingredients.
In Mexico, for example, the popular "Tacos al pastor" aka "Tacos Arabes" (Arab Tacos) was innovated by Lebanese expats.
Lebanese dishes such as hummus, baba ganoush, and falafel are already extremely popular among vegans, vegetarians, and health food enthusiasts.
This is, in part, due to the dishes' high protein content — critical to people who don't consume animal protein. These traditional Lebanese dishes are also simple to prepare and require no hard-to-get ingredients.
Hummus, for instance, has become almost as ubiquitous as soft cheese in charcuterie — unsurprising, given its popularity in the Arab equivalent, mezze.
How Healthy Lebanese Food Is
Lebanese cuisine encourages balanced and seasonal eating. Like many traditional cuisines, Lebanese food is designed to not only be delicious but also support a long, healthy life.
Traditional cuisines, like that of the Lebanese, are especially good for athletes and hardworking people. Food is medicine — eating a nutritious diet is an excellent way to prevent illness and promote a happy and healthy lifestyle.
Fresh, Whole Ingredients Used
Lebanese dishes often use both cooked and raw vegetables. Even cooked vegetables are often only lightly grilled. Eating fresh and seasonal ingredients promotes a varied and nutritious diet.
Cooking with whole ingredients means integrating every component of an ingredient into a dish. This cuts down on waste and also ensures that no potential nutrients are lost. The philosophy of using the entirety of an ingredient lends Lebanese cuisine its characteristic deep and complex flavors.
Plant-Based Dishes Available
Lebanese cuisine includes many plant-based dishes. Chickpeas, beans, lentils, and other legumes are staples and absolutely essential for authentic dishes, and as an upside, these also provide plentiful sources of plant protein.
The best cuisines work wonders without relying on the richness of meat to provide all the flavor. In Lebanese cooking, seasonal or local vegetables are frequently treated as the heroes and centerpieces of a dish.
Grilled or Baked Meats
Meats are often prepared by grilling or baking. Poultry is eaten more frequently than red meat, and seafood is also popular in Lebanese cooking.
When red meat is used, lamb and goat are preferred to beef. Although pork is forbidden to followers of Islam, it's also sometimes eaten – especially in the Lebanese diaspora throughout South America.
Olive Oil Is Staple
While olive oil is typically celebrated as an iconic product of the ancient Mediterranean, it's also hugely popular in the Arab world.
Lebanon inhabits both of these worlds, so it's no surprise that olive oil is the staple fat used in Lebanese cooking. Dairy products like butter and cream are only really used in the preparation of desserts.
Fermented Foods Commonly Served
Fermented foods are an extremely important part of the Lebanese diet. In traditional cuisines, you'll find a range of fermented dishes that are eaten at least daily, and often with every meal.
Kishk is one such important Lebanese ferment. Yogurt and bulgur wheat are fermented, dried, powdered, and stored dry or as dough balls in olive oil.
11 Lebanese Dishes You Have to Try
Lebanese cuisine is overflowing with different dishes and preparations. If you haven't grown up eating Lebanese food, it's hard to know where to start. Let's look at a few simple "must-try" dishes that'll help anyone get to grips with Lebanese preparations and flavor profiles.
Soups & Salads
Soups and salads are common components of a Lebanese meal. The exceptionally fertile Levant landscape produces many different vegetables and fruits.
Seasonal eating is an important part of Lebanese cuisine, and recipes are adjusted and innovated according to the availability of agricultural produce.
Lentil Soup
This dish is known in Arabic as "shorbat adas" — which translates directly to "soup lentil" or simply, "lentil soup". Lentils provide a rich earthy flavor and a big helping of plant protein, while soups are a marvelous and hearty way to serve these legumes.
Lentil soup is prepared with red lentils, rice, olive oil, and a stock (either of vegetables or meat). It is spiced simply with toasted and ground turmeric and cumin, which both pack smoky and earthy flavors, with a little sweetness from the cumin and astringency from the turmeric.
This dish is a serious comfort food and is considered warming and nutritious.
Fattoush Salad
This dish is one of many that finds a delicious use for day-old flatbread. Khubz (flatbread) is toasted or fried and then shattered. The pieces of delicious crunchy bread are then incorporated into the fattoush salad — analogous to croutons in a Caesar salad.
Mixed greens, radishes, tomatoes, and other seasonal vegetables are added to the dish, resulting in a serving that pops in both color and flavor.
Local herbs are also used, while sumac and/or pomegranate molasses are added to provide some acidity to the dish. There are a number of variations on a fattoush, but the essential base of smashed and toasted flatbread remains the same.
Starters and Sides
Mezze is an integral component of Lebanese cuisine. As such, there's no end to the dishes and recipes that can be served as starters or sides. There are, however, a few classic mezze dishes. You'll find the following dishes served frequently with mezze or as sides to a main meal.
Hummus
This creamy, lemony, garlicky delight is famous across the world. Almost everyone has eaten or heard of hummus, and it's just as comfortable in a traditional mezze as it is on a vegan charcuterie board.
The magic of hummus rests on the chickpeas that form the base of this dish and which are rich in plant protein.
While you can buy ready-made hummus at many supermarkets, preparing it from scratch is simple and affordable. You can soak and boil dried chickpeas or simply use canned options. Then, mash your chickpeas with lemon juice, tahini, and garlic.
To complete your hummus, garnish it with olive oil, paprika, parsley, and a couple of whole chickpeas.
Baba Ganoush
Baba ganoush is another dish that's well-known within and outside the context of Lebanese cuisine. This dish has a rich smooth texture that's derived from the succulent roasted eggplants that provide its body. "Baba ganoush" is sometimes translated as "spoiled old daddy".
While the origins of the name are somewhat hazy, creamy baba ganoush does taste like a wonderful indulgence.
The dish uses similar supporting ingredients as hummus: lemon juice, tahini, garlic, olive oil, and spices. The star of baba ganoush, however, is the decadently creamy eggplant — either charred, grilled, or roasted for rich smoky undertones.
Cooked eggplant is drained of its juices and then peeled before the tender flesh is delicately combined with the remaining ingredients. Baba ganoush can be garnished with pine nuts and parsley.
Falafel
Falafel is another tasty vegetarian snack that's exceptionally high in protein. The Israeli state claims chickpea falafel as its national dish — but these crunchy herby fritters are undisputedly an Arab innovation. Falafel can be made from chickpeas, broad beans, or even the two combined.
Traditionally, falafel is deep-fried, although some health food enthusiasts insist on baking them. In fact, much like hummus, falafel has been a favorite of vegans and vegetarians worldwide for quite some time.
Internationally, chickpea falafels are frequently cooked and prepared in fusion dishes, where they take the place of animal dishes like meatballs or burger patties.
Lebanese falafel is prepared by soaking and grinding raw chickpeas or fava beans. The legumes are ground together with parsley, garlic, scallions, and various other vegetables.
Falafel is also frequently spiced with cumin, fresh cilantro, and dried coriander. This vege mince is then rolled into balls and deep-fried to perfection.
Mains
Mains follow mezze in Lebanese culinary tradition. In home cooking, mezze may be simpler and less varied while the main meal might be more substantial.
In Lebanese cafes, mezze is so plentiful that mains aren't even required. Some mains are served as street food (with no mezze) or in restaurants (with copious mezze preceding them).
Kibbeh
Kibbeh is the national dish of Lebanon and is a hearty, artsy, flavorful treat. It's made by pounding bulgur wheat and minced meat together with pine nuts and spices.
The mixture is then rolled into balls and served raw, grilled, or deep-fried. The explosion of flavors makes this food a popular one among those who get to try it.
Shish Taouk
This dish is a great example of the wonders that marinade can do for meat. Cubes of chicken are marinated in yogurt, lemon juice, or tomato puree, skewered, grilled, and served as shish taouk.
The exact origins of the term "shish" are cloudy — but it indicates that a dish is cooked on a skewer. "Taouk", on the other hand, is derived from the old Turkic word for chicken.
Bread, Pastries, Dessert
Almost all meals are accompanied by flatbread in Lebanese cuisine. Pastries, both savory and sweet, are especially popular. Desserts are often sweetened with attar (rose-water) syrup and feature nuts and dried fruits for a decadent treat.
Manousheh
This Lebanese breakfast flatbread is tasty, convenient, and versatile. Manousheh is eaten by the Lebanese in much the same way as bagels are eaten in Canada or New York.
Popular toppings for this include za'atar (the ancient, West Asian spice mix), cheese, minced lamb, or kashk (ferment of wheat and yogurt).
Ma'amoul
These crumbly cookies are an absolute delight. They are packed with dates, walnuts, and pistachios. Lebanese Christians traditionally bake the pastry to celebrate Easter, making sure to douse ma'amoul in generous servings of atar syrup.
Secret Recipe Tips
There are a few fundamentals that must be grasped before attempting to cook Lebanese food. These tips would seem self-evident to a Lebanese chef, but for the uninitiated, they need to be clearly laid out. Keep these tips in mind if you want to find success with cooking authentic Lebanese cuisine.
Use Fresh Ingredients
Fresh ingredients are the foundations that Lebanese cooking is built on. All Levantine cuisines are marked by their access to the agricultural abundance of that region. Lebanese food is no exception.
Fresh seasonal ingredients are both the norm and the bare minimum for the preparation of authentic Lebanese dishes. Without them, capturing the essence of the culinary tradition is impossible to do.
Marinate Meat Overnight
Marinating meat overnight allows the marinade's flavors to deeply penetrate the raw flesh. Many marinades also have a softening and tenderizing effect, allowing the use of a broader range of meats and cuts.
Lebanese cuisine makes ample use of pungent herbs and spices that all greatly enhance meat dishes. Lebanon is a cosmopolitan nation with citizens of many faiths living and practicing within its borders.
However, because the majority of Lebanese people adhere to Abrahamic faiths, cultural norms, and relevant dietary laws, pork is rarely prepared for consumption. Poultry is the most commonly eaten meat, followed by lamb, and then goat.
Toast Spices
Always toast your spices. It doesn't matter whether you plan to grind them or use them whole — toasting spices sweetens and intensifies their flavor. You can toast spices in a dry pan and fill your home with their delicious aroma. Don't bulk toast more spices than you need as this can lead to them becoming musty or even rancid in storage.
Use a Mortar and Pestle
The mortar and pestle are central tools in many cuisines. Many dishes that are prepared in food processors used to be made with mortar and pestles. Even French dressings, such as mayonnaise or aioli, can be created with a mortar and pestle.
In Lebanese cuisine, a mortar and pestle are essential for grinding spices after toasting. It's also useful for preparing hummus, and even falafel can be made in such a simple and crude machine. Make sure you invest in a mortar and pestle of sufficient volume for not only grinding spices but also dips and fritters.
Balance Sweet and Sour
Cooking is all about balancing flavor. The six fundamental axes of flavor are sweet, bitter, salt, savory, fishy, and acidic (sour). Sweetness and sourness are especially important to the Lebanese culinary palate.
Balancing the sourness of sumac with the sweetness of pomegranate molasses is one example of how this can be done in Lebanese cooking.
Lebanese Beverages
Most meals in Lebanese cuisine are accompanied by beverages. Likewise, it's very unusual for drinks to be served in a cafe without also serving mezze. Coffee is just as important in Lebanon as it is throughout the Arab world, but it's far from the only option on the drinks menu.
Lebanese Coffee
Lebanese coffee is enjoyed throughout the day and served to all house guests. Its preparation is similar to Turkish coffee — a small copper pot is used to brew the beverage.
Sometimes cardamom is added to the coffee grind and water slurry. Lebanese coffee is drunk from small ceramic cups and is frequently sweetened with sugar cubes.
Jallab
Jallab is a refreshing and complex cold drink that's enjoyed in Lebanon and beyond. Grape molasses, rose water, carob, and dates are combined to make jallab syrup. The syrup is then mixed with grenadine and rosewater, smoked with Arabic incense, served over ice, and garnished with raisins and pine nuts.
Ingredients in Lebanese Food
Lebanese cooking is often dictated by seasonality and local availability. Despite that, there are a few ingredients that are central to the Lebanese style of cuisine. If you want to try your hand at Lebanese cooking, you'll need to stock up on these ingredients.
Olive Oil
Olive oil is an important pinnacle of Lebanese cuisine and finds application in cooking and dressing dishes. After all, this ingredient has been a central part of Mediterranean diets since antiquity.
When preparing Lebanese dishes, you may want to use a cheaper olive oil for cooking and a more expensive variant for dressing salads and serving with bread.
Chickpeas
Chickpeas can be eaten all year round. These legumes are tasty and an excellent source of plant-based protein. Traditionally, chickpeas are stored dry and then soaked and boiled when required for cooking.
These days, you can buy pre-cooked canned chickpeas (which are great if you forgot to soak chickpeas in advance of cooking).
Eggplant
Ottoman cuisine has had a big influence on Lebanese cooking. The eggplant was one of the most celebrated vegetables in Ottoman cooking, so it's unsurprising that this versatile vegetable is still very popular in former territories of the Ottoman, such as Turkey and Lebanon.
Eggplant has little of its own flavor, but it's an incredible vessel for spices, sauces, and oils.
Lamb
Lamb is the red meat of choice in Lebanese cuisine. It's also a meat that's strongly associated with Mediterranean and Arab cuisines in the wider world. Although poultry is the most commonly eaten meat in Lebanon, lamb remains an icon of Lebanese food internationally.
Pomegranate Molasses
Pomegranates are native to Western Asia and have always been available to the people of Lebanon. These beautiful fruits have a significant place in the myth and legend of the ancient Mediterranean, as well as the modern Islamic faith.
Pomegranate molasses are used in Lebanese cooking to cut through fatty dishes and provide a sweet, tangy counterpoint to deep savory flavors.
You can buy pomegranate molasses ready-made or prepare your own at home. All that's required are pomegranates, lemon, salt, and a stove.
The juice of pomegranates is combined with a little salt and lemon, then reduced to a molasses-like consistency. The resulting reduction is sweet and tangy and provides an extremely intense and concentrated flavor.
Herbs and Spices
Every cuisine has its own collection of prized herbs and spices. Understanding the balance, interplay, and complementary aspects of these herbs and spices is key to understanding a cuisine.
Before you attempt Lebanese cooking, it's vital to learn which herbs and spices spell the difference between watered-down and authentic dishes.
Mint
Mint is a sweet, fresh herb that you'll often see used in beverages and yogurt sauces. This hardy plant is easy to grow in most soils, and, once established, almost impossible to get rid of. For your Lebanese cuisine needs, you can easily plant a couple of mints in pots to control the herb's growth and spread.
Parsley
Parsley is a fragrant and astringent herb and is another one that you can easily grow in your garden. In English tradition, parsley must be planted by the woman of the house and never received as a gift (only stolen).
If you're cooking Lebanese dishes, however, it's safe to say you can ignore those quaint English superstitions.
Cumin
Cumin is an earthy, smoky herb that shines excellently in savory dishes — especially with meat or beans. In Lebanese cooking, cumin seeds are generally toasted and then used whole or ground.
Cumin is popular throughout the Arab world, Asia, and South American cuisines, so you'll likely have some in your pantry.
Sumac
Sumac is an important spice across the Arab world. It has a bright tangy flavor and a vibrant red hue. This spice is made from sumac fruit — which is dried and ground to produce the popular spice. Sumac was used heavily in Ottoman cuisine and is still very popular in former Ottoman territories, such as Lebanon.
Za'atar
Za'atar is a spice mix belonging to the Levantine tradition of cooking. It's made from a selection of herbs and spices that can be found in Western Asia, such as toasted sesame seeds, dried sumac, salt, and several varieties of thyme.
References to Za'atar can be found in the Hebrew Bible, where it is referred to as "ezov". It's clear that this spice mix has been eaten and enjoyed since ancient times.
Lebanese Food Culture
The traditional Lebanese diet is a blend of cuisine and eating habits. If you really want to benefit from Lebanese eating, you need to learn when and how Lebanese food is eaten. Depending on where you grew up, some of this culture may be familiar, while other aspects might be new to you.
Eating Habits
One of the most important considerations when cooking foreign cuisine is the respect accorded to it, and a crucial way to show respect is to observe the culture's proper eating habits.
These provide context for the kind of dishes that are prepared and served in Lebanese cuisine. Keep them in mind when you are designing meals and preparing courses.
Mezze-Style Dining Is Common
Mezze dining is similar to the French idea of "charcuterie". A great many complementary dishes are served, and diners are expected to eat a little of everything. This encourages slower, more exploratory eating and puts less pressure on the idea of a "main" dish.
At home, mezze may consist of no more than four or five dishes and sometimes precedes a more substantial offering. In a commercial dining setting, however, mezze will typically include dozens of dishes. Either way, every dish is designed to contrast or enhance the others.
Food Is Often Shared
As the preference for mezze-style eating indicates, dishes are generally shared over the course of a Lebanese meal. Each member of a party doesn't choose and eat their own self-contained and balanced dish.
Lebanese meals are shared and balance is achieved across multiple dishes. This encourages a social atmosphere and a sense of coming together as a community during meal times.
Meals Structure
Different cultures approach meals differently at different times of the day. The order in which food is served and the structure of the meal are specific to Lebanese cuisine. All of these factors are extremely important in Lebanese culture and cooking.
Lunch Is the Biggest Meal, Eaten around 2:00 p.m.
Lunch is the main culinary event of the day. If you're ever invited to eat at a Lebanese home, it's likely that you'll be welcome to join your host for lunch. While these meals are important every day, they become especially extravagant affairs on religious holidays, feast days, and other special occasions.
Mezze Is Served First
Mezze is always served before whatever main meal has been prepared. If you're eating out, drinking, or enjoying tea, the meal may begin and end with mezze.
At lunchtime, mezze is used to awaken your hunger and your taste buds before moving on to something more substantial. Warm Bread, Hummus, Olives, Cheese, and Pistachio Nuts Are Common Mezze Dishes.
Mezze will generally be accented with seasonal offerings, vegetable dips, and finger foods. These dishes will rotate in and out over the course of the year and vary from location to location. However, wherever you are and whatever time of year it is, there are some staple mezze dishes.
You can expect to find warm bread, hummus, olives, cheese, and pistachio nuts served as part of most Lebanese mezze.
Kibbeh Is the National Dish, Often Served as the Main Course
Bulgur wheat, meat, pine nuts, and spices are all pounded together and rolled into balls. The balls can be served raw, grilled, or deep-fried.
"Kibbeh" is derived from the Arabic for "to roll into a ball", and is closely related to "kebab". This delicious and iconic Lebanese dish is an excellent follow-up to a starter course of mezze.
Etiquette
Etiquette tells you a lot about the customs and history of food culture. For its part, Lebanese etiquette is influenced by European table manners.
The generous, warm Arabic values of hospitality are also deeply embedded in Lebanese food culture. Some of the following customs will be familiar to you while you may be discovering the rest for the first time.
Uses Continental Table Manners
If you're reading this, there is a good chance you're already familiar with Continental table manners. Most English speakers will have been taught some degree of basic dining etiquette, such as:
The layout of the cutlery — the fork goes in your left hand while the knife is in your right hand
Elbows must remain off the table – also make sure that you don't talk while your mouth is full
Knife and fork position – should also be between one and two o'clock position on your plate once you're finished eating
This etiquette forms the basics of Continental table manners. None of it should be too unfamiliar or counterintuitive to a native English speaker.
Expected to Try All Foods
This is a rule that you'll encounter across the Arab world. Trying all foods signals your appreciation of the host's offerings and the cook's hard work. If you don't try something, you better have a good excuse — such as allergies, vegetarianism, or religious convictions.
Encouraged to Have More Helpings
Taking second and third helpings indicates your enjoyment of the meal. This is a polite gesture — not at all a sign of greediness or overindulgence. It's wise to plan for this and pace yourself across the meal. For instance, try to consume smaller portions during your first helping to make room for more.
Eat Smaller Portions Initially
Filling up too quickly is a critical error during a Lebanese meal. Take small portions initially to ensure you have the capacity to try everything on offer.
If you are served a mezze before a main, be careful not to fill up on the first course. Leaving scraps on your plate is considered ill-mannered and wasteful, so be sure you can finish your main meal.
You might also be interested in...