Argentinian Food: 5 Popular Dishes + 4 Secret Recipe Tips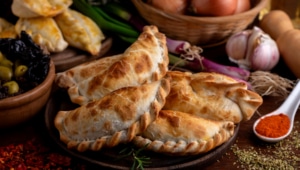 Planning a trip to Argentina includes immersing yourself in the country's vibrant food culture. Hold onto your taste buds; you're in for a flavorful roller-coaster ride on the Argentinian food tour. Learn here wich dishes of Argentinian cuisine are the most popular.
Argentinian cuisine takes your average meal and turns it into a symphony of tastes. It was greatly influenced by its Spanish and Italian immigrants during the 19th Century, alongside its rich South American roots.
Traditional Argentinian Cuisine- More Than Flank Steak and Ice Cream
Argentinian food is a wide umbrella that shelter's the ever-famous Asado, a technique of grilling meat, sumptuous Matambre Arrollado wrapped in delicious hard-boiled eggs, sweet potatoes, and tasty condiments.
But, the secret to a true-blue Argentinian experience? It has to be the sweet fillings in their desserts, like quince jam and condensed milk teamed with light and soft pastry. Welcome to food Nirvana, way beyond the horizon of your usual flank steak and ice cream.
Most Popular Street Food in Argentina
Argentina's bite-sized treats, Empanadas, are legendary. Originating from Spain in the 16th century, these puff pastry bundles were introduced to Argentina, and boy they've never looked back.
Available in a plethora of stuffings, from ham and cheese to beef or chicken, these pocket delights are savored either baked or fried.
No trip to Argentina will be complete without indulging in their classic Argentinian Choripán. It's grilled chorizo served on a roll of crunchy bread, indeed a Cinderella of the meat dishes proving that simplicity is the ultimate sophistication.
But before you close your eyes and crunch on this goodness, you discover a spicy kick from its traditional condiment: the chimichurri sauce.
Want Italy in Argentina? Reach out for an Argentine pasta dish, reminiscent of an Italian caricature sketch. Argentina is not shy in admitting the influence of its Italian immigrants.
Their Pastas come loaded with a range of different fillings – meats, ham, and cheese, or simply vegetables paired with their much-loved Argentinian stew as a sauce. It will feel like you are walking the cobbled streets of Eataly, savoring every whiff the air brings.
Argentinian Food in the World
Now if you're planning a trip to Argentina, be aware this country's dishes have wormed their way into other corners of the globe.
You might think you've never eaten Argentinian cuisine, but you've probably encountered it a few times here and there without knowing it. Once you recognize the patterns, you'll see Argentinian influences popping up all over the world.
Street food is a hot favorite in different parts of the globe as is evident by the surge of food trucks and street food festivals. And lord have mercy, these pretty often include a bit of the tangy and robust Argentinian street food.
It is not uncommon to find Argentinian-inspired street food trucks or stalls across American and European food markets. After residents in these regions participate in food tours held in Argentina, their taste buds experience a renaissance.
They return to their native countries, craving more of that Argentinian flavor magic, and try to replicate these dishes back home.
Worldwide Mark on Restaurants
Classic Argentinian food has also left its mark on worldwide restaurant menus. Empanadas and Asado, two flagship Argentinian dishes, you can find them in about every nook and cranny from fancy city restaurants to the rustic eateries by the sea.
They've even infiltrated the pub scene with sandwiches de miga (delightfully crustless sandwiches) and provoleta (an ooey, gooey concoction of cheese) popping up on pub menus internationally.
Then we get to dessert. There's few who can resist the dulce tentación, or sweet temptation, of an Argentinian pastry even halfway across the world.
Alfajores, those wickedly delicious little pastry cookies filled with dulce de leche, have become a popular addition to café menus from London to Los Angeles. It's a remarkable testimony to the far-reaching impact of Argentinian flavors on the global food map.
How Healthy Argentinian Food Is
Argentinian food is as rich in layers of flavors as the culture it arises from. When talking about healthy eating, it becomes a conversation of balance. What balance, you ask? Well, let us tell you a thing or two about Argentinian food.
Full of Nutritions
Much like life, Argentinian cuisine isn't exclusively about indulging in succulent beef Asado or relishing a heavenly Dulce de leche-filled pastry. It also provides refreshingly vibrant, nutrition-packed options.
Picture an earthy pumpkin soup garnished with crunchy seeds or a wholesome quinoa salad studded with dried fruits and nuts. It's like the dance between the tango's passionate flair and slow, intimate close steps, both vivacious, both essential to the essence of Argentina.
The beef, you hear so much about, for instance, is mostly grass-fed. Now, why does this matter to your diet? Well, grass-fed beef is packed with Omega-3 fatty acids (good for your heart), has lesser fat, and is high in antioxidants.
Really when you think about it, enjoying a juicy steak cooked with the right amount of chimichurri sauce is like going on an exciting food tour for your tastebuds and still receiving a commendable health report card.
Fresh, Local and Quality Ingredients
All said and done, Argentinean food rests on using fresh, local, and quality ingredients. There's this beautiful authenticity in its miles of cultivated lands yielding wholesome grains, Pampas supporting livestock, vineyards offering world-class wine, and gardens providing freshly grown vegetables.
As with any food culture, what you choose to consume frequently matters. Eating the wide variety of foods that Argentina offers in a balanced manner is key to a healthy diet.
Remember, even in the land of marvelous empanadas and luscious Malbec, everything in moderation is a golden rule.
Famous Argentinian Dishes You Have to Try
Argentina, the darling of South American countries, and indeed one of the cattle-richest countries in the world, cavorts with flavors that leave food enthusiasts reeling.
With its strong Spanish and Italian influence, you're bound to come across unique traditional dishes that simply expose Argentina's deep love for meat—but that's not all.
Ready your tastebuds, because we're about to embark on a culinary journey featuring piquant steaks and flamboyant fillings. Saddle up.
Asado
The Asado, a darling of Argentinian barbecues, comes prancing onto our list holding the number one spot. As you'd guess correctly, this chap isn't just any regular barbecue—it's a party of succulent, high-quality flank steak grilled to perfection.
Next time those meat cravings thump your inner walls, let a piece of Asado melt in your mouth, complete with sweet potatoes served on the side.
Matambre Arrollado
This generous roll-up of loveliness marches in next: Matambre Arrollado, that fascinating concoction of flank steak stuffed with vegetables, hard-boiled eggs, and cheese shouldn't go untried.
Off the grill, it's left to settle into a mouth-watering spectacle that's ready to be chewed down to the last morsel.
Empanada
Consider the Empanada a chunky salute from Argentina—it's what sets ours apart from other countries. A ravishing crescent of crusty bread filled with beef, chicken, cheese or goat, and other tempting fillings offers a dance-like-no-one's-watching affair with the palate.
An interesting fact – empanadas can also be filled with sweet fillings for those sudden dessert whims.
Humita
Like mail parcels going back and forth across northern Argentina, the Humita, lovingly wrapped in corn husks, is resplendent with the flavors of steamed or boiled sweetcorn with goat cheese.
As you break open the husk, let the delicious aroma usher in such pleasant feasting, you'll remember Argentina every time you hear the word 'corn.'
Dulce De Leche
Embrace capitulation with the Dulce De Leche – you're helpless not to adore this proud specimen of Argentinian desserts.
This delicious play of condensed milk cooked down to the consistency of caramel can be crowned onto pastries, slathered liberally over thick crust toast with quince jam, or served as ice cream – sweet surrender indeed.
Argentina might be famously known as a carnival of meats to the world, but it's crucial to pass the word: there's more to the land of fiery Tango than Asado and flank steak.
From sandwiches slathered with mayo to mounds of cheese oozing out from crunchy flaps of bread, to warm mouthfuls of soups and salads – what a palate paradise it does promise.
Every corner and alleyway, every Mama's and Grandma's kitchen in Argentina is a treasure trove of scrumptious food. Each dish is crafted with love, a reflector of the country's dynamic culture, and its people's unshakeable love for variety in their cuisine.
Soups & Salads
In the culinary destination of Argentina, nothing gets the appetite going like a good hefty soup or a sprightly, vivacious salad. One of the most well-liked soups on the Argentinian menu is 'Locro.'
It's unique and complex. Much like an unfinished jigsaw puzzle with each piece being a different ingredient – corn, beef, chorizo, and pumpkin – you just can't wait to see the finished product.
Switching lanes, consider stepping into the vast kaleidoscope of Argentinian salads. An all-around favorite is the 'Ensalada Rusa', a bright medley of boiled potatoes, carrots, and peas, often garnished with a generous dollop of mayonnaise.
Now the special surprise that might have even the salad greens caramba-ing away in delight, is the Quinoa salad. Ancestrally revered in the Andes regions, it surprises the palate with cherry-colored tomatoes, local Andean cheese, and succulent corn.
Chimichurri
To complete such sprightly dishes, you wouldn't want to be caught without 'Chimichurri', the crowd-pleaser.
A fresh, lush green sauce of minced parsley, garlic, and fresh oregano mixed in with vinegar and oil, the perfect condiment that harmonizes all that hearty deliciousness and leaves its own tangy signature behind.
A proud cock-a-doodle-doo to each feathered ingredient in the Argentina food roost.
Starters, Sandwiches, Sides
Going beyond the vibe of the well-renowned Argentinian BBQ, there are lovely petite dishes that might seem like footnotes on the food map but definitely pack the bolt-out-of-the-blue wallop.
One that jumps ahead of the queue is the petite 'Empanadas.' Hand-sized, pocketable pastry circles filled with beef, chicken, ham, or mozzarella. Unassuming yet just as attention-grabbing as hiccups in a library quiet room, if you catch my drift. Simply, humbly delicious.
Moving on down this culinary alley, anyone cooking up a delectable Argentinian meal must beg, borrow or steal to grab a hold of a 'choripán', an open-faced sandwich where chorizo is the belle of the ball.
Nestled lovingly between slices of baguette-type bread with heaps of chimichurri sauce for company, it has the wholesome appeal of being no fuss yet exhibits laudable gastronomical know-how.
Bottom line: A meal in Argentina without 'Provoleta' is much like a horse without a saddle, a doodle sans doodlebug. But enough of my analogies.
This stretched, toasty mozzarella disc, seasoned with oregano and often a dash of chimichurri, is more than just a 'sidekick' to the main courses. Consider it the Robin to Batman, earnestly assisting, yet holding its own ground; a light unto the larger lanterns of culinary delight.
Mains
Argentina, a country synonymous with tantalizing one's tastebuds, is home to several mouthwatering main dishes that give a new meaning to the dining experience.
A dish to vividly tickle your senses is the famous "Asado," an assortment of grilled meats that includes everything from beef ribs to spicy sausages.
Cooked slowly over an open fire till the smoky flavor infuses the meat, a taste of Asado is a delectable journey your palate simply can't miss.
Whenever conversations veer towards Argentinian main courses, you're likely to hear the redolent name of "Milanesa". Now, what if chicken parmesan had a South American cousin? That's what Milanesa is – a satisfying ensemble of breaded meat slices, fried to an impeccably golden crisp.
Lastly, the traditional "Locro" rounds off our list of Argentinian repasts. This is a hearty stew known to sway many a discerning food connoisseur, brimming with corn, beef, and a melange of tubers and vegetables.
As varied as these dishes may be on your dining table, the common thread that runs through them is the subtle symphony of taste they create, reflecting Argentina's rich cultural heritage.
Sitting down to a plate of Asado, Milanesa, or Locro, is akin to being right at the heart of a bustling Argentinian street fair. You can truly taste the local essence in every bite.
Bread, Pastries, Dessert
Stepping into the ephemeral world of Argentinian pastries and you're hit by the idyllic repertoire of its bread, desserts, and pastries. Mark a must-try next to "Facturas". Now, who thought such a simple delicacy, a sweet bread roll, could hold an individual captive?
A standout dish to charm any dough lover is easy-to-remember "Empanadas". These petite pastries come stuffed with everything, from savory beef to sweet corn, tinted with a colorful array of spices.
Perfectly flaky on the outside and opulently moist within, an Empanada is an orchestra of flavors waiting to explode in your mouth.
Moving on to sweets, a classic Argentinian dessert inevitably leads you to the doors of the well-regarded "Pasta frola de dulce de membrillo".
This suave dessert captivates with a cookie-like shortbread crust harboring a sweet filling sheltering the dulce de membrillo, or quince paste, bringing about a finely-balanced spectrum of sweet and tangy quince flavor.
Argentinian bread, pastries, and desserts are not just food items but mirror the ethos of the country. Each of these delectable morsels holds an intimate story of Argentine culture and tradition, woven with the threads of their distinctive flavors, textures, and ingredients.
It's no wonder then, these food items have withstood the test of time and continue to stake their claim as iconic representatives of Argentina in the culinary cosmos.
Secret Recipe Tips
There's nothing wrong with adding a little Argentine flair to our meals. Spicing up your dishes and giving them a touch of authenticity can be achieved courtesy of these five secret recipe tips straight from Argentina
Aim For Freshness
First, always aim for freshness. Fresh ingredients make the flavor of Argentine dishes stand out. Argentine cuisine mainly uses fresh and local ingredients, so keep this in mind next time cooking. Don't be tempted to grab that can – nothing beats fresh meat, fruits, and vegetables.
Marinating Is Essential
Seconds, marinating is essential. Grilling is a big part of Argentine cuisine, particularly beef, and marinating is vital in achieving those bold flavors that Argentine dishes are known for.
Alfajores (a sweet cookie sandwich) won't crumble in your hands if you let the dough rest for a bit. The right marinades also accentuate the flavor of the ingredients without overpowering them.
How to Master the "Asado" Technique
Three, learning to master the "asado" technique is a must. This is the Argentine method of slow-roasting meat on a parrilla (grill). It produces meat that is crisp on the outside but tender on the inside, achieving that sweet caramelized exterior and soft, juicy interior.
Fourth, don't underestimate the importance of Argentine herbs and spices. Herbs and spices like oregano, chimichurri, and aji molido (crushed red pepper) can make dishes such as empanadas and choripan (sausage sandwiches) more authentic.
The Right Pairing
Last but not least, pairing your meals with the right Argentine vine, that'll conquer taste buds worldwide. Argentina is famous for its wines, especially Malbec.
Expertly pairing your dishes with Malbec can boost and complement the flavors beautifully, really driving home an authentic Argentine dining experience.
Beverages
Now, let's refresh ourselves with some well-known Argentine beverages. Much like its food, Argentina's drinks ooze personality and culture.
Perhaps the most renowned beverage Argentina has blessed the world with is its wine. Argentina's geography creates the perfect conditions for high-quality vineyards, with Mendoza recognized as the heart of Argentina's wine country. Here, you'll find world-class Malbec.
This full-bodied red wine, with its robust tannins and blackberry undertones, is the optimal recommendation for meat-focused dishes. No proper Argentine feast is complete without it.
But not just wines, Argentina is the birthplace of Yerba Mate, a traditional drink associated with friendship and sharing. Yerba mate is an herbal tea made from the leaves of the rainforest holly tree.
It's a popular social drink, often accompanied by bombillas – a silver straw with a built-in filter at the end. Yerba mate has an incomparable flavor – a little smoky, a little bitter, a little sweet – making it a truly unique refreshing beverage.
Ingredients
Argentinian cuisine stands out worldwide for its unique flavors and ingredients. With roots deeply influenced by Spanish cuisine and Italian immigrants who settled between 1853 and 1955, Argentine food incorporates a plethora of diverse and delicious elements.
You'll find bell peppers taking center stage in many pasta dishes, while pork sausage is quintessential for traditional Argentine Asado barbecues.
Argentinian dishes wouldn't be complete without a tinge of sweetness, often filled with dulce de leche or dulce de batata. This sweet twist is a testament to Argentine's spirit of innovation and openness to dissimilar foreign gastronomies.
Many also boast of being topped with the right amount of tomato sauce, further adding a dimension that defines the deliciousness of their food.
Herbs and Spices
No food finds its fullness without the right blend of herbs and spices, and Argentine cuisine proudly showcases this aspect splendidly.
Oregano is a favorite Argentinian choice, while Chimichurri, a melody of parsley, oregano, and garlic cradled in oil and vinegar, takes any Argentinian BBQ from flat to fantastic.
For their delicious Argentinian desserts, ingredients like cinnamon and nutmeg make a noble presence. These spices and fresh herbs add a depth of flavor, elevating simple dishes from ordinary to unforgettable.
Argentinian Food Culture
The Argentinian food culture is a wonderful meld of native South American cuisine, European influences, and colonial traditions. A culture where food is the main event may seem extravagant but, it indicates a deeply rooted value of fellowship and sharing a warm meal together with loved ones.
Eating Habits
Argentinians have an interesting blend of eating habits, possibly tracing back to their European roots. Mornings are for coffee or tea, often paired with pastries. Unlike the common rush-hour morning routines, Argentinians consider breakfast as no less significant than any other meal.
Moving into late afternoon, Argentinians partake in a culturally imprinted siesta period, a respite marked with a light snack to keep momentum for evening hours.
The evening welcomes a late dinner typically featuring meat-centric cuisines accompanied by cheese, like mozzarella, implying personifying that the perfect food day comes full circle in Argentina.
Meal Structure
Wiped that Argentine pizza sauce off your face yet? No? Good, let's traipse through the maze of Argentine meal structure. You aren't nibbling on world-class beef right after the rooster crows.
The Argentinians start light with fresh herbs, a bit of bread maybe, or perhaps tortas fritas, just a plain ol' breakfast. Now hold on to your shirts folks, lunch is the main event in these parts and 'round here, being late to this feast ain't frowned upon.
The grill's all fired up and takes to charcoal or wood for that genuine Argentinian barbecue flavor, right? From parts of the animal, you wouldn't dream of to a generous variety of meats including that empanada tucumana that's been tickling your tastebuds.
Etiquette
Alright, folks. It's time to drop the American fork and knife act, you're in Argentina now. At any bona fide Argentinian restaurant, you'll witness that these fine folks cherish their meal times.
Rule 1: Never, but never ever place your bread (meaning a slab of juicy Argentinean pizza) directly on the table.
Rule nothing-but-2: Keep your meats off the table unless you're passing the minced meat-stuffed empanadas or reaching for the spicy sauce, capiche?
The fine folk who settled in Argentina got a dish for every occasion, my friend. Especially notice the array from the Andean region where they play with a variety of ingredients from caramelized milk, layers of biscuits (sometimes stuffed with dulce de leche), wine vinegar to sometimes even grilled cheese.
Oh, they're as much a feast for the eyes as they are for your rumbling belly. But remember, ain't no mountain high enough to let you forgo the meal-time Manners Rulebook if you want to fit into an Argentinian soirée.
You might also be interested in...