Russian Food: 36 Popular Dishes + 8 Secret Recipe Tips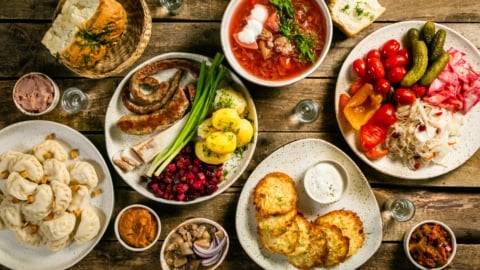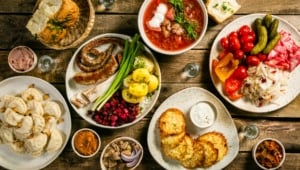 How many Russian dishes can you name off the top of your head? (No, vodka doesn't count.) Probably not too many, right? No surprise there – Russian food often doesn't get the recognition it deserves, but that's all set to change now. Learn here everything about the 36 most popular Russian dishes.
The Russian food culture is as diverse as its sprawling landscape. From the bustling streets of Moscow to the serene countryside, every region boasts a unique culinary identity.
Here, we'll explore Russia's traditional dishes that'll leave your tastebuds tingling. Plus, we'll share some recipe tips to help you recreate them at home.
Traditional Russian Cuisine: More Than Just Borscht and Stroganoff
When we think of Russian food, our minds often go straight to borscht and beef stroganoff. Yet, a whole world of Russian dishes awaits you. Surprisingly, despite the country's vastness, they don't get as much attention as they should.
We often link Russian cuisine to its Soviet and post-revolution past, considering the motherland once governed 15 republics. Not to mention, Russia straddles two continents.
So, what we know as Russian food is actually a fusion of different ethnic and regional flavors. And each dish tells a story of the nation's rich culture and enduring resilience.
Most Popular Street Food in Russia
Russian street food reflects the country's vibrant food culture. From savory to sweet, these quick bites are popular among locals and tourists. Let's dig into the most beloved and iconic curbside snacks in Russia:
Blini (Russian Pancake)
Blinis are hors d'oeuvres you'll often spot on buffet tables and street stalls alike. It's no mystery why—it's a timeless classic that never fails to win everyone over.
Unlike regular flapjacks, blinis get their delicate texture from yeast and their nutty flavor from buckwheat flour. You can fill them with different ingredients, including smoked salmon, sour cream, jam, or honey. Plus, this crowd-pleaser is a breeze to make in large batches.
Chebureki (Meat Turnovers)
These popular Russian snacks are nothing short of deep-fried delight. Shaped like half-moons, cheburekis are stuffed with ground meat and minced onions. The dough is a simple mixture of flour, water, salt, and olive oil and turns a golden brown when cooked in bubbling peanut or avocado oil.
Kukuruza (Corn on the Cob)
Kukuruza, or boiled corn, is another favorite treat to enjoy on the go. Street vendors tempt passersby with whole ears of sweet corn, generously smeared in salt and butter.
You can also have them on a stick, so you can relish each bite without getting your hands messy. Kukuruza is the ideal snack for exploring local markets or taking a leisurely walk in the city.
Pirozhki (Russian Stuffed Buns)
Pirozhki is popular as street food or just a quick, satisfying snack. These boat-shaped buns come with various fillings, such as ground meat, potatoes, cabbage, or mushrooms.
You can enjoy them sweet, using fruit jam or sweet cottage cheese as stuffing. The yeasted dough is baked or fried to golden brown perfection.
Ponchiki (Sweet Donut Holes)
The delightful treat from St. Petersburg is the ultimate game-day snack. Also known as pyshki, ponchikis are fried dough balls dusted in powdered sugar and served on a paper cone.
The main ingredient is farmer's cheese instead of flour. Each bite bursts with melt-in-your-mouth goodness and tiny surprise pockets of cheese curds.
Russian Food in the World
As the Russian food scene continues to evolve, Soviet cuisine is taking a backseat, making way for a more lavish dining experience.
With a thriving food market culture, Moscow has become an exciting destination for global foodies. But that's not all; Russian restaurants are popping up everywhere, serving authentic flavors that transport you to the heart of Russia.
How Healthy Russian Food Is
Much like any traditional cuisine, Russian food is a mix of wholesome and heavy. It features fish, meat, and ingredients from the land's bounty, such as vegetables, mushrooms, and berries. The standard flavor enhancers include pickles, onions, dill, and parsley.
Food scarcity in Soviet times has left a legacy of calorie-rich meals. The national cuisine has countless indulgent options, with red meat and animal fat appearing in many dishes. While staples like salads and soups can be mild and nutrient-dense, some recipes don't skimp on butter, oil, or mayonnaise.
Many traditional dishes can be nutritious, but the excess fats and calories in others can tip the scale toward less healthy options. Yet, this isn't surprising. In a place where the climate can be unforgiving, people need all the energy to warm up and keep going.
Famous Russian Dishes You Have to Try
Russian cuisine might not be as famous as Italian or Mexican food, but that doesn't mean it's not worth exploring. In fact, there are delicious delicacies you just can't miss.
Whether you're a seasoned foodie or just up for trying something new, these Russian dishes will take your tastebuds on a delicious journey.
Borscht (Russian Beetroot Soup)
Borscht is the perfect starter if you want to try genuine Russian grub. This classic dish boasts a medley of beets, cabbage, and other vegetables simmered into a vibrant red soup. It's delicious whether served hot or cold, and for the perfect finish, add a blob of fresh sour cream on top.
Beef Stroganoff
This classic dish contains thin strips of beef seared to a nice brown color. Onions are sauteed until soft and translucent, while slices of mushrooms add an earthy flavor.
Some people swear by using tenderloin, but sirloin or ribeye work just as well. To make a filling meal, serve it over rice, mashed potatoes, or egg noodles.
Guriev Kasha (Semolina Porridge)
Guriev kasha is a creamy and satisfying breakfast delight. You can pair it with all kinds of yummy toppings, including honey, fruits, nuts, or butter. This classic porridge is a warm hug in a bowl and the perfect way to start a brand-new day.
Kholodets (Meat Jelly)
Usually served cold as a starter, kholodets is a collagen-rich treat made by boiling pork or beef until it's practically falling off the bones.
To achieve this, you simmer the meat and other ingredients, including onions, carrots, and bay leaf, on low heat for at least five hours. The broth is then chilled, along with the tender chunks of meat, causing it to gelatinize.
Kurnik (Russian Chicken Pot Pie)
Kurnik steals the show at many festive gatherings, especially Russian weddings. Inside that flaky pastry crust, you'll find layers of succulent chicken, mushrooms, rice, and hard-boiled eggs. One bite of this savory pie, and you'll be coming back for more.
Morozhenoe (Russian Ice Cream)
Morozhenoe is the Russian take on ice cream and comes in various decadent flavors. It's super creamy, thanks to fresh milk and the perfect ratio of ice to dairy. You'll find them in restaurants with all sorts of toppings, like fruits, nuts, and chocolate.
It's the best way to cool off on a hot day or round off a scrumptious meal.
Olivye/Olivier Salad (Russian Potato Salad)
Like a party in a bowl, this traditional salad dish is perfect for holidays and special occasions. Olivye is a hearty mix of diced potatoes, pickles, peas, and carrots, all coated in mayo dressing.
Some people like to throw in cubes of hard-boiled eggs, ham, or bologna for added protein. You might even find a sprinkle of fresh dill or bits of apples for a burst of freshness and color.
Pashka (Cream Cheese Custard)
Easter in Russia is never complete without this delightful dessert. Pashka is a symbol of celebration and tradition in Russia and other Eastern Orthodox countries. A combination of cream cheese, butter, dried fruits, and nuts makes this sweet pyramid of yum.
Pelmeni (Russian Dumplings)
Pelmeni are pastry dumplings stuffed with minced meat and tucked in a pasta-like dough. You can savor them as they are, smothered in butter, topped with sour cream, or floating in soup broth.
These little pockets can be quite time-consuming to make from scratch, but you can always grab a bag of frozen pelmeni from the grocery store.
Rassolnik (Pickled Cucumber Soup)
Pickled cucumbers are the star ingredient in this winter soup, often with a splash of brine for that extra flavor. Originating back in the 15th century, rassolnik emerged from the Russian tradition of pickling cucumbers for winter.
It's packed with root vegetables, grains, herbs, and spices, all swimming in savory meat or vegetable broth.
Salo (Cured Pork Fat)
Russians love to munch on thin slices of salo for a quick burst of energy. Salo comes from the healthy fat stored by an animal before winter, salt-cured for up to 36 hours. So, what's the best salo for snacking?
Look for a chunk around 5–6 cm in thickness, ideally from the brisket, with rosy marble veins. This part is soft and easy to cut.
Selyodka Pod Shuboy (Dressed Herring)
Also known as Herring Under a Fur Coat in literal translation, this colorful salad dish is a fixture on holiday tables.
Imagine layers of shredded salted herring, potatoes, carrots, beets, and eggs, all stacked on top of each other like a beautifully dressed cake. And to make it all come together, each layer gets a generous slathering of homemade mayonnaise.
Shashlik (Russian Meat Skewers)
Think of it as the Russian version of shish kebab—tender chunks of meat, usually pork or lamb, skewered and grilled over hot charcoal.
Also popular in Central Asia, shashlik is the ultimate dish for picnics and summer cookouts. The secret to flavorful shashlik is the marinade, and every Russian family has a well-guarded recipe for it, which usually includes kefir or vinegar.
Solyanka (Sweet and Sour Soup)
Solyanka is no ordinary soup. It's so filling that it could easily be your whole meal. With every spoonful, you get a mix of meats like bacon, ham, sausage, and beef, plus a hearty serving of veggies, including cabbage, carrots, onions, and potatoes.
The word on the street is that Solyanka works like magic as a hangover cure.
Syrniki (Cottage Cheese Pancake)
Syrniki is an absolute treat for breakfast or dessert. The dough is a mixture of creamy cottage cheese, eggs, and flour, fried until golden brown and served with a scoop of sour cream or jam. These pillowy delights have a slightly crispy exterior, while the inside remains soft and creamy.
Ukha (Russian Fish Soup)
You can never go wrong with ukha if you want a light, nourishing soup. Some recipes call for a mix of different fish varieties, while others stick to one type depending on what's fresh and available.
You can plop sour cream on top for extra creaminess or squeeze a lemon for a bright, citrusy flavor. For that authentic ukha experience, a vodka shot added to the pot is a must.
Vinegret (Russian Beet Salad)
Vinegret is a vibrant salad that's as visually appealing as it is delicious. Diced beets give the dish a striking ruby-red hue and a natural sweetness to balance the pickles' acidity. What ties it all together is the dressing, a simple blend of vinegar, sunflower oil, salt, and pepper.
Soups and Salads
For Russians, no meal is complete without a hearty serving of soup. Piping hot soup is a staple during the long, harsh winters, while cold soup is ideal for beating the summer heat. And let's not forget the salads, which Russians can't live without.
Okroshka
Okroshka is a cold soup traditionally prepared with a fermented bread drink called kvass, meat, veggies, and eggs. Its refreshing flavors and contrasting textures make it a popular choice, especially during the warm summer months.
If you want something milder, you can swap out the kvass for kefir or mineral water.
Shchavel Borscht
If you're in the mood for something sour, a bowl of shchavel borscht is a feast. Also known as green borscht, it's a refreshing soup made with sorrel, a lemony-tasting herb that adds a distinctive taste to the dish. This herb infuses the soup with a tanginess that pleasantly surprises the taste buds.
Shchi (Russian Cabbage Soup)
Shchi is a vegetarian soup brimming with shredded cabbage, potatoes, and mushrooms. It's a classic dish that's been simmering on Russian stovetops for ages. You can replace the cabbage with sauerkraut and call it sour shchi.
Svekolnik
if you're looking for a refreshing soup to cool you down on a hot day, svekolnik is perfect for you. This cold soup features the crimson hues and mild sweetness of beets. You might also find bits of cucumbers, dill, and green onions with every spoonful.
Mimosa Salad
This festive salad mimics the colors of mimosa flowers, hence the name. Mimosa salad has layers of mashed tuna, chopped onions, potatoes, carrots, and boiled egg whites. Crumbled egg yolks on top bring a pop of sunny goodness to every bite.
Starters, Sandwiches, and Sides
Russian cuisine features a diverse selection of flavorsome appetizers served before the main courses. Here are some of them:
Caviar
Caviar is the crown jewel of Russian cuisine. This gourmet delicacy is made with salt-cured eggs from sturgeon fish. And the best way to enjoy it? Well, some might argue that a lightly toasted slice of bread or blini is the perfect partner. Or you can use it as a lavish topping on whatever dish catches your fancy.
Mushroom Julien
Mushroom julien is a delicious combo of meat, mushrooms, sour cream, and cheese, baked to bubbly golden finish.
You can trace its origins to 18th-century French chefs who introduced the concept of julienne, where vegetables are cut into thin strips. In essence, this creamy casserole dish is julienned mushrooms swimming in a bath of sour cream.
Stroganina
Think of it as sashimi's rugged Siberian cousin. Stroganina is a whole raw fish, frozen solid and then shaved into these delicate, almost see-through slices.
The key to making stroganina is to use fatty freshwater fish. These thin fish slices are rich in vitamins and keep the indigenous people of the north free from scurvy during winter when fresh produce is scarce.
Zakuski
In Russian gatherings, many hosts put a lot of effort into arranging zakuski, even more so than the main course itself. Unlike your usual pre-dinner nibbles, zakuski has a personality of its own.
It's a delightful spread of assorted pickled vegetables, salads, cured meat, cheeses, and tiny pastries. These little flavor bombs are not just there to tease your taste buds; they're also the perfect partners for that shot of vodka you're sure to raise in good cheer.
Mains
The main courses in Russian cuisine showcase a blend of nutritious ingredients and intricate flavors. These dishes capture the essence of the country's cultural and gastronomic heritage.
While regional variations exist, they remain a staple for many generations. Here are the main dishes typically enjoyed at Russian homes or served in casual eateries and restaurants.
Chicken Kiev
Chicken kiev is a beloved Russian dish made of chicken fillet pounded and rolled around cold butter, then coated with eggs and bread crumbs and either fried or baked.
When cooked, the butter inside melts, creating a deliciously rich and flavorful dish. It's often served with a side of vegetables or mashed potatoes.
Golubtsy (Russian Cabbage Roll)
Also known as stuffed cabbage rolls, golubtsy has quite the fan base in many Slavic countries. Tender cabbage leaves encase a delicious filling of minced meat, rice, onions, and fragrant spices.
But you can pretty much stuff golubtsy with anything you like. Finally, the rolls take a long, simmering bath in a savory tomato-based sauce.
Makarony Po-Flotski
Translated as "Navy-style pasta," makarony po-flotski is a traditional dish featuring sauteed pasta, ground meat, and onions.
You then smother the mix in rich tomato sauce and spruce it up with canned meat or "tushonka," as the Russians call it.
You can also make it with all kinds of pasta, so you can get creative with your fusilli, penne, rigatoni, or whatever is in your cupboards.
Pozharsky Cutlet (Fried Chicken or Veal)
Invented by a Russian chef in the 19th century, pozharsky cutlet is crispy on the outside and tender on the inside. It's an authentic Russian dish made with ground meat, typically chicken or veal, seasoned and shaped into cutlets.
These cutlets are then coated with breadcrumbs and pan-fried. The result is a heavenly dish that meat lovers can't get enough of.
Veal Orlov
Veal orlov is an indulgent dish that's sure to make any food enthusiast weak at the knees. Imagine sinking your teeth into succulent slices of veal filled with layers of pureed mushrooms called duxelles.
What's more, the Mornay sauce and cheese on top form a golden, gooey crust when baked to perfection.
Bread, Pastries, and Dessert
Russians have been growing grains like wheat, barley, oats, and rye for the longest time. In fact, the country is one of the world's largest flour producers.
It's no wonder there's no shortage of baked goods in Russian cooking. Here's a glance at some popular Russian breads, pastries, and desserts.
Bread
Like many cultures, bread is a dietary staple in Russia. Let's take a peek at some traditional Russian breads:
Borodinsky Bread: A traditional Russian rye bread with a slightly sweet taste and hints of coriander and molasses.
Pryanik (Russian Honey Bread): Spiced cookies with a delicate, cake-like texture, often flavored with honey, cinnamon, and other warm spices.
Karavai: A round, braided—sometimes intricately sculpted—sweet bread often served at weddings and other festive occasions.
Kalach: A unique bread shaped with a handle to eat on the go.
Kulich: A tall, cylindrical Easter bread often decorated with icing and colorful sprinkles. Kulich symbolizes Christ's resurrection.
Sushki: Small, crunchy, mildly sweet bread rings best enjoyed with tea or coffee.
Pastries
If there's anything Russians love more than bread, it's pastries, and these tasty treats are definitely worth a try:
Kulyebjaka (Russian Cabbage Pie): A savory pie filled with cabbage, onions, eggs, and sometimes meat, baked to golden perfection.
Pirog (Russian Pie): A catchall term for a wide variety of Russian pies made with different doughs and fillings.
Rasstegai (Russian Savory Pastry): An open-faced pie with a flaky crust filled with flavorful ingredients like meat, fish, or vegetables.
Desserts
To satisfy their sweet tooth, Russians take delight in these delectable desserts:
Medovik (Honey Layer Cake): Thin layers of honey-infused sponge cake with sour cream filling and garnished with nuts or bread crumbs.
Pastila (Apple Marshmallow): Airy puffs made with whipped apple puree, egg whites, and sugar.
Ptichye Moloko (Bird's Milk): A luscious, fluffy dessert with layers of cream and light chocolate mousse.
Smetannik (Sour Cream Cake): A classic layered cake filled and frosted in sweet and tangy sour cream.
Varenye (Russian Fruit Jam): A preserve made by cooking whole fruits and berries with sugar.
Zefir (Russian Marshmallow): A light confectionary prepared with fruit puree, sugar, and whipped egg whites.
Secret Recipe Tips
Just so it's crystal clear, Russian food is anything but bland. Below are some of the best-kept secrets that make Russian cuisine so exceptional:
Want to add a subtle sweet and tangy note to your meal? A dollop of sour cream can balance the richness of many dishes and elevate them from good to divine.
To unlock rich and complex flavors, allow your dishes to simmer for hours. Borscht, shchi, kholodets, and stews are perfect examples.
Freshness is king in Russian cuisine, and nothing brings that out quite like a generous sprinkle of herbs. From dill to parsley to tarragon, these green accents can bring a burst of life to any dish.
Plan your meals around what's in season. For instance, use seasonal produce to create decadent desserts and nourishing soups.
Get your hands on some dried wild mushrooms, like porcini or chanterelles. Soak them in warm water to bring out that deep, earthy flavor.
Getting the dough right is the secret to pelmeni or Russian dumplings—not too thick and not too thin. Freeze your freshly made pelmeni for at least 10 minutes before dunking them in a large pot of boiling salted water.
Blini, the Russian crepes, should be light and airy. Use sparkling water in your batter for that extra fluffiness, and use a well-seasoned cast-iron skillet to achieve that golden brown finish.
When marinating your meats or veggies, take your time with it.
Beverages
From warming up to cooling down, Russians have a drink for every mood or moment. Below are some traditional drinks in Russia:
1. Kissel: This sweet drink is made by mixing fruit juice, sugar, and a thickening agent, like potato or arrowroot starch, in boiling water. Also popular in Eastern Europe, you can also have it as a jelly-like dessert.
2. Kompot: This traditional Russian fruit punch is a sweet concoction made by boiling fresh fruits in water and sugar. The result is a vibrant, refreshing drink best enjoyed during the summer.
3. Kvass: A popular Russian beverage, kvass is made from fermented rye bread, sometimes combined with fresh fruits or herbs. It's tangy, low-alcohol, and rich in probiotics.
4. Mors: Often served chilled, this popular berry drink is the perfect mix of sweet and tart. Cranberries and lingonberries are two common ingredients.
5. Ryazhenka: This creamy, unsweetened drink is the result of fermenting baked milk. It has a caramel-like flavor from the slow-cooking process and a yogurt-like consistency from the addition of sour cream or kefir.
6. Sbiten: It's a hot honey drink infused with spices such as cinnamon, cloves, and ginger. Sbiten is a traditional mulled winter beverage you can enjoy with or without alcohol.
7. Medovukha: Like mead, medovukha is a traditional honey-based liquor dating back to ancient Russia. You can jazz it up with fresh fruits, berries, or spices.
8. Vodka: The iconic Russian spirit is distilled from cereal grains or potatoes. Vodka is a clear alcoholic drink you can drink on its own or in cocktails.
9. Yorsh: This popular Russian cocktail is a mix of vodka and beer. Because of its neutral flavor, vodka doesn't overpower the beer's taste but gives it an extra boozy punch.
Ingredients
In Russian cuisine, the simplest ingredients can make the tastiest and most filling dishes. Check out the essential components of many delightful Russian recipes:
Beet: This bright-red root crop is a key ingredient in Russian cooking, often used in soups and salads. You can also enjoy them in cocktails or as a pickled side dish.
Cabbage: Cabbage features prominently in dishes like golubtsi (stuffed cabbage rolls) and sauerkraut, which adds a tart crunch to many meals.
Mushrooms: Wild mushrooms, such as porcini, are a beloved addition to Russian dishes. They're a common ingredient in soups, stews, and pies.
Onion: Onions are a favorite aromatic in Russian recipes. They enhance the taste of savory dishes, from soups to stews.
Potato: This starchy root veggie is an essential part of the Russian diet and a star ingredient in their beloved comfort dishes. Potatoes make their way into an array of soups, salads, stews, pastries, and sides.
Rye Flour: Rye flour is an essential baking ingredient, especially for making the household favorite, black bread.
Sour Cream: Undoubtedly, sour cream is a kitchen staple Russians can't do without. Known as smetana in Russian, it pairs well with everything, including pancakes, salads, soups, bread, and desserts.
Herbs and Spices
Russian cuisine uses various herbs and spices to infuse dishes with distinct flavors and aromas. Here are the most common ones you'll find in Russian kitchens:
Black Pepper: This classic spice brings heat and a punch of flavor to all sorts of Russian dishes.
Chervil: The subtle anise-like taste of chervil lends a light herbal note to Russian food.
Dill: Fresh and slightly tangy, dill is the secret behind many Russian soups, pickles, and even creamy dishes.
Horseradish: With its intense and spicy kick, horseradish can spice up various sauces, salads, and meat dishes.
Mustard: This pungent condiment complements the flavor of marinades, dressings, and various meat dishes.
Parsley: With its fresh and mild flavor, parsley is the all-around herb that adds the final touch to many Russian recipes.
Tarragon: Offering a hint of licorice-like flavor, tarragon is a key herb in Russian cuisine.
Russian Food Culture
Food holds a significant place in Russian society, reflecting both its history and geographical conditions. Let's take a closer look at some colorful traditions and practices that define the Russian dining experience.
Eating Habits
Russians have several intriguing habits and tastes that represent their vibrant culture. When it comes to food, it's not just about satisfying hunger. It's more about creating a warm atmosphere where families and friends can bond over a shared love for good food.
Bread Bonding
Russians have a deep-seated fondness for bread. The dense and flavorful rye bread, in particular, isn't just a side dish but a cultural symbol of hospitality and friendship. A common tradition is to greet guests with bread and salt or an elaborately adorned loaf of bread called karavai.
Tea Time Delight
Vodka is synonymous with Russia, but it's the humble tea that takes the cake for the most common drink. Russians love a good tea time, often pairing their favorite brew with sweet treats or snacks.
The tea-drinking tradition in Russia goes back to the 17th century when tea first made its way to the country from China.
Seasonal Sensibility
With their vast geographical spread, Russians have learned to adapt their cuisine to what each season offers. Summers bring an abundance of fresh fish and berries, while winters call for preserved and filling meals to withstand the cold.
Generous Portions
Russians are famed for their generosity and won't let you leave the table hungry. Portions are often plentiful, reflecting their warm and welcoming nature. It's not uncommon to be treated to a feast, even when you least expect it.
Meal Structure
Curious about what's on the plate in Russia? With a preference for home-cooked meals over store-bought convenience, Russians stick to their three essential meals: zavtrak, obed, and uzhin.
Zavtrak (Breakfast)
A typical Russian breakfast is simple. Russians often have kasha (a buckwheat mush or porridge) or butterbrots (no-fuss, single-slice bread topped with anything from butter to ham). Pancakes, eggs, and tvorog (Russian-style cottage cheese) are also staples on the breakfast menu.
Not to be missed is the black bread, another breakfast favorite. And of course, what's breakfast without a comforting cup of tea? Russians prefer quick and easy options to fuel up for the day, saving the more elaborate meals for lunch and dinner.
Obed (Lunch)
Lunchtime is the highlight of the day for most Russians. The classic Russian lunch includes a vegetable or meat salad, steaming hot soup, and a main course.
However, lunch has become a modest affair with the Russians' busy workweek. It resembles more of a snack, with salads as the primary option.
The salad served for this light lunch is called "zakuska," which translates to snack. Traditional Russian salads contain heartier ingredients like beets and potatoes instead of leafy greens. Mayonnaise and sour cream are the most common dressings.
Uzhin (Dinner)
As the day draws to a close, households come together to share an evening meal. Appetizers and a steaming main dish grace the table, creating an inviting atmosphere for lively conversations.
And what better way to wrap it all up than with a cup of tea sweetened with sugar, honey, or fruit jam?
Etiquette
Navigating dining etiquette in Russia can be an enlightening experience. Here's a guide to Russian dining etiquette to help you blend with the locals and avoid any awkward faux pas:
Table Manners
Ever wondered what it's like to dine like a Russian? Here's a guide to their table manners to help you make the best impression at a Russian home:
If you're accustomed to American-style dining, get ready for a slight twist. Russians hold their fork with the left hand and knife with the right.
As a gesture of respect, the host serves the oldest or most honored guest first.
Wait for the host to invite everyone to start eating.
Avoid resting your elbows on the table, but keep your hands visible at all times.
Don't cross your legs with your ankle resting on your knee.
Using bread to soak up gravy or sauce is acceptable in a home setting.
Don't hesitate to accept second helpings when urged by your host.
Leave a small amount of food on your plate to show your appreciation for the host's generosity.
Don't cut small food items.
After enjoying a delightful meal, remember to thank the person who prepared the dishes.
Only leave the table once invited to do so. At formal dinners, the guest of honor is usually the first to rise.
It's rude to serve tea without a sweet treat. Also rude is refusing the snack when offered.
Engage in tea and conversation after the meal, as it's part of the customary dining experience.
Toasting
At Russian get-togethers, downing a shot of vodka without a proper toast might come off as tacky. Forget the "cheers" or the overused "Na zdorovie" – nobody in Russia actually says that.
Every shot of vodka should come with a meaningful toast. Whether it's to thank the host, celebrate a milestone, or wish everyone good health and fortune, each toast is special.
There's a whole etiquette dedicated to drinking vodka. A charismatic toastmaster often leads the whole shindig with their wisdom and wit. If you ever find yourself in the middle of a Russian party, remember these tips:
Drink your vodka in one swig. Don't mix it with soda or fruit juice.
Men should pour drinks for women seated next to them.
Propose a toast to your hosts. Thank them for their gracious invitation and express your good wishes.
Prepare for a series of toasts throughout the meal. Keep your glass raised during the toast and clink glasses with others before downing your vodka.
Take small bites of food between shots. It's not just good etiquette; it helps pace yourself.
Special occasions offer many opportunities to toast. Never drink vodka on an empty stomach, especially if you're in good company, or you'll regret it the next morning.
You might also be interested in...