Peruvian Food: 5 Popular Dishes + 5 Secret Recipe Tips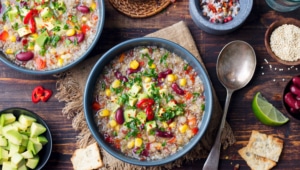 Need a new spice in life? Your culinary journey will be incomplete if the food of Peru isn't a stop. In this article we present you the most popular dishes of Peruvian cuisine and have exciting facts about Peruvian food.
Shredded chicken, seasoned with a flavorful combination of garlic, and bathed in the heat of aji chilies. Or indulge in a serving of papa a la huancaina, nestled on the plate like some sort of food monument. These are just a few examples of what you can expect.
Traditional Peruvian Cuisine- More Than Ceviche and Lomo Saltado
Peruvian cuisine is a lot like your favorite movie character – complex, with a backstory. Known as Nikkei cuisine, traditional Peruvian food isn't simply about the flavors, but rather the stories told through every dish.
Most Popular Street Food in Peru
Let's step away from the fancy places and take a stroll through the vibrant street food scene of Peru. If your ears are pricked up and your nose is twitching, you're in the right place.
Savor the tempting smell of classic Peruvian chicken, sizzling in the pan, or the starchy goodness of guinea pigs – a traditional Peruvian cuisine, believe it or not. The aroma of these delicacies dancing through your nostrils is as good an invitation as any.
The word on the street is that you haven't experienced Peru unless you've indulged in some authentic street food. Whether north towards Machu Picchu or closer to the heartland in northern Peru, the smoky thrill of a roadside barbeque and rich, heady stews will line your journey.
No chat about typical Peruvian street food would be complete without the revered Peruvian chicken being a central piece. Marinated and grilled to perfection, this tasty bird is often accompanied by a spicy sauce that would tickle a dragon's tastebuds.
And if you're a fan of flavorful and nutrient-packed fare, get yourself a bowl of those renowned soups, often served piping hot. They usually contain quinoa, corn, vegetables, and meat.
Soy sauce is frequently used for an added punch. See, folks, that's street food in Peru for you – you're met with an exciting surprise at every corner.
Peruvian Food in the World
You know, the flavors of Peru have traveled far and wide, reaching many corners of the earth and adding color to an array of different cuisines. Peruvian food – it's not just about potatoes, corn, and seafood.
It's about bringing people together, you know, in a cozy kitchen, a bustling food market, or a bustling restaurant. It's about that first sip of hot spicy sauce biting into that rich Peruvian chicken, or even the crunch of guinea pigs.
Breaking bread with people across the globe, it brings out more commonalities than differences. And, ain't nothing more uniting than sharing a love for grub.
Unique Peruvian ingredients like flame-grilled meat, tangy citrus notes, and blends of herbs and spices got culinary wizards whipping up delights worldwide. Especially, palates found in Asian and European cuisines that can't resist a bit of Peruvian sass.
Now, consider soy sauce. An oriental staple, right? But who would've thought it would be part of a typical Peruvian dish? Traveling from the East, soy sauce is now a loved addition to many dishes, from pirouetting into hearty stews to being drizzled onto crispy fried potatoes.
It's about mixing it up, dishes like the classic Peruvian roasted corn kernels jump to a whole other flavor ballpark when slathered in soy sauce.
Traditional Peruvian cuisine isn't for sticking to the rule book, you see. It's about fusing different food cultures. Trading recipes, sharing secret ingredients, and adopting exotic cooking techniques, all make up a cuisine's intercontinental appeal. And, trust me, that's the secret of Peruvian food success story.
Its versatility and ability to easily merge with the soulful cooking practices of other countries. A multicultural munch if you'd like.
How Healthy Peruvian Food Is
Here we're talking about Peruvian food, a cuisine that marries an exciting palette of flavors from three continents. But, what's often left out of conversation around this culinary prowess, is the healthful aspect of these dishes.
You see, contrary to what you might think, Peruvian food isn't just a carnival of sensory delights, but it does lend a healthy hand to your body too.
Grains, Potatoes and Legumes
The base of most traditional Peruvian meals is grains, potatoes, and legumes, naturally providing protein, fiber, and complex carbs. Potatoes, for example, are a primary source of vitamin C, B6, and fiber.
But hold right there! We're not just talking about your run-of-the-mill spuds. Peru is home to over 4,000 varieties of potatoes. Imagine the possibilities.
Corn and Guinea Pig
Then we've got this corn, a good old source of antioxidants and fiber. It shows up on a plate more often than a lost penny does, in soups, stews, or even as a crackerjack side like Peruvian roasted corn kernels.
Whether it's the chicken soup on a drizzly night or a sweltering Sunday afternoon treated with corn kernels, these dishes are balanced, nutritious, and anything but dull.
You might squirm a bit, but the guinea pig is an integral part of Peruvian dishes, and believe us, it's rather healthy. After all, this creature's low in fat, and high in protein, making it nature's little protein bar.
Now, all this goodness doesn't mean you won't find the odd greasy spoon or sweet dessert on a Peruvian menu but isn't that the way in every cuisine?
At the heart of it, are wholesome ingredients naturally grown and bred on Peruvian soils. Smartly put together by skillful hands, this cuisine does more than just entice your taste buds, it keeps them happy and, your bodies healthier.
Famous Peruvian Dishes You Have to Try
Listen up, folks- if the word "food" makes your heart skip a beat, Peruvian dishes are melodies that you need on your taste bud's hit list. We are
talking about the kind of food that jolts your taste receptors and takes them on a rollercoaster ride. So grab your spoons and forks because we are inviting you on a culinary journey through five standout Peruvian dishes.
Ceviche
Imagine a dish that's like a cool breeze on a hot summer day. That's Ceviche for you. It's often heralded as the jewel of Peruvian cuisine. But what's it got in it?
Well, you've got raw fish marinated in citrus juices. Add in onions, chili peppers, and cilantro. The thing that makes it spectacular is balancing the tart, spicy, and salt — a juggling act that will have your tongue clapping in a standing ovation.
Lomo Saltado
Next off, meet Lomo Saltado. An unexpected twist where Chinese stir-fry waltzes with Peru's traditional food dance. You've got beef strips jumping around with red onions, tomatoes, and spicy chili peppers.
And if that's not enough, top it off with some fried potatoes and rice. It's like your favorite blockbuster adventure flick but in food format. Fast-paced, packed with action, and always keeps you coming back for more.
Anticuchos
Now let's move on to something that street food lovers would stampede for: Anticuchos, skewers of marinated beef hearts.
It's marinated with spices, garlic, and smoky aji panca paste then grilled to perfection. Pair it with some boiled potatoes, and you've got yourself culinary heaven on a toothpick.
Papa a la Huancaina
They say don't judge a book by its cover, so don't judge Papa A la Huancaina by its simplicity. It's sliced boiled potatoes swaddled in vibrant and creamy cheese and yellow chili sauce.
Toss on some olives and hard-boiled eggs, and this humble starter becomes a diva on the dining table. This is comfort food. No gimmicks, no frills, just 'down-home good'.
Causa
Last but certainly not least, introducing Causa- a tangy, spicy, and sweet beauty of a dish. Think of mashed potatoes layered with a concert of flavors from tuna, chicken, or seafood, avocados, and a zesty chili sauce.
It's like a culinary opera singing out a beautiful symphony on your palate. Each flavor hits a high note, in harmony with the other, creating an ensemble that will have you humming in delight.
Soups & Salads
Peru's culinary landscape offers an array of vibrant soups and salads. A standout of the pack is the 'Sopa a la Minuta', a hearty concoction packed with beef, vegetables, and a spaghetti whirlpool; think of it as the heartier, half-brother of the standard American beef stew.
Another hard-hitter is the 'Caldo de Gallina', a popular hangover remedy known for pumping zest back into people after a night of revelry. It's a chicken soup preparation that's as traditional as it gets.
On the salad front, 'Solterito' takes center stage. Straight from the lush valleys of Arequipa, the dish combines fresh fava beans, white corn kernels, the Peruvian rocoto pepper, and olives under a blanket of fresh regional cheese. Think of it as a salad puzzle where every piece is a flavor nugget.
Starters, Sandwiches, Sides
Biting into Peru's starters is like opening a treasure chest of flavors. Top of the chart is the 'Tequenos de Ceviche', a whimsical fusion of Japanese spring rolls and Peruvian-style marinated fish, as appetizing as it sounds intriguing.
Nudging its way into the list is 'Papa Rellena', a deep-fried potato stuffed with seasoned ground beef and vegetables, which rivets comfort food meets street food. Think of it as a cousin of the shepherd's pie but with a Peruvian twist.
Sandwiches also score major points in the Peruvian palatable league. 'Pan Con Chicharron', a pork sandwich jammed with sweet potatoes and salsa criolla, promises to tickle your taste buds.
Another contender is the lush 'Butifarra', iconic for its inclusion of Peruvian ham prepared in traditional homemade style.
Among the sides 'Tacu Tacu', originally a blend of leftovers but now considered a staple, is the showstopper.
It's a mixture of beans and rice, pan-fried to crispy perfection and usually accompanied by an egg or a succulent slice of meat.
Mains
Peru is a gastrophile's playground, and the Peruvian main dishes are its high slides and roundabouts. Let's munch into some of those, shall we?
Ajoy Lucma is one hearty meal, hailing from the highlands. A rustic cereal stew brimming with meat, grains, and warmth. It's like a hug on a cold day. Then there's Picante de Cuy, a guinea pig delight spiced up to steal the show; not for the faint-hearted, but a crispy adventure for your palate.
Famous among fish fans is Ceviche, Peru's unrivaled sushi alternative. Fresh catch of the day, marinated in lime, peppers, and spices. Sealed with that umami label.
Each bite is salty, and tangy, with a graceful slam-dunk of flavor. But don't forget Lomo Saltado, a dish that just walks into the room like the last Guns N Roses reunion tour; a beautiful fusion of Asian and Peruvian styles.
It is stir-fried beef, chunky vegetables, and French fries spiced and sautéed to perfection. You can't get any closer to the heart of Peru than this.
Bread, Pastries, Dessert
Moving onward to the realm of saccharine ecstasy – Peruvian bread, pastries, and desserts. You've got Chancay Bread, a sweet treasure of your ancestor's recipe, which is sure to jive with your morning coffee or tea. As light as a feather yet filled with flavor layers that bakers worldwide would kill for.
Then, there are the Picarones, some sort of Peruvian Doughnut offspring. Made from squash and sweet potato then bathed in syrup made from chancaca – unrefined whole cane sugar. They are light, tasty, and as addictive as watching funny cat videos on the internet.
Onto desserts, we have Suspiro de Limena, a dessert so good, they named it after a sigh of satisfaction. Made from manjar blanco – a Peruvian version of dulce de leche, poured into glasses, topped with fluffy port-infused meringue, and sprinkled with cinnamon, each spoonful is a sonnet of sweetness.
Keeping it company there's Turrón de Doña Pepa, a sticky anise-flavored treat, generously doused in honey, and decorated with candy sprinkles. It looks like Jackson Pollock got turned loose on dessert but tastes much better. These folks are serious about their grub.
Secret Recipe Tips
Here's where things get real spicy. Traditional Peruvian food isn't something you jump into without a little guidance. These five covert tips should help you add some Peruvian zest to your kitchen antics.
Potato play. Peru is actually the birthplace of the potato. When it comes to a signature dish like Papa Rellena, the trick is in choosing the right spud. Yukon golds are a good choice for their creamy texture. Boil them till they're soft as baby cheeks and you're off to a good start.
Sauce is boss. Instead of the traditional ketchup or mayo, Peruvians often smother their dishes in a special blend of chili peppers, fresh cheese, evaporated milk, and soda crackers. It's called Huancaina sauce.
Multiple Meats. Many Peruvian foods, like the famed Jalea de Mariscos, call for a mix of proteins. Don't be afraid to mix and match your meats. The more the merrier.
Corn for the Win. A dish ain't properly Peruvian without a bit of corn. Whether boiled, fried, or ground into flour, corn is the backbone of Peruvian cuisine.
Juice the Inca Empire's favorite purple drink. Chicha Morada is a sweet and sour traditional Peruvian beverage that, believe it or not, is made from purple corn.
Beverages
Speaking of drinks, Peruvian libations are in a league of their own. Let's take a quick stroll down the beverage lane. We've already uncovered Chicha Morada in our secret recipe tips, but that's only the start.
For a refreshing chilled beverage, go for a Chilcano. This fizzy cocktail has pisco, a Peruvian grape brandy, ginger ale, and a drop of lime for a crisp, thirst-quencher.
Or if you're in a celebratory mood, Pisco Sour is the go-to. Pisco combined with fresh lime juice, simple syrup, egg whites, and Angostura bitters- it's as complex and intriguing as it sounds.
Ingredients
For any chow to be truly scrumptious, the ingredients got to be top-notch, right? It's the lifeline. Well, Peruvian cuisine isn't different.
You find it yummy because of its top-of-the-line Peruvian ingredients that really give these dishes some kick. Primarily, they bank on potatoes, rice, corn, seafood, and a lot of meat.
Besides these heavy-weights, soups have a special place in the Peruvian menu, prepared from wholesome ingredients like quinoa, veggies, and meat.
Herbs and Spices
Ah, herbs and spices. They're the silent heroes behind any good grub. Talk about Peru and you have to admit the role of herbs and spices in giving traditional Peruvian cooking its oomph.
These aren't mere seasonings, they're the centerpiece, turning ordinary stew into Peruvian Ceviche or plateau potatoes into Causa Rellena.
They create a unique and exotic flavor that tingles your taste buds. We're talking about the likes of fat juicy chilies, aromatic garlic, peculiar herbs like huacatay (black mint), and other traditional spoils from the Peruvian coast.
Peruvian Food Culture
Peru's food culture is a potluck of culinary influences. The menu is a mind-boggling fusion of native staples and immigrant flavors.
Add a splash here, a dash there – from Asia to West Africa all the way to Europe, their cuisine has got it all. Top-tier joints such as Central, Maido, and Astrid y Gastón are on the world's 50 best restaurants list echoing the deeply rooted culinary saga of Peru.
The Peruvian culture, with shared meals, and passionate discussions over plates of Mazamorra Morada, reveal how damn serious these folks are about their grub.
Eating Habits
Peruvians have their own way of enjoying food. For starters, a laid-back mid-day feast is the biggest meal of the day followed by a light dinner often served cold.
Oh, and it isn't uncommon to see them munching on Peruvian stir-fry or bite-size toasted corn kernels mid-day. They take their "almuerzo" (lunch) real serious. But hey, don't rush, meals are an event to enjoy.
If there's one thing the Peruvians know how to do, it's how to have a good time with their food. Be it the hefty main course or just snacks, Peruvian folks sure know how to savor every bit.
From exotic fresh seafood to that hearty De Pescado soup or even Chinese foods like lomo saltado, the food in Peru is a class apart. The blend of traditional spices, and the rush of flavors – it's absolute dynamite.
Meal Structure
Peruvian food culture is all about moments on the tongue and not just what you're tucking into. Traditionally, Peruvian meals are divided into four parts – desayuno, almuerzo, lonche, and cena.
Your breakfast, or 'desayuno', probably ain't gonna be no parade of pancakes or waffles. You are most likely to be greeted by a light, quick bite often composed of bread with butter or jam, maybe an area-specific spread of sumptuous queso fresco, partnered with coffee or Inca Kola.
It's almuerzo where the action happens. Arguably the biggest meal of the day, it's typically a two-course affair that can range anywhere from the classic chicken dish served with white rice or fried rice, 'arroz chaufa', cooked in a wok, a fusion of Chinese and Peruvian.
There will be dishes like papa a la huancaína, made from yellow chili pepper, creamy sauce, and a good dose of evaporated milk. Not forgetting those traditional recipes featuring alpaca meat or salsa criolla, a perfect blend of tomatoes and onions.
Etiquette
Peruvian food etiquette is a slice of perfection that gives you a glimpse of Peru's national pride. Situated between the Andes Mountains and the Pacific Ocean, dining in Peru is as diverse as its landscape.
A classic Peruvian eating style isn't about elbows on tables or starting with the right fork. Instead, they have a few particularities that make their dining experience truly Peruvian.
One tip, when you are digging into those Peruvian dishes, use your utensils. Forks and knives are to be used whether you're eating a sandwich or a juicy, tender chicken. You know, Peruvian chefs and people take their food pretty seriously.
In many Latin American countries, food is an excuse for a good chinwag, a family occasion, and a social gathering. In Peru, it's no different. Long meals are moments for conversations, and finishing your plate shows that you appreciate those traditional Peruvian dishes that your hosts worked hard to whip up.
Now, if you find yourself at one of the restaurants in Lima or any other region of Peru, don't forget to reward the fine cooking with a friendly 'provecho', similar to the French 'bon appétit'.
You don't just chow down on some scrumptious food in Peru, you savor the culture in every morsel, fusing an experience that's utterly unique and unforgettable.
You might also be interested in...