Panamanian Food: 5 Popular Dishes + 5 Secret Tips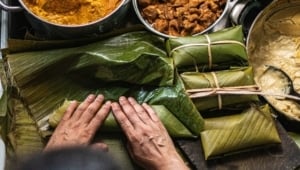 Welcome to the world of Panamanian food. Not just your proverbial carne quisada, a hearty, comforting beef stew cooked in a robust tomato sauce, or your ropa vieja, a delicious Panamanian dish. But so much more. Learn here everything you need to know about Panamanian food.
The Panamanian version of these classics often involves a generous serving of fried plantains and a heaping helping of delicious sides.
Interesting fact for you: the Panamanians eat a wide variety of other scrumptious meals too, like the traditional sancocho de gallina, a chicken soup that serves as their ultimate comfort food.
And whilst we're discussing comfort food, we'll let you in on a secret- I'll be sharing not just popular Panamanian dishes, but also some secret recipes. Make sure you stick around.
Traditional Panamanian Cuisine – More Than Carne Guisada
Panamanian cuisine effortlessly weaves together a variety of traditional dishes stemming from both local and international origins.
Its food culture has been shaped by centuries of rich history that echoes the country's nickname- the "hub of the Americas." Each bite is a reflection of Panama's vibrant traditions, interspersed with hints from as far off as Spain and Africa.
From Bocas del Toro's coconut-laden dishes to hearty plates of rice and beans in the Las Tablas region, each province has special dishes unique to its character.
Quite frankly, reducing Panamanian cuisine to just Carne Guisada and Ropa Vieja would be failing to pay tribute to their national dish of Panama, the Torrejitas de Bacalao, and their myriad of culinary masterpieces.
Most Popular Street Food in Panama
Now, if there's one thing that truly embodies a nation's culture, it's street food. In fact, if you ever find your stomach growling on the bustling streets of Panama, you're in for a heck of a treat.
Want to grab a quick bite? Try their traditional dishes like the irresistible Panamanian tortillas. Cooked on a griddle, these thick, crispy delights are often served up with toppings, even fried eggs.
Yes, it's like breakfast rolled into a convenient package. You can even enjoy it as a midday snack with a refreshing cup of freshly squeezed orange juice. Talk about versatility.
But if you thought that was it, you've got another thing coming. Another iconic street food of Panama is the deliciously fragrant yuca frita.
Made from deep-fried yuca- it's similar to French fries but on a whole other level. Crunchy on the outside, and fluffy on the inside, these bite-sized treats epitomize the deep impact of the Gran Colombia region on Panamanian cuisine.
As the day winds down and the street lantern lights flicker on, there's nothing like sinking your teeth into a warmed empanada.
Stuffed with seasoned minced meat or cheese, these little pastries are as comforting as a soft, hand-knit blanket on a cold evening. You could say they make exploring the streets of Panama a flavor-packed adventure that's second to none.
Panamanian Food in The World
There's no denying, Panama has seasoned its mark on the culinary world map. More than just clouds on your coffee or a song about a girl's pants, Panama has some incredible dishes that are stealing the limelight and copping plates worldwide.
Off we go, onto the delicious journey of Panamanian food making waves on foreign soil.
Ceviche
Starting with a classic, 'Ceviche'. Now, we are aware that ceviche might be like a distant cousin of sorts, originally from Peru. But, let's not split hairs here, Panama has created its own rendition and it's as good as throwing a beach party in your tastebuds.
Fresh fish, typically corvina, marinated in lime, jazzed up with a merry mix of onions, peppers, and cilantro, served cold – it's become a hit in seafood-loving countries from North America to Asia.
Tortillas
Moving on to 'Panamanian Tortillas'. Now these bad boys are not your typical Mexican tortillas. Panama-style tortillas are thicker, fluffier, and fried golden brown.
They offer comfort in every bite – talk about waking up on the right side of the bed. Find them popping up in street stalls and high-end cafes alike in the USA, Canada, and across Europe. It's kind of like Panama tortillas went backpacking and decided to never return home.
Sancocho
You'll find 'Sancocho', Panama's hearty chicken soup, turning up its nose at chilly winters in places like New York and Boston.
Traditionally known as a cure for all ailments, including hangovers, it's a heavy contender in soup kitchens and homes alike. Loaded with chicken, corn, yucca, name, and a handful of other veggies and local spices, Sancocho.
How Healthy Panamanian Food Is
Now, if you're anything like us, you might be wondering – just how good for you is Panamanian grub? Well, the long and short of it is that it's pretty swell if you ask us.
It's got a heartiness to it that keeps folks coming back for seconds—not just because it's mouthwateringly tasty, but because its ingredients are traditionally farm-fresh and filled to the brim with nutrients.
Take fruits and veggies, for instance. Panama's agricultural treasures include a whole variety of fresh produce, all showing up in their cuisine.
Crops like yuca and ñame are packed with fiber and essential vitamins, while avocados, found abundant in Panama, are a well-known source of healthy fats. This means meals loaded with these goodies aren't just delicious—they're doing good things for your body too.
Then there's seafood – shrimp, lobster, octopus, and an assortment of fish. Panama's close ties with the ocean mean that these foods are often highlighted in dishes, providing a weighty punch of lean protein and omega-3 fatty acids. That's brain food – a ticket to a healthier heart and sharper mind.
But like a shiny car with a broken engine, it wouldn't do any good if food was only healthy. It's got to taste good too, right? Well, Panamanian cuisine is a flavor rollercoaster with fresh spices and herbs used to make each dish sing.
Culantro and aji chombo are extensively used in cooking, helping in digestion and boosting the immune system. It seems that Panamanian food isn't half bad for us after all.
Did You Know?

So Panamanian food might differ from your everyday grub, but if you're aiming to keep a healthier diet, you could do a whole lot worse. Fresh ingredients, lean proteins, a balance of vitamins, and a riot of flavor—that's the beauty of Panamanian cuisine.
And you know what they say: the best kind of diet is the one you don't realize you're on. So you may as well enjoy the ride and get a taste of Panama on your plate.
Famous Panamanian Dishes You Have to Try
Ah, Panama. A gem in Central America that's humming with a unique blend of Native American, Spanish, and African influences, reflected in its diverse and delicious cuisine. Get ready, folks, because we've got a list that's going to make your tastebuds twirl like a salsa dancer.
Sancocho
First up, we got Sancocho- the chicken soup Panama can't stop swooning over. Chock-full of root vegetables, corn, cilantro, yucca, and naba – some kind of a squash-looking thing.
Dip in with a spoon and let the hearty broth do its magic. You can knock this off your foodie list at a local joint like El Trapiche in Panama City.
Pescado Envuelta En Hoja
Next, we've got Pescado Envuelta En Hoja. Picture this — fish, all seasoned and delightful, tucked snugly into plantain leaves and fired up on a grill. This all-star recipe is as nutritious as it's delicious. If you're near Mercado de Mariscos, the popular fish market, be prepared for a flavor hit.
Carimañolas
Then there's Carimañolas, a breakfast heavy-hitter that's essentially a yucca fritter loaded with bold meaty or cheese stuffing. Its outside looks innocent, but on the inside, it's a riot of flavors that would wake up even the sleepiest taste buds. You might just dump your daily toast over this.
Ropa Vieja
Fourth on our list is Ropa Vieja. This isn't your grandma's old clothes, pal. It's a mouth-watering dish of shredded beef slow-cooked in a sumptuous tomato sauce, making it melt-in-your-mouth tender. And let's not start on the fragrant yellow rice that accompanies it, it's too good.
Tamales
Last but not least, we have Tamales. Wrap your head around this – a dough made from scratch, generously filled with meats or fruits, sometimes both, and then steamed in a banana leaf. It's an absolute sensation. Gorge on these at local restaurants in Panama City for a belly-satisfying adventure.
Alright, there you have it, five dishes that paint a colorful, tantalizing picture of Panamanian cuisine. So, next time you find yourself in this neck of the woods, make sure to dive headlong into this treat-laden culinary journey and savor the magic that is Panama.
Soups & Salads
Now, let's talk about Panamanian soups and salads. These folks know how to make a mean soup and whip up a salad that'll knock your socks off. First off, we have the ensalada de feria. This is no ordinary beet salad you'd turn your nose up at.
The ensalada de feria is made using eggs, beets, potatoes, carrots, and mayonnaise. It's often served at festivals, and we bet it's the fun ambiance at the festivals that makes this salad taste even better.
Of course, it isn't just salads that Panamanians have a knack for. They have an array of wholesome soups like 'Sancocho' to enjoy.
Picture this: chicken, with yuca, corn on the cob, some squash, and maybe even beef filling to boot, all bubbling in a pot. One spoonful of this piping hot delicacy, and you'll know what comfort in a bowl feels like.
So when it comes to soups and salads, Panamanian cuisine isn't just about the ensalada de feria or the beef-filled 'Sancocho'. Oh no, there's a whole universe of flavors waiting to be explored.
Starters, Sandwiches, Sides
Okay, let's kick things up a notch and move on to some of the best Panamanian starters, sandwiches, and sides. This is where the true spirit of Panamanian cuisine comes shining through.
First off, Panama's not short of snacks that keep you going between meals. Craving something crunchy and light? Try the 'tostones'.
Made from thoroughly fried chunky green plantains, tostones are downright addictive. They're sorta like potato chips but they've got that little twist that makes you sit up and take notice.
You could have it straight outta your hand just like you would with a bag of chips. Or, if you're feeling fancy, load it up with some cheese or dip 'em in ketchup or any zesty sauce.
But don't be fooled folks, Panamanian starters don't stop at tostones. You got 'empanadas', a classic Latin American treat often filled with cheese or meats.
And if it's the sides you're looking for, how about some fried yuca or 'patacones'? So go on, dive into the exotic world of Panamanian cuisine, and get a taste of the tropics.
Mains
When it comes to main dishes, Panamanian cuisine is richly diverse and as bold as a Broadway musical finale. Not your usual, everyday fare, these dishes sure do hit the spot while telling a story of cultural heritage.
First up, we got ourselves a delightful treat from the sea, The Corvina a la Plancha. That's grilled Sea Bass for those not fluent in Español. It's traditionally served alongside patacones, also known as fried plantains, and gives you a fine taste of Panama's coastal flavors.
Closing in on second place, you'll find Sancocho, the one-stop dish for ultimate comfort. A hearty stew filled with meat (usually chicken), yucca, corn, and a sprinkling of fresh, green culantro, it's as wholesome and comforting as a grandma's hug.
And yes, you didn't think we'd forget about the Panamanian Tamale, did you? Steamed in a plantain leaf, this hearty corn dough delight holds a surprise center of seasoned meat, veggies, and a certain kick of spice. If there were a culinary emblem for Panama, tamales would be it.
Bread, Pastries, Dessert
Got a sweet tooth? Well, then Panama got you covered like the sun on the Caribbean coast. If you've decided to venture into exploring Panamanian sweets, you're in for an interesting ride.
Let's start with the secret weapon of Panamanian grandmothers – the Pesada de nance. Evaporated milk, sour fruit known as nance, local white cheese, and a sprinkle of corn flour come together in a cozy alliance to create this sweet, comforting treat.
It's a bit like your grandma's old keyboard, simple yet melodious, it will hit the notes of nostalgia and comfort while being served hot or cold.
Next in line, let's talk about "Tres Leches Cake". This is not just a dessert, it's a celestial blend of three types of milk, some sugar, and whispers of heavenly delight. It's the feel-good pick-you-up for when your day's gone south.
For the final act, we have the "Raspados". A dessert like no other, it's Panama's answer to ice cream. Shaved ice loaded with fruit syrups that are sure to tingle your taste buds. It is a refreshing sweet treat that will serenade your senses like a cool summer breeze.
Secret Recipe Tips
Delving into the taste banquet of Panamanian food requires a bag of tricks. Here are five secret recipe tips that will keep your Panamanian recipes staying as authentic as the Panama Canal itself.
Get Acquainted with Annatto
If you're not best buddies with Annatto, it's time you patted it on the back and invited it to your kitchen party. This unique spice, also known as Achiote, infuses Panamanian dishes with an earthy flavor and paints a masterpiece of vibrant yellow color on your plate.
Don't Shy Away from Sazon with Azafran
Sazon with Azafran, that's a game-changer. It's a blend that'll give your dishes a taste of pep-talk. Perfect for those rice dishes or stews, this condiment has a say in almost every Panamanian recipe. Just slap it in, and watch the flavor of your dish grow legs and dance.
Unleash the Power of Culantro
Not to be mistaken for cilantro, cilantro's a different beast altogether. This potent herb takes your dishes on a flavor roller coaster. So, while you might think that adding a twitch of cilantro is enough, in Panama, they're boldly wielding the power-packed taste of culantro.
Maintain a Balance of Flavors
In Panama, we're all about keeping the peace and that extends to our food too. Panamanian cuisine isn't about extravagant flavors fighting for your attention, it's about balance.
Sweet, sour, salty, and spicy – they all get an equal seat at the table. So don't overdo any single flavor, let each taste on the plate shake hands with the others.
Go Fresh with Ingredients
Lastly, don't even think about pulling a fast one by using canned stuff. Fresh ingredients are the heart and soul of Panamanian cooking. So let those canned impostors gather dust while you head to the market to grab veggies, herbs, and meats that are fresh as the morning sunshine.
Beverages
With its tropical climate, Panama truly knows how to quench a thirst. If you're about to head out on a taste expedition in Panamanian cuisine, you better arm up with knowledge about Panamanian beverages too.
Chicha de Maiz
On top of the to-drink list is a corn-based drink that puts a spin on your regular cornflakes breakfast, Chicha de Maiz. This knockout drink combines the taste burst of vanilla flavor with the creamy texture of almond milk. And when you're sipping on it, those soft-boiled corns give you a delightful surprise.
Chicheme
Take a swig of Chicheme and you know you've got a winner. This Panamanian favorite uses corn and milk, sprinkled with a dusting of cinnamon and nutmeg, creating an explosion of sweet, creamy, and modestly spicy flavors in your mouth. It's like a comforting blanket for your taste buds.
Ingredients
A salsa party in a Panamanian kitchen has fewer sombreros and a lot more corn, wheat, plantains, yuca, and yams. You'll find these common ingredients galore. In the carne entomatada, there's beef slow-cooked in tomato paste, presenting a hearty dish.
On the other hand, yuca fries are the perfect side, with a taste not far from the Pacific Ocean.
Chicken cooks might argue the beauty of Panamanian cuisine lies in its variety of proteins- surely the chicken, fish, and seafood dishes are to die for. Strong herbs like cilantro heavily influenced the flavors, giving a unique punch to the mix.
Lentils, with a dash of soy sauce, share a plate with the protein as a hearty side. For a sweet ending, desserts made with sugar cane give you the perfect excuse to forget about your diet.
Herbs and Spices
In Panamanian cooking, the real maestros, the unsung heroes, are herbs and spices. An artist's true palette, where the colors of tradition come alive. One cannot miss the role of culantro, a stronger cousin of cilantro. This green magician transforms a humble dish into a flavor fest.
A combination of these spices, coupled with local ingredients, brings to life traditional Panamanian foods like the Panamanian ceviche, served with rice and doused in lime juice – a symphony of flavors that kick-starts any party in Panama.
Panamanian Food Culture
To truly experience the Panamanian culture, one needs to embark on a culinary journey. Here's a collection of traditional Panamanian foods that will make you feel less like a vacationer visiting Panama after building the Panama Canal.
Start with a simple sopá de pollo (chicken soup), indulge in the delicious dessert of sopa borracha (a sponge cake doused in rum and sugar syrup), ceviche in Panama, or munch on broken corn kernels, a staple snack during a casual stroll in Casco Viejo.
Every dish tells a unique story – savoring them is like immersing oneself in a flavorful book of Panamanian cooking.
Eating Habits
The panorama of Panamanian eating habits is both diverse and delightful. The daily meal consists of a filling combination of protein, salad, rice, lentils, beans, soup, and a drink.
No matter how broke you are, you can always afford a hearty meal at a fonda, a local eatery, for around 5 US dollar. The low price, though, comes with a condition: you need to step out of the pristine tourist area of Casco Viejo.
For those who crave an authentic Panamanian experience, an empanada costing around a dollar is worth trying. The dough is filled up with meat or cheese and then deep-fried to perfection.
For a heftier budget, expect to spend between 10 to 20 dollar for a meal at medium-priced sit-down restaurants. This price tag guarantees traditional dishes like fresh fish or ceviche, guaranteed to tingle the taste buds.
Meals Structure
In Panamanian cuisine, meals are truly a celebration of flavors and textures, with each course serving a particular purpose. The first course or "entrada" often consists of seasoned salads or hearty soups.
Now, we're not talking about that bland salad that's loaded with just greens and some vinegar dressing. You see, they got this traditional soup, "sopa de pata" which will make you think twice before calling soups boring.
This classic dish features beef trotters, yucca, and corn, all spiced up with chili powder for that zing.
Then comes the main course or "plato fuerte", usually a hearty meal involving meat or seafood, rice, and a side of plantains, beans, or corn tortillas. A common dish that reigns on the table is "Picado de Bistec".
Etiquette
When it comes to eating in Panama, table manners aren't overly formal but being polite is essential. Simply respect the culture and enjoy the graciousness of the Panamanian table.
Among the variety of dishes in Panama, rice and fried sea bass are popular and best eaten slowly cooked to retain their savory essence. And if you're lucky enough to taste Seco Herrerano, the national spirit distilled from sugarcane, sip it slowly, savor the burn, and act like you're in no rush.
Panama desserts will turn you into a kid in a candy shop. Almost all of them include this sweet concoction known as dulce de leche.
Imagine brown sugar and slowly condensed milk being whipped together until they turn into a caramel-like treat, then served with whipped cream, or even used as filling in pastries. The coconut rice is divine, it makes you forget every dessert that exists in the United States or Puerto Rico.
The etiquette here signifies enjoying every bite and savor of traditional Panamanian dishes, much like lingering over sweet memories. Best believe it.
You might also be interested in...