Middle Eastern Food: 14 Popular Arabic Dishes + 7 Recipe Tips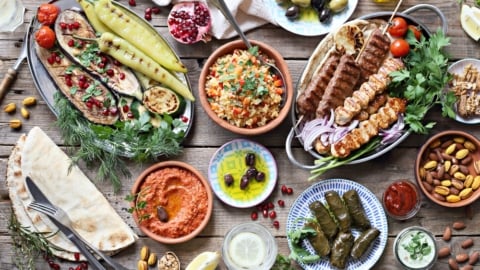 Middle Eastern food has come to be loved throughout Western culture. Most towns have at least one kebab shop, and any good grocery store should sell hummus. Learn here everything about the Middle Eastern cuisine.
The flavors of Middle Eastern cuisine are bold and complex, ranging from sweet and savory to spicy and tangy. The ingredients used are also very varied, with many dishes featuring a combination of fresh vegetables, herbs, spices, grains, and legumes. In this article, we'll be exploring:
The history of Middle Eastern Cuisine, with its ancient roots in Iranian, Egyptian, Syrian, and Mesopotamia cultures
Middle Eastern cuisine and the place it occupies in the present-day world
The best dishes from Middle Eastern subcultures, such as kofta, baklava, and manakeesh
Dining etiquette and traditions that should be followed at all times.
Let's now take a deep dive into the world of Middle Eastern cuisine.
Traditional Middle Eastern Cuisine – More Than Halloumi and Falafel
The location of the Middle East, in between Europe, Asia, and Africa, means that its cuisine is a delightful fusion of different traditions. The key passage for the spice trade from India to Europe was set through this region, among other international trade routes.
What has been historically known as the Levant is a large part of the Middle East that stretches between Africa and Eurasia, on the eastern side of the Mediterranean. This area encompasses countries such as Syria, Jordan, Palestine, Israel, and Lebanon.
Food from this continental crossroads makes up the bulk of what we consider to be Middle Eastern cuisine. A staple of Levantine dining is the mezze.
This is a style of serving a combination of small dishes, similar to the Spanish tapas. Within a mezze spread, one might find hummus, falafels, olives, pita breads, and dolma, among many other specialties. If you're unsure what dolma is, don't worry – we'll get to that later.
Arabic Food in The World
Not only has Middle Eastern food been influenced by its neighbors, but it has also come to influence cuisine throughout the world. In France, the United Kingdom, the United States, and beyond, kebab joints are commonplace.
Within these can be found lamb cooked on a vertical rotisserie for use in doner kebabs, as well as falafels and a selection of fresh shredded salad ingredients.
Hummus, tahini, tabbouleh, pickled vegetables, and tzatziki are other ingredients used to fill a pita bread to create a kebab.
Hummus has become one of the most well-loved dips worldwide, for its tasty simplicity and versatility. It can be found at most grocery stores but is also very simple to make at home from scratch.
Halloumi has also taken over menus worldwide over the past decade. This squeaky fried cheese is unique in its salty flavor and chewy texture. It has become a favorite for vegetarians as a burger filling or breakfast ingredient.
How Healthy Middle Eastern Food Is
Going down to your local doner kebab shop is a healthy choice for lunch that many Americans now go for. The doner kebab has also inspired the common wrap that many make at home and pack for a clean workday lunch. In this section, we take a close look at just how healthy Middle Eastern food is.
Rich in Vegetables and Legumes
Salad is an integral component of the doner kebab. Shredded iceberg lettuce, carrot, and onion are the typical ingredients of such salad.
Tabouleh is another type of salad that features heavily in kebabs and elsewhere throughout Middle Eastern cuisine. It is comprised of uncooked bulgur wheat and finely chopped parsley, mint, tomato, and onion.
These two forms of salad plus a protein of meat or falafel makes for a balanced, healthy, and tasty lunch or dinner. Pickled vegetables such as beetroot, cucumber, and onion are also common features in Middle Eastern cuisine. In this way, vegetables can be preserved for use out of season.
Uses Healthy Fats Such As Olive Oil
Butter and olive oil are the most commonly used fats in Middle Eastern cuisine. Ancient olive groves are plentiful across Levantine landscapes, and olives and their oil are treasured aspects of traditional cuisine.
Not only is olive oil healthier than canola and sunflower oil, but it also provides a far superior taste. Because of this, olive oil is used generously as a dressing on its own or with a dash of lemon juice.
Moderate Consumption of Red Meat
Due to religious influences throughout the Middle East, pork and beef are consumed at a much lower rate than in other parts of the world. Lamb and mutton are the preferred red meats in Middle Eastern cuisine.
These are often cooked upon vertical rotisseries and are packed with flavorful goodness. Not much meat is needed to create the perfect doner kebab or shawarma.
The availability of chickpeas and the abundance of recipes containing them also reduces the need to consume red meat. Chickpeas are an excellent source of protein and are the key ingredient of both hummus and falafel.
Though both of these staples are essentially munched-up chickpeas, they can be paired together to make a very happy combination indeed.
Whole Grains Are a Significant Component
Whole grains are more commonly consumed in the Middle East than the refined wheat products consumed in the United States and other Western nations.
Bulgar wheat is used in salads and with hot dishes, similar to pasta. However, it is far more beneficial health-wise. Sometimes it is even used in its uncooked form, such as in tabbouleh.
Limited Consumption of Processed Foods
In Western cuisine, pasta and other highly processed foods are often used as staples, however, Middle Eastern cuisine takes a different approach. Rather than using highly processed foods, dishes in Middle Eastern cuisine rely on food in its natural form.
This results in healthier dishes as the food has not been stripped of its nutrients through processing. This means that Middle Eastern dishes are packed with more vitamins and minerals than those of their Western counterparts.
Additionally, the natural flavors of the food are able to shine through without the added artificial flavorings or preservatives found in processed foods.
Herbs and Spices Provide Flavor
A lot of Western food is flavored with sauces that contain high amounts of sugar or artificial flavoring. In Middle Eastern cooking, foods are skillfully flavored with traditional herbs and spices.
Simple condiments of yogurt, hummus, and tahini complement these spicy and bold flavors perfectly. These condiments are natural, packed with protein and probiotics, and do not contain any nasty ingredients.
14 Arabic Turkish Dishes You Have To Try
Arabic cuisine is no slim category. Arabic culture spans across a wide geographical area and so there are many different forms of the cuisine and dishes that come under the category.
Turkish cuisine is another unique form of culinary tradition within this, formed throughout the rich and ancient history of its people.
Soups & Salads
Soups and salads are commonly found among mezze spreads, which are collections of small dishes that are usually served together. These dishes are typically served as part of a mezze spread as a light accompaniment to heavier dishes.
Salads and soups tend to be packed with flavor and protein, making them an excellent choice for a healthy meal.
Lentil Soup
Red or yellow lentils are used as the protein in this traditional Lebanese dish. Cumin, garlic, and lemon juice are key ingredients to this very simple recipe.
Fattoush Salad
Fried or toasted khubz, the common term for pita bread, is mixed with seasonal vegetables such as turnips and cucumber as well as salad greens. Herbs such as mint and parsley are generously mixed through.
The dressing is made from olive oil, lemon juice, pomegranate molasses, and sumac. These ingredients showcase the tendency towards sour flavors.
Tabbouleh Salad
Uncooked bulgar wheat is combined with finely chopped mint, parsley, tomatoes, and onions. This makes for a fresh side salad that is a great filling for kebabs.
Starters and Sides
These are some typical items you might find within a mezze spread. Within this category, you'll find dishes such as hummus, falafel, baba ganoush, and dolma. Most can also be found in grocery stores around the world, which goes to show the influence that Middle Eastern food has had across the globe.
Hummus
This dip or condiment is made from chickpeas, olive oil, lemon juice, garlic, and tahini. It is seasoned with salt and pepper, and additional spices such as cumin or sumac can also be a nice hint. Creamy and mellow, hummus is a perfect accompaniment to bold flavors or simply as a dip for your pita bread. It is naturally packed with protein and is a favorite among vegans the world over.
Baba Ganoush
Very similar to hummus in recipe and usage, baba ganoush is instead made with eggplant rather than chickpeas. The recipe contains all of the same ingredients otherwise. Eggplant is peeled, finely chopped, and roasted over an open flame to create a delectably smoky flavor.
Falafel
Chickpeas are used again to make this Middle Eastern staple. They are blended with parsley, coriander, and cumin seeds, essentially, though there are endless variations to falafel, each as flavorsome as the next.
Mint and sesame are other ingredients commonly used, each transforming the flavor in different ways. Sesame seeds are my favorite addition, as they add a wonderful nutty flavor to the mix and aid in the creation of a crispy golden outer.
Dolma
This specialty is associated with Ottoman cuisine and is a rather unique dish. It consists of a grape leaf wrapper filled with a mixture that varies from recipe to recipe. Common ingredients to be found inside a dolma include fruit, rice, seafood, or minced meat. These can be on their own, though they are most commonly used in combination.
Mains
In this list, you might find some familiar names of dishes you have tried in your own hometown. The main stars of Middle Eastern cuisine include shawarma, kebabs, and musakhan. These dishes are commonly found at doner kebab shops and enjoyed as meals on their own.
Shawarma
This term actually refers to the thinly sliced meat that is stacked upon a cone-shaped vertical rotisserie. This is most often lamb or mutton. Meat is slow-grilled on the rotisserie, giving it that excellent characteristic flavor.
The wraps in which shawarma is eaten are also commonly known as shawarma. In these wraps, meat is paired with fresh salad ingredients and simple (yet divine) sauces.
Kebabs
There are different variants that fall under the term kebab. Shish kebab and doner kebab are both popular street foods around the world – handy for eating on the go.
Shish kebabs are skewers of meat and vegetables such as bell pepper and onion cooked on a grill. The doner kebab is a pita bread filled with meat, salad ingredients, and sauce.
Musakhan
Commonly considered to be Palestine's national dish, Musakhan is made from roasted chicken, sumac, allspice, onions, and toasted pine nuts – all of which are served over a taboon bread. Lemon juice and saffron are additional ingredients used to bring an extra zing to the dish.
Bread, Pastries, Dessert
Middle Eastern cuisine is known for its unique desserts and pastries, and its versatile flatbreads. These range from the traditional pita breads and baklava to lighter delights such as halva and kunafa. Here are a few that you simply must try:
Pita Bread
Light, soft, and chewy, pita is a versatile bread that comes in different variants. Those with an inner aerated pocket are used the world over as the perfect bread in which to stuff meats and salad ingredients. This is the base for doner kebabs.
Baklava
Baklava is a rich dessert made from layers of filo pastry and chopped nuts including pistachios, almonds, and cashews. These layers are then drizzled with honey to sweeten the dish and preserve its solid form. This was a staple of Ottoman cuisine.
Kunafa
Otherwise known as Knafeh, comes from Fatimid origins. It is made using spun kataifi pastry, and layered with ingredients such as cheese and chopped nuts. This is all soaked in attar – a sweet sugar syrup– to make for a rich and moorish dessert loved by many throughout the Middle East.
Halva
Ingredients in this sweet include milk, cacao, rosewater, oil, butter, and flour. It is flavored with various different toppings and sweetened with sugar.
Vanilla bean and tahini are among the many additional ingredients that can be used to flavor Halva. Originally a Persian dessert, it is also widely consumed throughout India and the entire Middle East.
Secret Recipe Tips
When it comes to exotic cuisines, it can be hard to know how to get it exactly right. Here is a list of tips that will start you off on the right track with your Middle Eastern cooking journey. Follow them closely and you're sure to be rewarded with authentic and delicious results.
Use Fresh Ingredients
You can always count on a doner kebab shop to have an array of the freshest ingredients. Crispy and crunchy lettuce, carrot, and onion make for a textural delight when paired with chewy pita and tender meat. Anything less will fail to deliver that same result.
Cook With Patience
Within Middle Eastern cuisine, meats in particular are cooked slowly and with great care. You cannot rush this process, and should instead take the time to apply a blanched blend of herbs and spices.
This blend typically consists of ingredients like cumin, cardamom, nutmeg, cloves, cinnamon, pepper, coriander, and turmeric. These herbs and spices are carefully mixed together and added to the meat, allowing it to slowly simmer and absorb the flavors.
Balance Flavors
Sour, sweet, salty, spicy, and nutty flavors are all used in Middle Eastern cuisine. Sumac, lemon juice, and pomegranate molasses are just some of the sour ingredients used, while cinnamon, cardamom, and sugar are common sweeteners.
Cumin and sesame are providers of nutty flavors, while cayenne and chili bring the spice. It is important to not overdo one of these elements; instead, aim for a perfect balance. Begin with just a little of each ingredient and add more to taste.
Experiment With Spices
The spices used in Middle Eastern cooking are quite unfamiliar to many Western kitchens. The sour notes and interesting blends may seem like a challenge to beginners. Let yourself stray from your culinary comfort zone and explore what these blends have to offer.
Start with dukkah, which can be enjoyed as a dip with bread and olive oil. Getting used to these flavors will familiarize your palette with the flavors of the Middle East.
Use high-quality olive oil – In Western supermarkets, there is often an expansive range of olive oils on offer. Don't go for the cheapest. Avoid clear glass bottles, and instead, go for those with a dark green or black bottle. A darker packaging protects the product from degrading UV exposure.
The fact that the producer has chosen the right packaging suggests they might know a little something about olive oil. Also, look for the words "extra-virgin" on the label – this is the good stuff.
Master traditional techniques – Be sure to use traditional methods when venturing into Middle Eastern cooking. Baking and grilling, rather than frying, are preferred methods that are also healthy and create excellent flavor.
Don't skimp on the garlic – Garlic does a lot for Middle Eastern cuisine, featuring heavily in many a dish. If you are following a recipe that includes garlic, do not skimp! Only stray from the recipe to add extra garlic.
Beverages
There are many great Middle Eastern beverages to complement the food we have discussed so far. Options ranging from mint tea to ayran provide a delicious and refreshing contrast to the huge variety of spices and flavors that are utilized. Here are a few of the most popular liquid staples.
Mint Tea
Popular in Morocco and Algeria, mint tea is made by steeping spearmint and green tea leaves in boiling water, making for a warming and refreshing beverage. Other herbs or varieties of mint can also be added to enhance the taste.
Arabic Coffee
Each region has its own specific way of preparing coffee, but here is a general description. Ground coffee is boiled on the stovetop in a small copper pot known as a briki.
It is then poured into a vessel from which it is poured into small cups. This double pouring makes up for the lack of filtering involved in the process. Coffee is generally served black, without sugar, and often flavored with cardamom. The addition of this spice provides sweetness and a warming sensation.
Ayran
This is a very unique drink served right across from Western Europe to Central Asia. It is yogurt-based and involves water and salt. Some recipes call for carbonation while others do not. Ayran is served chilled and is an excellent compliment to grilled meats and spicy dishes in particular.
Ingredients
The key ingredients of Middle Eastern cuisine are whole foods that provide a host of health benefits to consumers. Though plain ingredients on their own, they are turned into wondrous components through the mastery of culinary techniques and the use of herbs and spices.
Fava Beans
Fava, or bakla, is the Middle Eastern term for broad beans. These are used in a variety of dishes and in various forms. Commonly, they are soaked, boiled, and mashed into a smooth purée. Lemon juice and red pepper are traditionally used to season.
Chickpeas
The wondrous little things are the key ingredient in both hummus and falafel. Though they are rather boring on their own, they soak up the flavor of herbs and spices excellently so as to serve as staple dishes loved worldwide.
Chickpeas are a herbivore's best friend, as they are packed with protein, versatile, and super tasty when prepared right.
Lamb
This is the most popular red meat in most Middle Eastern countries, predominantly due to religious reasons that prohibit the consumption of pork or beef. Lamb is thinly sliced, layered onto a cone-shaped vertical rotisserie, and slow-grilled. This common method of cooking lamb is called shawarma.
Tahini
Tahini is a paste made from ground sesame seeds. Seeds are first hulled to make for a smooth and creamy finished product and toasted to bring out that nutty flavor. Tahini is a beautifully rich and creamy condiment on its own and is also added to hummus as well as baba ganoush to enhance its flavors.
Yogurt
Yogurt has been a part of the Middle Eastern diet for thousands of years. It is simply made by fermenting milk and can be used as a side with savory and sweet dishes alike.
Labneh is the more common form of yogurt consumed in the Middle East. This is a yogurt of thicker consistency as it is not strained in its production, thus retaining most of its whey component.
Sumac
Not only is Sumac used throughout the Middle East as an essential spice, but it is also used as a dye and as medicine. It is made from the dried red berries of the Sumac plant, in the genus Rhus. This plant produces vibrantly colored flowers and berries and grows throughout East Asia and Africa.
Herbs and Spices
Herbs and spices are essential to the Middle Eastern skill of turning tasteless foods into culinary delights. Herb and spice combinations are bold, bright, sour, and zesty – the result is an explosion upon the taste buds.
Parsley – Parsley is a herb that is used across the globe in just about every different cultural cuisine. Within Middle Eastern cuisine, it is often paired with mint to create a wonderfully fresh taste and aroma.
Mint – Finely sliced and added to many meals, this brings a delicate balance to the often spicy and bold flavors created by spice blends and smoky cooking methods.
Cumin – Warm, savory, and nutty, this spice is an essential ingredient for a majority of Middle Eastern dishes. It should never be skimped on, rather, use it generously.
Coriander – Both the seeds and leaves of coriander are commonly used throughout Middle Eastern cuisine. Coriander seeds are crushed up and used in the Za'atar spice blend to add sweet, citrusy, and floral flavors to the mix. Toasting coriander seeds brings out a pleasant nutty aroma.
Cardamom – These green pods bring a comforting warmth to dishes, both savory and sweet. Its flavor can be likened to pepper as well as mint and eucalyptus, as it is as bright and refreshing as it is warming.
Za'atar – Recipes for za'atar vary greatly from region to region, and kitchen to kitchen. The beauty is in the fact that every cook creates their own signature mix. This mix adds woody, sour, and nutty flavors to a dish, and is commonly used as a dip next to bread and olive oil. Ingredients include oregano, marjoram, thyme, cumin seeds, coriander, sumac, and sesame.
Turmeric – This spice adds not only flavor but vibrant color to any dish. It is used in stews and soups, particularly in those of Morocco. This is perhaps the most healthy spice you can consume due to its phytochemical compound, curcumin, which is both antioxidant and anti-inflammatory.
Middle Eastern Food Culture
Mealtimes serve as opportunities for the whole family to come together, connect, and relax. Eating habits have withstood the test of time, with tables still laden with a great variety of dishes from which one can pick and choose.
Eating Habits
Eating together is an important part of socializing – Meals are traditionally had at a leisurely pace. They are a time for socialization between family members and friends.
A number of courses following one after the other ensures that proceedings are not rushed. Though many Middle Eastern cultures do not enjoy alcohol with their meals for religious reasons, Turkey is one of the exceptions.
Food is often shared and served family-style – A plethora of dishes are laid on the table during mealtimes. This encourages an atmosphere of sharing as plates are passed around and enjoyed together.
Hospitality and generosity are highly valued – Hosting is a special role in Turkish culture. It is taken very seriously, and generosity during this time has no limits.
This can become complicated for those not accustomed to Turkish tradition. Hosts are likely to offer things and out of humbleness, it is polite for guests to refuse. To show their sincerity, a host might offer something repeatedly until the offer is taken up.
A balanced diet is important – A Turkish table spread will contain a variety of dishes that complement and balance each other. Nuts, legumes, vegetables, and meats are all important aspects of a meal.
Meals Structure
Three meals per day: breakfast, lunch, dinner – Breakfast is the smallest and quickest meal of the day. That is, on the weekdays.
During the weekend, something more lavish would commonly be prepared so that the family may spend some quality time sharing it together. Breakfasts are nutritious and involve eggs, cheese, fruits, and bread.
Lunch is often the largest meal. Salads and other such dishes that take little preparation time are also to be had at lunch. Sulu Yemek, or soup, is a common component of Lunch. As with all Turkish meals, an abundance of bread is certainly available.
Dinner is lighter than lunch. Dinner is served course by course, starting with a soup, hot or cold depending on the season. This might be followed by a stew of vegetables, legumes, and meats. Paired with this would be bread or a grain such as bulgur wheat.
Snacks
As the night gets old around 9 or 10 pm, some Turkish will enjoy a small helping of snacks such as nuts, roasted seed, and roasted chickpeas, as well as fruits both dried and fresh.
Dried figs, apricots, and dates are also likely ingredients of this platter. Black Turkish tea often accompanies Yatsilik snacks.
This tea is brewed with Camellia sinensis in a glass teapot and served in tulip cups of very thin glass. Aromatic and fruity, this tea is well-sweetened with either honey or brown sugar – the perfect send-off to sleep.
Vegetables and salad are common sides. If the main dish consists of meat, do not fear – vegetables and salads will be somewhere nearby. There is usually an array of traditional salads and vegetables spread across the table. Eggplant, zucchini, and potatoes are very popular vegetables in Turkish cuisine.
Eggplant is roasted until soft with Za'atar spice blend and served with labneh for the ultimate vegetable treat. Roasted chickpeas are another specialty which adds protein to the dish, as well as a tasty crunch.
Bread is often served with meals. The Turkish are great consumers of bread. It can be found as a side to any meal of the day and is an essential accompaniment to soup or stew.
Dessert is typically sweet and pastry-based. One of the greatest foods to come out of Turkey has been filo pastry. This very thin pastry must be layered together, sheet upon sheet, in order to make up a decent-sized crust.
Nuts and cheese are common ingredients of many Turkish filo desserts, which tend to be soaked in honey or a sugar syrup.
Etiquette
Dress modestly: A conservative style of dress is a safe bet for attending a Turkish dinner party, particularly if you are not familiar with your hosts. The Islamic religion is practiced by many throughout Turkey, so you may look to such etiquette for guidance.
In many households, you may be required to remove your shoes before crossing the threshold or before sitting down to dinner. Consider this as you are choosing your socks and footwear.
Say "Sahtain": As one might say bon appetit in France, it is polite to say "Sahtain" before dining on Turkish cuisine. This is an Arabic term that wishes well to those eating. This is a wish that enjoyment will be had during the meal, as well as for good health post-meal.
You might also be interested in...