Danish Food: 5 Popular Dishes + 3 Facts about the Food Culture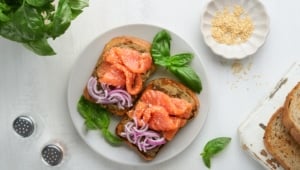 Explore the world of Danish cuisine, where traditions are treasured but recipes aren't set in stone. Stay tuned as we venture into the heart of Danish food culture, exposing their five most popular reveals dishes and their one-of-a-kind secret recipes.
Each dish in the Danish cusine is fresh, flavorful, and rich in history. And, of course, full of fresh ingredients, especially meats. Learn here more about the tasty Danish food.
Traditional Danish Cuisine- More Than Crispy Pork and Hot Dogs
Long before the invasion of glossy Danish restaurants led by genius Danish chefs like Claus Meyer, this Scandinavian quilt had been weaving its own food story.
The beloved Danish food culture heavily revolved around the country's own yield. Traditional Danish cuisine, strong and wholesome, was tailored to feed the hardy folk of the country before the industrial revolution.
A precursor to Norwegian food, it's marked by delicately spiced open-faced sandwiches, sour cream-laced recipes, and an admirable use of seasonal ingredients.
Bold or mild, the flavors celebrated in the traditional recipe have firmly established it as a comfort food that ticks all the boxes.
Most Popular Street Food in Denmark
The king of Danish street food and voted unanimously as the national food by the Danes, the Crispy Pork with Parsley Sauce, also known as 'stegt flæsk med persillesovs', is a must-try delicacy. This classical dish brims with simplicity and authenticity and is a testament to the evergreen "old is gold" proverb.
Not your run-of-the-mill hot dog, Danish hot dogs or 'pølser' are a different breed altogether. Dressed up with all kinds of toppings including pickles, crispy fried onions, and unique Danish remoulade, these hot dogs are the soul winners of many street food lovers' hearts.
For the uninitiated, Smørrebrød are appetizing open-faced sandwiches that reveal the creative yet humble side of Danish culinary prowess. This palate pleaser, served on rye bread and topped with deli delicacies and artful garnish, is as visually enticing as it is tasty.
Finally, no trip to Denmark is complete without getting your hands greasy with a serving of Fiskefrikadeller or Danish fish cakes. Made from freshly caught fish, mashed potatoes, and other spices, these fish balls are deep-fried to perfection, leaving a taste that lingers long after the last bite.
Danish Food in the World
The Danish cuisine has been stomping its mark all over the world. Now, don't think Danish food has been going on a global tour all by itself. No, it has been breezing across borders through the magic of international chefs getting inspired by those traditional Danish recipes.
Danish food has always been about using what's readily available, staying fresh with the daily catches of fish or keeping it comforting with a slow-roasted joint.
This focus on freshness and adaptability is something other countries can really dig. Countries tightly hugging their own food traditions have been whipping up their own versions of Danish dishes, tweaking them to fit their local palate.
Because, traditional Danish recipes aren't exactly written in stone. They're more like ideas – recipes that are meant to be played around with, changing the theme depending on the type of meat or vegetables you got hanging around your pantry.
Other countries have been grabbing onto this concept, using Danish cooking as a blueprint while adding a touch of their own customs and flavors.
Seasonal adaptability is big in Denmark. Whether it's the bright and breezy summers or the crisp, cold winters, Danish dishes change to fit the seasons.
Everywhere else in the world, chefs have been doing the same with Danish recipes, adjusting the dishes to fit their own climates.
A Danish fish stew gets a tropical makeover in Southeast Asia, while a traditional Danish roast might show up smothered in a zesty spice rub in Mexico.
How Healthy Danish Food Is
Danish cuisine, perhaps surprisingly, isn't just tasty, but it's also a sweetheart for your overall health and well being. Guess it's like finding extra onion rings in your fast food order, except this time, it's nourishment wrapped up in deliciousness.
The main reason? Everything is absurdly fresh which works wonders for the nutrients, kind of like finding fruit at the top of the tree rather than scattered on the ground.
Fresh Ingredients
When we're talking about meat in Denmark, we're talking freshness that borderlines unbelievable. Like, think of meat so fresh, it could hop off your plate.
No meat lounging around in freezers for months, around Danish kitchens, it's so darn fresh, you'd almost expect it to still be grazing. The meat, say a lean salmon or tender pork, is usually prepared the same day it was caught or purchased, just like choosing a cookie straight off the baking tray.
Did you know?
There isn't really a Danish recipe set in stone because folks got the knack for letting it roll with the seasonal changes and what they've got in the pantry, kind of like a surprise birthday party with unexpected guests.
Simple And Full of Nutrients
Indeed, just how the Janteloven law advocates for modesty and simplicity, Danish diets are centered around humble, yet substantial, nutrient-dense ingredients like root vegetables, whole grain rye bread, lean meats and fish.
Which means, Danes aren't just hearty eaters, they're smart about it too. It's like having all those poker chips but knowing when to bet them right.
End of the day, it's safe to say that traditional Danish food is one heck of a balanced diet — tasty, healthy, and adaptable like cats on a skateboard, now how's that for a super-meal deal.
Famous Danish Dishes You Have to Try
There are some things in life you don't want to miss, like the first snowfall of winter or your kid's first steps. Well, you can add Danish food to that list. Here are five you have to try.
Smørrebrød
We're the simple folks. Give us a sliced bread and we're happy. But in Denmark, they put a little magic into their sandwiches and call them 'Smørrebrød.'
Basically, it's rye bread topped with cold cuts, pieces of meat or fish, cheese or spreads. It's like that high-end custom car, but cheaper and you can eat it.
Stegt Flæsk
Everything's better when it's fried, isn't it? The Danes surely think so. 'Stegt Flæsk' is deep fried pork belly. No, I'm not pulling your leg. Best part? It's served with potatoes and a white sauce. Gives the phrase "as happy as a pig in mud" a whole new meaning.
Frikadeller
Wouldn't be fair not to mention 'Frikadeller.' These meatballs made from minced pork can be found everywhere in Denmark. It's like their national mascot or something.
Medisterpølse
Imagine a sausage, not your regular ballpark kind, but a Danish one, like 'Medisterpølse.' Spicy, juicy, made from minced pork and stuffed into casings, it's like an explosion of flavor in your mouth.
Æblekage
Let's end it on a sweet note with 'Æblekage.' Æblekage is an apple charlotte, made with apples obviously, sugar, crushed macaroons and whipped cream. It's like dessert heaven on a dish. Tell that sweet tooth of yours it's in for a treat, the Danish way.
One thing's for sure, Danish food is no wallflower. It's rich, varied and trust me, it sticks with you. Now, these are just a taste of what Denmark's got to offer, there's a whole new world of flavors waiting for you in those cobbled stone streets.
So, if you ever get a chance, introduce your belly to Danish delights.
Soups & Salad
If you're going to talk about traditional Danish dishes, you've got to start with the Hønsekødssuppe. Don't let the name fool you, though.
It isn't a Goliath hen chilling in your bowl of soup. It's more like a chicken carcass that's been left to simmer and get all cozy, and the result is a broth that's like a warm hug on a cold day.
In this not-so-chicken chicken soup, you'll find a globe of frikadeller – Danish meatballs – and dumplings that bring the comfort right back to comfort food.
And you'd think with all that meat you'd get a serious poultry fix, right? Nope. It's only about 28 percent of their meat intake, so consider the chicken presence here more of a cameo than a leading role.
Now onto salads. If you're picturing a plate of lettuce, you're way off. Think potatoes, lots of them, along with onions, radishes, and herbs.
A classic Danish dish, a favorite among locals and foreigners alike, is the kartoffelsalat, a kind of potato salad. Their version has dollops of very tasty mayo.
Starters, Sandwiches, Sides
Danish cuisine doesn't mess around, man. No empty plates here. They got a soft spot for hearty sandwiches and buttered rye bread. We're not just talking a typical sandwich here.
Their open-faced sandwiches or 'smørrebrød', as they call it, are irresistibly robust with a topping of anything from roast beef to pickled herring.
The sides though, they don't take a backseat. If a Dane serves you a main, expect an army of sides tagging along – mostly veggies, which is kind of a smart way to get you to eat more greens.
Last but definitely not the least, a dish that deserves its due is remoulade sauce. It's like the secret weapon of Danish cuisine that packs a punch of flavor.
A bit tangy, a bit sweet, and a bit sharp – it is what artists would call a mixed medium. And this sauce is just that. A beautiful blend that dances on the tongue, leaving you wanting more every single time.
Mains
When it comes to Danish main dishes, the culinary panorama transforms into a gateway to heaven. For starters, one classic dish causing quite a ripple is Frikadeller.
Picture this: balls of minced meat, usually pork, mixed with onions, eggs, milk, and bread crumbs, then fried to perfection. Pair it with a tangy rhubarb compote and you've got yourself a delight worth savoring.
Next on the list, behold Flæskesteg, or Danish roast pork. Slow-cooked pork roast with a score of crisp, crackling rinds. It's often served with sugared potatoes and red cabbage.
Opt to garnish it with chopped parsley and we've a party on our taste buds. What's not to like? It's a promising one-two punch of succulence and crackle that's downright irresistible.
Stegt flæsk med persillesovs is another poster child of Danish bite affairs. Sizzling fried pork bellies dished out with a parsley sauce, it's seriously addictive stuff.
Dip the juicy bellies in a lush river of bright parsley sauce and you're on cloud nine. Danish cuisine is a whirlwind of rustic goodness that can make even the most steadfast diet devotee sway.
Bread, Pastries, Dessert
When your belly craves for Danish pastries, it rings the bell for Wienerbrød. Stemming from Danish bakers channeling their inner Austrian bakers in the 19th century, Wienerbrød are heavenly pastries, known as 'danishes' outside of Denmark.
Indulged in layers of laminated dough folded with butter, generously filled with fruity jams or marzipan, these exquisite pastries send the sweet tooth into raptures.
In the sphere of Danish bread, Smørrebrød is your highway to flavor town. Traditionally, it's dark rye bread loaded with all kinds of toppings. Think liver pate, fried bacon, pickled herring or a boiled egg topped with fresh shrimps. Each bite spells out a mini travelogue of Denmark in your mouth.
A pastry lover's paradise, Denmark isn't just about danishes and Smørrebrød. Brace yourself for the unforgettable taste of Flødeboller.
Chocolate-covered marshmallow puffs that punch above their weight in terms of taste. Don't stop there, move on to the buttery morning buns or the apple-filled Æbleskiver. The sweet embrace of Danish pastries and desserts will make you want to pitch a permanent tent in the land of the Danes.
Secret Recipe Tips
Alright, if you want some secret Danish recipe tips, here's the inside scoop. Mind you, they're not just tips. They're the backbone to creating that perfect blend of flavors and textures, the heart and soul of Danish cuisine.
The first trick up our sleeve is that Danish recipes often call for fresh ingredients, that's no secret, but there is a certain twist to it. Flavor, in Danish cuisine, comes from layers on layers of fresh ingredients.
Thinly Slice Smørrebrød
Ever heard of Smørrebrød? Well, those slices of rye bread aren't just thin, they are thinly sliced to allow the flavors of fish, potatoes, and eggs to go through. Always remember, don't just slice it, thinly slice it for that perfect blend.
Timing
Second, timing. Now, this isn't your ordinary watch the clock situation, but rather, knowing when to add your herbs and spices. A good Danish meal isn't about blasting the dish with flavors early on, but gradually adding them as it cooks.
This way, every ingredient permeates the dish and no single spice takes the center stage.
Perfect Rustic and Hearty Dishes
The third trick is about those rustic and hearty dishes. Stegt Flæsk, Brunede Kartofler, oh they sound fancy, but it's all about simplicity.
Frying pork till it's crispy and boiling potatoes never sounded so simple and yet so divine. Boiling potatoes, coating them in sugar sounds plain, but as they caramelize, they give off this sweet, earthy taste.
Seasoning
Last, but by no means least, seasoning. Don't be scared of adding a generous dash of salt and pepper. Sure, they might seem mundane, but they are the backbone of Danish seasoning.
Danish recipes don't shy away from these two rockstars. So, mind the salt and pepper, and you might just kick things up a few notches.
Beverages
Now, if we're talking Danish beverages, well, that's a whole new world of tastes waiting to be discovered. Denmark is known for its array of drinks. Your usual tea and coffee is good and all, but when in Denmark, do as the Danes do, right?
There's the classic Akvavit, a robust and flavorful spirit produced since the 15th century. It's often served chilled and sipped slowly during traditional Danish toasts. And hey, let's not forget about Danish beer.
You tell me, who doesn't love a good chilled pint of Carlsberg or Tuborg? Reflecting Denmark's rich brewing history, Danish beers come in a variety of flavors and strengths, ensuring there's always something for everyone.
Ingredients
When it comes to sumptuous Danish dishes, it's all about the ingredients. The rye bread, pork roast, pickled herring, and let's not forget the iconic Danish pastry.
All culminate to a noble tribute to their Viking ancestors, who relied much on the produce they farmed and caught themselves. Each meal is a paint palette of classic Nordic cuisine flavors, speaking volumes of a country that enjoys the luxury of four distinct seasons, each with their own gastronomic offerings.
Be it a traditional Danish meatballs recipe or fried plaice topped with shrimp, there's always a bit of Danish climate in every bite.
The truth is, Danish dishes draw exceptional taste from the bounty of their local agriculture – whether it's the root vegetables, pork from their famed dogs stands, or their widely loved currant juice, the linchpin to their exciting dietary repertoire.
Herbs and Spices
But what would all these fine ingredients be without the jazz of herbs and spices? The Danes don't shy away from loading their dishes with fragrant herbs like dill, parsley, and chives.
These often find their way into zesty salads, savory sauces, or as a dressed finish to their smoked salmon and pickled cucumber dishes.
The spice spectrum is downright hearty – think strong, peaty flavors from caraway seeds and the unmistakable pop of mustard seeds, playing key roles in traditional Danish foods like pickled beetroot or breaded pork patties.
Danish Food Culture
In tradition yet open to the world's influence: the Danish food culture. From their love for rød pølser hot dogs at roadside vendors to the sophisticated taste of browned duck with sides of boiled potatoes and parsley sauce. The Danes sure know how to enjoy life to the fullest through their food.
Social meals, hygge and an appreciation for internationally-flavored dishes share the spotlight in the Danish gastronomic theater.
Eating Habits
Now let's talk about Danish munching habits. Imagine walking out of a cozy Copenhagen bakery early morning, armed with a warm Danish rye bread topped with smoked fish or cold cuts – it's a standard way of kicking off any day.
For lunch, the Danes enjoy a smorgasbord of sandwiches – open-faced and packed high with everything from roast beef to hard-boiled eggs.
Their dinner, well, it's a hearty fare featuring succulent roasts, root vegetables, and classic brown gravy, commonly followed by apple cake or other wonderful Danish desserts.
Leftovers in Danish Cuisine
And another thing, they're incredibly efficient with leftovers. Common folks have 'leftover dinners' that could outshine your regular dinners any day.
Leftover roast beef becomes a filling for tasty sandwiches, while leftover bread transforms into scrumptious bread crumbs, ready to give any dish an amazing textural twist. The whole approach is about simplicity, enjoyment, and absolutely no waste.
Meal Structure
Some say, to get a real taste of Danish life, you have to know how they structure their meals. Typically, the Danish chow down three meals a day, with 'morgenmad' (that's danish breakfast), lunch, and dinner.
This seems pretty simple, right? Like a puff pastry, it's the layers that make it special. Let's start with breakfast, it's usually bread smeared with butter and sugar. But we aren't talking black coffee bread; this will most likely be a delicious Danish bread or something fried in butter most of the time.
By now, you might be guessing that the lunch must be something heavy to balance the light breakfast. Well, you'd be wrong. The Danes traditionally consume what is called a 'smørrebrød', essentially an open-faced sandwich chock full of ingredients on rye bread.
Dinner is usually the main meal of the day, traditional Danish cooking at its finest usually involving a dish served with cold rice pudding or pork liver. That'd put hairs on your chest.
Etiquette
Okay now, let's move to the Danish food etiquette. First off, Danes are folks of etiquette and tradition. Dining is not just about eating; it's a whole ordeal they engage in.
The table is typically served with a 'table beer' like the popular Faxe Kondi or a shot of snaps. That's their tradition. When you're about to start, make sure to wait for the host to propose a toast and say "Skål" (that's "cheers" in their tongue) first before gulping that drink.
Now, when it comes to using cutlery, they use them in the continental style – that's fork in the left hand, and knife in the right.
And if someone does invite you over for dinner, remember to compliment the cook. That's considered good manners.
So, might be a good idea to brush up on your Danish to praise René Redzepi's world-standard delicious Danish creations if you find yourself in his restaurant in Copenhagen, voted the world's best restaurant four times.
You might also be interested in...