What Ginger Beer Is: Taste, 6 Benefits + 5 Types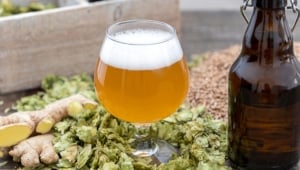 Sweet, bubbly, and good for stomach aches, ginger beer is a non-alcoholic favorite that has been a staple for centuries. The drink is so comforting (yet unassuming) that many people are unaware of the rich history that underlies this timeless classic.
Because of its many benefits and variations, there's at least one bottle (or can) of ginger beer that suits even the pickiest taste buds out there.
What Ginger Beer Is: Explained
Ginger beer was originally an alcoholic beverage that is now popular for being a wonderful non-alcoholic alternative.
With its sweetness and slight spice, it's not surprising why ginger beer is a comforting beverage.
In this article, we'll go on a deeper exploration of everything related to ginger beer, specifically:
The origin, ingredients, and qualities of ginger beer and what sets it apart from other drinks
The benefits you can get from having a hearty sip of ginger beer
The different brands of–and drinks containing–ginger beer that you can get your hands on
The various types of ginger beer and how you can make one right in the comforts of your home.
Let's dive into the magic of ginger beer and develop a newfound appreciation for this cozy drink.
Origin of Ginger Beer
The first appearance of ginger beer was in mid-seventeenth century England. Back then, the drink was fermented – making it slightly alcoholic.
The drink's defining ingredient, ginger, has already been utilized for at least 5,000 years. This wonderful spice promotes healing and is known to have multiple powerful health benefits.
Meanwhile, the fermentation process is also an ancient technique that people once used to preserve food.
However, fermentation isn't always used nowadays to make ginger beer. Some substitute this process with yeast, while others simply carbonate the drink to emulate the fermentation fizz.
Ingredients of Ginger Beer
When people first started making the drink, ginger beer's main ingredients were ginger, sugar, water, and yeast. Occasionally, people also added cream of tartar or lemon for added flavors.
The ingredients and process of making the drink have shifted over time.
Today, many ginger beers contain carbonated water, a higher sugar content, artificial sweeteners, artificial colors, preservatives, and other flavors like honey or apple.
While some companies still produce ginger beer the traditional way, bargain bottles on supermarket shelves are more likely to conform to the modernist (and more convenient) approach.
Alcohol in Ginger Beer
Similar to beer and other alcoholic drinks, the sugar in traditional ginger beer is fermented into alcohol.
However, during the alcohol prohibition between the twenties and thirties, a non-alcoholic alternative was sought out.
In response, most ginger beer brands have sold non-alcoholic ginger beer that has stuck around since. In fact, the drink is a great choice for sober drivers in present times.
There are a few alcoholic varieties sold today, but if alcohol is involved, ginger beer is typically an ingredient rather than an alcoholic beverage in its own right.
Taste of Ginger Beer
If you like the flavor of ginger, then you'll probably enjoy ginger beer—it's sweet, spicy, and bubbly.
The ratio of these three flavors depends on the ingredients, the method, and the brand, so each serving of ginger beer can be a refreshing experience.
Calories of Ginger Beer
A 100-ml (3.38-fl oz) serving of full-sugar ginger beer has around 165 calories.
The exact number varies based on the recipe – especially since no two companies make the drink in the exact same way.
Sugar-free or diet ginger beer will typically contain fewer calories than a full-sugar counterpart. As a rule, the quantity of sugar used will affect how many calories the drink has.
For a more accurate calorie count, you can refer to the ingredients and brand of the beverage you're drinking.
Benefits of Ginger Beer
Because of how prominent ginger is in this drink, it's not surprising that ginger beer also carries the benefits of this powerful herb.
Here are six benefits that you can get when you drink ginger beer:
Rich in Antioxidants
One of the most amazing plants out there, ginger is packed with antioxidants that help protect us from diseases.
It's been celebrated for centuries for its healing properties, versatility, and overall delicious taste.
Anti-inflammatory
Inflammation is a redness or swelling on the body in response to an irritant, and generally makes the affected area sore and tender.
Because of ginger's anti-inflammatory effects, it's effective at soothing muscle pain, and can even treat headaches and other similar ailments.
Nausea Relief
If you suffer from seasickness, you should probably keep some ginger nearby for its powerful anti-nausea properties.
Research has found that ginger can speed up our digestive system, which may contribute to reduced nausea.
If you have an upset stomach, reaching for ginger tea, ginger juice, or a glass of ginger beer is certainly worth a try.
Brain Function Boost
Studies have shown that ginger can potentially enhance brain function, improve reaction time, and ward off a decline in age-related cognitive damage.
If you have an exam or presentation coming up – or just want your brain to be in tip-top shape – ginger is your best friend.
Cholesterol Lowering
A 2018 study found that regular ginger intake for three months decreased the levels of low-density lipoprotein cholesterol (commonly referred to as "bad cholesterol") and total body cholesterol in test participants.
Due to these effects, ginger can help ease the stress on your cardiovascular system, resulting in better health and reduced chances of stroke (among other benefits).
Improved Insulin Sensitivity
Insulin plays a key role in your body because of how it regulates the glucose levels in your blood.
Experiencing insulin sensitivity or resistance results in higher blood sugar levels which can eventually lead to serious health issues.
Ginger helps by lowering your blood sugar, thus preventing certain serious diseases. However, note that if you have diabetes, ginger can increase your risk of adverse effects such as hypoglycemia.
As such, it's best to consult your doctor before consuming ginger in larger quantities.
Difference between Ginger Beer and Ginger Ale
As you browse stores, you might've noticed two different types of ginger-based drinks: ginger beer, and ginger ale.
While they're both sourced from ginger, these drinks have a world of difference between them.
Fermented vs Unfermented
Traditional ginger beer is fermented. Though cheaper iterations get away with just carbonation nowadays, the hallmark of a good ginger beer is fermentation.
That's because when yeast is added to ginger, the more complex flavors of the spice are drawn out.
Ginger ale is typically not fermented. Rather than using real ginger, it's usually a mix of ginger syrup, sugar, and water – which is then carbonated at the end.
It also typically contains preservatives to improve shelf life and coloring to make it appear golden.
Stronger Ginger Flavor
The difference in flavor (and quality, as some will argue) is determined by the form of ginger used. Ginger beer uses ginger root, while ale typically contains a ginger syrup or extract.
For this reason, ginger beer usually has more of a "kick" than ale, which tends to be sweeter rather than spicy.
In essence, using an already diluted ginger syrup will never match ginger beer's true spicy flair.
Appearance
Ginger beer is characteristically dark amber and can have a cloudy appearance. In contrast, ginger ale is usually a pale yellowish-amber liquid. If you spot darker ginger ales, the color is likely artificial.
Carbonation
Just like sodas, ginger beer and ginger ale can be carbonated too. However, carbonation is more common in ginger ale because it's an essential step during the production process.
Ginger beer that has been fermented no longer needs to rely on carbonation to make it fizzy.
Ginger Beer Brands
Ready to immerse yourself in the world of ginger beers, but not sure what drink to get?
Never fear, because we're about to give you the rundown of three American brands that make excellent ginger beers.
Reed's
Using ginger sourced from Peru and combined with other natural ingredients such as fruit juices and honey, Reed's all-natural ginger beers will certainly appeal to many palates.
What makes Reed's' ginger beer offerings unique is that you get to choose between three different spice levels—with the original being the mildest and the strongest being…well, the strongest.
Other options include ginger beer blended with honey and pineapple for a more refreshing drink, and even a sugar-free ginger beer for those who are carefully monitoring their diet.
Q Mixers
Q Mixers makes ginger beers meant for mixing with other alcoholic beverages.
That's because the brand believes that other companies who try marketing their ginger beers as both a soda and a mixer can't craft excellent drinks for either purpose.
The ginger beer on offer contains fresh ginger, sweet agave, and chili peppers for an additional spicy kick. It's also heavily carbonated to ensure that the drink stays fizzy for longer.
If that's a little too strong, Q Mixers also produces a lighter version of its ginger beer that contains only half as many calories.
Rachel's
Made in Seattle, Washington, Rachel's Ginger Beer celebrates the blend of organic ginger and sugar.
The brand's pure ginger beer offering is called "The Original", a pale, cloudy-yellow drink that differs from the traditional dark amber colors traditionally associated with ginger beer.
If you'd like a twist on the ginger beer experience, Rachel's also offers ginger beer mixed with other fruits such as guava, mango, pineapple, and many more.
Because of the many innovative options, Rachels' Ginger Beer is a delightfully modern take on a classic drink.
How to Make Ginger Beer
Making ginger beer at home isn't too difficult either as it follows a simple process and only uses a few ingredients.
For a straightforward drink, simply mix water, yeast, and fresh ginger in a bowl, which is then covered with a kitchen towel. Over the course of a week, feed the mix with more sugar and ginger.
In another large bowl, mix sugar and cream of tartar with boiling water. After the sugar dissolves, add cold water and the liquid from your ginger and yeast solution.
If you'd like an additional kick, you can add some lemon juice as well. Then, keep stirring the solution before pouring it into individual bottles.
Don't drink them right away though; store the bottles for two weeks in a cool, dark place before consuming them. When they're ready, be careful when opening them as they might overflow.
Drinks with Ginger Beer
As we mentioned, ginger beer can also be an ingredient in alcoholic drinks.
If you like to mix ginger beer with a drink that bites and kicks, here are four alcoholic beverages that incorporate ginger beer.
Moscow Mule
Traditionally served in a copper mug, the Moscow Mule contains vodka, ginger beer, and lime juice, with an optional wedge of lime or a few mint leaves for presentation.
Pimm's Cup
This British cocktail features Pimm's and ginger beer. Different garnishes are available and can include strawberries, a mint sprig, cucumber slices, basil, and many more.
Dark and Stormy
A Dark and Stormy is made with ginger beer, dark rum (preferably Black Seal rum), and lime juice. The drink also seems appropriate for that kind of weather.
Irish Mule
The Irish Mule is a mix of ginger beer, Irish whiskey, and lime juice, and is a festive spin on the original Moscow Mule.
Types of Ginger Beer
Ginger beer also comes in different kinds that suit every single person's unique tastes and preferences.
If you don't have a favorite ginger beer yet or are looking into checking out other types of the drink, here are five that you can explore.
Traditional Ginger Beer
Traditional doesn't have to mean outdated; some recipes stick around for centuries because they're undeniably tasty.
We might adjust them slightly to fit modern times – but for the most part, we're simply keeping the tradition alive.
Traditional ginger beer — if you take that to mean the original ginger beer — is made simply with ginger, yeast, and water. While the drink also undergoes fermentation, this isn't long enough to increase the drink's alcohol content.
The result is thus a subtly alcoholic drink that also has a unique spice.
When looking at ginger beer on the shelf at the store, you'll see a lot claiming they are "original", "classic", or "traditional".
If you're skeptical, check the labels to see if these drinks do contain real ginger and are brewed with yeast.
While we can never go back to when ginger beer was first invented, we can still emulate that time by making or buying ginger beer that echoes the age-old recipe.
Diet Ginger Beer
If you're looking to improve your health, diet ginger beer can be a good alternative to full-sugar ginger beer or soda. Diet drinks usually contain less sugar than their regular counterparts.
Make sure to also check that you're buying drinks made with real ginger so you can reap those natural benefits too.
Ginger Ale
It's fair to say that ginger ale is ginger beer's more artificial friend. Despite that, this drink still tastes great and can sway people who love a subtler ginger flavor.
For those who are looking for a beverage that also grants them ginger's health benefits, they are better off staying with ginger beer. That's because ginger ale typically contains ginger syrup or essence instead of the real thing.
Ginger ale is also carbonated, so it should satisfy you if you want that fizziness.
In sum, while ginger beer has a spicier and richer flavor, ginger ale can still stand its ground with a more subtle taste profile. If in doubt, give both a try and see which you like better.
Sugar-Free Ginger Beer
Unlike diet ginger beer, sugar-free ginger beer has no sugar at all. Instead, the drink is prepared with artificial sweeteners such as sucralose, aspartame, and xylitol.
As a result, sugar-free ginger beer can taste different when compared to regular ginger beer.
Different brands have different approaches to this flavor difference—some can emulate the full-sugar product and strive to be as identical as possible, while others might simply accept that sugar-free ginger beer has a different, lighter taste.
Alcoholic Ginger Beer
A lot of people are confused about ginger beer. Is it alcoholic or not? The answer depends.
When ginger beer was first made in the eighteenth century, it was indeed alcoholic. However, the drink evolved into a non-alcoholic variation during the Prohibition period.
Most ginger beers have remained non-alcoholic to this day. Nevertheless, some liquor stores choose to sell intentionally alcoholic ginger beer. To be certain, make sure to check with the brand.
The Bottom Line
Ginger beer's cloudy history might confuse some people, but all that matters is that you enjoy it.
Because of its typically non-alcoholic nature and health benefits, ginger beer is a great choice for sober drivers , during hot days, and in times of sickness.
The spicy ginger flavor sets it apart from the overly sweet sodas that you might be accustomed to, making for a refreshing experience.
Ginger beer has been a staple for centuries, and it's certainly not going anywhere anytime soon.