What Milk Stout Is: Taste, 5 Benefits + 9 Best Beers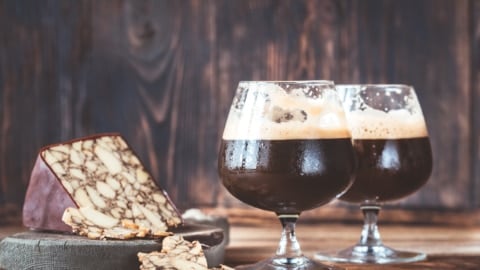 Whether you're a seasoned connoisseur or someone keen on a wild flavor journey, we have something that will take your taste buds for a spin and flip the script on what you think about beer.
This article is about pulling back the curtain on the world of milk stout, from its origin to its unique taste and benefits. We'll discuss the top beers, big-name brands, and fantastic food pairings with Milk Stout. So, no more waiting. Let's dive right in.
What Milk Stout Beer Is: Explained
Milk Stout, often called 'cream stout,' is different from your average brew.
This variety prides itself on its uniqueness – a perfect balance of that classic beer bitterness with a bit of underlying sweetness.
Here you'll learn more about low-calorie beers.
Origin and Founders of Milk Stout
Milk Stout dates back to the late 19th century in the UK. This was when John Henry Johnson and William Loftus decided to stir things up in the brewing industry.
They introduced lactose, or, as we commonly know it, milk sugar. Until then, this ingredient was usually found at breakfast tables and in teatime treats.
Their idea was more than just a lightbulb moment; it started a new kind of beer. Milk Stout came into existence, and with it, a sweeter, creamier variant of beer that was different from other stouts started to make waves.
Ingredients of Milk Stout
Milk Stout's magic comes from ⁠ simple yet creative ingredients. It starts with the usual ingredients—barley, hops, yeast, ⁠ and water—the main components of all beer. But the surprise in the story ⁠ happens when lactose is added.​
Lactose is a form of sugar obtained from milk. But unlike its other sweet counterparts, milk ⁠ sugar doesn't ferment. The result? A richer, sweeter, and creamier beer that sets Milk Stout apart from the others in the crowd.
Alcohol in Milk Stout
Milk Stout may surprise you when it comes to its alcohol content. Typically, it has a 4-6 percent ABV (Alcohol By Volume), but don't let those numbers fool you into thinking it's lightweight.
Each Milk Stout brew has its own unique character and potency. This usually depends on the particular recipe and brewing techniques each brewery uses.
However, no matter the alcohol content, Milk Stout has a rich, balanced flavor profile. It's a lovely combination of the typical bitterness of beer and a sweet undertone that will delight your palate.
Taste of Milk Stout
If the world of beer were music, Milk Stout would ⁠ be the jazzy interlude that makes you sit up and catches your attention. It is celebrated for its yummy, ⁠ smooth, and rich flavor.
When you take a sip, a delicious malt taste awaits you, along with the delightful flavors of chocolate, coffee, and caramel. ‍
The lactose adds a delicate sweetness to ⁠ balance the robust, roasted flavors. This ensemble promises a sophisticated, multi-layered, and pleasant flavor profile. Milk Stout is the kind of beer that entertains your senses with a colorful ballet of tastes and quenches your thirst.
Calories in Milk Stout Beer
Now, you may be wondering, "What about the calories?" The calorie content of Milk Stout can vary based on its ABV and ingredients. A standard Milk Stout typically has between 150 and 200 calories per 12-ounce serving. It's akin to an indulgent slice of pizza or a serving of your favorite gelato.
As with all good things, moderation is key. After all, savoring something special is always more delightful when done mindfully.
Benefits of Milk Stout
On the spectrum of beer benefits, Milk Stout holds a unique position. Let's delve into some of its most notable advantages.
You will learn more about the unique flavor profile as well as the essential nutrients you'll find in milk stout.
Here you will learn more about low-carb beer.
Unique Flavor Profile
The raison d'être of Milk Stout is its unparalleled flavor profile. While other beers might be a bitter challenge to your palate, Milk Stout offers a gentler, more subtle alternative.
Its taste doesn't just end with a single note but an opera of flavors—sweet, creamy, with underlying tones of chocolate, coffee, and caramel. So whether you're a stout aficionado or relatively new to the beer universe, Milk Stout is a welcome mat to an exciting flavor journey.
Packed with Essential Nutrients
Like many beers, Milk Stout is high in essential minerals, including potassium and magnesium, because of the malted barley and hops used in the brewing process.
The addition of lactose further provides an adequate amount of vital minerals such as calcium and vitamin D. These minerals are essential in several biological activities, increasing the health advantages of this exciting brew.
Perfect for Dessert Pairings
Milk Stout shares its magic ⁠ beyond the pint glass. It appears beautifully at the dinner table, ⁠ especially during the big finish—dessert.
It is an excellent dessert choice ⁠ due to its delicious and flavorful taste.​
Milk Stout makes the dessert course more exciting by adding a twist ⁠ to your intense chocolate cake, creamy ice cream, or tangy fruit pie.
Rich in Antioxidants
Milk Stout, just like other beers, has lots of ⁠ antioxidants, primarily due to its malt and hop ingredients. These healthy substances, like phenols, can nullify bad free ⁠ radicals in the body and promote good health.
A Gateway Beer
Milk Stout is like the enticing ambassador of the beer world. For those who've always found the bitterness of beer a bit too much for their taste buds, Milk Stout provides a more gentle and approachable entry point.
Its creamy, sweet flavor breaks down boundaries and gradually welcomes beginners into the wonderful world of beer.
Best Milk Stout Beers
After learning about its incredible benefits, you're probably eager to try this bewitching brew.
So, allow us to introduce some of the most stellar Milk Stout Beers that deserve a place in your pint glass.
In the next paragraphs you will learn more about beers like the dragon milk stout, the left hand milk stout and the samuel smith's milk stout.
Dragon Milk Stout
Dragon's Milk Stout is like the first generation of American beers, straight from the big leagues at New Holland Brewing. The secret sauce to this brew is keeping things balanced.
This beer's got all kinds of awesome ingredients and flavors packed in it, like deep, roasted malt, a hint of vanilla, and, of course, bourbon. Every sip you take is a flavor journey—a layered narrative that sticks with you long after you've drained your glass.
Left-Hand Milk Stout Nitro
From the house of the Left Hand Brewing Company in Colorado comes an intriguing and satisfying Milk Stout. Left-Hand Milk Stout Nitro is known for its smooth creaminess and harmony of flavors.
With tasting notes of brown sugar, vanilla, and coffee, this brew is a sensory delight that keeps you coming back for more.
Belching Beaver Peanut Butter Milk Stout
If you're in the mood for a flavor adventure, the Peanut Butter Milk Stout from California's Belching Beaver Brewery has you covered. This beer pushes the boundaries of flavor profiles, perfectly balancing sweet and salty notes with robust peanut butter and chocolate undertones.
Samuel Smith's Organic Chocolate Stout
For all the sweet-tooth beer lovers, Samuel Smith's Organic Chocolate Stout will become your favorite on the first sip. It's like they crammed all the goodness of dessert into a beer.
Infused with organic cocoa, a hint of vanilla, and rich flavors, you will think you're savoring some gourmet dessert when it's just your beer.
Terrapin Moo-Hoo Chocolate Milk Stout
Terrapin Beer Company brings some serious innovation with their brew called Moo-Hoo. For this, blend cocoa nibs and shell beans from Olive & Sinclair Chocolate Company and blend to create a flavorful and lush stout.
Duck-Rabbit Milk Stout
Straight from the heart of North Carolina's craft beer scene, Duck-Rabbit Craft Brewery's Milk Stout is a noteworthy addition to this list. With its well-rounded flavor profile, combining sweetness with traditional stout bitterness, this brew is an ultimate example of the milk stout style.⁠
Boulder Shake Chocolate Porter
Boulder Shake Chocolate Porter is a go-to for a creamy, chocolatey beer experience. The brew is all about that cocoa and coffee flavor fusion, creating a smooth and rich Milk Stout that sticks with you for a very long time.
Mother's Brewing Milf Imperial Stout
If you enjoy Milk Stouts, you must try Mother's Brewing Milf Imperial Stout.
It has an excellent blend of chocolate and vanilla flavors with a strong alcohol kick for a smooth and satisfying beer experience.
Southern Tier 2X Stout
The last one on the list is the Southern Tier 2X Stout. This beer is fantastic, like the essence of a milk stout but with a plot twist. It's a double milk stout, so it's highly rich and smooth to sip. Without a doubt, the best choice for chilly evenings is by the fire.
Most Popular Milk Stout Brands and Breweries
As we continue this Milk Stout journey, it's time to give props to the pioneers.
These big names in the Milk Stout world have left their mark, shaping history and making this brew style gain popularity.
Here you will learn more about pale ale beer and the many benefits.
New Holland Brewing
Known for thinking outside the box, New Holland Brewing has stamped its name in craft beer history. Beer lovers and occasional drinkers alike adore their "Dragon's Milk Stout." They prove they're all about fresh ideas and top-notch quality with every batch.
Left Hand Brewing Company
A big player in the Milk Stout game, Left Hand Brewing Company, has made waves with their "Milk Stout Nitro." It's silky, creamy, and packed with tasty flavors. This brewery's drive to try new things and nail quality has earned it a solid reputation in craft beer.
Belching Beaver Brewery
With a daring spirit, Belching Beaver Brewery has busted flavor limits. Their Peanut Butter Milk Stout, mixing sweet and salty notes, has amazed beer lovers and piqued the interest of the curious.
Belching Beaver Brewery is all about brewing fun and tasty beers.
Samuel Smith's Brewery
Samuel Smith's Brewery is famous for how serious they are about their beer, with a whole lineup of different kinds.
Their Organic Chocolate Stout is an obvious indication of their dedication to brewing excellence and innovation.
Here you will learn more about wheat beer.
Terrapin Beer Company
Next up, we have Terrapin Beer Company. They are all about shaking things up with cool and tasty brews, like their Moo-Hoo Chocolate Milk Stout, which reflects the bold spirit of artisan brewing. The company's outstanding products have earned them a spot in the Milk Stout world.
Duck-Rabbit Craft Brewery
The North Carolina-based Duck-Rabbit Craft Brewery has made a name for itself in the beer industry. Their Milk Stout is like their badge of honor, which shows off their mix of classic and fresh brewing styles.
Southern Tier Brewing Company
Southern Tier Brewing Company is not one to sleep on either.
They have shaken things up with their unique brewing methods.
Their 2X Stout, a double dose of Milk Stout goodness, shows us their approach, offering an exciting drinking experience.
Boulder Beer Company
Boulder Beer Company, the creator of Boulder Shake Chocolate Porter, is well-regarded in the craft beer industry. Their commitment to quality brewing and range of unique, flavorful beers have made them a standout in the Milk Stout market.
Mother's Brewing Company
The last one on the list is Mother's Brewing Company. They're making waves in the Milk Stout world. Their Milf Imperial Stout is about showing off their creative side and their commitment to tasty, quality beers.
Perfect Food Pairing with Milk Stout
Milk Stout is also a great companion to many foods.
Pairing Milk Stout with the right food can enhance its flavors and take your experience to a whole new level.
Here are some of the perfect foods that go well with Milk Stout.
Pancakes
Imagine a lazy Sunday morning. You've quickly prepared a stack of light pancakes and maple syrup drizzled with fresh berries.
Now, pair this with a creamy, slightly sweet Milk Stout. The chocolate and coffee flavors in the beer complement the sweet, buttery pancakes to create a mouth-watering breakfast or brunch treat.
BBQ Meats
The sweetness of Milk Stout balances with the smoky, savory flavors of barbecued meats.
Juicy steak, sticky ribs, you name it—the creamy brew brings out the delicious contrast, taking the flavor of your meat to a whole new level.
Dark Chocolate Desserts
Milk Stout and chocolate? That's one amazing combo. Like culinary Yin and Yang, sweet beer and bitter dark chocolate play off each other. End your meal with a glass of Milk Stout and a square of dark chocolate or a thick slice of chocolate cake—it's the stuff of foodie dreams.
Oysters and Cheese
You might think it's strange, but oysters and Milk Stout make for a remarkable pairing. The salty sea flavor of the oysters and the creamy sweetness of the brew go together, creating a gourmet experience.
Cheese and beer? That's a match made in culinary heaven. Semi-hard cheeses like cheddar or gouda complement the sweet notes of Milk Stout, making every bite a total flavor fest.
Spicy Barbecue Dishes
Fire up the grill, because Milk Stout pairs beautifully with spicy barbecue dishes. The brew's sweet profile mellows out the food's heat, creating a perfect balance of flavors in every bite.
Berry Desserts
Got a tart raspberry cheesecake or a sweet strawberry pie? Pour a Milk Stout right away. The creaminess of the brew and the tangy flavors from the berries are like a symphony of flavors on your tongue.
Creamy Pastas
Creamy pasta and Milk Stout go hand-in-hand. The robust, savory flavors of fettuccine alfredo or carbonara are excellently complemented by the sweet undertones of the beer. It's a dinner game-changer.
Bread Pudding
Finishing off our pairing list is the combination of bread pudding with Milk Stout. The creaminess of the beer enhances the comforting sweetness of the dessert. It's pure comfort with every bite and sip.
Conclusion
Milk Stout is creamy, sweet, and full of complex flavors to keep your taste buds on their toes. But the brew's not just about taste; it also has some tangible benefits that make it a go-to.
So, whether you're pairing it with dessert, experimenting with new flavors, or just chilling with a glass, Milk Stout is one of the best players in the beer universe.
As we wrap up this comprehensive milk stout guide, we hope you understand this brew, including its origins, taste, benefits, and more. The next time you pick out a beer, remember that the fantastic world of Milk Stout beer is just waiting for you to explore it.
You might also be interested in...