Vieux Carre: Best Cocktail Recipe + 4 Delicious Variations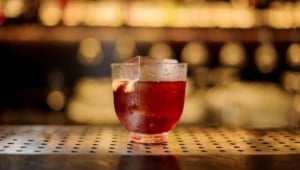 We're off on a flavor-packed journey to the heart of New Orleans, exploring the timeless Vieux Carre cocktail. We'll delve into its rich history, share our top-tier recipe, and shake up four delightful variations. But can you guess the secret ingredient that elevates this drink?
Vieux Carre is a 20th Century cocktail that has attracted many enthusiasts from all over the world. Cocktail enthusiasts and tourists who visit New Orleans prefer taking a mouthful of Vieux Carre to add more color to their experience.
With time, many variations have been invented for this cocktail, so sit back and relax as we take you on a ride where we tell you about this cocktail and its variations.
What Vieux Carre Is
Vieux Carre is a cocktail whose roots come from the French Quarters of New Orleans. The cocktail is made by combining multiple beverages together, including cognac, Benedictine, Angostura bitters, Peychaud's bitters, sweet vermouth, and rye whiskey.
You would then have to mix these together with ice. Next, you can garnish it with lemon juice to add to its flavor, and finally pour it into a cocktail glass to serve your guests.
Brief History
Vieux Carre was invented in the 1930s by a bartender in New Orleans. The aspiring creator of Vieux Carre was the head bartender at Hotel Monteleone. It was named after the French term for French Quarter, which is translated as "Old Square."
Since its origins, it has been the customer's favorite beverage and gradually became a part of the identity of the French Quarters.
Ingredients
The ingredients used to prepare Vieux Carre are as follows:
Rye Whiskey is an ingredient that adds spice and a robust flavor to Vieux Carre. It is one of the essential components that provide a strong flavor to the cocktail. Rittenhouse Rye and Sazerac Rye are the brands that work well with Vieux Carre.
Cognac is a French brandy that was first made in the Cognac region in France. It provides a smooth and sophisticated depth to your Vieux Carre. In addition, it has fruity and floral notes that complement it with the other ingredients.
Sweet Vermouth is a fortified wine that has been flavored with multiple botanicals. It adds sweetness and complexity to Vieux Carre, balancing the boldness of rye whiskey and cognac.
Bénédictine is a herbal liqueur that is made by a secret recipe that comprises a blend of 27 herbs and spices. Bénédictine would add a subtle layer of herbal complexity to Vieux Carre, making it, unlike any beverage you would've ever had.
Peychaud's Bitters are another key ingredient used in multiple beverages that originate from New Orleans. It is gentler bitter along with a sweet and floral profile, adding to Vieux Carre's taste.
Angostura bitters are renowned and used frequently in many classic cocktails. It is used to add depth and complexity to Vieux Carre, which enhances the different flavors.
Lemon Juice is garnished at the end. It is done to add a touch of brightness and a subtle flavor of citrus to your Vieux Carre. It improves the serve presentation and boosts the overall experience while you sip this sophisticated cocktail.
These ingredients work together to create a beautiful symphony of flavors that make the Vieux Carre truly special and a truly unforgettable cocktail for you.
Best Rye Whiskey Brands for Vieux Carre
Below, we have mentioned a few of the most renowned rye whiskey brands that work best while preparing Vieux Carre.
Rittenhouse Rye
Rittenhouse Rye is a very well-known and widely available brand of rye whiskey that is bottled at 100 proof. It has a robust and spicy character along with a subtle sweetness, making it a superb choice for Vieux Carre.
Sazerac Rye
Sazerac Rye is another great option for you when you want to prepare a glass of Vieux Carre. The brand was named after the famous Sazerac cocktail that first appeared in New Orleans.
The Sazerac Rye has a slightly lower proof than Rittenhouse, but it offers a nice balance between spice and sweetness, complementing the other ingredients in Vieux Carre almost perfectly.
Old Overholt Rye
Old Overholt Rye is an affordable and approachable rye whiskey that has been available for almost a century. It has a mild flavor profile that works in sync with Vieux Carre to allow the other ingredients to present their flavors.
Bulleit Rye
Bulleit Rye is a higher rye-content whiskey that has a bold and spicy flavor. The brand is as if it were made for preparing an ideal Vieux Carre. It adds a strong flavor to the cocktail and pairs brilliantly with the cognac and sweet vermouth.
WhistlePig Rye
WhistlePig Rye is a premium whiskey brand that is known for producing a wide variety of top-notch whiskies. Their 10-Year-Old Straight Rye Whiskey, due to its richness and complex flavor profile, is responsible for an exotic Vieux Carre.
The above-mentioned brands are a few examples of the many rye whiskey brands available that are synchronous with the flavors of Vieux Carre.
The important thing is to find rye whiskey that balances spice, and sweetness to harmonize with the other ingredients and create a beverage worth remembering for life.
Best Cognac Brands for Vieux Carre
Choosing cognac is another important aspect of creating a well-balanced Vieux Carre. Below, we have mentioned a few cognac brands that work exceptionally well with the classic cocktail.
Pierre Ferrand
Pierre Ferrand's 1840 Original Formula was designed specifically to be used in preparing classic cocktails. Due to its rich, fruity, and spicy flavors, Pierre Ferrand's 1840 Original Formula is an excellent choice for Vieux Carre, as it enhances the drink's overall complexity.
Hine H
Hine H by Hine VSOP is an iconic VSOP (Very Superior Old Pale) cognac with delicate floral notes and a smooth, rounded finish. The cognac complements the spice of rye whiskey and the herbal flavors of Bénédictine on a Vieux Carré.
Rémy Martin
Rémy Martin is a renowned and very respected cognac producer. They offer a VSOP cognac that becomes a versatile choice while preparing a Vieux Carre. It has a rich, fruity character that pairs well with rye whiskey and other ingredients in Vieux Carre.
Courvoisier VS
Courvoisier VS is another well-known cognac brand. Their VS (Very Special) cognac is a suitable option when preparing a Vieux Carre. The cognac has a smooth, fruity flavor profile that works well with the spice offered by rye whiskey and the sweetness of vermouth.
Martell VS
Martell VS is one of the oldest cognac houses in the world. Their VS cognac is a strong choice for Vieux Carre. It has a light, fruity profile that complements the robust flavor of rye whiskey and the herbal complexity offered by Bénédictine.
Recipe – How to Make a Vieux Carre
Before you begin to prepare a glass of the delightful Vieux Carre cocktail, you must ensure you have the following ingredients:
3/4 oz (22 ml) rye whiskey
3/4 oz (22 ml) cognac
3/4 oz (22 ml) sweet vermouth
1 tsp (5 ml) Bénédictine liqueur
2 dashes of Peychaud's bitters
2 dashes of Angostura bitters
Lemon twist, for garnish
Once you have checked that you have the above-mentioned ingredients- you need to follow a certain set of instructions:
In a mixing glass; add some ice. Then pour rye whiskey' cognac' sweet vermouth' Bénédictine liqueur' Peychaud's bitters, and Angostura bitters.
Next, stir the mixture well until it is chilled. The process should require 20-30 seconds of stirring the mixture.
Strain the cocktail into a rocks glass that is filled with ice. A large ice cube or sphere would be preferred.
Finally, garnish the classic cocktail with lemon juice. To do this, peel a piece of lemon, and squeeze it over the rocks glass to release its juice. You can either- drop a lemon twist in the glass or place it on the rim.
You have finally created a sophisticated and timeless Vieux Carre cocktail. It would help if you savored the complex flavors and enjoyed the delightful cocktail.
How to Serve and Drink a Vieux Carre
To begin with, chill your glass by placing it in a refrigerator or freezer for 5-10 minutes.
Then, you must pour 1 ounce of rye whiskey, 1 ounce of cognac, 1 ounce of sweet vermouth, 1/2 ounce of Benedictine, 2 dashes of Peychaud's bitters, and 2 dashes of Angostura bitters to mix them.
After that, you need to add ice to the mixing glass and stir the mixture gently for 20-30 seconds to combine the ingredients and chill the cocktail. Once chilled, you can pour the mixed beverages into the chilled rock glass.
Next, you can either squeeze lemon juice or peel a lemon and twist it over the cocktail to release its essential oils.
Finally, your Vieux Carré cocktail is ready to be enjoyed. We recommend you sip it slowly and savor its complex flavors and aroma.
Furthermore, to ensure you have a smooth drinking experience, it would help if you drink it in moderation since it is a strong cocktail.
Time & Occasions for Drinking a Vieux Carre
The Vieux Carré is a versatile beverage that you can enjoy at any time and on any occasion. It offers a rich and complex flavor profile, making it an excellent choice for you to drink during the evening or at nighttime events.
It can be an excellent aperitif for you before you begin a meal, a sophisticated choice if you host cocktail parties, or a soothing nightcap after your long and tiring day.
Perfect Pairings
The Vieux Carré cocktail pairs perfectly with a variety of foods thanks to its complex and bold flavors. It is known to complement the rich flavors of certain dishes, including charcuterie, cheese platters, and pâté.
You can also pair it with heartier meals such as steak, roasted meat, or gumbo since the flavors of the cocktail can stand up to these dishes. In addition, Vieux Carre pairs well with slightly spicy dishes or those with bold flavors since the cocktail's herbal and fruity notes aid in balancing the dish's intensity.
Best Glass to Serve a Vieux Carre
Vieux Carre is traditionally served in a rocks glass, also known as an old-fashioned or lowball glass. This glass has a short, sturdy base and straight sides that make it perfect for sipping the cocktail over ice. Using a rocks glass ensures that the beverage remains chilled while its delicate flavors can be preserved over time.
For an elevated presentation, you can serve the Vieux Carre over a large ice cube that melts slowly and helps to maintain the cocktail's integrity.
If you follow these guidelines, it ensures that you and your guest can dive into the rich flavors that can be tasted as you sip a glass of Vieux Carre.
Variations of Vieux Carre
We have mentioned a few different variations of Vieux Carre that you may find interesting, along with the ingredients used and their brief recipes.
Vieux Ananas
If you are interested in creating a pineapple-infused cognac, you would need to soak the pineapple chunks in the cognac for 48 hours. Then you need to follow the traditional Vieux Carre recipe, where you only need to substitute the pineapple-infused cognac for regular cognac.
Autumn Vieux Carré
In this variation, you can substitute the cognac for apple brandy for a fruity, fall-inspired take on the classic Vieux Carre. Then, you need to follow the traditional recipe using the listed ingredients.
When preparing an Autumn Vieux Carre, you need to substitute the cognac with apple brandy for a fruity, fall-inspired take on the classic Vieux Carre. You must follow the traditional recipe using the listed ingredients.
Vieux Pamplemousse
To prepare a Vieux Pamplemousse, you need to add fresh grapefruit juice to the Vieux Carre recipe. You need to shake the ingredients with ice and then strain them into a rocks glass filled with ice. This would be a bright and refreshing twist on your classic cocktail.
These were a few examples of the many possible Vieux Carre variations that you can find around the world. Feel free to experiment with different ingredients and distinct flavor combinations to create your own exotic variation of Vieux Carre.
Similar Cocktails You Will Enjoy
If you are amazed at the flavors of Vieux Carre, there are a few other cocktails that share some of its ingredients and might attract you. We have mentioned a few examples, along with their primary ingredients, below.
Sazerac
It originated in New Orleans. Sazerac is a classic cocktail that has a rich history. It combines rye whiskey, sugar, Peychaud's bitters, and a hint of absinthe to make a sophisticated and potent drink that you can enjoy at any time.
Sidecar
It is an elegant cocktail that features cognac, orange liqueur (Cointreau or triple sec), and fresh lemon juice. You need to serve it in a sugar-rimmed glass that adds a touch of sweetness to balance the tartness.
Boulevardier
It is a close cousin to the Negroni; the Boulevardier replaces gin with rye whiskey or bourbon, putting forward a robust and bittersweet cocktail. The mix of whiskey, Campari, and sweet vermouth is garnished with an orange twist or cherry to add a new flavor to your drink.
These cocktails all share some ingredients with the Vieux Carre and offer their own unique flavor profiles. You need to give them a try and see which ones you enjoy the most
Closing Remarks
The Vieux Carre is a sophisticated and complex cocktail that presents the harmony of its ingredients. This classic New Orleans drink is a testament to the art of mixing, presenting a delightful balance of distinct flavors as you take a sip.
Whether you enjoy it as an aperitif, during a cocktail party, or as a nightcap, Vieux Carre is surely going to impress through its timeless charm and elegance.