15 Different Types of Beer in 8 Categories (+ Tips to Match Flavors)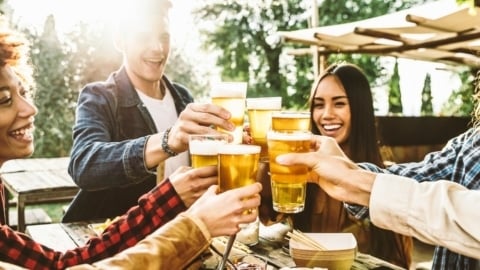 Delicious, ice-cold, and refreshing: beer is one of the most beloved alcoholic beverages of all time — and for good reason. There are an endless number of brands, flavors, and styles of beer. Here you'll learn all about the 15 different types of beer.
If you want to become a beer expert and impress the bartender with your knowledge the next time you order a frosty brew, then stick around.
We're going to look at all the essential information you need in your arsenal when it comes to choosing and serving up a delicious beer. Having a solid grasp of these basics will not only make you well-versed in all things beer but also give you a better appreciation for the drink. In this article, we'll be looking at:
What beer exactly is, how it was invented, and the different types out there
An overview of 15 different types of beer for you to try out
A brief guide on matching beer types with different food and flavors for an standout taste experience
Eight types of beer glasses to help you fully savor the taste of beer.
Ready to learn more? Grab a glass, and let's jump right into a crash course on beer.
Beer Explained
One of the oldest and most popular types of alcoholic drinks in the world, beer is available at almost every alcohol-serving establishment.
It's so popular, in fact, that it's considered to be the third most widely consumed beverage after water and tea.
Despite its popularity and relative commonness, what exactly is beer? How is it made and where did it originate?
Definition of Beer
Beer is an alcoholic drink made by brewing and fermenting starches that are typically extracted from cereal grains such as wheat, maize, and malted barley.
As the beer brews, the fermentation of these starches produces ethanol (a type of alcohol) and carbonation, which gives us the bubbly beer that we know and love. Modern beer is usually brewed with hops that add a bitter taste and act as a natural preservative and stabilizer.
Alternatively, flavoring agents can be added at this stage, such as herbs or fruit, giving the beer a distinct taste and allowing brewers creative leeway for their drinks.
How Beer Was Invented
Beer has a rich history and is considered to be one of the oldest drinks ever created by humans, dating back to the 5th millennium BC.
While it's impossible to be certain of how this invention came about, it's speculated that the initial creation of beer was entirely accidental.
Historically, grains were soaked in water to make them easier to chew and digest. People would then heat the gruel and leave it to sit for days. During this time, fermentation would occur. The yeast in this mixture would release alcohol as a byproduct – and so, beer came to be.
How Types of Beer Differ
The biggest difference between beers is the kind of yeast that was used to ferment it. Beers begin as either an ale or a lager, depending on the fermentation process.
Ales are typically created through "top fermentation", in which yeast ferments at warmer temperatures and settles at the top of the beer. On the other hand, lagers have a longer fermentation process that takes place in a cooler climate, and the yeast tends to settle at the bottom.
Once the ale or lager has been created, the styles and flavors continue to develop – creating specific kinds and substyles of beer. Ales can become pale ales, porters, stouts, and wheat variations.
Lagers can evolve into a wide range of styles, such as pale pilsners and dark American lagers among others. Thanks to the expansive number of types under the umbrella term of "beer", there are plenty of options to explore and enjoy.
The Different Types of Beer
There are countless different types of beer out there, and each has its own distinct origin, flavors, and merits. If you're looking to try something new or just want to know what other kinds of beer are out there, then look no further.
Let's go ahead and check out some of the most popular types of beer and learn more about the basics of each one.
Craft Beer
Craft beer is defined as a beer that has been produced by a craft brewery. Unlike large breweries, craft breweries produce smaller quantities of beer and are typically independently owned.
Craft breweries are often known for producing new flavors and experimenting with different brewing techniques, as well as sticking to the more traditional ways of producing beer.
Characteristics
Craft beers can often be identified by their fresh new flavors and unique brewing styles. They are typically of a higher quality than mass-produced beer from larger breweries and frequently contain distinctive and experimental flavors, which vary depending on the brewery.
Because of these traits, craft beers are the drink of choice for consumers who want to explore and be rewarded for broadening their horizons.
Styles of Craft Beer
Due to the nature of their production in smaller, independently-owned breweries, craft beer styles don't follow strict, universal guidelines. There's a wide range of styles that craft beer can come in such as pale ale, lager, sour, wheat, and almost anything else that you can imagine.
Owners of craft breweries often love to put their personal touch on their beer, so don't hesitate to stop by your local brewery to check out what they have on offer.
Root Beer
If you'd like something a little sweeter than your average beer – or a refreshing beverage minus the alcohol – then root beer is definitely the best pick for you.
This North American soft drink is brewed using the root bark of the sassafras tree and is a common choice for those who want a non-alcoholic alternative to a classic beer. Because it's essentially soda, root beer is a family-friendly option and a suitable drink for minors to sample.
Characteristics
Root beer is often non-alcoholic (but not exclusively, so it's always a good idea to check before drinking), sweet, and carbonated. This drink is similar to cola but with a thicker and creamier consistency and has a characteristic fluffy and foamy top.
A common way to drink this is with a scoop of ice cream, which results in the iconic root beer float.
Styles of Root Beer
Root beer is produced by many different companies, brands, and breweries, and can come in a range of different flavors.
As such, it's often a good idea to try out the drink offerings made across the board and find which brew suits your tastebuds the best. Some common flavors are vanilla, black cherry, licorice root, and cinnamon.
Dark Beer
Dark beer, as you may be able to gather from the name, is a beer that sports a deep color.
Another name for this beverage is "dark lager", referring specifically to dark beer that's brewed using lager yeasts.
This drink originated in Europe and varied greatly in flavor and strength from brewery to brewery.
Characteristics
Dark beer often has a deeper, more complex flavor profile, a consequence of it using more ingredients compared to other styles (such as pale beers, in particular).
Luscious roasted malt and the lingering aroma of chocolate greets patrons, and a single sip will allow you to readily identify the most prevalent taste in this beer: malt. To add more nuance, dark beer also often contains underlying rich notes such as chocolate, caramel, coffee, nuts, and fruits.
Styles of Dark Beer
There's a wide range of dark beer styles, such as porter, stout, and black IPA. Porter is lighter in color and less bitter than most dark beers, while stout tends to be stronger and drier. Black IPA is much darker and also has the added benefit of being well-balanced and concealing notes of malt.
Ales
One of the broadest categories of beer, ales are full-bodied and satisfying drinks that sport strong flavors and aromas. Ale is famous for its complex notes, and it's common for the beverage to feature both intense sweetness and bitterness as well as a noticeably hoppy profile.
Ale is particularly common in England, where the word is now interchangeable with "beer" due to its high levels of popularity.
Characteristics
Ales can be identified through a few key characteristics. For one, they're often more flavorful and complex than other beers, with a full and robust taste.
They also tend to be more aromatic, with fruity notes in abundance. These gentle and soothing tastes are complemented by a strong note of bitterness, resulting in a drink that takes you through both ends of the flavor spectrum. Needless to say, ales are a refreshing beverage.
Styles of Ales
Thanks to their popularity, there are several styles of ale available depending on the location. There's the American Pale Ale with floral and fruity notes, or the New England India Pale Ale and its juicy and citrusy flavor.
Brown Ale provides the rich flavors of roasted malt and chocolate, while Imperial or Double India Pale Ale tends to be a bit more bitter. Whatever your taste preference is, there's bound to be an ale for you to enjoy.
Lagers
Lagers are another broad category of beers with multiple flavorful sub-styles under them. Unsurprisingly, it's also considered to be the most widely consumed and commercially available type of beer.
A defining trait of lagers is the fact that these beers are brewed at a lower temperature and take on a range of colors from both the pale and dark ends of the spectrum.
Characteristics
Lager is well-balanced and mellow and is typically clearer than most beers. It also tends to be less bitter, leaves a cleaner finish, and has a higher carbonation level than ales.
A popular drink, lagers are known for being crisp and bubbly — making them the go-to pick for anyone who wants a refreshing drink.
Styles of Lagers
Different styles of lager are common and readily available at most establishments. There's the American Lager (or Golden Lager) that is very light in color and has a crisp and clean taste with high carbonation.
The American Amber Lager is copper (or amber, from its name) in hue, medium-bodied, and has a light caramel flavor and aroma — though this can differ slightly depending on brand and brewery.
Meanwhile, the American Dark Lager has a light body and less of the malt flavor found in other styles of lager. It also has low bitterness and high carbonation, making it easy to drink and pair with food.
Bock
Bock is a German beer that's strong both in flavor and alcohol content. This brew is recognizable due to its typically dark color that ranges from amber to copper brown. First brewed in the 14th century, bock has since evolved and given rise to a variety of substyles today.
Characteristics
Traditional bock is sweet and toasty in flavor, often with subtle notes of caramel. Bock has a smooth mouthfeel and features lower carbonation than most other types of beers.
This drink shouldn't be fruity or bubbly but rather smooth and malty, with barely any hoppiness due to the minimal hops added to the fermentation process.
Styles of Bock
There are several styles of bock available, such as Doppelbock — a stronger and maltier version of the brew. Eisbock, which is even stronger still, is a unique drink made by freezing the beer and extracting the ice that forms.
Finally we also have Maibock, a paler brew typically made for spring festivals, and Weizenbock, a wheat-style bock made from around 40 percent to 60 percent wheat.
Pilsners
Pilsners are pale lagers that have a crisp and refreshing flavor. Originally brewed in Pilsen, Czech Republic, pilsners are identifiable by their signature golden color and are a popular choice for beer enthusiasts.
What sets pilsners apart from other types of lagers is the addition of more hops into the brew — resulting in a balanced drink that finds itself one of the most widely consumed beverages worldwide.
Characteristics
Pilsners have a rather bitter taste that's combined with a subtle malty sweetness. This tasteful pale lager has great head retention and a stunning gold body, making it extremely aesthetically appealing.
Thanks to the generous addition of hops, pilsners possess a characteristically hoppy flavor and are an excellent choice for a summer drink.
Styles of Pilsners
Pilsner styles vary greatly, from the Czech pilsner — the original style that has a balanced flavor profile of spice and malt — to German pilsners with their clean and citrusy taste.
The American imperial pilsner is also a popular style that boasts stronger flavors and a higher level of bitterness. And if you're keen on trying the uniquely refreshing quality that dry-hopped beers have, reach for a bottle of Italian pilsner.
Dunkel
Originating from Germany, the Dunkel is a lager style of beer that features a rich complexity.
This is a dark beer, with "dunkel" being the German word for "dark", and is a popular choice for those who prefer robust flavors.
Although rather bitter, a good Dunkel offers a balanced taste experience that isn't excessively overwhelming.
Characteristics
Dunkel has the distinctive flavors of chocolate, caramel, and bread crust, although these notes are subtle enough that they don't overpower the predominant bitterness of the drink.
Make no mistake, however, as this beer still has a relatively low bitterness level compared to other beers and features only a low alcohol content. As such, Dunkel is rightly considered to be a luxurious beer that's rich in both color and flavor.
Styles of Dunkel
There are several styles of Dunkel, such as the Munich Dunkel with its malty and sweet taste, or the Franconian Dunkel that's produced in multiple microbreweries in Franconia.
Depending on the style of Dunkel you try, you can expect to find notes of nuts, toffee, licorice, chocolate, and baked bread.
Stouts
Extremely popular in Great Britain and Ireland, stouts are stronger versions of a typical porter. These drinks are dark and heavy-bodied and can be found at almost any establishment that offers beer.
Take a quick whiff of a stout and your nose will be greeted with roasted notes that give this drink its distinct character.
Characteristics
Stouts are extremely dark and possess a distinctive opaque finish. Despite the persistent roasted quality of the drink, you'll often find stouts with notes of coffee, licorice, chocolate, and molasses.
No matter what exact notes are in the stout, the flavor should always be rich and full with a very smooth mouthfeel.
Styles of Stouts
Styles of stouts include the imperial stout, which is even richer and more full-bodied than a typical iteration. There's also the oatmeal stout with its classic silky smoothness, and the milk stout that's defined by its creamy and sweet taste.
Perhaps the most popular is the range of dry Irish stouts, including the world-famous Guinness.
Wheat Beer
Wheat beer refers to any beer that contains wheat as the central grain during the brewing process. These beers are light in color and are top-fermenting with great head retention.
Wheat beer is slightly less common, as they are typically more difficult to brew, but you're sure to find a great range at specialist breweries.
Characteristics
Wheat beers tend to have a much fuller mouthfeel and a citrusy flavor.
They generally incorporate slightly higher levels of bitterness, but this is often balanced by a crisp finish or sweet undertone.
Wheat beer has a distinctive light amber color and foamy head, and often possesses the strong aroma of wheat.
Styles of Wheat Beer
The two main styles of wheat beer are German Weizenbier, with overtones of banana and clove, and Belgian witbier, which is spiced with orange peel and coriander.
Some other styles of wheat beer are the Lambic wheat beer brewed with wild yeast, the Gose with its sour and salty taste, and the Berliner Weisse, which is cloudy and sour.
Rye Beer
Rye beer is a drink in which a portion of the malted barley typically used during the brewing process is substituted with rye.
Rye beer originated in Germany, but this popular style of beer has since spread all over the world.
Worldwide, rye beer is often produced in microbreweries or by home brewers.
Characteristics
Rye beer has a light, dry, and slightly spicy taste, with a flavor that's roughly comparable to pumpernickel bread. Darker versions of rye beer possess a malty flavor due to the higher levels of the grain. You can also find hints of cocoa, caramel, or chocolate in certain rye beers.
Styles of Rye Beer
As for styles of rye beer, a particularly common choice is the German variation of Roggenbier. This beer has flavors of banana and clove, as well as a sweetness and slight spiciness that comes along with the rye.
American rye beer is another popular pick where you're always sure to get that classic rye taste even though individual style smay vary. American brewers often emphasize the spiciness of the rye with notes of citrus or pine.
Amber Beer
Easily identifiable by its deep, vivid color, amber beer is a unique drink whose hue can range from a rich golden color to a deep red – making it really stand out from the rest.
Amber beer utilizes a top-fermenting yeast and a relatively high malt content. What's distinct about amber beers is the fact that they use roasted malts to achieve the characteristic color and taste.
Characteristics
Amber beer has a full body and toasty flavor with a rich and smooth mouthfeel. This beer often contains notes of pine, fruit, and citrus, which are often utilized by brewers to balance the sweetness that the malt provides.
If you pay close attention, you might even notice the subtle taste of toffee permeating the drink.
Styles of Amber Beer
There are many styles of amber beer, such as the Rogue American Amber Ale which has a strong and toasty flavor and a slight bitterness to it.
There's also the Dry Dock Amber, which is drier with citrusy undertones. For something with a more refined flavor, try out Left Hand Brewing Sawtooth Ale – an amber ale with notes of spruce, pine, and a roasted malt taste.
Sour Beer
As the name suggests, sour beer is any beer that has an intentionally sour or acidic flavor to it. Sour beer harks back to the natural state of beer, dating back to its origins when the drink was simply fermented yeast that resulted in an alcoholic byproduct.
However, sour beers nowadays are intentionally made sour with the addition of bacteria such as Lactobacillus. Needless to say, this drink is definitely an acquired taste, but it's worth a shot for any true-blue beer enthusiast.
Characteristics
The main characteristic of sour beer is, of course, the sour flavor. The acidic taste of the beer is the main component, and this is often paired with fruits to balance out the sharp, tarty taste. Common additional flavor notes in sour beer are raspberry and cherry.
Styles of Sour Beer
Traditional sour beer styles include Gose, a warm fermented beer from Germany, Belgian lambics, identifiable by the use of coriander and salt, and gueuze, a double-fermented Belgian beer.
There are also many other (slightly less traditional) styles of sour beer that can be found depending on region, such as American-style sour beer.
Porters
Porters are a variety of dark beers that originated in London, England as far back as the 1700s. Porters are made from malted barley and are typically brewed with ale yeast, through top-fermentation.
As to how this drink got its name, a popular story tells of how the porters back in the day particularly loved this drink.
Characteristics
Porters often contain slight notes of chocolate, toffee, and roasted grains, giving them a subtly sweet and full-bodied taste.
The undertones of coffee or licorice are also frequently used in porters to maintain a sense of balance within the flavor profile. There are no bitter or harsh notes in a porter; instead, you'll be greeted by a smooth and mild flavor.
Styles of Porters
There are many different styles of porter that you can try. Brown Porter is a traditional style of porter that has a creamy mouthfeel and notes of caramel. Robust Porter is, as you may have guessed, more intense and robust.
It's aged for a longer period of time, giving it more complex flavors and stronger aromas. Baltic Porter is often bottom-fermented and has a toasty character with hints of chocolate, coffee, and even fruit.
Kölsch
Originating in Germany, Kölsch is a style of beer that's clear, bright, and has a vivid yellow color to it.
Kölsch has quite a strict legal definition, with a protected geographical requirement that for a beer to be kölsch it has to be made within 50 km of the city of Cologne, Germany, and brewed in accordance with the "Kölsch Konvention".
Characteristics
What makes Kölsch a special drink is that it's a hybrid beverage that relies on brewing techniques that are specific to both ales and lagers. The result is a light and crisp drink that possesses a hint of spice.
Underlying these flavors is a slight bitterness that's offset by the sweetness of the fruity undertones. Thanks to its clean finish and rather simple flavor, Kölsch is a refreshing brew that's easy to drink.
Styles of Kölsch
Due to the strict conditions and the limited number of breweries involved in the production of Kölsch, there isn't an extensive range of styles available.
Some of the most popular are Gaffel Kölsch, Reissdorf Kölsch, and Sünner Kölsch.
Here you'll learn more about the best low-calories beer you should try.
Different Types of Beer by Categories
There are so many different types of beer that it's understandably easy to get lost and confused when deciding what beer you're going to try next. Instead of looking at each type as a standalone, let's make things a bit easier by studying them as categories instead.
We've got you covered — here are eight different types of beer organized by category.
Beer with Lots of Hops
Hops are what brewers use to ensure that their beer has the ideal balance between sweetness and bitternes. This balance can vary depending on the complexity of flavors that the brewers want their beers to have. The more hops taht are present in a brew, the more bitter the beer becomes.
Many people prefer beer with plenty of hops, as they have a sharper and more complex taste. Some hoppy beers include IPAs, stouts, ales, and pale ales.
German Beer
Many of the most delicious and beloved beers originate from Germany. Beer is a huge part of German culture, so it's no wonder that the beers produced in the country have become extremely popular both within and beyond Germany.
Beers such as lager, Helles, Dunkel, Kölsch, bock, and altbier are popular choices and will make for excellent, first-time options.
Special Beer Types
There are several different types of beer that fall into the category of "special" beer types. These beers are styles that don't fit neatly in any other category due to their loud, bold, or unusual natures. For example, herb and spice beer may be categorized as a special beer type.
These are usually produced by independent breweries and are often made with unique flavors and experimental brewing techniques.
Malt Beer
Malt beer is brewed in a similar fashion to any other beer but with low levels of fermentation.
This beer has a sweet taste and a lower alcohol level and is actually even considered to be nutritious. In fact, malt beer is often given to nursing mothers for this very reason.
Smokey Beer
Smokey beer, or smoked beer, is a type of beer that has a strong and distinctive flavor of smoke that's created by the inclusion of malted barley that has been dried over an open flame (traditionally in a smoke kiln).
Popular in German beers, this technique of drying malt will add a rich, smokey flavor to any beer where this has been incorporated.
Roast Beer
Similar to smokey beer, roast beer is created when malt that has been roasted at high temperatures is included in the beer. Roast beers traditionally include caramel, brown, chocolate, or black malts. This roast malt gives the beer a rich flavor and full-bodied taste.
Fruity Beer
Fruity beer is particularly popular in Belgium but is quickly spreading across the globe.
As the name implies, fruity beer simply contains fruit added during the fermentation process or fruit syrups added to the final beer mix.
This beverage can be found across a range of styles, such as porters, stouts, ales, and lagers.
Crisp Beer
A crisp beer is one that's dry, which means that it contains very low levels of residual sugar.
That's not to say that a crisp beer can't also be sweet – in fact, many crisp beers have wonderful sweet flavors in them.
Rather, a crisp beer ensures that no film or sugary residue lingers in your mouth after you drink it – leaving a clean finish.
Tips: How to Match the Beer Types with Food and Flavors
Beer can be delicious enough to drink on its own, but pairing it with food can take the flavors to the next level. As a rule, knowing the characteristics of the beer you're eyeing will help you determine which food best complements the flavor.
However, this is understandably a daunting task, so to help you out, here's a quick guide on which beers pair best with which types of food.
Going over these tips will also make you more knowledgeable the next time you've got a can or two in your fridge.
Light Lagers with Spicy Food
A great beer to pair with spicy food is any form of light lager.
The high levels of carbonation in a light lager help to "scrub" your tongue in the same way that drinking classic soda does, which can ease some of the pain of the spice.
Plus, the low levels of alcohol in light lagers allow you to drink as much as you want while enjoying your meal.
Amber Ales with Fried Food
An excellent, well-balanced pairing is amber ale and fried food. The slight bitterness and grainy sweetness of amber ales contrast wonderfully with the salty taste of fried food. Amber ales are also light enough that you won't get full on the drink alone.
Porters with Seafood
Porters have slightly spicy (and at times, even floral) undertones that pair well with many different seafood dishes.
Recipes such as creamy chowders or seafood soups featuring rich servings of lobster or shellfish can complement the spice of porters wonderfully.
Learn here more about low-carb beer.
Stouts with Mexican Food
Generally, Mexican food such as fajitas or carnitas needs to be paired with a beer that can combat the fatty aftertaste in the dish. Stouts are a great pick as they're rich and heavy-bodied, meaning that their taste won't get lost among the fat and intense flavor of Mexican food.
Dark Lagers with Pizza
When it comes to pizza (particularly pizzas that contain a lot of meat or mushrooms), dark lagers are a perfect pick. The richness of both the pizza toppings and the beer work great together as they enhance each other's smokiness.
IPAs with Barbeque
With their slightly bitter taste and dry finish, IPAs pair extremely well with cooked meats – particularly those excellently charred over a barbeque. As such, BBQ grilled lamb, brisket, or red meats will mesh with the refined flavor of IPAs, complementing each other wonderfully.
Types of Beer Glasses
If you're not familiar with them, the many different types of beer glasses may seem a bit excessive. When it comes down to it, however, each of the different kinds of beer glasses has its own specific purpose.
While looking aesthetically pleasing is a bonus, the different shapes and styles of beer glasses are created to enhance the drinking experience for different types of beer. So, let's go ahead and take a look at some of the different types of beer glasses.
Pilsner Glasses
Made from thin glass, pilsner glasses are tall and slim, with a tapered shape that's smaller at the bottom and wider at the top. This tapered shape means that the bubbles from your beer quickly rise to the surface, and the wider top allows for a foamy head and an aromatic drinking experience.
Pub Glasses
Pub glasses can come in a range of different shapes, sizes, and styles.
The most common is the nonic pint glass, which is identifiable by the slightly tapered bottom and the bulge that extends just below the lip of the glass.
Because of their classic shape and common occurrence, pub glasses are a no-nonsense partner to all sorts of beers.
Beer Steins
A beer stein is a traditional beer mug typically made from stoneware. Although the choice of material might initially strike you as peculiar, using stone actually makes sense as it keeps your beer cool for long periods of time.
In addition, it also ensures that the drinking vessel is less prone to chipping or cracking. Ornamental beer steins are commonly sold as souvenirs, collectibles, or for decorative purposes.
Tulip Glasses
Tulip glasses have a bulbous body that tapers in briefly before flaring out at the lip.
Aside from looking elegant, this shape also helps with head retention and is ideal for serving up Scottish ales, IPAs, Belgian ales, and other aromatic beers.
Weizen Glasses
Originating in Germany, a weizen glass is narrow at the bottom and slightly flares out for a wider top.
Weizen glasses are traditionally used to serve wheat beer, as the width of the lip helps to release the aroma and ensures that there's adequate room for the thicker heads that wheat beers are known to produce.
Pint Glasses
Pint glasses are a very common type of glass that generally run straight up and down, with a very slight gradual taper that makes the lip a bit larger than the bottom. These classic glasses are often used to serve common beers or ciders and are a mainstay in your local bar or pub.
Thistle Glasses
Here's yet another fancy beer glass option — the thistle glass. This rather quirky glassware is very similar to tulip glasses, but are slightly longer and have a more defined bulb shape at the bottom of the glass.
This glass is designed for Scotch ales — making its name particularly fitting, considering that the thistle is the national flower of Scotland.
IPA Glasses
IPA glasses, as you may expect, are created in order to complement the flavor and aroma of an IPA. It's also regarded as one of the more quirky glass designs out there thanks to its tapered, ridged base that flares halfway through the glass before slowly constricting at the top.