What Ale Beer Is: Taste, 3 Benefits + 7 Best Beers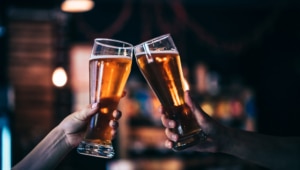 When talking about beer, chances are that the people you're talking to have different styles in mind. However, if you're a fan of beer that perfectly balances bitterness with sweeter notes and a more satisfying finish, you might find yourself gravitating toward the magic of ale beers. Here you'll learn everything about it.
Each different style of beer has its own history, ingredients, and specific brewing process, and that's particularly true for the wondrous beverage known as ale.
You'll never mistake it for another beer thanks to its innate complexity, but despite the dimensions its flavor can take, ale is a surprisingly simple drink. Wanting to explore the depths of ale but not sure where to start? Don't worry – in this article, we'll talk about all things ale, including:
The characteristics of ale beer, including its origins, ingredients, taste, and more
What sets ale apart from other beer styles in terms of the benefits you'll experience
The best ales and beer brands to start you on your journey toward a fuller appreciation of the drink.
In the end, you'll have gained a handle on the beauty and quirks of ale. Who knows, it might even be your new go-to drink.
What Ale Beer Is
Broadly speaking, all beer fits into two categories: ales and lagers. Under these umbrella terms are a large number of sub-styles, all of which you can find at your typical craft beer bar.
One of the main differences between these two broad styles is the fact that a modern ale, brewed using a warm fermentation process, is characterized by a distinct full body and a more aromatic and fruity taste. This is in contrast to the lighter, cleaner, and crisper taste of lagers.
There's also a fairly prominent variety of ale beers such as wheat beers, porters, reds, stouts, and, of course, pale ales.
Some of these styles taste nothing alike, giving credence to the fact that a whole dimension of complexity exists within the ale subcategory. However, these sub-styles do share important similarities in the brewing process.
Tweaks and changes to the brewing process mark the key differences in taste, both among ales and other types of beer. When brewing ale, large foamy heads gather at the top of the fermentation tank, courtesy of ale's characteristic top-fermenting yeast.
This, together with higher water temperatures, is used to infuse richer notes – giving ales the more robust taste that they're known for. In comparison, lagers use bottom-fermenting yeast, which is responsible for giving the brew a "thinner" finish.
Origin and Founders of Ale Beer
Beer's popularity is entwined with the development of civilizations, and throughout human history, the drink has been our steady companion.
One of the oldest styles of beer to have existed is the ale, and the name itself traces its roots to ancient Germany thousands of years ago. As such, it's no wonder that ale has boomed in popularity since its inception.
In medieval times, ale beer was widely consumed by people up and down social hierarchies across Europe. It provided a host of benefits to its consumers, such as its ability to act as a preservative, as well as providing decent nutritional value.
Understandably, ale also tasted far nicer than most of the water available for consumption during those times — and it sure didn't hurt that ales have an alcoholic kick. This goes a long way in explaining the astounding quantities consumed by families throughout the 14th and 15th centuries.
Ingredients of Ale Beers
At its most basic, all beer is a concoction of four components: yeast, hops, malt, and water. Traditionally, its bitterness came from the use of gruit, a herb mix that flavored the brews before the widespread use of hops in recent centuries.
The latter method has proven to be more popular as most beer is brewed with hops in the present day.
As such, hops are a very important component of modern beer. These soft green flowers are responsible for giving beer different levels of aroma and bitterness.
The notes that hops provide then generally balance out the sweetness and other flavors introduced by the malt. Ales tend to also require a heavier addition of hops due to the hotter and quicker brewing process.
Yeast is also vital as it absorbs the sugars that come from the malted grain and adds alcohol and carbon dioxide to the mix.
There's a common distinction between lager and ale yeast; the yeast used in the brewing of lagers tends to be more neutral and delicate than ale yeasts. Lager yeast reacts slower to sugars, so it has a slower fermentation process. If you have ever heard that ales are quicker to make, this is why.
Water makes up roughly 95 percent of any beer you drink, so its quality and composition heavily determine the quality of ale. As we saw, water quality back in medieval times was, well … subpar. Better water quality led to the development of certain beer types in places such as the Czech Republic.
Alcohol in Ale Beer
As mentioned above, the use of bottom- or top-fermenting yeast ultimately differentiates ales from lagers in taste and brewing process. Perhaps the most important characteristic that this difference provides is in the alcohol content of each drink, measured in ABV (alcohol by volume).
In contrast to the more delicate lager yeasts, ale yeast is heartier and can survive in higher alcohol concentrations for longer. This results in higher concentrations of ABV in ales and lower concentrations in lagers — an important factor if you're watching your calories.
Taste of Ale Beer
Given the distinct forms ales come in, answering this question is a little tricky. Because of this, it's a better idea to outline the basic flavor, aroma, and profiles of the main sub-styles of ale.
These beverages described below break into even smaller sub-styles that may overlap and/or vary from each other in subtler ways. In the end, the best way to know what each drink tastes like is to go and sample them yourself.
To provide you with at least some idea about the common flavor profiles you'll encounter, we'll explore them here. You might be familiar with pale ales – blonde drinks that have a strong, hoppy taste.
These beverages have some sweet notes that are derived from yeast and malt and which are in perfect balance against the style's overall distinctive bitterness.
Stouts, just like porters, are brewed with barley. As such, they have a similar balance of dark and deep flavors. They're often considered to be richer – and chances are, your local brewery pours stouts with a chocolatey or coffee finish.
Meanwhile, amber ales are described as medium full-bodied drinks that are often associated with distinct maltiness and flavor notes such as toffee, figs, or citrus. Amber ales also have a cloudy reddish finish to their look that you'll visually recognize right away.
Last, but certainly not least, we have India pale ales (IPA) that range widely between flavor profiles of intense fruitiness to bitter and hoppy.
IPAs have experienced a resurgence over the past decades, predominantly driven by American brewers. Some typical styles include the New England IPA, English IPA, and West Coast IPA.
Calories of Ale Beer
Unsurprisingly, beer contains calories that come in the form of alcohol and/or carbohydrates. Although it's perhaps the last thing you'll think about when enjoying a pint, knowing how many calories you're consuming is useful when you're trying to stay in shape.
As we've seen, beers vary tremendously in taste, looks, and brewing style. This variety also applies to their calorie content as ales tend to have higher calories than lagers.
The number of calories a serving of beer contains is mostly a result of its alcohol content. However, generally speaking, a typical pale ale hovers around the 180 to 182 calorie mark while a stout can pack anywhere between 210 and 215.
On the other end of the scale, a typical lager generally sits at 170 calories. For reference, a typical slice of pizza will cost you about 180 calories.
Benefits of Ale Beer
Ales consist of such a broad category of beers that there's always a brew for everyone.
However, although the specific flavors and notes will vary from one drink to another, there are certain characteristics ales possess that make them an excellent choice for drinkers of different dispositions.
Here, we'll explore the different benefits that drinking ale beer has.
Complex Flavor Profile
A defining characteristic that sets ale beer apart from other beer styles is its complex flavor profile. As we've mentioned, ales masterfully combine bitter notes with sweeter ones, producing an expansive gustatory landscape that leaves you feeling more satisfied and refreshed with the drinking experience.
For this reason, ales are often described to carry robust, well-rounded flavors, and it's not unusual to encounter brews that come with anything from fresh citrus or floral flavors to chocolate and coffee notes.
Fruity and Robust
During the brewing process, ales enjoy a more generous addition of hops, – which are then responsible for the citrusy notes that permeate the drink.
That aside, brewers love to experiment with ales, and you can be certain that these beverages are textured and heavy in the best possible way. Some brews will even possess a very apparent hint of fruitiness, rendering the entire drink to be somewhat akin to that of a smoothie.
This complexity results in a robust beverage that's intense but still plays well with virtually any type of food you may wish to pair it with.
Full-Bodied
One of the highlights of ales is its full body. When drinking alcohol, you might've noticed that some drinks have a distinctively light feel that goes down the throat easily while others have a more complex texture and density that lingers long after the brew has left the tongue.
The latter is what "full body" essentially means, and it's a desirable characteristic to have in ales as it adds to the overall experience of the drink.
Best Ale Beers
If you're just starting off on your ale beer journey, here's a helpful list of sub-styles for you to sample. Some of these may tickle your fancy, while others might not be quite your cup of tea. Some are heavy, some are light; some are sweet, and others are bitter.
No matter your preference, tasting all these ales is a highly recommended activity to fully explore and appreciate the flavors that they're capable of delivering.
Pale Ale Beer
The pale ale is a classic that's characterized by being hearty and full-bodied while still remaining refreshing and drinkable.
Although some of these are fruity and punchy, pale ales are generally very rounded brews that are an excellent and balanced partner to food.
This, in my view, is the perfect introduction to the world of ales.
Blonde Ale Beer
A blonde ale is quite a simple drink, but don't be fooled by its bright color as this brew packs a delicious punch. As the name suggests, it has a blond or golden complexion with a brilliant or hazy finish with a low-hop aroma and light maltiness to boot.
The great thing about these beers is their balance and roundness, as notes tend to remain subtle – making blonde ale an excellent partner to just about everything.
Red Ale Beer
Red ale beer, or Irish red ale, has an easily recognizable light red tint and a sweet malty taste. One unique aspect of red ales is that they can be brewed as either a lager or an ale.
This brew is perfect for those seeking something mid-bodied and has low bitterness and sugary caramel or toffee hints.
We are a fan of mid-bodied beers with subtle sweetness, so the Ired red ale is one of my personal favorites.
Genesee Cream Ale Beer
Genesee Cream Ale is a cult classic that adequately captures the company's intention: to brew something that's "smooth like a lager, crisp like an ale". Genesee Cream Ale is a classic American beer with a creamy aroma (hence its name) and earthy notes that hide beneath the subtle sweetness.
Like red ales, it can also be brewed with either lager or ale yeast, and its interesting flavor pairs well with gamey meats on summery days.
Newcastle Brown Ale Beer
Newcastle Brown Ale is a deep crimson drink first brewed in Newcastle, England.
It has since gained notoriety for its cultural representation of working-class northern England, a region historically known for its heavy industry.
The scent of roasted nuts gives way to a distinctively light, bitter, and chocolatey flavor with candy and banana notes to match.
Bass Pale Ale
The Bass Pale Ale is a traditional English ale brewed using English hops. It's a full-bodied brew with lovely floral notes and a great balance of sweetness and bitterness that are added by the malts and hops respectively.
Essential oils and minerals are used to give the beer that distinct roasted aroma, making it a must-try.
Porter
We can't talk about ales without mentioning porters, a drink that boasts rich and deep flavor structures that make it a true gustatory experience. However, note that you might not be able to handle as many of these drinks as blond ales.
Some excellent sub-styles include the American, Baltic, and English porters. For those of you in the US, make sure to try Everett by Hill Farmstead, Maple Bacon Coffee Porter by Funky Buddha Brewery, and Vanilla Joe by Sante Adairius Rustic Ales.
Most Popular Ale Beer Brands and Breweries
Now that you're familiar with some of the best ale beers out there, it's time to take things further by exploring the best beer brands and breweries.
These producers have mastered the delicate art of ales and are well-known in the industry for their excellent brews that pop with a intriguing range of flavors. If you're not sure what drink to get, you'll never go wrong with buying from any of the following.
Camba Pale Ale
With its unmistakable and intense fruit flavor, the Camba Pale Ale is among the most recognized in the world — and not for nothing, either.
The brew was awarded the "Best Pale Beer Award" by the World Beer Awards in 2019. Camba Ales are originally brewed in Bavaria and produce aromas of mango, papaya, and pomelo.
The brewery, Camba Bavaria, has its own bakery and offers guided tours that you should definitely go on if you ever find yourself in the area.
Lagunitas IPA
Originally from California, Lagunitas IPA is now a highly recognizable brand across the world. The brewery's range is focused on a variety of different IPA styles such as hazy, session ales, and reds.
The staple and classic Lagunitas IPA itself has a distinguishable juiciness with pine and melon flavor that complements a welcome hint of bitterness.
Sierra Nevada Pale Ale
The Sierra Nevada is an American staple pale ale famous for its use of Cascade hops that are grown in the US.
Historically, this drink is often credited with influencing the initial craft beer movement in the country. The brew itself carries a bold hoppiness with a sweet and smooth flavor, all wrapped in luscious pine and citrus aromas.
Rivière d'Ain Thou
"Brewing beer like cooking for those I love," is the philosophy of Rivière d'Ain's founding brewer Patrice Pobel.
This artisan approach leads to healthy, generous, and delicious beers, a testament of which is the Rivière d'Ain Thou which was the winner of the World's Best Pale Award in 2013.
A white beer with a distinct aromatic flavor profile, Thou is an interesting blend of citrus flavors — orange, lemon, and coriander.
Blue Moon Belgian White Wheat Beer
Since 1995, this popular Belgian White Wheat Beer has been produced in Denver. As the name suggests, this is a Belgian-style beer that uses Valencia orange peel and coriander for an original twist to the drink.
This creative choice gives the brew a heightened citrus aroma and taste that's not typically present in Belgian brews. For food pairings, grab a serving of seafood, pad thai, or some marinated chicken and enjoy the explosion of flavors on your tongue.
Allagash White
Produced out of Portland, Allagash White is also a Belgian-style wheat beer brewed with the brewery's original blend of oats, coriander, Curaçao orange peel, and raw and malted wheat.
The result is a refreshingly complex drink that combines fruity notes with a malty haze that resembles the taste of bubblegum. All these flavors eventually give way to a satisfying finish, making it an excellent choice for those warm summer evenings.
You might also be interested in...