Kentucky Mule: Best Cocktail Recipe + 6 Delicious Variations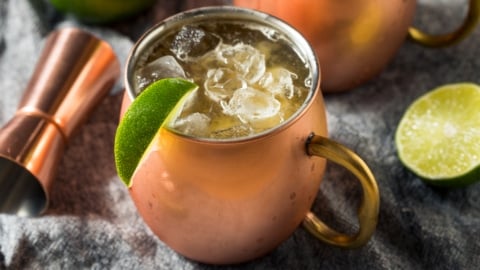 When choosing a cocktail to serve, going for something that's easy to make but still packs plenty of personality is something any host wants. This daring drink is a classic and a good bet to become one of your all-time favorites. Find here the best recipes for your own Kentucky mule.
Any mixologist – whether a casual amateur or a professional – has heard of the Mule, and it's easy to associate this drink automatically with the traditional Moscow version. However, the art of preparing cocktails grants you the creative freedom to substitute different ingredients to arrive at flavorful variations.
It's a true testament to the different dimensions that cocktails can take on. In this article, we'll cover everything you need to know about this interesting drink so you can become your own skillful bartender, such as:
The characteristics, origins, and ingredients of the Kentucky mule
A rundown of some of the best bourbon brands to serve as this cocktail's base
A quick, step-by-step recipe for making Kentucky mule
Tips on how to properly serve and drink this cocktail, such as food pairings and the kind of glass to use
Different variations of Kentucky mule to spice up your cocktail repertoire and give you endless room to experiment
Other cocktails that are similar to Kentucky Mule for you to try out and enjoy.
Once you're through with this article, you'll have gained the basic underpinnings of the Kentucky mule and be more than ready to serve it at your next party. Prepare your glasses and ready your curiosity, because we'll be diving deep to peer into the cloudy secrets of this drink.
What Kentucky Mule Is
You'll likely find the Kentucky mule served in an ornate mug (more on that later) and probably even underestimate the drink's watery appearance and slightly golden-yellow hue.
However, it would be a mistake to dismiss the Kentucky Mule that easily, as this cocktail hides so many flavor dimensions that meld seamlessly on your tongue — a testament to the drink's bourbon base.
The Kentucky mule is very similar to a Moscow mule (which you might be more familiar with), but in saying that these two drinks are worlds apart.
The simple act of switching vodka out for bourbon gives Kentucky Mule the same gingery profile of Moscow Mule but with the added balance of the bourbon's sweet and spicy flavor. The result is a complex and refreshing drink that'll have you reaching for more.
Brief History / Origin
A Moscow mule is a classic cocktail made with vodka, ginger beer, and lime juice, traditionally served in a copper mug.
The Kentucky mule, on the other hand, is a variation on this cocktail that came about in 1940s Los Angeles (although some sources cite Kentucky as the drink's birthplace), resulting in a liquor that carries additional sweetness and adds a Southern flair to the classic cocktail.
Both Moscow and Kentucky mules are sometimes referred to as "bucks", a class of drinks that include mixed drinks containing ginger ale, citrus juice, and liquor. Kentucky mule isn't a shaken cocktail and doesn't require any specialized equipment to make.
Ingredients
As we've mentioned, Kentucky mule is surprisingly easy to make, and the ingredients this cocktail requires can be easily obtained from nearby shops. To make a glass of this drink, you'll need two ounces of bourbon whiskey, half an ounce of lime juice, and four ounces of ginger beer.
This drink is often garnished with a lime slice or with a twist of lime peel, although it's not uncommon to see sprigs of mint on top as well. Kentucky mule is best served very cold, traditionally over ice, in special mugs.
Best Bourbon Brands for a Kentucky Mule
Whether you're an experienced bourbon drinker or not, the spirit you choose as the base has a massive impact on your cocktail.
While you can use any bourbon you like (or even a different whisky in a pinch), choosing a high-end bottle will greatly enhance the taste of your drink. It's better to not leave your drink's taste and quality to chance; instead, use any of our following top picks as the liquor base for your Kentucky mule.
Jim Beam Black Label Extra-Aged
Known for its rich shade of deep oak color and full body, this Jim Beam specialty enjoys longer years aging in white oak barrels compared to the brand's standard offering.
The result is a strong, 86-proof bourbon with bold grain, caramel, and oak flavors that hide subtler notes of fruity sweetness. Because of its complex flavors and smooth finish, this bourbon makes for an excellent base for your Kentucky mule.
Wild Turkey 101 Bourbon
If you want strong liquor for your Kentucky mule, Wild Turkey 101 Bourbon's 101-proof offering is your best bet. However, don't let this bourbon's high proof fool you as it still retains a subtle flavor palette with hints of honey, brown sugar, and caramel taking the forefront.
As the drink makes its way down your throat, the soothing flavors evaporate and leave behind the brand's signature bold notes –making it a complex choice for your cocktails.
Woodford Reserve Bourbon
This award-winning bourbon dates back to 1812 in Kentucky, making it a respectable and authentic choice for your Kentucky mule.
Woodford Reserve bourbon is double-barrelled, producing a drink with over 200 flavor notes ranging from tropical citrus to bold and bitter chocolate. With a smooth, drawn-out finish and a long, warm tail, Woodford's classic bourbon has a lot to bring to the table.
Knob Creek Bourbon
Knob Creek bourbon is aged in white oak barrels for nine years, giving it its luscious amber hue and refined flavor profile. Standing at 100 proof, this spirit is driven by a rich oak taste and the subtleties of the spices used during the distilling process.
Courtesy of its long aging, Knob Creek Bourbon enjoys a sweet and fruity full body and hints of caramel and vanilla, so it's a formidable addition to your batch of Kentucky mule.
Buffalo Trace Eagle Rare Bourbon
Longer aging periods give bourbons a more distinctive flavor profile, richer notes, and a refreshingly subtler aroma. Buffalo Trace's bourbon benefits a lot from lengthy aging, allowing it to soak in the flavor of its oak barrel for a minimum of 10 years.
The result is a bold spirit that sports a dry taste and hints of orange peel, candied almonds, and rich cocoa. It's high-end and aromatic, making it a great choice for your Kentucky mule.
Recipe – How to Make a Kentucky Mule
Aside from having easy-to-get ingredients, the Kentucky Mule also benefits from being easy to make – so it's an excellent cocktail for complete beginners or those who are looking for something quick and simple (yet amazingly flavorful).
If that's not enough, this drink requires no specialized equipment — you don't even need to bring out your cocktail shaker. By following this recipe, your mug of Kentucky mule will be ready in no time:
Prepare the ingredients we listed earlier in the exact amounts. Bring out your copper mug if you have one, but any other glass will do
Mix the bourbon and lime juice together in the copper mug, then fill the mug to the brim with ice
Fill the remaining space with ginger beer, topping off the mixture all the way to the top
For additional flair and presentation, add a garnish of mint or a slice of lime before serving.
It's best to serve Kentucky Mules immediately to prevent the ice from melting and diluting the drink. The chilled temperature also helps bring out the wide range of flavors that comprise the cocktail, resulting in an even more refreshing drinking experience.
Here's a pro tip if you're preparing a large batch: Keep the cocktail mix separate from the ice until you're ready to drink it to retain the drink's flavors.
How to Serve and Drink a Kentucky Mule
By now, you already know how to prepare a Kentucky mule. However, preparation is only half the process — when and how should you serve the drink?
While there are no strict rules about cocktail consumption, there are some traditions around these fancy alcoholic beverages. You don't have to follow them, but if you do, they'll help you have the most enjoyable and authentic experience.
Time & Occasions for Drinking a Kentucky Mule
The array of flavors that the Kentucky Mule packs make it a great drink for virtually any occasion. However, it's especially welcome during hot days or while spending time under the sweltering summer sun thanks to its bubbly character and tanginess (the result of lime juice and ginger beer).
For cocktail nights or pre-dinner indulgences, a Kentucky Mule will also fit right in – so you shouldn't have any trouble adding this drink to the menu.
Perfect Pairings
This full-bodied cocktail pairs well with equally flavorful food, and you'll never go wrong with serving this drink alongside savory, spicy, or sweet meals.
As an example, try the drink with Southern favorites such as spicy fried chicken, a cheese plate, or smoked meats. For something more authentic, whip up some pork burgoo and cornbread to go with your delicious Kentucky cocktail.
Best Glass to Serve a Kentucky Mule
The Kentucky mule is traditionally served in a fancy and ornate copper mug. Thanks to copper's properties, the mug gets very cold when filled with an icy drink – cooling the drink even further and sharply accentuating your drinking experience.
Despite that, you can also serve this cocktail in a highball glass if you don't have a copper mug on hand.
Variations of Kentucky Mule
If you've found this cocktail easy to master, then you're ready for something a bit more challenging. There are plenty of twists on the Kentucky Mule to add even more exciting and unique flavors. Try your hand at a few of the following until you find a new favorite or something to add to your cocktail arsenal.
Traditional Variations
Sometimes, old-fashioned varieties are the best because they're timeless and well-loved no matter the era and occasion.
The following are classic, traditional variations that add a refreshing change to the typical Kentucky Mule without changing the drink's essence. They're all a little different, so there's sure to be something for everyone.
Citrus and Spice Kentucky Mule Cocktail
Craving a Kentucky Mule in the winter months? This warming recipe turns the classic cocktail into a cozy treat. Just sub out a half ounce of your bourbon for Cointreau or another orange liqueur and add some spiced syrup.
Serve this cocktail with an orange slice or cinnamon sticks (or even both).
Bourbon Mule
If you like it sweet, add simple syrup to the original recipe and highlight bourbon's natural flavors. We recommend adding around a quarter of a shot, but feel free to adjust this to taste.
Note that you may need to use reduced-sugar ginger beer to prevent the cocktail from becoming too sweet. While this cocktail isn't technically a Kentucky mule, it's about as close as you can get.
Upgraded Kentucky Mule Cocktail
A simple way to add variety while keeping close to the traditional recipe is to use high-quality ingredients and have fun with your garnishes.
Try using handcrafted ginger soda or top-shelf bourbon if you're looking to perfect this cocktail. Adding in some dehydrated lime peel or a mint sprig as a garnish helps take things to the next level as well.
Modern Variations
While traditional variations are a reasonable choice, you might also want to try riding the cutting edge of mixology. In such a case, there's no reason why you can't take the classic Kentucky mule along for the ride.
These modern adaptations of the cocktail keep things fresh and fun while keeping you in the loop for any trendy developments in the art of mixing drinks.
Raspberry Kentucky Bourbon Buck
This drink is sure to blow your guests' minds (or be an amazing treat just for yourself) with its gorgeous pink-orange color and sweet, tart flavor.
You'll need two ounces of bourbon, ¾ ounce of lemon juice, around four raspberries, a half ounce of simple syrup, and some ginger beer. Muddle together the raspberries, lemon juice, and syrup in a cocktail shaker until uniform before adding in your bourbon, filling with ice, and shaking vigorously.
Serve the mixture in a Collins glass, top it with ginger ale, and garnish with raspberry, lemon, or mint.
Bourbon Apple Cider Mule
Another variation that's great for fall and winter is the bourbon apple cider mule. It's prepared just like the classic Kentucky mule but leaves out the lime juice and swaps half of the ginger beer for apple cider.
For an even deeper layer of flavor, add some cinnamon or spiced syrup. You can even use hard cider if you'd like, but we recommend lowering the amount of bourbon in the drink if you do so to avoid overwhelming the cocktail.
Peach Tea Bourbon Mules
It's hard to get more Southern than peaches and iced tea, and this recipe uses both in a winning combo. Simply combine equal parts bourbon and peach tea and add in pureed peaches and lemon or lime juice.
Serve over ice and top with ginger beer, peach slices, and mint for an intense cocktail with a refreshing finish.
Similar Cocktails You Will Enjoy
Loving the Kentucky Mule so far? The easy and simple nature of a Kentucky Mule makes it an instant favorite, but if you want to try something more and expand your cocktail horizons, there are several more drinks for you to try.
These are sure to be right up your alley while being different enough from the Kentucky mule to keep things interesting.
Irish Mule
Looking for something to sip on Saint Patrick's Day? Try out Irish mule, a drink similar to the Kentucky mule in its flavor profile and preparation, but uses Irish whiskey in place of bourbon. Make sure to serve it as cold as you can and feel free to garnish with mint, lime, or even candied ginger.
Moscow Mule
If you liked the Kentucky mule, why not try the original? The Moscow mule is the first of the bunch and uses vodka instead of bourbon, but the rest of the Kentucky Mule's ingredients still play their roles in this cocktail.
In keeping with tradition, make sure to serve the Moscow Mule in a copper mug for the most authentic drinking experience.
London Mule
If you're a gin fan, you've got to try London Mule. This British twist on the Moscow mule swaps out the vodka for London dry gin, leading to a more complex, floral drink.
Balance is the name of the game with London Mule as the dry gin's herby flavor complements the boldness of ginger beer and lemon or lime. For this one, you can try using your favorite gin or citrus- or rose-flavored ones.
Gin-Gin Mule Cocktail
Another great gin cocktail inspired by the Kentucky Mule is the gin-gin mule. The drink's quirky name comes from the fact that it uses both gin and ginger ale. To make it, muddle eight mint leaves, an ounce of simple syrup, and ¾ an ounce of lime juice in a cocktail shaker.
Add one and a half ounces of gin, fill with ice, and shake until chilled. Make sure to double strain to ensure no tough pieces of mint remain in the drink, then serve in a highball glass or copper mug.
Grumpy Old Man
Despite its name, we don't think this drink is reserved for older people. The grumpy old man doesn't quite count as a similar cocktail to the Kentucky mule — because it's pretty much the same.
However, a grumpy old man typically uses a stronger or spicier ginger ale, and is often served in an old-fashioned glass. You can go a little heavy on the bourbon for this one as well if you're feeling extra grumpy.
Garden Mule
If you call this drink a salad, we'll let you get away with it – although it might be the tastiest salad you've had to date. This drink is also stunning to look at thanks to its deep, milky purple color.
To make a garden mule, put some slices of cucumber, a handful of blueberries, and a few mint sprigs into a cocktail shaker and muddle them until uniform. Add two ounces of vodka and an ounce of lime juice to the mix, then fill with ice and shake until chilled.
Strain the mixture into a glass, preferably a copper mug. Once that's settled, top the mug with ginger beer and enjoy. For presentation and personality, add garnishes such as additional whole blueberries, cucumber slices, or candied ginger to give this cocktail extra pizzazz.
You might also be interested in...