New York Sour: Best Cocktail Recipe + 6 Delicious Variations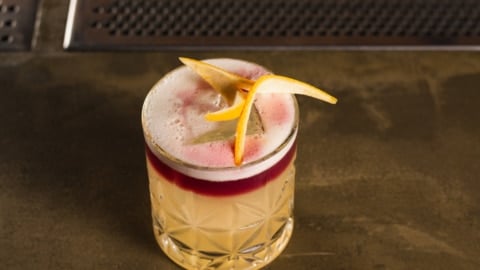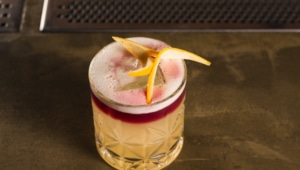 Nothing spells out a party more than excellent cocktails. Ladies and gents, please welcome the New York Sour – an intriguing drink whose taste can't be pinned down by its name. When done right, it's a true star of a party, and you might just find yourself thirsty for more.
It's bright, bold, and poppy — these characteristics of the New York Sour make it an exemplary drink that'll hoard everyone's attention. Perfect for a casual office get-together or a beachside drink in the evening, this cocktail will scratch everyone's tastebuds just the right way.
It's no surprise then that New York Sour is a firm favorite, even if its glimmer is often overshadowed by other, more trendy beverages. In this article, we'll explore this whimsical drink and learn about:
The characteristics, origins, and ingredients of the New York Sour
What whiskey brands to use for an impressive and complex cocktail
A quick, basic recipe for you to follow and play around with as much as your imagination allows
Tips for serving New York Sour, such as the perfect occasion, food pairings, and glass
How to spice up your glass of New York Sour, as well as other similar cocktails for you to try out.
We hope you're ready because a refreshing glass of this cocktail will open doors not only to a wider repertoire of beverages to serve, but also to a more expansive flavor profile. It's complex and it's got personality — that's the style of the New York Sour.
What a New York Sour Is
If it's your first time encountering the New York Sour, it's not your fault. This drink is one of the lesser known cousins of the more common and classical whiskey sour or old fashioned.
With just the simple addition of red wine on top, the New York Sour builds on the flavors of the whiskey sour and provides a more complex drink that's bewilderingly fragrant and tart-like, yet finishes dry.
Brief History / Origin
The origins of the New York sour are foggy — not only was it an old innovation (created sometime during the 1880s) but it was also born in Chicago rather than in New York.
For many years, it has been overshadowed by more popular cocktails, and it didn't help that it underwent as many identity crises as name changes.
Nevertheless, the drink is now experiencing a surge in popularity, and it's becoming more and more common in different bars and social functions — especially due to the fact that its striking appearance simply screams Instagram-worthy.
Ingredients
Since New York Sours belong to the sour family of cocktails, it also uses the base ingredients common to all sours – just with a few added twists. These ingredients are actually quite easy to get hold of at your nearest grocery store.
An important thing to remember is that the quality of the ingredients you buy directly affects the quality of the drink you'll make, so ensure that you're choosing the best options out there:
Egg White
Sours generally contain egg white as it provides a layer of creamy foam that elevates the entire drinking experience. The froth also builds the texture of the drink and allows it to take on a richer taste.
This is an important ingredient to note, as it's a potential allergen and can't be consumed by vegans. Fortunately, it's not essential to the cocktail since it does little to enhance flavors.
Bourbon or Rye Whiskey
This was an extremely popular alcohol in the late 1800s, which explains its central role in the cocktail.
Note, however, that while you can use any type of liquor as a base for a sour, bourbon or rye whiskey provides so much character essential to the drink that it's difficult to make a New York Sour without either of the two.
Don't worry though, as we'll go over several whiskeys below that are best suited for a New York Sour.
Lemon
What makes sour cocktails sour? Why, lemon, of course. This ingredient should be added in a 1:2 ratio with the bourbon or rye whiskey — the standard suggestion is 25 milliliters lemon juice and 50 milliliters whiskey.
With this balance, the citrus acts as the perfect counterpoint to the whiskey and enhances the flavor's complexity even further.
Sugar Syrup
All sours require sweeteners; in the case of the New York Sour, you can get away with simple sugar syrup. Aside from adding more depth to the flavors, sugar syrup is essential as it softens the blow of the whiskey-lemon combination.
Sugar also tames the acidity of the lemon and makes the cocktail a certain pleasure to consume.
Angostura Bitters
A dash of Angostura bitters is all that's needed to round out the balance of this cocktail. This completes the flavor profile of the drink by adding subtle sweetness and bitterness. While completely optional, adding Angostura bitters to the mix will elevate the cocktail and allow it to stand out from the rest.
Red Wine
This drink's cherry on top is a small serving of red wine, which is all that's needed to create a vivid layer of red across the surface of the cocktail.
This is added at the very end and poured onto the back of a spoon to disperse the flow and prevent it from mixing into the rest of the drink. With this method, color purity is maintained.
As long as you have the above ingredients on hand, you're ready to start making delicious glasses of New York Sour. One of the best things about this cocktail is that it's not too heavy on alcohol (only typically around 16 percent ABV), so it's an excellent drink for long nights and social functions.
If nothing else, the cocktail's characteristic appearance will be more than worth the effort.
Best Whiskey Brands for a New York Sour
As the base liquor, choosing the best type of whiskey will lend the cocktail plenty of complexity and character. Fortunately, there are quite a number of whiskey brands that suit the New York Sour.
Depending on what mood you're aiming for, you can go for a subtle or bold whiskey, or one that contains smoky, caramel, nutty, or spicy notes for even more taste dimension.
Jameson Black Barrel
If you're looking to make the best New York Sour ever, why not go for a full-strength whiskey that's been aged in double-charred barrels for up to 16 years? Enter Jameson Black Barrel Irish Whiskey and its flavorful aroma with hints of vanilla, toffee, and spice.
Savor the subtle sweetness of spice and vanilla and pay attention as the liquor's toasty character flares in a satisfying finish. This whiskey's smooth yet complex flavor profile makes it an excellent ingredient for your next New York Sour.
Fireball Cinnamon Whisky
Fireball's status as a whiskey is contestable as it contains sweeteners and has a lower alcohol content of 33 percent on average. If you're looking into using this liquor as a base, it's important to be aware of this fact – but don't let that turn you off.
After all, Fireball makes for quite a different New York Sour than your average serving, and it's guaranteed to be a unique and interesting taste experience. If you want to play it safe, however, go for one of the other whiskeys on this list.
Johnnie Walker Red Label
Johnnie Walker Red Label whisky is very popular all over the world — and for good reason. For one, Red Label uses multiple malts and grains during the fermentation process, and peat is also added to release the smoky character that this liquor possesses.
The result is an indulgently fresh scent of fruit that gives way to explosive cinnamon, ultimately leaving a lingering aftertaste. Because of its boldness and fiery flavors, Red Label is an ideal base for a New York Sour.
Wild Turkey 101 Rye
Though it's known as a budget bourbon, Wild Turkey 101 Rye's flavor profile is superior to many of its peers. Fennel, honey, apricot, and oak are just a few of the notes you'll taste in this classic whiskey, all of which serve as the perfect base to build the flavor profile of your New York sour.
This liquor also has a smoky caramel character to it, which adds some excellent highlights to your cocktail.
Nikka Days Whisky
This Japanese whisky, created from a complex blend of grains and malts, boasts a creamy and floral aroma and citrusy and sweet notes. It has a subtle smoky flavor that's complemented by a silky smoothness that goes down the throat easily.
This unique whisky leaves a rather gentle finish, and its character makes for a delicate balance with your New York Sour.
Rittenhouse
Bitterness from herbal and licorice flavors is apparent when enjoying this whiskey, and these masterfully blend with the cocoa, cinnamon, and citrus notes that make this liquor a real treat.
These complex flavors swirl and end on a maple aftertaste that's actually quite refreshing and unlike many other brands of whiskey out there. With its unique character and impressive flavors, Rittenhouse is a brilliant ingredient for creating a classic New York Sour.
Jack Daniel's Gentleman Jack
Another product from the global giant, Gentleman Jack boasts notes of vanilla and spice hidden within a silky smooth feel that's perfect on its own or as a cocktail base.
There's also a luxurious oak flavor complementing the liquor's delightful caramel notes, giving it an interestingly complex profile that works extremely well with the New York Sour. It's a classic you should try out at least once in your cocktail journey.
Recipe – How to Make a New York Sour
We've already explored the different base ingredients that make up the New York Sour, as well as some of the most exceptional choices for whiskey. Now, we'll look at a straightforward recipe for making this drink that'll still provide plenty of room for creativity.
For this one, make sure to prepare: 50 milliliters rye whiskey or bourbon, 25 milliliters lemon juice, 1 egg white, 12 milliliters sugar syrup, 2 drops Angostura bitters, and 20 milliliters red wine. The recipe itself is actually pretty straightforward:
Vigorously shake together all of these ingredients except the red wine and serve the shaken mixture in a whiskey tumbler over ice
Once poured, you can then add the red wine by pouring it onto the back of a spoon. This is done in order to disperse the flow and keep it from blending into the rest of the mixture.
Egg white may seem like an odd ingredient, but many cocktails contain it since it creates a foamy, creamy layer through which the rest of the mixture is sipped. If you're a vegan or allergic to eggs, feel free to either skip this ingredient altogether or use aquafaba.
If you've never heard of this, aquafaba is chickpea water — that liquid you usually pour down the drain. Who would've known its value as an ingredient you can use as an egg replacement in baking and making cocktails.
Classically, the New York sour is served with either a cherry or orange slice or peel. These garnishes work to complement the flavors exceptionally well. However, if the whiskey you're using contains unique notes such as fennel, it's a better option to garnish with something appropriately fitting.
How to Serve and Drink a New York Sour
As with every cocktail, there's a specific way that the New York Sour should be served and consumed, in accordance with tradition.
By knowing the contexts in which the liquor is the best choice or which food options are excellent for bringing out the flavors of the cocktail, you'll be branding yourself as a knowledgeable host with a special knack for beverages.
Pay attention to the following and make sure to apply it the next time you're thinking of serving New York Sours.
Do you want to learn more about french food? Here you'll get some facts.
Time & Occasions for Drinking a New York Sour
At its core, the New York Sour is a whiskey drink, so it's also bound by the same conventions that guide its liquor base. As such, the New York Sour is an exceptional choice for post-dinner revelries and formal gatherings.
In terms of seasons, the colder months of autumn and winter allow the whiskey to shine brightly. Really, sour cocktails are a great option for virtually all occasions, so serving one at any time isn't likely to turn up eyebrows.
Perfect Pairings
Thanks to its rather quirky personality, New York Sour pairs well with some after-dinner snacks such as dried fruits and nuts or a cheese platter.
Anything salty or spicy will also work, as long as these food options aren't too savory to preserve the cocktail's innate flavors.
If you're looking to explore, take some inspiration from the notes present in your cocktail — does your chosen whiskey contain hints of almond and cherry? If so, why not serve these on the side?
Best Glass to Serve a New York Sour
As with a whiskey sour, the New York Sour is typically served in a whiskey tumbler glass with a good helping of ice.
The thicker and wider the glass, the better; a thin glass will not complement the experience of this drink. If you can't find a whiskey tumbler glass, any wide-bodied, clear glass that'll allow you to savor the cocktail and appreciate the interesting gradient of colors from top to bottom will do.
Variations of New York Sour
There are a number of interesting variations of New York Sour that are well worth a taste. Though similar in ways, each is also uniquely wonderful and bursting with a personality of its own.
If you've gotten used to the taste and look of a New York Sour, you can always spice things up by trying any of the following instead:
Bordeaux Sour
Muddled maraschino cherry and maple syrup is certainly a good start to this recipe. Sweet and tarty, the Bordeaux Sour was created out of a desire to showcase the power of wine within cocktails.
The use of Bordeaux wine in this sour cocktail makes for a great hit of oaky caramel flavor. Because of these notes, it blends well with whiskeys containing similar flavors such as Jameson's Black Barrel – resulting in bold flavors that are refreshing and otherworldly.
Toronto Sour
This is yet another recipe that's similar to the New York Sour; however, its main divergence is in its use of maple syrup as a sweetener.
Together with lemon juice and dry rye whiskey, Toronto Sour becomes a taste of Canada that everyone should try. For this one, serve the drink up in a coupe glass and sieve the cocktail to separate the mixture from the ice.
Pisco Sour
Pisco is a traditional Peruvian liquor derived from grapes. It's a staple within Peruvian cuisine culture and contains a variety of flavors depending on its production and the grapes used.
It's no surprise then that Pisco Sour is believed to have originated from this exotic country. Fruity and refreshing, this light green cocktail is an excellent beverage on a hot day.
Similar Cocktails You Will Enjoy
If you enjoy the New York Sour, you might want to consider a few other cocktails that tickle the palate in similar ways. On this list are a few cocktails that originate from different parts of the globe and are loved the world over.
If you're looking to expand your cocktail knowledge, the following options are similar enough that the learning curve won't be as steep as you might imagine.
White Whiskey Punch
Here's a whiskey cocktail perfect for those summer days spent relaxing on the beach under the hot sun. It's tropically-inspired, transporting the drinker to the Caribbean with one sip. White whiskey, pineapple juice, lime juice, and coconut water are all key ingredients to perfecting this fruity legend.
Whiskey Sour
The whiskey sour is, by and large, the same cocktail as the New York Sour — the only difference being that the New York Sour has an additional layer of red wine on its surface.
This added touch with the New York sour helps bring out the aromatic complexities of the drink. Try both of these cocktails out and see which you prefer (or if the difference is even that apparent).
The Scottish Dream
Scotch whisky, cinnamon, fig bitters, and grapefruit juice provide a taste of the Scottish winter. The Scottish Dream does require more preparation as it relies on cinnamon syrup, which can be made in a saucepan with sugar, water, and cinnamon.
What this does is balance out the other flavors in a subtle yet effective manner – making it a key ingredient of the drink.
Baltimore Bang
Apricot brandy and smooth bourbon are a couple of the necessary ingredients to create this classically-styled cocktail. Sugar syrup and an ounce of lemon are, once again, used to counterbalance the alcoholic components of the mix.
This is served up in a martini glass with a slice of orange and a maraschino cherry. All in all, a Baltimore Bang is a lively, vibrant drink suitable for enjoyment on a summer day.
Amaretto Sour
This cocktail is made with my personal favorite: Amaretto liquor. This tasty beverage is primarily cherry flavored, though it does contain notes of almond.
Sweet, bright, and nutty, this liquor mixes with lemon juice to create a truly wonderful taste experience. Amaretto Sours must be served with a maraschino cherry and an orange slice as they complement the drink's flavors perfectly.
Serve this one over ice with passionfruit pips intact for an interesting texture and mouthfeel.
Maple Rye Sour
Fresh orange and lemon juice are required to round off this cocktail's flavor profile, while smooth bourbon and a small amount of sugar syrup complete the recipe. Many, however, have added cinnamon to the mix to create a splendidly festive feel.
Serve Maple Rye Sour chilled over ice in a whiskey tumbler with cherry and orange peel. If you're adding cinnamon to the mix, you may well choose to garnish with a whole cinnamon quill instead. Aside from being decorative, it's also a practical and attractive stirring instrument.
You might also be interested in...