Irish Car Bomb: Best Cocktail Recipe + 4 Delicious Variations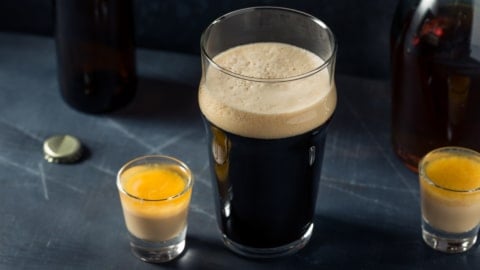 Also known as the Irish Shot or Irish Slammer, the infamous Irish Car Bomb started off with an offensive, controversial name, but a rather inoffensive taste. Here you will find the best recipe for your homemade irish car bomb.
The Irish Shot or Irish Slammer as it's nowadays known is a cocktail you create on the spot by dropping in a shot of Irish whiskey mixed with cream liqueur.
It's drunk quickly as it otherwise curdles, making it a strange texture. Irish Slammers are usually enjoyed by students. Now you can easily make one at home with our simple recipe and tasty variations.
The reason it was dubbed a 'car bomb' is actually fairly innocuous — it just looks like a bomb going off when the shot hits the beer. The history is naturally a little more explosive.
Regardless of what you call it, the Irish Car Bomb, Irish Slammer or Irish Shot is a tasty drink with lots of booze and natural sweetness. It's not a long drink and is meant to be drank quickly, but is quite enjoyable all the same.
What the Irish Car Bomb is
This cocktail is what's colloquially known as a 'boilermaker' — a shot that's dropped into a beer. It's a fun combination with tons of flavor that's popular around the world.
Not everyone does the shot and beer combo separately; some simply skip the Irish cream liqueur and mix the other ingredients together to form a sort of cocktail. Whichever way you choose, this tasty drink is traditionally a mixture of Irish whiskey, Baileys Irish cream, and Guinness.
Brief History / Origin
The Irish Shot was first invented in 1979. It's a popular drink for St Patrick's Day all across the globe, though it was invented in Norwich, Connecticut. To this day ordering one can be frowned upon a little because of its connection to the Troubles in Ireland.
Depending on who you ask, the name of the drink is simply too tainted by a tragic history that still has lingering effects until today. One way around this is to just make it at home. We'll share the incredibly easy recipe and some interesting variations and alternatives below.
Ingredients: What's in an Irish Car Bomb
The ingredients of an Irish Shot are actually fairly simple: just mix 0.5 oz of Baileys with 0.5 oz of Irish whiskey in a shot glass. The type of whiskey you use and whether you drop the mixed shot into a pint of Guinness or another type of Irish stout is left up to you.
1 pint of Irish stout such as Guinness
0.5 oz Baileys liqueur
0.5 oz Irish whiskey
Best Beer Brands for an Irish Car Bomb
Ireland is renowned for its delicious, creamy stout beers. If you've ever been you'll have been able to try a smorgasbord of different beers. Any stout beer will work well with this cocktail. You'll need to experiment to see which flavor combination you enjoy the most.
Guinness
Perhaps the most famous Irish stout beer of them all, Guinness is world-renowned. It's slightly sweet on the palate with a malty, almost honeyed sweetness, the bitterness of hops, and delicious notes of chocolate and coffee.
Guinness is a great choice if you want a generally well-liked stout beer that doesn't go too far on the bitterness scale.
Murphy's Irish Stout
Murphy's Irish Stout is slightly sweeter even than Guinness. Some describe it as reminiscent of chocolate milk, with flavors a little like malt and caramel.
What makes Murphy's stout unique is the complete absence of carbonation. It's a completely flat beer and looks like a strong cappuccino to some. If the lack of fizziness doesn't put you off, we're sure you'll enjoy it as part of an Irish Slammer cocktail.
Black Rock Irish Stout
An unusual yet very pleasant stout beer. Black Rock pride themselves in crafting beers that are unfiltered and unpasteurised. They're made of only natural ingredients and are both wheat free and vegan-friendly.
This stout has a strong flavor of chocolate with hints of vanilla, aniseed, and herbs. It has a slight carbonation but isn't any less smooth than a Murphy's. This one is the perfect beer for a special cocktail.
O'Hara's Irish Stout
O'Hara's may well be the most bitter of our Irish stout lineup. It's made using Fuggle hops, which adds a finish reminiscent of espresso.
This stout beer has flavors of coffee, liquorice, and a slight chocolateyness due to the roast barley. If you enjoy more bitter taste with less sweetness, this will be the Irish stout for you.
Beamish Irish Stout
This beer is described as a full-bodied Irish stout that values traditional flavors. It offers a smooth mouth-feel and tastes of coffee and dark chocolate. The rich, roasted flavors reminded us a little of a well-brewed coffee. It's not too sweet or too bitter, so it's a great choice for most stout drinkers.
Best Whiskey Brands for an Irish Car Bomb
Whiskies come down to personal tastes. Some prefer a smoky, even peaty whiskey, others like a drink that's very smooth and more akin to a rum. Whichever you like best, we've collated some of the best whiskies you can find for mixing or drinking straight.
Knappogue Castle 12 Year Single Malt
This triple-distilled single malt Irish whiskey is stored in bourbon casks for a sweet, rich flavor. Taste notes include oak spice, vanilla custard, and hints of cut grass.
The sweeter note makes this a great complementary choice for the Irish cream. With that said, this can also make your drink slightly too sweet, depending on how sugary you like your cocktails.
Jameson Irish Whiskey
Jameson is one of the best-known Irish whiskies around and for good reason: it's smooth, easy to drink and good for mixing into cocktails. The taste is a nice balance of nutty, spicy, and vanilla notes.
Hints of sherry tip it to the sweeter side, which makes it another perfect choice for pairing with Irish cream.
Redbreast 12 Year Whiskey
Vaguely similar to Jameson but more sophisticated in its flavor profile. Redbreast's 12 Year-old whiskey features a long, complex finish and tastes of sherry, toasted notes, fruit, and spice.
This whiskey is less sweet than some of the others on this list, and therefore makes a great choice for those who don't love sugary cocktails. It's also a single pot still whiskey, while Jameson is a blend.
The Sexton Irish Whiskey
The Sexton was created specifically to enjoy both neat and mixed into cocktails. It's a single malt that's been triple-distilled and aged in Oloroso Sherry Casks.
Made using 100 percent pure Irish malted barley, it features flavors of marzipan, fruits, dark chocolate, and allspice. The allspice note in particular gives it a slightly festive tinge, perfect for those who enjoy a tipple during the holiday season.
Recipe – How to Make an Irish Car Bomb
Making an Irish Slammer couldn't be easier:
Pour your choice of stout beer into a pint glass.
Pour the whiskey and Irish cream liqueur of your choice into a shot glass.
Drop the shot into the pint glass and drink the entire cocktail at once.
How to Serve and Drink an Irish Car Bomb
There is really only one way to serve these: by presenting someone with a pint of stout and a shot glass filled with the Irish whiskey and cream liqueur. They then drink the entire cocktail at once after dropping the shot glass into the beer.
Time & Occasions for Drinking an Irish Car Bomb
Irish Shots are generally reserved for students and bachelor parties. They're not the classiest cocktails and are hardly long drinks either.
The combination of heavy stout beer and the cream liqueur and whiskey mix make these a recipe for hangovers as well. Steer clear from drinking them too early in the day, and refrain from having more than one or two at a time.
Perfect Pairings
The perfect pairing for an Irish Slammer is a burger and fries. Meats and cheese go particularly well with the stout beer. This isn't a cocktail for fancy canapés or pretty little appetizers. It's a party drink that goes well with a hot dog with cheese, a rack of BBQ ribs, or a bowl of nachos.
Best Glass to Serve an Irish Car Bomb
Presentation isn't key here. Irish Car Bomb cocktails are always presented in a pint glass and shot glass combination. You can't serve these in a highball or a cocktail glass.
Pre-mixing them only works if you skip the Irish cream liqueur, as this does curdle when it hits the beer. However it's a fairly innocuous drink with just whiskey mixed in as well.
Variations of an Irish Car Bomb
As we've noted above, an Irish Slammer is what's known as a 'boilermaker.' There are plenty of variations of boilermakers available, some with similar ingredients, others as totally new takes on the Irish Car Bomb cocktail. Below are some of our favorites, plus a wild card with Guinness at the front and center.
Jameson & Guinness Boilermaker
A standard variation on an Irish Shot is a Jameson & Guinness Boilermaker. Instead of dropping a shot of Irish whiskey and cream liqueur into a pint of stout, you just drop a shot of Jameson whiskey on its own. This makes for a much boozier-tasting, less sweet cocktail. It's just as fun on a night out, though.
Sake Bomb
Another popular variation is a Sake Bomb. Here, a shot of sake is dropped into a pint of beer. This is a popular cocktail at Japanese restaurants across America. Sometimes the shot is first balanced on chopsticks. As far as cocktails go, this is more of a gimmick, as it isn't particularly tasty.
Bourbon Cherry Bomb
Less of a bomb, but with lots of flavor is the Bourbon Cherry Bomb cocktail. Here, bourbon is mixed with lemon, maple syrup, and fresh cherries. It's served in a tumbler with ice. It's a much more pleasant drink than other 'bomb'-labeled ones, and particularly nice for summer.
Guinness Wilde Oscar
This one is a delicious, rich cocktail. To make it, mix bourbon with Guinness, simple syrup, and a dash of bitters. Stir with ice and strain into a highball glass.
Next, garnish your drink with a twirl of orange peel and a cocktail cherry. Enjoy slowly. This particular drink is just as good with grilled meats, but much more sophisticated.
Similar Cocktails You Will Enjoy
If you like a boilermaker type of cocktail or a Guinness- or stout beer-based cocktail in general, we have more suggestions for you. Some of these are the epitome of college student drinks, others are more sophisticated. Whichever you choose, enjoy it responsibly.
Jägerbomb
This is one of the most popular boilermaker style shots around. To recreate it, prepare a can of Red Bull in a pint glass and a shot of Jägermeister. Drop the shot into the Red Bull and enjoy quickly.
These are surprisingly tasty but not the best for you, as the combination of the alcohol with an energy drink can cause unwanted physical and psychological symptoms.
Black Velvet
A surprisingly easy but delicious drink. Simply fill up champagne flutes half-way with Guinness, then top up with champagne. This drink has a rather odd history, as it was first concocted in 1861.
It was mixed to mourn the death of Prince Albert, reflecting the black color mourners, particularly Queen Victoria, were wearing
The Lady Guinness
A simple drink that essentially just gives the Guinness beer a bit of added sweetness. To make it, just pour a can of cold Guinness as you normally would. Then add one measure of blackcurrant liqueur and gently stir. That's all. This cocktail is quite good with a cheese platter.
Guinness Float
The Guinness Float is a clever cocktail inspired by the foam on top of this famous stout beer. To make it, gently add a scoop of vanilla ice cream to the top of your pint. Add one or two tablespoons of chocolate syrup per your liking. Enjoy on a hot day or as a special vacation 'dessert.'
You might also be interested in...