Rum Runner: Best Cocktail Recipe + 5 Delicious Variations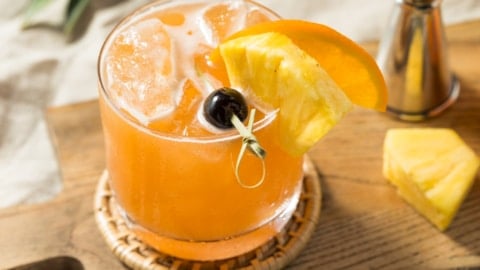 Rum Runners are a delicious concoction of different fruit juices as well as two kinds of rum and two kinds of fruit liqueurs. They're boozy, fresh, and brightly colored. Their history is as fun as the drink itself. If you're looking to make a really great Rum Runner or variation thereof, read on.
Rum Runners are the perfect beach party drink. We love both the traditional cocktail as well as the versions featuring other fruit.
The frozen varieties are especially good on a hot day, and the Peach Rum Runner gives off irresistible Southern vibes. Whether you love the original or want to expand your cocktail exploration, we've got just the drink for you.
What a Rum Runner Is
If you know your history, you might be picturing ships carrying rum 'running' from the law during the prohibition era. The cocktail with the same name is much more easygoing and relaxed.
It combines lots of quality ingredients, including different liqueurs and fresh juices. It's the perfect cocktail to enjoy on the beach or in a tiki bar.
Origin of Rum Runner
The Rum Runner originated more or less by accident in the 1950s. Legend has it that the Holiday Isle Tiki Bar in Florida had too much rum as well as several other liqueurs.
These needed to be moved before new stock arrived, and the result was the Rum Runner cocktail. It's named after a 1916 prohibition term. Rum running referred to the transport of rum from the Bahamas to Floridian speakeasies.
Ingredients: What's in a Rum Runner
Rum Runners combine a cup of ice, pineapple juice, orange juice, blackberry liqueur and banana liqueur, dark and light rum, and grenadine.
Best Rum Brands for a Rum Runner
Whisky may be better known for having true connoisseurs and fans, but rum varies quite a lot as well. Depending on its origin and way it's been processed, rum can have a variety of different flavors.
Choosing the right types of rum for your Rum Runner cocktail will take it from a simple bar cocktail to a luxury treat. Below are some of our favorite rum brands to choose from.
Captain Morgan Original Spiced Rum
The original cocktail rum that's available in most bars is still hugely popular today. First introduced in 1944, it's made with real Madagascar vanilla, spices, and natural flavors.
There are notes of cinnamon, dried fruit, clove, honey, vanilla, and caramelized sugar. It's perfect for mixing with fruit juices, so ideal Rum Runner.
Bacardi Carta Oro Gold Rum
The Bacardi brand dates back all the way to 1862. Its popular Carta Oro gold rum features delicious flavors such as butter caramel, vanilla, sweet banana, toasted almond, and orange peel. The banana note makes it particularly suitable for mixing into your Rum Runner cocktail.
Mount Gay Rum Black Barrel
Here is one of the oldest rum brands around. Mount Gay Barbados Rum was established in 1703 — over 300 years ago. It remains one of the most popular rums today, both for mixing and drinking straight.
Mount Gay's black barrel rum features notes of gingerbread, toffee, and lychee. It's fruity yet spicy, and perfect for a Rum Runner cocktail.
Havana Club Añejo Blanco
Dating back to 1878, Havana Club is still distilled in Cuba to this day. Their Anejo Blanco rum is a lighter rum with soft notes of fresh sugar cane and fruit. It tastes of vanilla, cherry, and hints of chocolate.
It's ideal if you're going down the traditional route of adding a light and dark rum to your Rum Runner. Anejo Blanco is also a budget friendly rum, while still getting great ratings from anyone who's tasted it.
Flor de Caña 12 Year Old Rum
Flor de Caña was introduced in 1890 in Nicaragua and is still based in its capital Managua today. Their 12 Year Old Rum is more of a sipping rum to enjoy neat, but it's also great for a particularly fine Rum Runner.
It features strong flavors of buttery vanilla and toffee apple, as well as nutmeg, honey, and allspice. Best of all, the Flor de Caña distillery is a fair trade and carbon neutral establishment.
Recipe – How to Make a Rum Runner
Ingredients you need:
1 oz light rum
1 oz dark rum
1 oz banana liqueur
½ oz blackberry liqueur
2 oz pineapple juice
1 oz fresh lime juice
½ oz grenadine
optional garnishes: pineapple wedge and one brandied cherry
Here's how you do it:
Add your light rum, dark rum, fruit liqueurs and juices into a cocktail shaker with ice. Shake until mixed and perfectly chilled.
Fill a hurricane glass with crushed ice and strain the cocktail into it until nearly full.
Garnish with a pineapple wedge and brandied cherry on a cocktail skewer and enjoy.
Top tips: The best banana liqueur you can find is Giffard Banane du Brasil. It's the most authentically banana-tasting liqueur, while also offering a nice note of caramel. It's also a great mid-range liqueur in terms of price.
The Creme de Mure blackberry liqueur, also from Giffard, is very good as well. It tastes of rich blackberries with hints of black pepper and milk chocolate. Though if you're really creative, you can actually make blackberry liqueur yourself at home.
How to Serve and Drink a Rum Runner
Rum Runner cocktails should ideally be served ice cold in a hurricane glass and garnished with pineapple and cocktail cherries.
The tall glass really allows the beautiful orange hues of the drink to shine, while the fruit garnishes complement the ingredients. You could also use different garnishes such as blackberries or slices of lime.
Time & Occasions for Drinking a Rum Runner
Rum Runners are perfect for your next beach vacation. They're great for sipping on the beach or by the pool. They're also perfect for a beach-themed party or a special occasion. If you're planning a destination wedding, for example, these are perfect for setting the scene at your engagement party.
As for time, the Rum Runner is a fairly strong cocktail, so best enjoyed in the late afternoon and evening. It should be had in moderation, given the alcohol content of most of the ingredients.
Perfect Pairings
The Rum Runner is best paired with a selection of delicious tropical fruit. Rum in general is also great with chocolate. As some of the Rum Runner's ingredients feature taste notes of chocolate and spices, a selection of dark chocolate is particularly good to enjoy with this cocktail.
If you like, you may even wish to treat your guests to a smoky BBQ. Smoked meats and light BBQ dishes such as grilled pineapple and pork skewers are great alongside the flavors of the Rum Runner.
Best Glass to Serve a Rum Runner
Presentation is everything when it comes to making a great cocktail. Besides quality ingredients, that is. A nice glass can really set the scene for a special cocktail and heighten the enjoyment guests will experience. Below are some of our top choices for serving your Rum Runner cocktail.
Hurricane Cocktail Glass
Named so because it resembles the glass of a hurricane lamp, these are the ultimate go-to cocktail glasses. Hurricane glasses give off strong beach party vibes and are the classic, fun option for drinks such as the Rum Runner.
They're also easy to hold without warming up your iced beverage, so a great choice on hot days.
Tall Glass
A simple tall glass is always a stylish option. Tall glasses look a little more elegant than some of the other glasses we've listed. They're also really easy to decorate with a cocktail skewer and fruit across the top.
Most households will have some variation of tall glasses, so these are a great option if you don't have any of the others on hand.
Mason Jar
Mason jars have long been firm favorites for serving drinks. Consider adding custom labels with your guests' names for fun party favors they can take home afterwards.
Mason jars give off a rustic vibe, but they're not hugely elegant. With that said, the added lid will help ward off unwanted 'guests' in your drink.
Quirky Glass
If you're really wanting to give beach party vibes, a quirky glass is a great option. These also make fun party or even wedding favors. Pineapple-shaped glasses are a great idea. If you can't get a quirky glass shape, don't worry, the mason jar option above is always popular and just as fun.
Variations of a Rum Runner
If you love a Rum Runner but want to get a little more creative at your next cocktail party, we've collected some of the best variations of this drink for you. Whether you're opting for something extra cold and refreshing or a more unusual version, below are the drink ideas for you.
Frozen Blackberry Rum Runner
This variation adds a ¼ cup of frozen blackberries into the mix. Instead of shaking the ingredients of the Rum Runner in a cocktail shaker as you normally would, place everything in a blender.
Blend on high, adding crushed ice to get the consistency you want, and serve in a tall glass with extra frozen blackberries and a straw.
Sunrise Runner
A lovely blend of a Tequila Sunrise and a Rum Runner: Mix 1/4 oz of freshly squeezed lime juice, 3/4 oz of orange juice, 1 oz of tequila, a dash of grenadine with rum, and banana and blackberry liqueurs as above.
Add ice and shake in a cocktail shaker. Strain and decorate with a pineapple wedge and cocktail cherry skewer.
Peach Rum Runner
This is a Southern-inspired take on the original rum runner. Add all of the usual ingredients but replace the blackberry liqueur with peach liqueur and the pineapple juice with peach juice.
Mix as above, then decorate with 2 peach slices and a sprig of mint. This is a great drink for boozy picnic lunches in the garden.
Frozen Raspberry Rum Runner
This variation is similar to the frozen blackberry version above. Instead of blackberry liqueur you'll want to use Chambord. Add ¼ cup of frozen raspberries and blend all of the ingredients in a blender until smooth. Serve with a handful of frozen strawberries and a sprig of mint.
Note: if you like your drinks very smooth, you'll want to strain both the blackberry and raspberry versions of this slightly to get rid of some of the seeds.
Watermelon Rum Runner
There are different variations of this particular Rum Runner recipe, but the best is arguably the simplest. Replace the pineapple juice with watermelon juice — made fresh if you get the chance. Add a melon liqueur such as Midori instead of the blackberry liqueur.
Similar Cocktails You Will Enjoy
If you like a Rum Runner, chances are you'll enjoy similar kinds of cocktails. Whether it's the rum you particularly love or it's the fruity sweetness of this drink, we've collated a list of similar cocktails you'll like.
With that said, if it's really the Rum Runner you adore and you just want an alternative, the options above are there for you.
Zombie
Zombies are a little bit notorious for a reason: they're very boozy. The Zombie cocktail is a mixture of dark and white rum, lime juice, pineapple juice, and a dash of grenadine.
They're similar to Rum Runners, but a little more tart. Zombies are served ice cold with an orange wedge, cocktail cherries, and a sprig of mint. If you love a Rum Runner but prefer something with a little less juice and a little more booze, this is the one for you.
June Bug
A fruity but slightly less mature take on the Rum Runner. The June Bug features green melon liqueur, banana liqueur, coconut rum, pineapple juice, and lime juice. The ingredients are shaken over ice and served in a hurricane glass, decorated with a wedge of juicy pineapple.
Rum Punch
A Rum Punch looks a lot like a Rum Runner on the surface, but it's a little more spicy and bitter. To make one, mix orange juice and lime juice with dark rum, sugar syrup, a dash of grenadine and a dash of angostura bitters.
Serve ice cold with a pinch of nutmeg, two slices of orange, and some cocktail cherries.
You might also be interested in...