Dark Beer: Taste, 8 Best Brands + 14 Types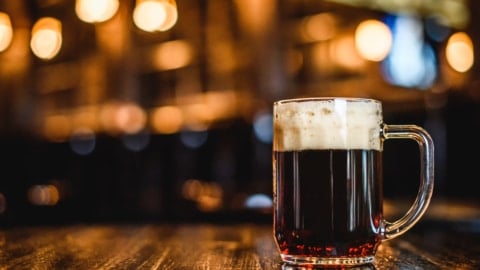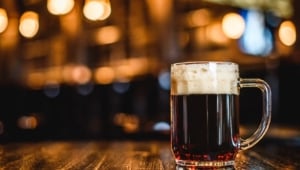 Dark beer is a mystery to some of us, and we often wonder why it looks that way and what it tastes like. Here, you will learn the origins of dark beer, how it's brewed to syrupy perfection, and the brands creating new iterations of the old drink.
When it comes to beer, there's only one rule: drink the one you like because, after all, we all have our preferences. While you may consider yourself a pale ale person or your tastebuds might melt under malt, there's one drink that you shouldn't miss out on – dark beer.
Richer, deeper, and way different than the hop-heavy pale brew that's common today, dark beer simply has a lot of things going for it.
What Dark Beer Is – Explained
Dark beer is often overlooked, which is a shame because the drink is full of character. It has a rich, thick, cola-like appearance, a strong aroma, with a dense head (foamy top) that makes it last longer in your glass. The drink enjoys a wide range of flavors and can be sweet or bitter – or even take the character of other tastes such as oat or chocolate.
Because dark beer warms you up from the inside, it is best suited for the cold seasons such as winter.
Why Dark Beers Are Dark
Dark beer appears "dark" primarily because it is brewed with toasted malts. Malt is a grain that is germinated, harvested, and dried, and serves as the starch-to-sugar component in beer-making. This ingredient also gives beer its toasty, nutty flavor. In the brewing process, the more malt is used and the longer it is roasted, the darker and more flavorful the beer ends up.
Ingredients of Dark Beer
Dark beer contains a few simple ingredients: malt (roasted grains), water, yeast, and hops. Hops are derived from the green, cone-shaped flowers of a plant known as the common hop, which itself is often grown vertically.
In the brewing process, the ratio of a beer's ingredients and the preparation method used dictates the color, mouthfeel, and taste of the resulting beer. Generally, hop-heavy beers are sour and bitter, whereas malt-heavy brews are creamy and bready.
Typical Amount of Alcohol
You'd think that a darker brew would contain more alcohol, but this isn't a consistent truth. Dark beers can go as low as between 4 percent and 6 percent alcohol by volume (ABV), while regular light beers typically contain about 5 percent ABV. Beers usually differ more in flavor and appearance than alcohol content.
In fact, Brewmeister Snake Venom, a beer containing an eye-watering 67.5 percent ABV, is a caramel color, not deep black. If you're searching for a low ABV or a high ABV, don't decide solely based on color. Ask about how it was made or check the label as either one will get you a more accurate answer.
Famous Dark Beer Brands
Beer brewing is a long-held tradition that's done either at home or commercially. Some brands available today have been running for centuries and mastered the art and craft of the brewing process. The following list features well-known beers which you've probably seen in bars or even tasted yourself.
We are taking a closer look at brands like Guinness, Murphy's, Newcastle Brown Ale, Samuel Smith's Oatmeal Stout and many others.
Guinness
In 1759, Arthur Guinness signed a 9.000-year lease for a brewery that had seen better days. His plan to make beer for a long time persists until today as the brand he established, Guinness, remains a strong player in the beer industry.
This go-to brand offers a range of dark brews including the Guinness Draught, Extra Stout, Dublin Porter, West Indies Porter, Foreign Extra Stout, Special Export, Guinness Smooth, and Black Lager.
Murphy's
Birthed in Ireland, Murphy's Irish Stout (4 percent ABV) is a seasoned brew that distinctly lacks bitterness and instead leans toward sweet toffee and coffee flavors. Since the brand's inception, it has become the favorite dark beer of many patrons. Perhaps the best way to describe Murphy's brews is that they're malty and memorable.
Newcastle Brown Ale
Originating from England, this brand is recognizable by its signature blue star. Newcastle Brown Ale (4.7 percent ABV) is unique due to its blend of pale malt and caramel malt, which results in an unmatched smoothness and layered flavor.
Caramel, with its sweet, creamy, and toasty profile, is the reason why Newcastle Brown Ale is so popular.
Samuel Smith's Oatmeal Stout
Oatmeal might not come to mind when you think of beer, but it's Samuel Smith's brand's iconic ingredient. The Oatmeal Stout (5 percent ABV) brew hails from Yorkshire as indicated on the drink's label. Because it's brewed with well water from the same source used back in the 1700s, this dark beer comes out in a silky, nearly opaque quality.
Young's Double Chocolate Stout
Chocolate is one of the best flavors in the world, so naturally, it ended up in beer. The sweet is by itself a delectable, rounded treat, but when you add it to beer, it becomes magical.
Young's Double Chocolate Stout (5.2 percent ABV) benefits from these qualities and boasts a rich, smooth, and luxurious feel. If there ever was a beer to have for dessert, it's this one.
Old Rasputin Russian Imperial Stout
A beer as rich as Russian history, you'll even see Rasputin himself on the label. Old Rasputin Russian Imperial Stout (9 percent ABV) mimics what filled the court of the Russian empress Catherine the Great and features a rich, cherry-chocolate brew with a deep black hue. Take a sip of beer that's worthy of passing royalty's lips.
Chimay Blue
Chimay Blue (9 percent ABV) is a Trappist beer brewed by Trappist monks. It's a yeasty drink with a notably warm taste that's detectable as fruit and spice. The final touch of flower petals is a pleasant perfume for the nose and mouth. Taste this beer and be amazed by how the flavors come together in a unique harmony.
Ayinger Celebrator Doppelbock
Repeatedly ranked as one of the best beers in the world, Ayinger Celebrator Doppelbock (6.7 percent ABV) doesn't hold back. It's heavy, hearty, and malty to the max and sports a black hue that glows red under the light. You won't detect sweetness in it because there's barely any. If you need a sturdy, reliable brew minus the bells and whistles, ACD is for you.
Different Types of Dark Beers
Within the category of dark beer, there are several subcategories. The average palate might not be able to detect a difference, but there are tell-tale signs to watch out for in the ingredients, method, appearance, body, and taste. Let's get a taste of four dark beer categories.
Schwarzbier
Schwarzbier means "black beer" or "black lager" in the German language, and unsurprisingly, it pours very dark brown or midnight black. The drink is brewed with Munich malt and/or Pilsner malt, which is crucial to achieving the beer's soft, bready taste. Though it has an intense, roasted flavor, it's still light and crisp to drink, making it ideal for both warm and cool weather.
Munich Dunkel
This beer hails from Bavaria, and like Schwarzbier, it's made with Munich malt. A key part of its method is "decoction mashing", which entails removing a portion of the mash (soggy grain mixture), heating or boiling it, and then returning it to the main mash.
It adds an extra step to the brewing process, but some argue that it's worth it. Decoction mashing gets the most out of the malt and gives the Munich Dunkel a deep, layered, malt flavor.
Porter
Porter is an old English beer that's fermented a little differently. It undergoes top fermentation, which means that the fermentation occurs at the top of the brewing container and is boosted by ale yeast. Porter is hop-heavy and mild, unlike some thicker, maltier varieties of dark beer. The drink thus appears dark brown but isn't cloudy.
Stout
Stout beers are similar to but not interchangeable with a porter. Though stouts are also top-fermented, they turn out thicker and more full-bodied than porters and sport a variety of colors that ranges from dark brown to black.
The drink may carry notes of oats, milk, licorice, or molasses instead of malt. In fact, all stouts showcase black unmalted barley which contributes to the dark color and aroma of roasted grains.
Best Dark Beers to Try
Whether you're hosting a beer tasting or going on the ultimate pub crawl, having an idea of what dark beers to try will ease you into sampling as many brews as possible.
It doesn't matter if you're a complete beginner or a seasoned veteran looking for something new; this list will cater to different tastebuds and help you better appreciate the art of dark beers.
In this chapter you will get more information about beers like Deschutes Black Butte Porter, Alaskan Smoked Porter and many others.
Deschutes Black Butte Porter
Deschutes Black Butte Porter is a complex yet balanced porter with an ABV of 5.5 percent. When you drink it, you'll taste low notes of coffee and chocolate and mid notes of roasted malt, as well as a deliciously creamy tinted foam. This beer was first brewed in 1988 and is one of the most popular porters in the US today – that's no easy feat.
Tip: To satisfy your cravings, you may purchase packs of six on the Deschutes website. If you're lucky, you might find some porters being sold near you using the website's "beer finder" feature. The brewery only ships to customers in Oregon, Virginia, and D.C., but select liquor stores across the country have it in stock.
Zero Gravity Extra Stout
Extra Stout is undeniably a winter beer. It's not hard to imagine why when the drink is brewed during the chilly season as a perfect complement to the snowy weather and cozy surroundings. Zero Gravity's Extra Stout is a black Irish ale with notes of coffee and chocolate with an ABV of 5.9 percent. To best sample the drink, sip it by the fireside and feel its warmth circulate through you.
To try the Extra Stout, visit Zero Gravity's Beer Hall in Vermont and take the time to look at the brewery's production facilities. Apart from the Extra Stout, there's also a variety of beers available here. Since the beer is only produced during winter, consider paying a visit to the nearby Purinton Family Tree Farm as well.
Alaskan Smoked Porter
Alaskan Smoked Porter was created in 1988, and before then, smoke-flavored beers had virtually been unseen in the US. What makes this beer with 6.5 percent ABV different is its strong smokiness.
You can age the drink in its bottle – if you can hold off your temptation – as a batch is made only on November 1st each year, making for a very limited supply. Check the website's "Beer Finder" function to find who carries the brand near you.
Best Mexican Dark Beers
Mexican dark beer, or cerveza oscura, is typically German-inspired. In brewing these drinks, there's an emphasis on refreshing beer that complements Mexico's flavorful cuisine.
To complete your beer-sampling adventure in the country, try these two excellent Mexican dark beers: Negra Modelo Especial and Cerveza Noche Buena.
If you prefer german beers, you will get more information in the next chapter.
Negra Modelo Especial
Negra Modelo Especial is a medium-bodied beer with deep caramel notes and 5.4 percent ABV. It's sweet and savory, but refreshing overall. Modelo beer is very popular in Mexico for its Munich Dunkel style and how it pairs well with traditional Latino dishes. It's available (and also very popular) in the US too.
Cerveza Noche Buena
This Dark Bock beer is only sold from October to February – that's because it's a Christmas special. In fact, it's the only Christmas-specific beer in Mexico. With this drink, anticipate a thick and strong flavor that packs a punch at 5.9 percent ABV. True to its season, it has an aroma of caramel, prunes, and juicy red fruits. Unfortunately, it's not available for sale in the US.
Best German Dark Beers
German dark "Dunkel" beers are celebrated worldwide for their deep, malty flavors. Beer is so important to German culture that it has its own major annual event known as Oktoberfest.
If you're looking to try some German dark beers, here are two of the best options you should consider: Hofbräu Dunkel and Weihenstephan Festbier. There are also many other brands and types of german beer you should try someday.
Hofbräu Dunkel
Bavarian beer, made the Munich way – that's Hofbräu Dunkel. It has a 5.5 percent AVB and three types of malt: Munich, light barley, and caramel malt. It's ever so slightly floral, but mainly hoppy and malty and also features a satisfyingly deep, dark brown hue. The drink is imported to the US, making it readily available to you.
Weihenstephan Festbier
This beer is made especially for the beer festival season. Weihenstephan is the oldest still-running brewery in the world and has been operating since 1040. The brewery's Festbier has an ABV of 5.8 percent and is full of flavor. Like Hofbräu Dunkel, this drink is also available in the US.
Alternatives to Dark Beer
Understandably, not everyone likes dark beer. It's usually rich and dense, which might be too overwhelming for some palates. Fortunately, there are plenty of alternatives to try.
For example, try IPA or Pilsner, both of which are very tasty and at the same time a good alternative to dark beer.
If you want to learn more about ginger beer, you'll find it here.
IPA
IPA, or India Pale Ale, comes from British colonial times. It sits under the umbrella term "pale ale" and is typically light, hoppy, and has a 6 percent average ABV, making it more alcoholic than some other beers. While dark beer is malt-heavy, IPA is more on the bitter and sour side. The drink is also incredibly common, so you'll find one at any US liquor store.
Pilsner
There are three key ingredients a brewer needs to make Pilsner: Pilsner malt, lager yeast, and water. This beer, like IPA, is hop-heavy and quite refreshing, making it just as suitable for people who don't like a heavy, sweet brew. An average Pilsner has 5 percent ABV and is also readily available at any liquor store.