Blowjob Shot: Best Cocktail Recipe + 7 Delicious Variations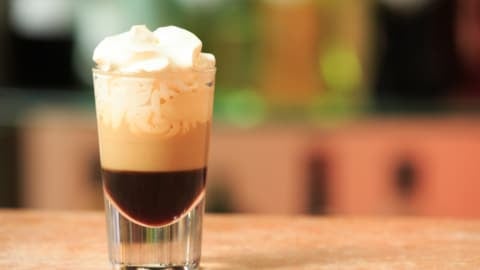 In the exciting world of mixology, the Blowjob Shot, with its controversial name, is likely to cause a stir. This drink, consisting of many enticing layers, guarantees an unforgettable experience. Here you'll learn how exactly the Blowjob Shot came to make a mark in the history of cocktails, and what its contents are.
This cocktail combines amaretto and Irish cream, creating a smooth blend of creamy, nutty, and sweet flavors. Despite its scandalous name, this shot has earned a reputation among cocktail enthusiasts with its vibrant taste and exquisite style.
So let's explore the cocktail's origin, the best ingredients to make one, its preparation process, and some mind-blowing variations.
What a Blowjob Shot Is
A blowjob shot is a unique mixture of two liqueurs known for their incredible fusion of amaretto and Irish cream. Amaretto, an Italian liqueur with strong almond undertones, perfectly combines with Irish cream's rich, creamy texture, resulting in a delightful cocktail.
Although this drink is famous as a shot, it is meant to be enjoyed slowly rather than downed in one go. Each sip is a never-ending delight with its rich flavor and silky texture.
A Brief History / Origin
Diving into the history of the blowjob shot, it started gaining recognition in the late 1900s, specifically between the 1980s and 1990s. This era was popular for its exciting and thrilling cocktail inventions with vibrant patterns and consumption styles.
Although the origin of this cocktail does not date back to a specific inventor or location, it was primarily popular in the US due to its bold name and fascinating flavor.
It didn't take long for this drink to become a standard at parties and clubs, and it continues to be enjoyed for its unique taste and style.
Best Amaretto for a Blowjob Shot
The key to making a memorable blowjob shot is choosing the right amaretto. You must select the right brand, which profoundly influences the drink's flavor.
As the amaretto forms the drink's base, its quality and taste greatly matter, affecting the final result and the whole experience.
Following are some recommendations for the best brands of amaretto for a remarkable blowjob shot.
Disaronno Originale
One of the best options for creating a blowjob shot is Disaronno Originale, the most famous amaretto. It is the perfect fusion of bitter and sweet almond flavors from Saronno, Italy. It combines with Irish cream to give it an exotic flavor while producing a deep aroma by adding apricot kernel oil.
Lazzaroni Amaretto
Lazzaroni Amaretto is a great alternative for people who prefer slightly less sweetness in their drink. Apart from having a unique taste profile, it contains a distinct biscuity undertone, adding depth to the complexity of your blowjob shot.
Luxardo Amaretto
The famous Venetian brand Luxardo, known for its unmatchable Maraschino liqueur, also makes a fine Amaretto. It features a sharper, bitter almond undertone that greatly contrasts the creamy sweetness of the Irish cream. This makes it far more intense and less sweet than the Disaronno.
Gozio Amaretto
Gozio Amaretto is aged in oak barrels for a minimum of days, resulting in a velvety and well-rounded flavor. It has a rich taste profile that offers an intense almond experience, giving the blowjob shot a distinctive twist.
Bols Amaretto
Bols Amaretto, a Dutch liqueur, contains hints of apricot kernel oil and almonds, giving it a well-balanced flavor profile. Its sweet taste blends perfectly with the Irish cream and gives the blowjob shot a delicate balance.
Antica Amaretto
Italian-made Antica Amaretto is renowned for its smooth and sweet flavor profile. Its almond and vanilla undertones lend a sweet, dessert-like taste to the blowjob shot, making it an excellent option for this drink.
Zuidam Amaretto
The Dutch brand Zuidam Amaretto is noted for its rich and robust flavor. The smooth blend of caramelized sugar and almonds adds to the sweetness of the blowjob shot, enhancing the overall taste.
Best Irish Cream for a Blowjob Shot
The Irish cream is another essential ingredient of the blowjob shot, adding to its thick, creamy texture and boozy charm.
Hence, selecting the right Irish cream is essential, as it can primarily affect the drink's dynamics and improve its texture and balance. Here are some of our top picks.
Baileys Original Irish Cream
The most popular Irish cream in the world, Bailey's Original, is an unparalleled fusion of Irish whiskey, cream, and chocolate flavors. It is an ideal option for a traditional blowjob shot with its rich texture and sweetness.
Carolans Irish Cream
If you prefer a milder and sweeter taste in your blowjob shot, Carolans Irish Cream is an excellent choice. The perfect combination of fresh cream, honey, and mellow Irish spirits gives a subtle sweetness to the blowjob shot, balancing the nuttiness of Amaretto.
Kerrygold Irish Cream
Kerrygold sets itself apart by combining Irish whiskey and real chocolate, providing a deeper, more potent flavor that adds an unusual layer to the classic blowjob shot.
It's well-known for its robust, rich creaminess, making it a great contender.
Saint Brendan's Irish Cream Liqueur
Saint Brendan's offers a rich, creamy flavor and a silky smooth texture, crafted with vintage Irish whiskey and fresh dairy cream from grass-fed cows. Its subtle vanilla undertones and the soothing warmth of the whiskey give the Blowjob Shot a new twist.
Five Farms Irish Cream
This small-batch Irish cream from County Cork, Ireland, has a higher-than-normal whiskey concentration, giving it a strong but subtle kick.
This brand prioritizes using fresh dairy cream, which produces a velvety texture and a delightful taste that pair beautifully with the amaretto in a blowout shot.
Molly's Irish Cream
Molly's Irish Cream is the perfect blend of rich dairy cream, chocolate, and vanilla flavors. Its creamy quality is enhanced by the blowjob shot's velvety smoothness and mild whiskey undertones.
Recipe – How to Make a Blowjob Shot
Crafting a blowjob shot is a skill that takes patience and a steady hand to master. The art of making a blowjob shot resides in carefully layering its ingredients.
Here's a detailed breakdown of the process:
Start by selecting a clear shot glass complimenting the cocktail's unique layered structure.
Then, to form the drink's base, pour some Amaretto into the glass and fill it halfway.
After that, add some Irish cream over the Amaretto. To do so, gently pour the Irish cream over the Amaretto while holding a spoon upside down over the glass. The spoon serves to spread the liquid, keeping the layers from mixing.
Finally, top it off with plenty of whipped cream as a garnish. Some people even add a cherry to the top for an additional splash of color and flavor.
How to Serve and Drink a Blowjob Shot
Serving a blowjob shot is about offering a memorable drinking experience rather than merely presenting a cocktail.
When crafting this shot, use a clear glass to show off the distinct layers and add plenty of whipped cream. Once prepared, the cocktail is typically served on a flat surface, such as a bar counter or a tray.
The ritual of drinking the blowjob shot is also part of its appeal. According to tradition, the drinker shouldn't use their hands. With your hands behind your back, hold the shot glass with your mouth, tilt your head back, and let the fancy cocktail flow.
This unique consumption style of the blowjob shot adds a thrilling aspect to the environment, making this drink vital for parties.
So, this shot will surely spark a conversation, whether you're throwing a wild bachelorette party, celebrating a friend's birthday, or adding a little zest to a casual gathering.
Time & Occasions for Drinking a Blowjob Shot
The blowjob shot, with its exciting consumption method and dessert-like flavor profile, isn't your regular bar order. Instead, it's a cocktail for particular events and occasions to celebrate.
Consider offering it at birthdays or bachelorette parties, where its dramatic consumption will entertain guests. It's also a surprise element in a cocktail night with friends, breaking up the monotony and providing a fun touch.
In a more formal environment, the blowjob shot can be served as a liquid dessert at the end of a dinner party. Its creamy, sweet flavor pairs well with most desserts and offers a unique way to end a meal.
Perfect Pairings
Pairing the blowjob shot with the correct food boosts its flavors and makes the drinking experience more enjoyable. Due to its sweet and creamy undertones, the blowjob shot goes well with desserts.
Let's look at some of the ideal combinations for this unique cocktail.
Dark Chocolate Desserts
The blowjob shot pairs well with dark chocolate desserts like truffles or a slice of rich chocolate cake. The bitter flavors of dark chocolate complement the cocktail's sweetness, resulting in a balanced flavor profile.
Moreover, the cocoa also enhances the amaretto's nuttiness, improving the entire flavor experience.
Almond-Flavored Treats
Given the nutty flavor of the amaretto, almond-flavored snacks go perfectly with it. Amaretto's unique flavor can be enhanced with almond biscotti or an almond tart. The crunchy texture of these delights contrasts pleasantly with the creaminess of the shot.
Creamy Desserts
Creamy delicacies like cheesecake and crème brûlée reflect the richness of the blowjob shot. Their smooth textures and rich flavors match the creamy, velvety undertones of the Irish cream in the shot, creating an exquisite, dessert-like experience.
Vanilla-Based Desserts
Vanilla-flavored desserts like vanilla panna cotta or a traditional vanilla pound cake are excellent paired with the blowjob shot, enhancing its sweet and creamy undertones.
The delicate vanilla flavor in these goods complements the vanilla tones in many Amarettos, resulting in a delightful tasting experience.
Nutty Treats
Amaretto's nutty flavors make it an excellent pairing for desserts that contain nuts. A slice of pecan pie or some almond cookies can add a delicious crunch to balance out the velvety texture of the shot.
Best Glass to Serve a Blowjob Shot
Serving a blowjob shot is more than just pouring the contents into a glass. The presentation is as essential to the whole experience as the drink itself. A clear shot glass is the standard choice. It enables the drinker to enjoy the cocktail's layered structure, which adds to its charm.
Choose a shot glass with a tapered top. This design keeps the shot's contents together, making it easier to drink without using your hands. Consider serving the shot in a small mason jar or an original shot glass to give the drink a more unique touch.
Whatever glass you use, remember that the essence of the blowjob shot is in its layered structure, fun presentation style, and delicious flavors. The shot will be a hit as long as these components are retained.
Variations of Blowjob Shot
There are various options to explore for those looking for a new spin on the classic blowjob shot – here are some of the best.
Chocolate Blowjob
If adding chocolate to the mix appeals to you, the Chocolate Blowjob is worth trying. Spread some chocolate liqueur over the Irish cream, then finish it with whipped cream.
This variation gives the cocktail an extra layer of depth and richness, making it a chocolate lover's paradise.
B-52
For coffee aficionados, the B-52 variant adds a new flavor dimension. Use the coffee-flavored liqueur Kahlua in place of the amaretto. This replacement gives the cocktail a unique coffee flavor that provides an intriguing contrast to the sweetness of the Irish cream.
Screaming Orgasm
Are you looking for a blowjob shot with more punch? The Screaming Orgasm adds a layer of vodka to the classic formula, increasing the intensity of the cocktail while maintaining the creamy, sweet flavor profile that makes the traditional blowjob shot so pleasant.
Coffee Blowjob Shot
The Coffee Blowjob Shot adds coffee liqueur to the mixture. The coffee's bitterness counterbalances the cocktail's sweetness and bitterness, producing a subtle and well-balanced flavor profile. This variant is ideal for people who want a less sweet cocktail or want to give their beverage a caffeine jolt.
Cherry Blowjob Shot
In the Cherry Blowjob Shot, the amaretto is replaced with cherry liqueur. This fruity alternative gives the creamy cocktail a tangy twist, providing a cool, sweet, and tart beverage ideal for summertime drinking.
Salted Caramel Blowjob Shot
Try the Salted Caramel Blowjob Shot for a twist that combines sweetness and salt. This variant adds a layer of salted caramel liquor to the sweet, creamy flavors of the original recipe, creating a mouthwatering contrast.
Strawberry Blowjob Shot
The Strawberry Blowjob Shot uses strawberry liqueur instead of amaretto. With this alternative, you get a fruity, sweet cocktail with a refreshing twist.
Similar Cocktails You Will Enjoy
If you're a fan of the blowjob shot, here are similar cocktails that might pique your interest. There are a lot of different cocktails you would enjoy.
Here you'll learn more about the Irish Car Bomb.
Mudslide
If you like the rich, creamy flavors of a blowjob shot, you must try the Mudslide cocktail. A more subdued flavor combination distinguishes the combination of Kahlua, Baileys, and vodka, which offers a similarly rich, dessert-like experience.
White Russian
The White Russian, a classic drink, is made with vodka, Kahlua, and cream and has a creamy sweetness similar to the blowjob shot. The clear, strong bite of vodka is also prominent in this beverage, offering a pleasant contrast.
Nutty Irishman
The Nutty Irishman is another delicious cocktail that shares the nutty and creamy flavors of the blowjob shot. Using Baileys and the hazelnut liqueur Frangelico, this cocktail has a distinctive yet delightfully familiar flavor.
Brandy Alexander
The Brandy Alexander is a brandy, crème de cacao, and cream dessert cocktail. It offers a flavor experience comparable to the blowjob shot due to its rich, sweet, and creamy tastes, making it an appealing option for fans of creamy cocktails.
Amaretto Sour
The Amaretto Sour mixes the sharpness of fresh lemon juice with the sweet, nutty flavor of amaretto. This beverage has a distinct flavor profile while emphasizing the amaretto, making it an intriguing option for aficionados of the blowjob shot.
Conclusion
The blowjob shot has carved out a special place in the mixology world due to its flavorful combination, visual appeal, and unique consumption style. This cocktail is perfect for a bachelorette party, a birthday celebration, or an adventurous after-dinner treat.
By exploring different brands of amaretto and Irish cream, trying various variations, or even venturing into similar cocktails, you can embark on a delightful journey of flavors and experiences.
Remember, the essence of cocktail culture lies in experimentation and enjoyment, so here's to discovering new tastes, sharing great moments, and savoring every sip. Cheers!
You might also be interested in...