Vegas Bomb: Best Cocktail Recipe, 5 Variations + 6 Alternatives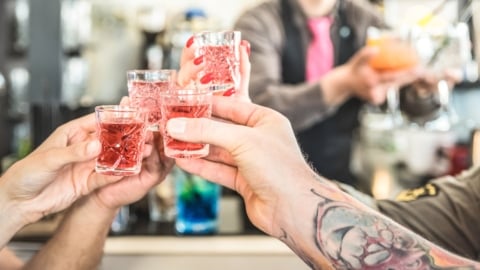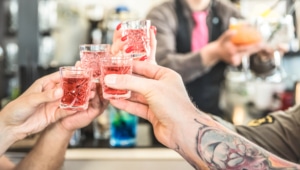 All the fun, glitz, and glamor of the Vegas scene finds itself at home in every glass of the Vegas Bomb. It's loud, energetic, and bursting with flavor – and if the alcohol isn't enough, the caffeine hit from the added energy drink will kick your eyes open till the morning after. Here you will learn all about Vegas Bomb.
The Vegas Bomb is a fruity, woody drink that packs hints of both sweet and sour; a truly bold drink that invites you to enjoy a night with no regrets.
Amusing, bedazzling, and maybe just a bit over the top, Vegas Bomb pays homage to the city's notorious party scene that famously spares no expense.
This drink features plenty of ingredients and endless opportunities for customization – and in this article, we'll do exactly that as you learn all things Vegas Bomb, such as:
How the Vegas Bomb cocktail came to be
The ingredients in a Vegas Bomb and the best whiskey brands to use as this cocktail's base
A quick recipe for making this cocktail, as well as tips and tricks on how to serve this drink
Different crafty variations of the Vegas Bomb and other similar cocktails for you to try and enjoy.
Although it looks like a daunting drink to prepare — thanks especially to its fanciful gimmick of dropping a shot glass into a bigger glass — the Vegas Bomb is actually pretty easy to prepare.
All you need are a couple of ingredients, some equipment, and your curiosity that's raring to try and experiment. If you're in the mood for a refreshment that has a big personality and leaves an even bigger impression, the Vegas Bomb is the perfect drink to try.
What a Vegas Bomb Is
When you first hear the name "Vegas Bomb", it'll likely conjure images of fireworks, explosives, smoke, and bright lights in your mind.
You wouldn't be too far off either, as the cocktail emulates all of that noise and splendor.
A Vegas Bomb contains a Royal Flush shot made of whiskey, schnapps, and fruit juice – and if that's not enough of an extravaganza, the shot is dropped into a glass of energy drink for an additional layer of fizzy goodness that'll blow you away.
Immediately after "dropping the bomb", you pick up the glass and drink it all in one go. Truly, the Vegas Bomb is nothing if not theatrical.
Brief History / Origin
There are plenty of drinks with "Bomb" in their name, but this one belongs to Vegas. Its origins are a little hazy, but it's essentially an evolved version of the Royal Flush.
The inventors took a regular Royal Flush consisting of whiskey, peach schnapps, and cranberry juice and turned it up a notch by adding Red Bull. The Vegas Bomb soared into popularity in the 2010s, becoming a staple of any rampant party.
The magical combination of caffeine, sugar, and alcohol provides an experience that people can't help but keep returning to. The drink's appeal is frankly unsurprising as it's essentially a shot and a chaser all in one, and a bartender can pump them out quickly to a crowd.
Even if you don't particularly like the flavor of the drink, the ritual of dropping in the shot with your friends and drinking it in one go is something people love to revisit time and time again. Why take a regular shot when you can nestle it in another drink, Russian nesting doll-style?
Ingredients: What's In a Vegas Bomb
There are four ingredients in a Vegas Bomb: whiskey, peach schnapps, cranberry juice, and energy drink. Some people add Malibu Rum too, but this isn't always the case – and part of the cocktail's charm is that you can be flexible with the ingredients you use.
For it to be authentic, however, you'll need to use Crown Royal whiskey and Red Bull specifically. Still, even if you go off-brand, all the ingredients will mingle to create a balanced yet bombastic cocktail.
Best Whiskey Brands for Vegas Bomb
If you're on a budget, you likely won't be reaching for a top-shelf whiskey brand. However, a good quality whiskey will provide a level of sophistication to a potentially tacky drink, and this is especially true for a cocktail such as the Vegas Bomb.
When choosing the whiskey base, make sure to start with Crown Royal before branching out to whichever whiskey best suits your wallet and palate.
Crown Royal Whiskey
Crown Royal Whiskey contains notes of vanilla, caramel, and apple, and it leaves an elegant finish that doesn't burn the throat.
It's a key component of the previously mentioned Royal Flush cocktail and suitable for drinking when playing poker (because a Royal Flush is the best hand of cards you can get). The glamorous whiskey provides a sense of balance to the Vegas Bomb, which would otherwise be too sweet or too sour.
It also adds a touch of sophistication, transforming the Bomb from a sugary abomination to a complex harmony of flavors.
The whiskey was originally created for King George VI and Queen Elizabeth when they visited Canada in 1939 to celebrate the first time that the British monarchy stepped foot on the nation.
Since the stakes were high, the King and Queen were presented with gorgeous custom whiskey in ornate decanters. The King and Queen approved, and so the news about Crown Royal spread – prompting everyone to try the whiskey.
Crown Royal was brought to the US in 1960, where it instantly became a favorite. Decades later, this whiskey brand is still well-loved and widely enjoyed. As many would say, it's not a real Vegas Bomb unless it contains Crown Royal – but that's up for you to decide.
Alberta Premium
Beneath Alberta Premium's golden body are bold notes of smoky, spiced banana and toffee that leave a lingering vanilla finish once downed.
This whiskey is wholly made with Canadian Prairie Rye and left to age for at least five years, resulting in a complex liquor with a satisfyingly earthy character. If you want to tone down the sweetness of your Vegas Bomb, Alberta Premium will be your best bet.
Kirkland 6-Year Blended Canadian Whisky
If you want a well-rounded whiskey base for your Vegas Bomb, you won't ever go wrong with Kirkland 6-Year Blended Canadian Whisky as the alternative.
Aged for six years in charred white oak barrels, this whiskey sports a dark honey hue with an aroma that'll remind you of verdant farms and fields.
Thanks to its robust flavor profile that meshes hints of caramel, cream, and apple together, the liquor will accentuate your Vegas Bomb by providing delicious depth to the cocktail's sweetness.
Gentleman Jack
Gentleman Jack is a whiskey made by Jack Daniel's, one of the most well-known whiskey brands in the world – so expect a sophisticated feel from this liquor.
It's a more mature drink than the brand's classic offerings and has been mellowed in charcoal twice, creating a whiskey that's distinctively smooth and glides over your tongue with its gentle sweetness.
With its unmistakable flavors of oak and caramel, Gentleman Jack will undoubtedly elevate your Vegas Bomb experience.
Forty Creek Barrel Select
Complexity and full-bodied flavor profiles are what make a bottle of whiskey a cut above the rest. Ingeniously, Forty Creek Barrel Select does this by aging the liquor in barrels that were previously used to age bourbon.
In this drink, corn, rye, and barley work together to create a bold, layered flavor that teases the tongue with hints of honey and cocoa.
The meticulousness with how the ingredients are sourced and unique aging process adds a certain depth to this whiskey that's hard to come by – making it a great choice for your Vegas Bomb.
Canadian Club
Canadian Club's original whiskey offering features a bright golden color, a testament to the brand's lengthy play in the industry — it's been bottling its original whiskey since 1858.
As masters of the craft, Canadian Club has cultivated a complex flavor profile in every bottle, and you can expect to sample sweet, spicy, and zesty notes with each sip. Because of its smooth feel and clean finish, Canadian Club is an excellent base for a serving of Vegas Bomb that suits any occasion.
Recipe – How to Make a Vegas Bomb
Complete beginners, rejoice. Vegas Bomb is a fun drink that's full of character, and fortunately, you don't have to jump through hoops just to prepare a glass that's delicious enough to serve to guests. You'll only need the following equipment: a shot glass, a shaker, a bar strainer, and a tall pint glass.
Prepare your ingredients in the following amounts: 1.25 ounces of whiskey (ideally Crown Royal), 1.25 ounces of peach schnapps, two ounces of cranberry juice, and your choice of energy drink (ideally Red Bull). Here are the exact steps to follow:
To make the Royal Flush shot, shake whiskey, peach schnapps, and cranberry juice together with ice for about 10 seconds
Once the shot has been thoroughly mixed, pour the mixture into the shot glass. Make sure to strain the ice so it won't fall along with the drink
Fill your separate, tall pint glass about halfway through with the energy drink. It's important not to pour too much as the result can get very messy
Here's the magic — drop the shot glass (the whole thing, not just the liquid) into the energy drink and down it all fast.
The interesting thing about the Vegas Bomb is that you can mix and match your ingredients in the shot glass and the larger glass. For example, some people choose to have just whiskey as the shot and mix the other ingredients to be the base.
Some people even add Malibu Rum while others entirely omit the cranberry juice. In the end, Vegas Bomb is meant to be enjoyed – especially during its preparation – so the exact ingredients are completely up to you.
How to Serve and Drink a Vegas Bomb
The Vegas Bomb is a notorious party drink. It's quick to make and quick to down, making it the perfect fuel for a rowdy night. If you're serving this cocktail, you'll have all hands on deck to keep a steady stream of the booze flowing.
Here's a pro tip when preparing Vegas Bomb — don't mix the two components before handing them out and let your guests relish in the pleasure of dunking and downing their cocktails.
Time & Occasions for Drinking a Vegas Bomb
Naturally, the best place to drink a Vegas Bomb is when you're at a Vegas party. Be warned, though — this isn't your average weeknight cocktail.
It's full of caffeine, sugar, and alcohol, which is perfect for keeping any party going well from dusk until dawn. As such, if you're thinking of a more laidback daytime event or a casual social gathering, it'd be a wise move to stay away from this offering.
However, for those looking into having a wild time at night, a Vegas Bomb will be your perfect companion.
Perfect Pairings
After a few Vegas Bombs, you'll be craving foods like nachos smothered in cheese and grease-flooded pizza. You could go with the traditional unhealthy fare, but nutritious options also make a lot of sense to counteract the intense sugary vibrations.
No matter which route you take, it's recommended that you drink plenty of water and a savory meal at some point in the night.
Best Glass to Serve a Vegas Bomb
Use a standard shot glass and a tall pint glass to serve your Vegas Bomb, making sure not to fill the pint glass up too much. When you drop the shot into the Red Bull, the tall sides will catch the splash.
However, a case can be made that when you're drinking Vegas Bombs, decorum won't necessarily be at the top of your mind – so feel free to make a mess out of a cocktail served on a potentially raucous night.
Variations of the Vegas Bomb
The Vegas Bomb is loud and sometimes comes off too strong, so it's understandable if many aren't overly fond of its taste.
Or perhaps, you've just had too many of these drinks that you've become bored of them. Whatever the case, it's a good move to try a different Bomb next time. The great thing about this class of drinks is that there's plenty to choose from, and they're all just as exciting as the Vegas version.
Johnny Vegas Bomb Shot
No one knows who Johnny Vegas is, but they sure do like his Bomb Shot. To prepare this drink, grab a hold of tequila, an energy drink, and some watermelon liqueur.
While the ingredients are wildly different from the ordinary Vegas Bomb, you're still getting the caffeine, sugar, and alcohol — just in different tones.
Amaretto Vegas Bomb
Amaretto is an Italian liqueur involving apricot or peach stones and almonds. It's not your typical hyper-sweet syrupy liqueur, which makes for a nice change. When preparing Amaretto Vegas Bomb, all you need is some whiskey, peach schnapps, Red Bull, and Amaretto.
Virgin Vegas Bomb Shot
Of course, let's not forget about the noble non-drinkers. Create a deliciously sweet shot with vanilla, brown sugar or other natural sweetener, peach juice, and cranberry juice.
As you would with the typical Vegas Bomb, drop this shot into a glass of Red Bull and you're good to go. The Virgin Vegas Bomb Shot has all the fun and flair of its alcoholic cousin, just without the booze.
Butterscotch Vegas Bomb
For a less fruity cocktail without losing the sweetness, ditch the cranberry juice and substitute it with butterscotch schnapps.
The resulting cocktail is the aptly named Butterscotch Vegas Bomb with a decadent, almost luxurious flavor profile reminiscent of a creamy dessert. Simply mix whiskey with butterscotch schnapps to make your shot and drop it into a pint glass as usual.
Royal Flush Shot
The Royal Flush Shot allows you to enjoy a Vegas Bomb without the caffeine. If you want to be able to sleep later or you just have a sensitivity to caffeine, be sure to try this one out.
It's a glass of (Crown Royal) whiskey, peach schnapps, and cranberry juice — no shot glass added. You can sip this drink instead of downing it in one go, which beginners will no doubt appreciate.
Similar Cocktails You Will Enjoy
Because of its gimmick, Bombs are a popular class of cocktails. Watch it once or even a hundred times, but dropping the shot never goes out of style.
Plus, Bombs allow virtually unlimited creative freedom to mix and match liquors and chasers to create the perfect party drink that suits all tastes and preferences. If you'd like to expand your knowledge of Bombs, here are six other cocktails to try out:
Jäger Bomb
The Jäger Bomb is a more common drop-shot drink than the Vegas variety. For this one, a shot of Jägermeister (an herby, aniseed German liqueur) is added to a glass of Red Bull.
While you might wonder about the exact flavor profile of the resulting cocktail, the combination is actually (and quite strangely) very tasty.
Sake Bomb
Grab a shot of sake and drop it in a light glass of beer — on purpose. That's how you end up with a Sake Bomb. If you haven't tried it yet, sake is Japanese alcohol made from fermented rice and sports a clear appearance and a dry sweetness.
This profile mixes well with foamy, carb-y beer that's notoriously heavy on the stomach.
Smurf Bomb
Just like the characters, this cocktail is blue as can be. That's due to the star ingredient: Blue Curaçao, a vibrant liqueur flavored with the peel of a citrus plant on Curaçao Island.
Use Blue Curaçao as your shot and drop it into a glass of energy drink or lemon-lime soda – a refreshing drink that's perfect for pool parties.
Lagoon Bomb
Like the Smurf Bomb, the Lagoon Bomb is blue, blue, blue. This cocktail is made with Blue Curaçao, vodka, and lemonade. It is generally served mixed, but you can turn it into a Bomb by putting the vodka or Curaçao in the shot glass.
You might be equally tempted to break the cocktail Bomb rules, which means pouring in the blue liquid to watch it mingle with the lemonade.
Apple Bomb
There's no one set recipe for an Apple Bomb, so you can get creative with this one. If you lean more towards the winter caramel and apple, go for whiskey and sweet schnapps (butterscotch, for example).
If you're feeling summery, choose an apple whiskey, cranberry juice, and pineapple. You could even make a sour apple cocktail with Red Bull and a sour liqueur.
Cherry Bomb Cocktail
You know the song, but do you know the sickly sweet cocktail? A cherry bomb usually contains club soda, grenadine syrup, lime juice, and cherry liqueur.
No matter what you put in it, it has to be topped with chopped maraschino cherries. Some people also like to add chocolate or cola flavors to give the cocktail a deeper, more complex flavor.
You might also be interested in...