Moscow Mule: Best Cocktail Recipe & 10 Delicious Variations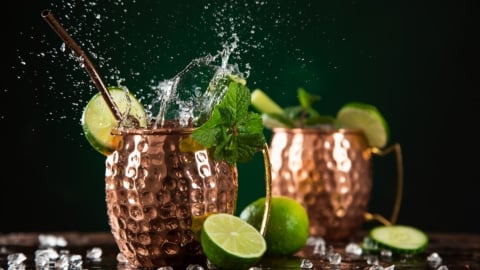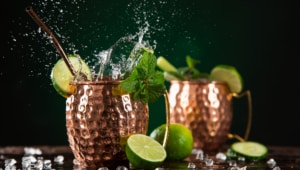 Discover the perfect Moscow Mule cocktail recipe and 10 delicious variations to impress your guests and elevate your mixology skills. From classic to tempting twists, become a Moscow Mule aficionado.
The Moscow Mule is a classic cocktail that has gained popularity in recent years, thanks to its distinctive flavor and stylish presentation. This refreshing drink combines three simple ingredients – vodka, lime juice, and ginger beer – yet creates a delightful concoction that's perfect for any occasion.
Whether you're relaxing at home, hosting a party, or celebrating a special event, a well-made Moscow Mule is sure to impress.
What Moscow Mule is
Moscow Mule is a popular and refreshing cocktail that has gained a reputation for its simplicity and delightful taste. This invigorating mixed drink features a distinctive copper mug, which has become an iconic symbol of the Moscow Mule.
In this section, we'll explore the history of this classic cocktail, as well as its essential ingredients, the best ginger beer, and vodka brands to use when crafting your perfect Moscow Mule.
Brief History and Origin
The Moscow Mule has an interesting backstory that dates back to the 1940s. It was created in Los Angeles by two men, John Martin, and Jack Morgan, who were trying to promote their respective products – vodka and ginger beer.
They combined these two ingredients along with a dash of lime and served it in a copper mug to create the Moscow Mule. The iconic mug would later play a significant role in the cocktail's allure, ensuring its popularity among drinkers.
Ingredients: What's in a Moscow Mule
The Moscow Mule consists of three main ingredients, providing a perfect balance of flavors:
Vodka (2 oz.): The base spirit for this cocktail, vodka adds a clean and smooth taste to the drink.
Ginger Beer (4-5 oz.): This ingredient brings spiciness and effervescence to the mix, creating the Moscow Mule's signature taste.
Lime Juice (½ oz.): The splash of lime juice adds a refreshing tartness that balances the sweetness of the cocktail.
Combining these ingredients properly gives you the perfect Moscow Mule, full of zesty and exhilarating flavors.
Best Ginger Beer for Moscow Mule
When selecting a ginger beer for your Moscow Mule, it's important to choose one that imparts a pleasant spiciness and isn't overly sweet. Some well-regarded brands to consider include:
Fever-Tree: Known for its natural ingredients, Fever-Tree ginger beer offers a well-rounded flavor with just the right amount of heat.
Q Ginger Beer: This brand features an extra spicy kick, making it an excellent choice for those who enjoy a more intense ginger flavor.
Reed's Ginger Beer: Reed's offers a milder, yet still enjoyable, ginger taste without being too sweet.
Experimenting with different ginger beers can help you discover your personal favorite for crafting a Moscow Mule that suits your taste.
Best Vodka Brands for Moscow Mule
While you can use any vodka brand for your Moscow Mule, choosing a high-quality vodka can contribute to a smoother and more refined cocktail. Here are a few notable vodka brands to consider:
Tito's Handmade Vodka: Tito's is a popular choice, offering a clean finish that complements the ginger beer and lime juice flavors.
St. George Green Chile Vodka: For a Moscow Mule with a subtle heat, St. George Green Chile Vodka adds a unique twist to the classic cocktail.
Belvedere Vodka: Produced in Poland, Belvedere is a premium vodka that adds a touch of elegance to your Moscow Mule with its smooth and well-rounded flavor.
Feel free to explore other vodka brands as well, and create a Moscow Mule that reflects your taste preferences. Remember, what makes the perfect Moscow Mule is a blend of quality ingredients and finding a balance that best satisfies your palate.
Recipe – How to Make a Moscow Mule
A classic Moscow Mule is a simple yet refreshing cocktail that perfectly combines zesty lime, spicy ginger beer, and smooth vodka to create a delightful drink. In just a few short steps and with minimal ingredients, you can recreate this popular beverage in the comfort of your own home.
First, gather your ingredients. You will need the following:
2 ounces of vodka
1/2 ounce of freshly squeezed lime juice
3 ounces of chilled ginger beer
To start, squeeze the lime juice into a copper mug (or a Collins glass). The acidity of the lime juice adds a pleasant tanginess to the cocktail. After squeezing, feel free to drop the spent lime shell into the mug as well.
Next, add ice cubes to your mug. Pour in the measured vodka and then fill the mug with cold ginger beer. To preserve the fizziness of the ginger beer, refrain from stirring the mixture too vigorously. A gentle stir of the ingredients should suffice.
At this point, your Moscow Mule is almost complete. For a finishing touch, garnish your cocktail with a fresh lime wheel. To do this, simply cut a thin slice from the edge of a lime and place it on the rim of your mug.
Once you've followed these steps, sit back, and enjoy your homemade Moscow Mule. Don't forget that this classic recipe can also serve as a base for experimenting with delicious variations. As you become more comfortable with the process, play around with the addition of fresh fruits, spices, or even different spirits to create a unique twist on this timeless concoction.
How to Serve and Drink a Moscow Mule
When enjoying a Moscow Mule, there are a few factors to consider for the best experience. In this section, we will discuss perfect pairings, the best glass to serve a Moscow Mule, and the time and occasions for drinking this classic cocktail.
Perfect Pairings
To complement the flavors of your Moscow Mule, consider pairing it with dishes that have fresh, zesty flavors. Some recommendations include:
Ceviche: The acidity and lime notes in ceviche echo the lime and ginger flavors in the Mule, creating a delightful harmony.
Fish tacos: The crispness and citrus elements in a Moscow Mule cut through the richness of the fish, making for a refreshing balance.
Spicy dishes: The ginger beer's gentle heat in the Mule helps to accentuate the spices in dishes such as curry, making them even more enjoyable.
Best Glass to Serve a Moscow Mule
Traditionally, a Moscow Mule is served in a copper mug. This not only keeps the drink chilled but also enhances the flavors as the copper reacts with the ginger beer and lime juice. However, if you don't have access to a copper mug, a highball glass or Collins glass will suffice. Just be sure to keep the drink chilled with plenty of ice.
Time & Occasions for Drinking a Moscow Mule
A Moscow Mule is a versatile cocktail that can be enjoyed in a variety of settings and occasions. Since it's light and refreshing, it's particularly well-suited for:
Holidays and celebrations: The Mule's effervescence and festive copper mug make it an excellent choice for adding a sense of occasion to any party.
Warm weather gatherings: Its crisp, refreshing nature makes a Moscow Mule perfect for sipping outdoors at barbecues, picnics, or poolside hangouts.
Casual get-togethers: The ease of preparing a Moscow Mule makes it an ideal choice for entertaining friends and family in a relaxed, laid-back environment.
Remember to savor your Moscow Mule responsibly and enjoy the lively flavor profile that has made it a beloved cocktail for generations.
Delicious Moscow Mule Variations
When it comes to enjoying a classic Moscow Mule, you may want to try something different and explore a variety of flavors. Below are ten delicious variations of the Moscow Mule, including spicy, fruity, and herb-infused options.
Spicy Jalapeño Mule
Add a kick to your Moscow Mule with a spicy twist. To make a Spicy Jalapeño Mule, muddle a few slices of fresh jalapeño in the bottom of your copper mug before adding vodka, lime juice, and ginger beer. This adds a subtle heat that perfectly complements the ginger beer's kick.
Raspberry Mule
For a fruity take on the classic drink, try a Raspberry Mule. Add a handful of fresh raspberries to your shaker with vodka and lime juice, then muddle to release the juices. Strain the mixture into your copper mug, top off with ginger beer, and garnish with a few extra raspberries for a refreshing, fruity twist.
Kentucky Mule
If you're a fan of bourbon, the Kentucky Mule is the perfect variation for you. Swap vodka for bourbon, and enjoy the mix of bold whiskey flavors with the bright and zesty lime and ginger beer. This combination offers a unique and exciting change from the traditional Moscow Mule.
Cucumber Mint Mule
For a refreshing and cooling twist, try the Cucumber Mint Mule. Muddle several slices of cucumber with a few mint leaves in the bottom of your mug. Add vodka, lime juice, and ginger beer, then garnish with a cucumber slice and a sprig of mint. This fresh and crisp variation is perfect for hot summer days.
Tropical Mule
Bring warm, tropical vibes to your Moscow Mule with a Tropical Mule. Mix vodka with pineapple juice, lime juice, and ginger beer for a unique and fruity concoction. Garnish with a pineapple wedge or a maraschino cherry to complete the tropical experience.
Apple Cider Mule
Celebrate autumn flavors with an Apple Cider Mule. Replace lime juice with apple cider and add a dash of cinnamon to create a seasonal spin on the classic Moscow Mule. Top it off with ginger beer, and garnish with an apple slice and cinnamon stick for the perfect fall drink.
Grapefruit Rosemary Mule
For a sophisticated twist, try a Grapefruit Rosemary Mule. Infuse vodka with fresh rosemary and mix it with grapefruit juice instead of lime juice. Top off with ginger beer and garnish with a grapefruit slice and sprig of rosemary for an elegant and fragrant variation.
Vanilla Orange Mule
Turn your Moscow Mule into a creamsicle with the Vanilla Orange Mule. Swap lime juice for orange juice and stir in a dash of vanilla extract. The combination of orange, vanilla, and ginger beer creates a smooth and creamy flavor reminiscent of the classic frozen treat.
Blackberry Sage Mule
Play with herbal flavors by making a Blackberry Sage Mule. Muddle fresh blackberries and sage leaves together, then mix with vodka and ginger beer. The savory sage and sweet blackberries offer a unique and satisfying flavor combination.
Peach Mango Mule
Add a touch of tropical flair to your Moscow Mule with a Peach Mango Mule. Combine vodka, peach schnapps, and mango nectar before topping with ginger beer. Enjoy the sweet and fruity flavors of peach and mango as they meld together perfectly with the ginger beer.
Feel free to experiment with these delicious variations or create your twist on the classic Moscow Mule to find your perfect flavor combination.
Similar Cocktails You Will Enjoy
If you're a fan of Moscow Mules, you'll be delighted to know that there are other cocktails with similar ingredients that you can enjoy. Here are some popular and tasty alternatives to the classic Moscow Mule, with a brief description of each. All of these use at least one of the classic Moscow Mule ingredients, such as ginger beer, lime juice, or vodka.
Kentucky Mule
The Kentucky Mule is a southern twist on the traditional Moscow Mule. Instead of using vodka, this delicious cocktail uses bourbon. Simply mix your favorite bourbon with ginger beer and lime juice. Stir it, fill it with ice, and you've got yourself a refreshing and slightly spicier mule.
Dark and Stormy
A popular tropical cocktail, the Dark and Stormy is a must-try if you're a fan of ginger beer. Featuring dark rum instead of vodka, the Dark and Stormy combines the rum with ginger beer and a splash of lime juice. This creates a bold, vibrant drink that is perfect for sipping on a warm, sunny day.
Gin-Gin Mule
For those who appreciate gin, the Gin-Gin Mule is a splendid variation of the classic Moscow Mule. Replace the vodka with a quality gin, and mix it with ginger beer and lime juice. This delightful cocktail offers a unique and slightly herbal flavor profile, making it a refreshing option for gin lovers.
Mexican Mule
If you're craving a Moscow Mule with a bit of a kick, try the Mexican Mule. In this variation, you'll swap out the vodka for tequila. Combine your favorite tequila with ginger beer and lime juice, and you've got a delicious drink with a south-of-the-border twist. The Mexican Mule is sure to please your taste buds.
Remember that each of these cocktails is meant to be tailored to your preferences, so feel free to experiment and make your variations based on the ingredients you enjoy. Happy mixing and cheers to your new cocktail discoveries.