Vanilla Shortbread and Blackberry Beer Jam Bars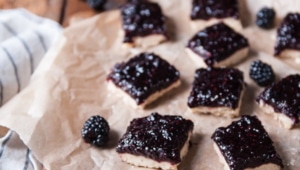 Vanilla Shortbread and Blackberry Beer Jam Bars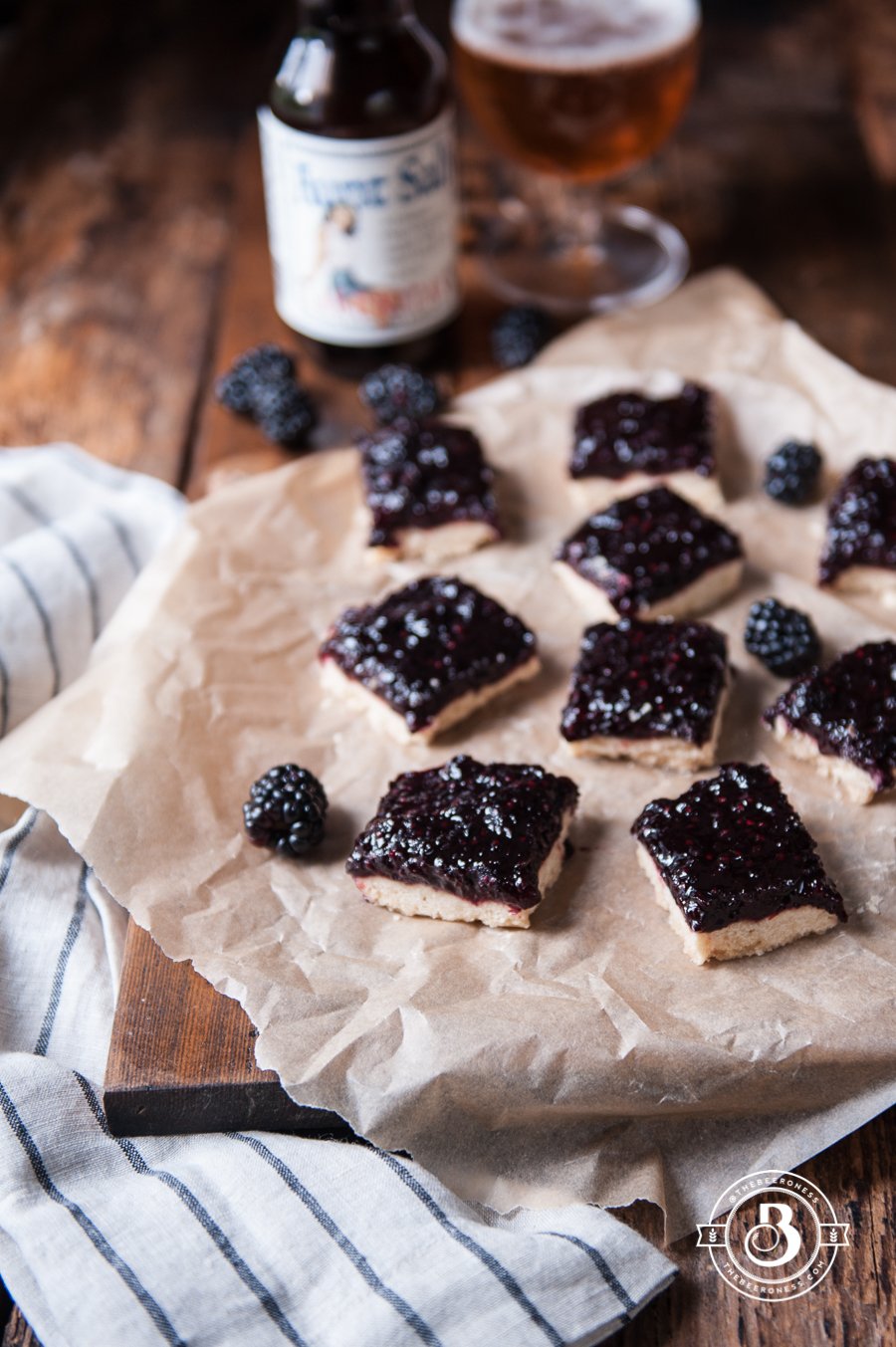 There are all these little things we don't talk about.
I pretend, over here on the other side of this computer, that I've got my shit together. And you pretend to believe me. But really, I'm a mess. I had to have someone teach my how to organize a file cabinet. My talents don't extend to organization, I'd rather make duck confit and lemon soufflé than an Excel spread sheet.
I spent all day trying to make Apple Pie Bars with Stout Caramel Sauce and Cinnamon Pale Ale Short Bread Crust and then this happened. Yesterday I had Honey Stout Glazed Salmon with Asparagus Blackberry Salad for lunch, but I had cereal and popcorn for dinner. In front of the TV.
I also have a bit of an overly enmeshed relationship with my UPS guy. He's at my house roughly 6 times a week, sometimes even twice a day. He reads my blog, knows about my family and always has a guess as to which brewery I've received beer from that day. Someday's he's basically my only in-person human conversation, which makes his sunny attitude that much more of a benefit to our daily chats.
When Lagunitas sent over Aunt Sally, neither of us had the opportunity to play that "who sent this?" game, the name was on the side of the box. It sat in my beer cellar (the bottom shelf of my fridge) for a week while I decided what to do with it. I like fruit with sours. I also like something to balance it, something round and warm and mellow and buttery to counter the pinchy sour-tart flavors of a wild ale. So this happened.
Really, I just let myself open this as a way to console myself for the apple pie bar fiasco. Then the recipe just sort of happened. But I'll let you pretend like you believe that it was a calculated move all along.
Vanilla Shortbread and Blackberry Beer Jam Bars
Ingredients
Crust:

1 cups (120g) all purpose flour
1/3 cup (35g) powdered sugar
½ tsp (3g) salt
6 tbs (84g) unsalted butter, cut into cubes
1 tsp (3g) vanilla extract

Filling:

1lbs blackberries (fresh or frozen)
1 cup wild ale (gose, sour, lambic, Flanders red)
1 cup (105g) powdered sugar
Instructions
Preheat the oven to 350.
Add the flour, powdered sugar, and salt to a food processor, pulse to combine.
Add the butter and vanilla extract, process until well combined.
Line an 8x8 baking dish with parchment paper. Press the crust into the bottom of the pan in an even layer.
Bake at 350 for 18-22 minutes or until just starting to turn a light golden brown. Allow to cool.
Add the blackberries, beer and powdered sugar to a sauce pan over medium high heat. Boil until thickened, stirring occasionally, about 12 minutes.
Pour the blackberries in an even layer on top of the crust. Chill until blackberries have set, about 1 hour.
Lift out of the pan using the parchment paper. Cut into squares.
https://domesticfits.com/vanilla-shortbread-and-blackberry-beer-jam-bars/