Chocolate Porter Pecan Bars with Beer Candied Bacon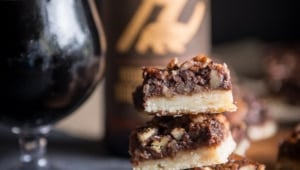 Chocolate Porter Pecan Bars with Beer Candied Bacon
I know, I KNOW! Don't look at me like that. I know that even though I'm in the midst of promoting my new cookbook Lush, I give to you a bacon dessert recipe. Is that because I want to make all the people happy, you ask? No, it's more likely because I want to anger and upset all the people or possibly because I've never had a very good relationship with rules and expectations. Either way, I do apologize.
But this is also to say that just because I am the type of person who likes to put candied bacon on desserts this does NOT preclude me from also being the type of person who also loves to make food with plants, plants are delicious. Beer is made of plants. So that makes it salad, and it's healthy (don't take nutrition advice from me, it's ill-advised).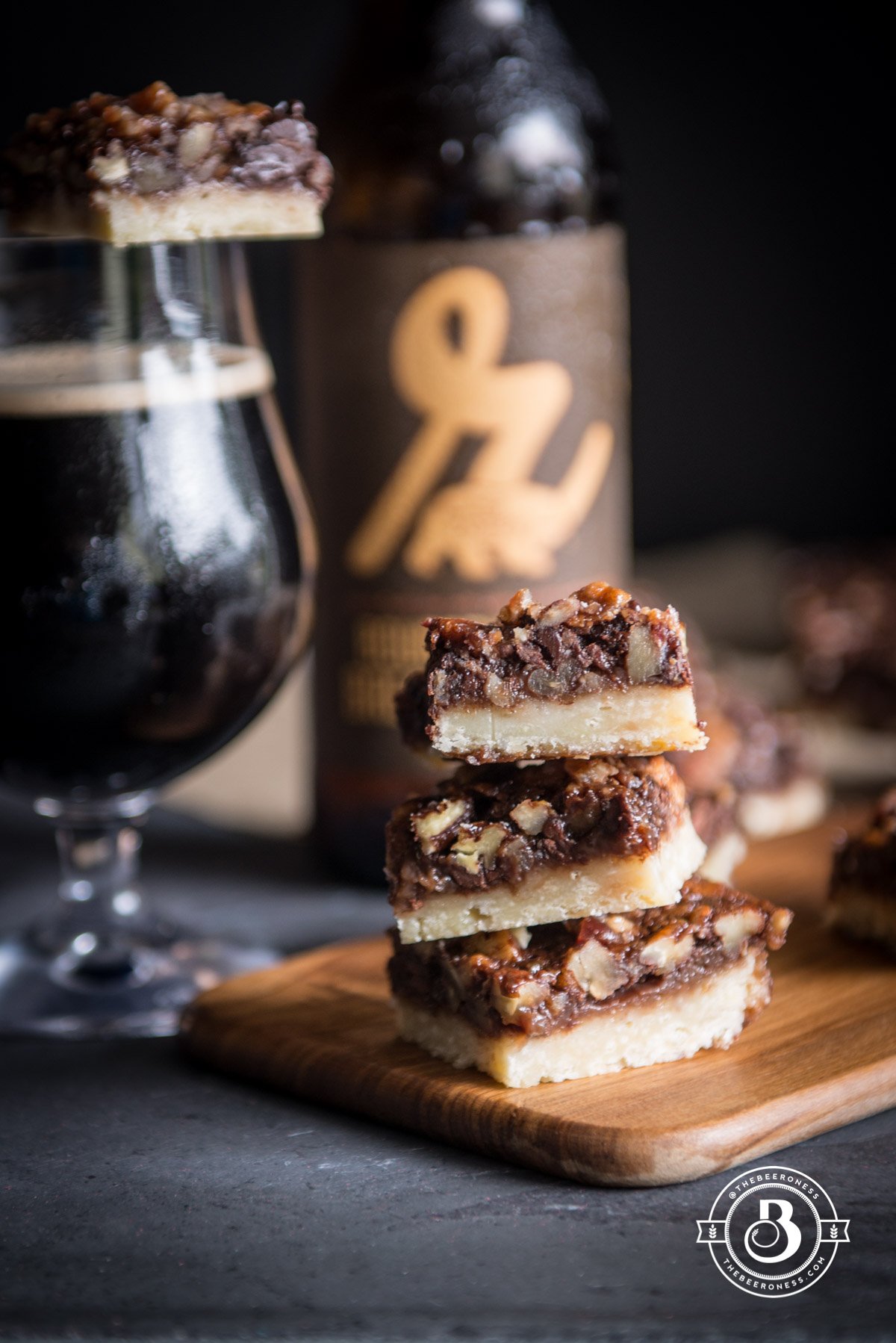 This is also to say that my book Lush is the type of book that you will love if the idea of putting bacon on dessert horrifies you, and also if it intrigues you. It's a book for people who love delicious food and beer, but it is minus bacon. I hope you love it as much as I do.
Chocolate Porter Pecan Bars with Beer Candied Bacon
Ingredients
Bacon:
4

strips thick sliced bacon

3

tablespoons

(38g) brown sugar

1

tablespoon

(12g) barrel aged stout or porter
Crust:
2

cups

(240g) all purpose flour

2/3

cup

(70g) powdered sugar

1

teaspoon

(6g) salt

13

tablespoons

(186g) unsalted butter, cut into cubes

1

teaspoon

(6g) vanilla extract
Filling:
3

large eggs

¾

cup

(180g) light corn syrup

½

cup

(100g) brown sugar, packed

¼

cup

(2oz) barrel aged stout or porter

2

tablespoons

(10g) cocoa powder

1

teaspoon

(6g) vanilla extract

6

ounces

high-quality dark chocolate

chopped

1

cup

(120g) unsalted pecans, coarsely chopped

1

teaspoon

(6g) salt

Flakey sea salt for topping
Instructions
Preheat the oven to 375°F.

Add the bacon to a wire rack over a baking sheet.

Stir together the brown sugar and the beer. Brush the top side of the bacon liberally with the mixture. Bake for 8 minutes. Flip the bacon, then brush with the mixture. Bake for an additional ten minutes. Remove from oven, remove the bacon and allow to cool on a cutting board. Once the bacon is cooled, chop the bacon, set aside.

Lower the oven temperature to 350°F. Add the flour, powdered sugar, and salt to a food processor, pulse to combine.

Add the butter and vanilla extract, process until well combined.

Line an 9x13 baking dish with parchment paper. Press the crust into the bottom of the pan in an even layer.

Bake at 350 for 15 minutes or until just starting to turn a light golden brown. Allow to cool for 10 minutes (allowing the crust to cool will help it to stay in two distinct layers from the filling).

Add all the filling ingredients (except the flakey sea salt) to a mixing bowl, beat until well combined. Pour over the cooled crust.

Sprinkle the chopped bacon on top, then sprinkle with the flakey sea salt ( I used smoked Maldon sea salt).

Bake at 350°F for 35 minutes or until the filling has set and no longer jiggles when you shake the rack. Remove from oven, allow to cool before cutting.