Beer & Bacon Pecan Bars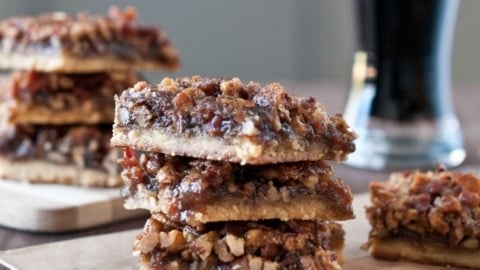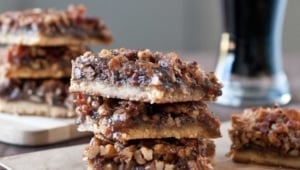 Clearly, I'm ready for fall. And in Los Angeles, that just means that Dodgers games are starting to end and I get to wear a light sweater. If I feel like it. Oh, and fall produce. If I haven't mentioned to you before my favorite part of living in Southern California, its this: Farmers Markets.
This Golden State that I live in grows half of all the produce grown in the United States (that's a lot) and we get to have Farmers Markets nearly every day of the year. And although mid-rant I realize that this post doesn't even contain any produce, it does contain those fabulous flavors of fall. With bacon. And beer. And fall farmers markets are my favorite. No matter what day of the week, somewhere in Los Angeles there is a Farmers Market in which I can unnecessarily bundle up and walk from stall to stall with a cup of coffee buying local vegetables in the "chilly" mid 60 degree weather.
Pecan pie will always remind me of fall and for nearly a year I've wondered what it would be like to add bacon. And of course, beer.
Turns out, these are the best damn pecan pie bars I've ever had.
Beer & Bacon Pecan Bars
Ingredients
For The Crust:
1

stick plus 2 tbs

10 tbs unsalted butter

2

cups

flour

1/4

cup

brown sugar

1/2

tsp

salt

2

tbs

water
For the Filling
1

cup

stout

1

stick butter

2

cups

chopped pecan

2

cups

brown sugar

1/2

cup

light corn syrup

1/4

cup

heavy cream

2

eggs

5

strips of bacon

cooked and chopped
Instructions
Preheat oven to 350

In a food processor add the flour, 1/4 cup brown sugar, and salt, pulse to combine. Cut the butter into cubes and add to the food processor. Process until butter is incorporated into the flour mixture. Add the water and process to combine. Add additional water, 1 tsp at a time if there is flour that still hasn't been dampened.

line a 9 x 13 inch baking pan with parchment paper (this will make it easier to remove from the pan) and dump the shortbread into the pan. Press into the bottom of the baking pan in one even layer.

Bake at 350 for 12 minutes of until a light golden brown. Allow to cool before adding the filling or the crust and filling will mesh together.

In a pot over medium high heat, add the stout, cook until reduced by half. Add the butter and stir until melted, remove from heat. Add the sugar, pecans, cream, corn syrup and stir until melted. Once the mixture has cooled to room temperature, add the eggs and stir until combined.

Pour the filling over the crust, sprinkle with cooked bacon and bake at 350 until the filling no longer jiggles when you gently shake the pan, about 25-30 minutes.