Strawberry Granita with Candied Mint Leaves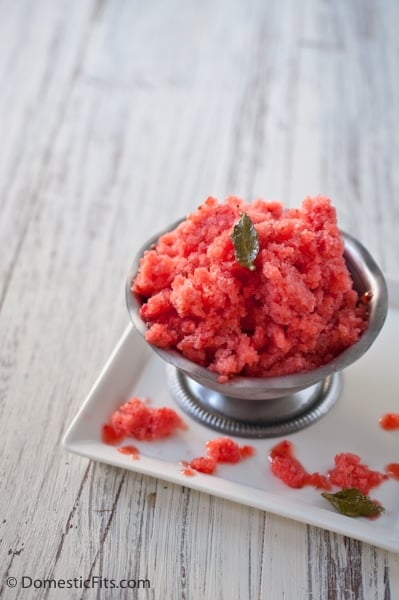 I'm so excited to tell you that I've been asked to be a Brand Ambassador for California Strawberry Commission. Given my complete love of strawberries, this is fantastic for me. To be honest, I've been asked to be a brand ambassador before but it was never a good fit, I ended up turing other companies down. I can't endorse a company that I don't have complete faith in putting my name on the line for. I'm absolutely proud to represent a product as fantastic as California strawberries and I was thrilled to be asked and accepted without hesitation. I love strawberries and the best ones come from California.
I'm working on some strawberry recipes, I have a great savory recipe that just isn't ready to post yet. It's good, but I want it to be great so I'll be working on it a bit more before I'm ready to send into into digital print.
May is National Strawberry Month, but really, you don't need an excuse to grab some strawberries now that they are everywhere. But if you do need some ideas, here are some strawberry recipes that I love so much:
Chocolate Strawberry Shortcakes:
Strawberry, Goat Cheese And Quinoa Salad:
Strawberry Brie Mini Galettes: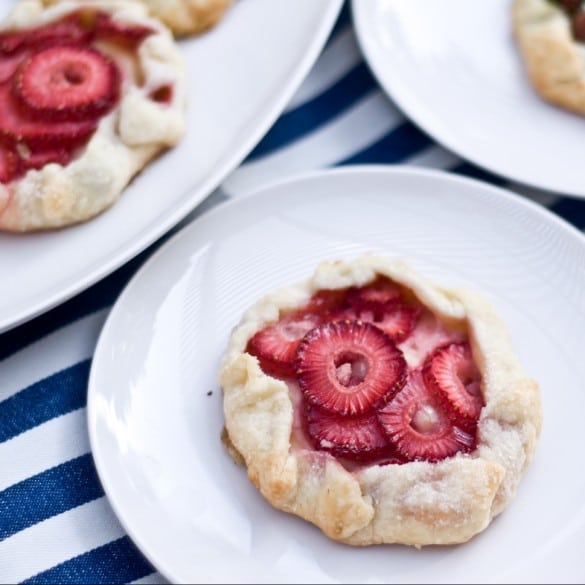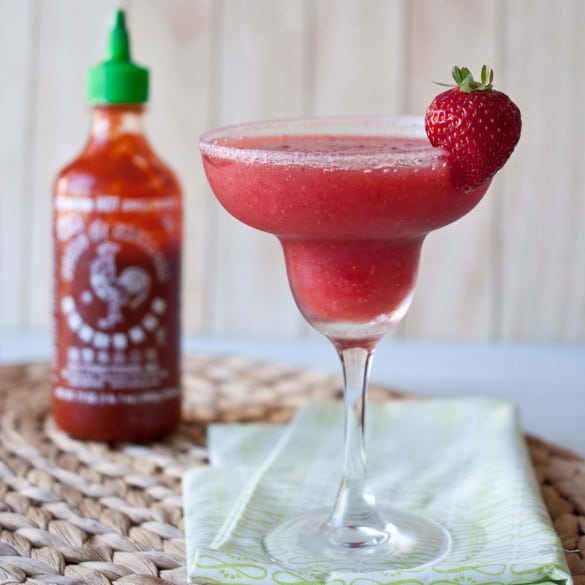 And now, the man of the hour, a recipe for a strawberry granita that requires no special equipment and makes a great final dish for those summer dinner parties on the patio that we are all looking forward to.
Strawberry Granita with Candied Mint Leaves
Ingredients
For the Granita:
1 cup very hot tap water
½ cup sugar
3 cups strawberries, chopped
1 lemon, juiced and zested
For the Candied Mint:
10-15 mint leaves
2 tbs corn syrup
1 Tbs very hot tap water
3 tbs white sugar
Instructions
Put the very hot water in a small bowl or measuring cup. Add the sugar and stir until it dissolves (microwave for 30 seconds if the sugar doesn't dissolve).
Add the sugar water, strawberries, lemon juice, an lemon zest to a blender or food processor. Process until smooth, about 3 minutes.
Pour into a glass baking dish (7×11 or 9×13 will work well) place in the freezer.
Stir every 30 minutes, combining the frozen edges into the center. Once the granita is mostly frozen, rake the surface with a fork to create flakey mound. Cover and freeze until ready to serve.
To make the candied basil:
Preheat the oven to 175.
Place 2 tbs of corn syrup and 1 tbs hot water in a small bowl, stir until well combined.
Line a baking sheet with parchment paper.
Dip the leaves in the corn syrup water, lay them on the parchment paper. Sprinkle with sugar, turn over, sprinkle with additional sugar (make more leaves than you need, some of them don't survive the process as well as other, you'll want extras).
Place in the 175 degree oven for 20 minutes, flip over and cook until dry and sugar has crystalized, about 30 additional minutes.
Notes
Boozy Option: To make this a Strawberry Mojito Granita, add 1/4 cup white rum and 5 mint leaves to the blender with the sugar water, strawberries, lemon zest and lemon juice and just proceed with the rest of the recipe.