Strawberry Granita with Candied Mint Leaves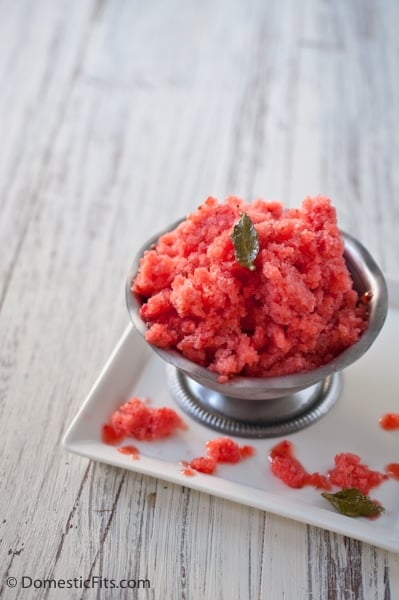 I'm so excited to tell you that I've been asked to be a Brand Ambassador for California Strawberry Commission. Given my complete love of strawberries, this is fantastic for me. To be honest, I've been asked to be a brand ambassador before but it was never a good fit, I ended up turing other companies down. I can't endorse a company that I don't have complete faith in putting my name on the line for. I'm absolutely proud to represent a product as fantastic as California strawberries and I was thrilled to be asked and accepted without hesitation. I love strawberries and the best ones come from California.
I'm working on some strawberry recipes, I have a great savory recipe that just isn't ready to post yet. It's good, but I want it to be great so I'll be working on it a bit more before I'm ready to send into into digital print.
May is National Strawberry Month, but really, you don't need an excuse to grab some strawberries now that they are everywhere. But if you do need some ideas, here are some strawberry recipes that I love so much:
Chocolate Strawberry Shortcakes:
Strawberry, Goat Cheese And Quinoa Salad:
Strawberry Brie Mini Galettes: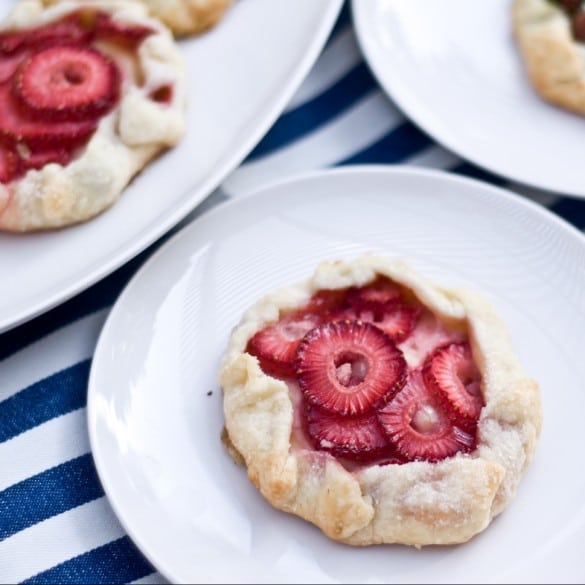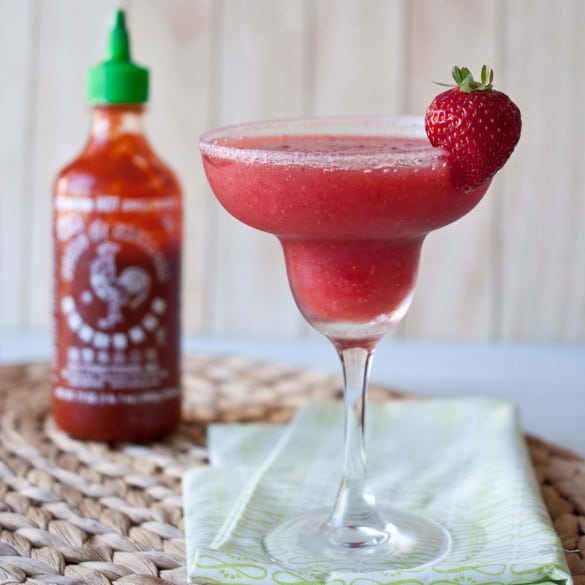 And now, the man of the hour, a recipe for a strawberry granita that requires no special equipment and makes a great final dish for those summer dinner parties on the patio that we are all looking forward to.
Drunken Chipotle Chicken Parmesan Sandwich
Ingredients
1 small white onions, chopped
2 tbs olive oil
3 lbs tomatoes (beefsteak or heirloom)
2 clove garlic chopped
1 cup IPA
¼ cup tomato paste
1 large chipotle pepper
½ tsp salt
¼ tsp smoked paprika
5 large basil leaves, chopped
1 tsp chopped fresh oregano
2 chicken breasts
2 eggs
Salt
1 cup Italian bread crumbs
¼ cup fresh shredded or fresh grated parmesan cheese (plus additional if desired)
1 cup flour
3 tbs olive oil
4 crust Italian sandwich rolls, split
1 ball whole milk mozzarella, sliced into 4 slices
Directions
In a sauce pan cook the onions in the olive oil over medium high heat until softened. Add the tomatoes, cook until the skins starts to peel, about 5 minutes.
Ad the garlic, cook for 30 seconds.
Add the beer and tomato paste. Allow to simmer until most of the tomatoes have broken down, about 10 minutes.
Transfer to a large food processor or blender along with the chipotle pepper, basil, salt, smoked paprika and oregano, process until smooth. Taste the sauce at this point, add additional chipotle peppers for a higher heat level, if desired. Sauce can be made up to three days in advance (If the sauce is too watery, return to the stove and simmer until it has reduced and thickened).
Preheat oven to 400.
Filet the chicken breasts in half, creating two thin slices per each chicken breast for a total of four, pound to an even thickness using a meat mallet, heavy rolling pin or heavy skillet.
Pat the chicken dry. Place eggs in a bowl, beat well. Place the flour in a separate bowl. Mix the bread crumbs with the parmesan in a third bowl.
Heat olive oil in a skillet over medium high heat until shimmery but not smoking.
Sprinkle chicken with salt on all sides.
Dredge in the flour shaking off excess.
Dip in the egg bowl, turning to coat, then dredge in the breadcrumbs until fully coated.
Fry chicken in hot oil until golden brown on the underside, about 3 minutes, turn and cook until cooked through (try not to turn the chicken more than once).
Place rolls on a baking sheet, spoon generous amounts of sauce into the rolls. Cut the chicken fillets in half lengthwise so they better fit into the rolls.
Fill each roll with chicken, top with mozzarella. Sprinkle with parmesan if desired.
Cook in a 400 oven until cheese has melted, serve immediately.
https://domesticfits.com/strawberry-granita-with-candied-mint-leaves/
Copyright �© TheBeeroness.com