Blackberry Beer Breakfast Muffins
 Blackberry Beer Breakfast Muffins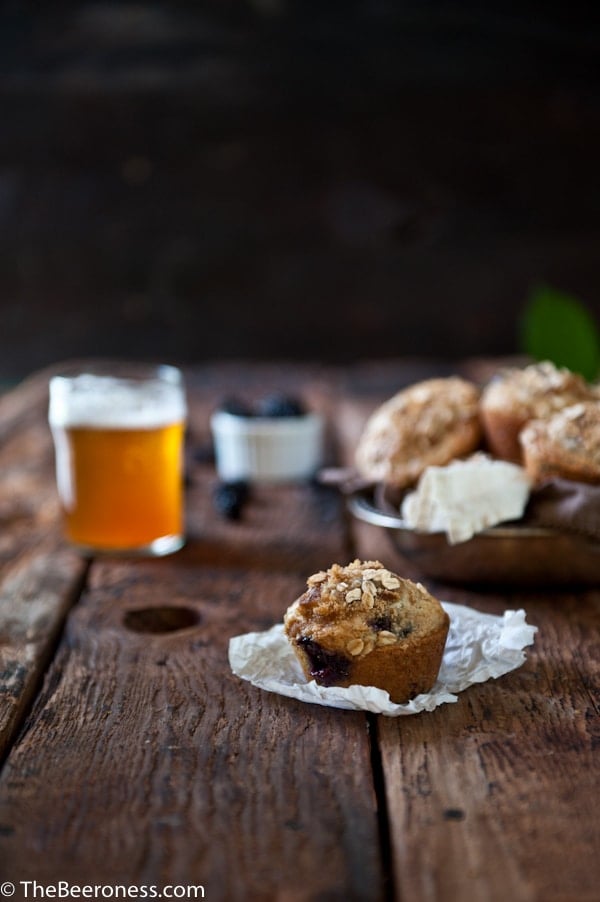 A few years ago I spent a week in Ireland, at a hostel at the base of the Guinness brewery. Somewhere near 9am I wandered into a nearby restaurant that was much more pub than grub. At the bar was a bit of a surly local, just him and me. I ordered some arrangement of eggs and a coffee, he had a beer. That's it, just an inky black glass of beer. He saw me eyeing his breakfast pint. "Whaaat? It's like bread. It's pretty much like bread, but easier to drink." Which, in my opinion makes it completely OK to have beer for breakfast.
These muffins also give you a legitimate reason to break two rules. Beer is a leavening agent, giving you a legitimate reason to add it to your grab-and-go breakfast, the texture of the muffins is incredible. The second rule breaking has to do with berries. Although there is a strong leaning towards fresh produce in this world, there is also a legitimate reason for baking with the frozen variety. Berries that are completely ripe and juicy are too fragile to ship, these are the ones that get frozen, making frozen berries actually better than those that ripened on a truck on the way to the market. Don't be afraid to head to the freezer section rather than the produce section when you want to make these. And don't be afraid to open a beer before noon, you know, to make breakfast with.
Blackberry Beer Breakfast Muffins
Ingredients
2

cups

flour

1

cup

sugar

1

tsp

baking powder

1

tsp

baking soda

1

?2 tsp salt

1

egg

5

tbs

butter

melted

1/3

cup

sour cream

2/3

cup

pale ale

2

cups

frozen blackberries

½

cup

brown sugar

packed

½

cup

oats
Instructions
Preheat oven to 350.

In a large bowl stir together the flour, sugar, baking powder, baking soda, and salt.

Make a well in the dry ingredients, add the egg, melted butter, sour cream and beer. Stir until combined. Stir in the blackberries.

Spoon into muffin tins until each well is about 2/3 full. Sprinkle each muffin with brown sugar and oats.

Bake at 350 for 20 to 25 minutes (baking time will be less if you use unfrozen blackberries).