Green Beans with Bacon and Beer Glaze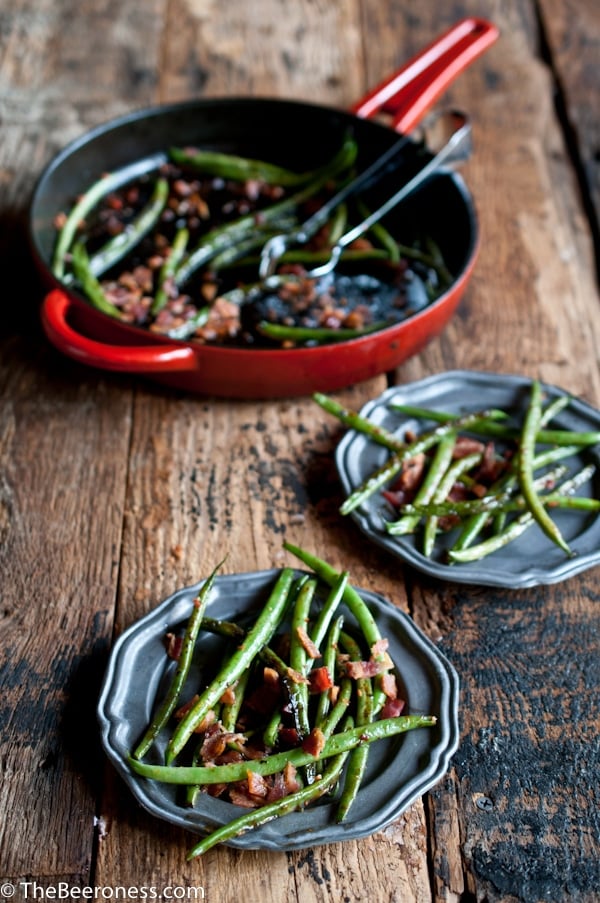 When I first got into cooking, I was terrified of pronunciation. There is this huge gap between reading a word, knowing it, being able to cook the crap out of it and being about to say it out loud. To other humans. Who have ears.
I spent an entire summer making Galettes. Look at these! So cute and rustic! With a homemade crust! and I can't talk about them in public because I don't know if it's Guh-Lay or Gal-Let. DAMN IT!! (By the way, it's Gah-Let).
Then came the Great Quinoa Explosion of 2007 and I wasn't sure about that one either. Jesus Christ why is there so many vowels?! (It's Keen-Wa, by the way).
So then we all get fancy and stop calling them green beans and the words haricots verts start coming my way. And even after I figured out it's pronounced "ah-ree-koh-ver" I still can't bring myself to say it that way, they are French green beans. Because I grew up on a farm and I drink beer.
Green Beans with Bacon and Beer Glaze
Ingredients
4 slices bacon
2 lbs French green beans
1/2 cup stout
1/4 tsp smoked paprika
salt and pepper
Directions
In a cast iron skillet cook the bacon until crispy. Remove from pan and allow to cool, then chop.
Add the green beans to the hot skillet, sear until slightly browned.
Add the stout and reduce heat to a simmer. Cook until the beer is reduced and turned into a glaze, about ten minutes.
Sprinkle with smoked paprika. Salt and pepper to taste (depending on how salty the bacon is, more or less salt will be needed).
Sprinkle with chopped bacon.
https://domesticfits.com/green-beans-bacon-beer-glaze/
Copyright �© TheBeeroness.com