Chocolate Stout and Bacon Skillet Brownies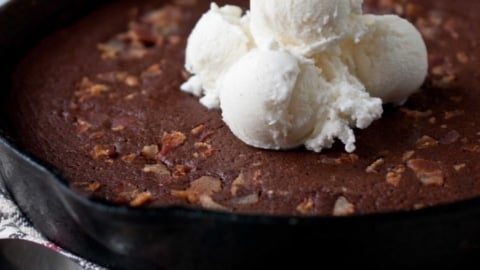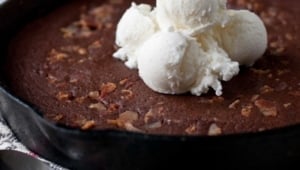 I hope you don't mind my excessive use of stout over the past few weeks, but to be honest I'm really not sorry. I love stouts, I'm  unreasonably excited about stouts being back "in season," and we are only about 2 weeks away from International Stout Day.
I'm geting you all stocked up on stout recipes, in case you want to celebrate via beer infused baked goods.
Which, of course, I hope you do.
You can use a chocolate stout for this, and that will be perfectly fine. You can also use a smoked porter or stout, or you can use a coffee or espresso stout.
Whatever you choose, this is best served warm, in the middle of a table full of fun people, each with a spoon in one hand and a stout in the other.
Chocolate Stout and Bacon Skillet Brownies
Ingredients
2 strips thick cut bacon
1 stick unsalted butter
3.5 oz 100g dark chocolate (60%), broken into pieces
1/2 cup stout chocolate or coffee stouts work best
2 eggs
2/3 cup sugar
1 tbs espresso powder
1/2 cup flour
1/3 cup cocoa powder
1/4 tsp baking powder
Preheat oven to 350.
Instructions
In a 8 or 9 inch cast iron skillet cook the bacon until done. Remove bacon from skillet. Swirl the bacon fat to coat the pan, discard the excess bacon fat.

Add the butter to the skillet, return to heat and cook until melted. Add the chocolate and stir until melted. Remove from heat. Add beer and stir.

In a separate bowl, whisk together the eggs and sugar until well combined. Sprinkle the flour, cocoa powder, baking powder and espresso powder over the eggs, whisk until just combined.

Add the egg mixture to the chocolate skillet and stir until just combined. Chop bacon and sprinkle over the top.

Bake until the top has set (don't over bake) about 25 to 30 minutes.

Remove from oven, top with vanilla ice cream if desired (and I'm pretty sure you should desire) set in the middle of a table full of hungry people. Add spoons.