Slow Cooker Maple Bacon Beer Baked Beans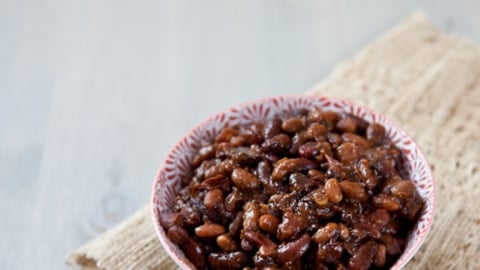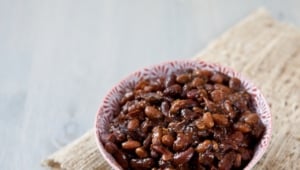 Before my gypsy soul led me to Los Angeles, I spent a few years growing up on a pig farm. With seven sisters. Eight girls, startling close in age, running around like ferrel children on endless acres of farmland. Although I learned to drive a tractor before I could drive a car, maneuver a 300 pound pig anywhere I wanted him to go using just a 5 gallon bucket, and  how to milk goats, these are skill that don't really come in handy in a more urban area.
One useful skill that farm livin' did teach me was how to grill meat and what to serve with it. This was the first occurrence of beer cooking in my life, the meat was always marinated in a mixture of barbecue sauce, Worcestershire sauce, liquid smoke and beer (Coors light I'm sad to say). Two sides were always, ALWAYS served alongside any meat that came off the grill: potato salad and baked beans. Potato salad and I have our issues, mostly the cringe inducing overuse of mayonnaise. But baked beans I never passed up. I like mine deep in flavor, and not too sweet. If you like your baked beans on the sweet side, add 1/4 cup brown sugar. If you like your potato salad swimming in mayo, you're on your own.
Slow Cooker Maple Bacon Beer Baked Beans
Ingredients
½

lbs

pinto beans

½

lbs

navy beans

½

tsp

baking soda

12

ounces

smoked porter or stout beer

½

lbs

bacon

chopped

1

sweet white onion

chopped

3

tbs

molasses

¼

cup

real maple syrup

3

tbs

balsamic vinegar

1

tsp

Worcestershire sauce

1

tsp

smoked paprika

1

tsp

garlic powder

1

tsp

salt

1

tsp

black pepper

1

tsp

mustard powder

1 ½

cups

hot water
Instructions
Add the beans and baking soda to a large pot (the baking soda softens the beans and allows them to soak more efficiently). Cover with about 2 inches of water.

Bring to a boil. Boil for 5 minutes.

Remove from heat, allow to soak for on hour. Drain.

Add the beans and remaining ingredients to a slow cooker.

Cook on high for 10 hours. Salt and pepper to taste.
Notes
Cooking the bacon and caramelizing the onions in the bacon fat before adding it all to the slow cooker will give you a deeper flavor, if you have the time.
I use this slow cooker (affiliate link).