Beer Braised Chicken Sliders With Hoisin Beer Barbecue Sauce
There's a good chance that when you think about cooking with beer, a meat recipe comes to mind. Your Dad's beer marinated ribs? Beer can chicken? Beer braised pork? There's a good reason for that.
Not just for the spectacular flavors that craft beer can impart on the meat, but because beer, especially high acid beer, acts as a meat tenderizer by breaking down tissue.
For this recipe you are free to run the spectrum of beer styles. Most recipes I write will be accompanied by stern warning about using any beer other than the type called for, this isn't one of those recipes. That IPA I keep shaming you into avoiding? You can even give that a try. My gut instinct with a recipe like this was to use a light, high acid beer with herb notes (basil, sage, oregano) but I opted for a porter to test my "Any Beer Goes" theory.
The porter effect, as I am now calling it, gave a "meatier" quality to the chicken. Which turned out wonderfully, and gave this a bit of a pork taste.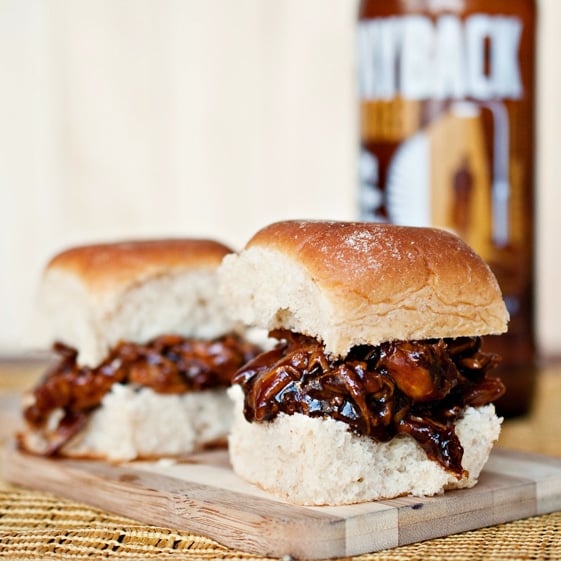 The beer I used for this recipe was the Payback Porter by Speakeasy. It's a fantastic choice for a porter because the notes are similar to those I see in barbecue sauces and rubs: smoke, coffee, cocoa, and molasses.
Next time I'll use a beer with a high acid content for a little contrast, but as far as the beer that you pick, experiment and let me know how it goes.
Beer Braised Chicken Sliders With Hoisin Beer Barbecue Sauce
Ingredients
For the Barbecue Sacue:
2 tbsp extra-virgin olive oil
3 cloves fresh garlic minced
1 cup hoisin sauce
1 tsp chili powder
¼ cup low sodium soy sauce
1 cup beer
For The Braised Chicken:
2 tbs canola oil
3 chicken breasts boneless and skinless
1/2 tsp salt
1 1/2 cups beer
1/2 cup chicken broth
15 mini Hawaiian bread rolls
Instructions
Heat 2 tbs canola oil in large pot or Dutch oven. Sprinkle the chicken with salt on all sides. Place in the pot and cook on each side until browned, about 2 minutes per side. Cover with 1 1/2 cups of beer and 1/2 cup chicken broth, cover and cook for 15 – 20 minutes or until chicken is completely cooked.

While chicken is cooking, prepare barbeque sauce by warming olive oil in large saucepan over medium-high heat. Add garlic and sauté for 30 seconds; add 1 cup beer, hoisin sauce, chili powder and soy sauce. Cook for 10-15 minutes or until thickened and reduced, remove from heat.

When chicken is cooked, remove from pot and allow to cool. Using two forks, shred chicken to as thin slices as possible, then add to hoisin barbeque sauce pan, tossing well to coat.

Split rolls in half across the middle to resemble small sandwich buns, fill with chicken.