Garlic Herb Beer Butter Roasted Potatoes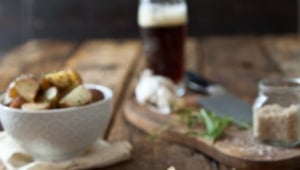 Cowboys and brewers aren't that different.
I grew up on a farm, surrounded by cowboys and farms and it didn't take long to notice how different their "job"  was from those 9 to 5's that other people had. There were no days off, and this had nothing to do with the fact that ranches and farms never shut down, it was because you can't keep a cowboy away. Give him a day off and he'll still be there, boots laced up at dawn, hat pulled on as he heads out the door, driving a truck through the fields.
Give a brewer a day off and his brain will still be there. He'll write down notes about what he wants to brew next, try to solve the problems with his last batch, wonder how the fermentation is going on what he's brewing now, briefly considering going in to check. You can't take the brewery out of the brewer.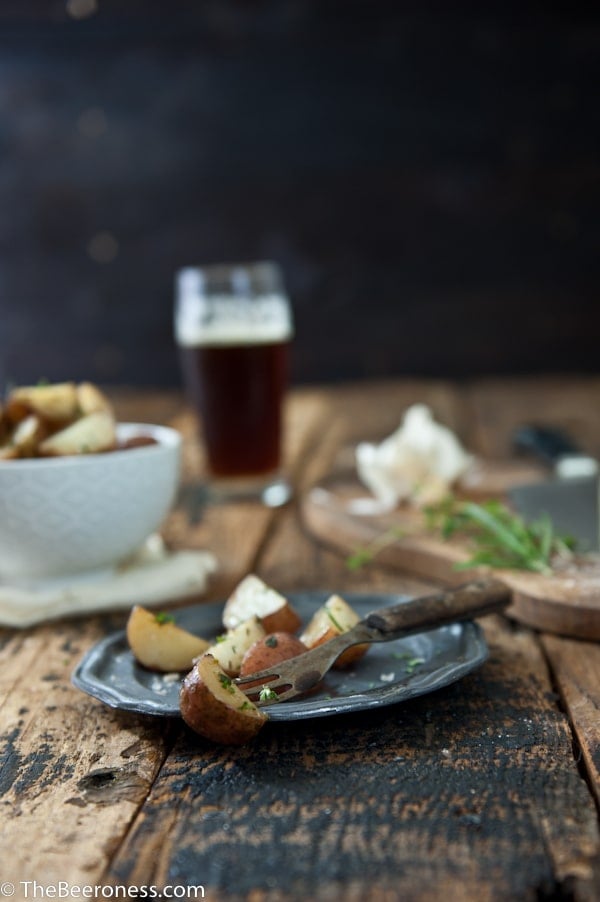 Maybe that's what life is about. Finding a job you'd do on your off time, finding a way to earn a paycheck from your obsessions. Even if that paycheck is smaller than the one you get from that job that you can't wait to leave when the clock hits 5:00. Maybe it just comes down to a quality of life issues. The best advice I got in grad school was "Never get paid to do a job that you wouldn't do for free."
Maybe it isn't the doctors and CEO's we should be jealous of, maybe it's really the brewers and the cowboys that really have it all figured out.
Garlic Herb Beer Butter Roasted Potatoes
Ingredients
2

lbs

baby red potatoes

cut into quarters

6

tbs

unsalted butter

1/4

cup

brown ale

2

large clove garlic

grated with micropalne

1

tbs

chopped fresh basil

minced

1

tsp

chopped fresh thyme

minced

1

tsp

chopped fresh rosemary

minced

½

tsp

flakey sea salt

smoked Maldon salt preferred
Instructions
Preheat oven to 425.

In a pot over medium high heat melt the butter. Stir in the beer and garlic, cook for about 5 minutes, remove from heat.

Stir in about half the herbs, reserve the other half.

Place the potatoes in a 9x13 baking dish, drizzle with butter, toss to coat.

Roast at 425 for ten minutes, stir, then continue cooking until fork tender, about another ten minutes.

Remove potatoes with a slotted spoon and add to a serving dish.

Sprinkle with remaining herbs and salt.