Crispy Honey Porter Sticky Chicken Wings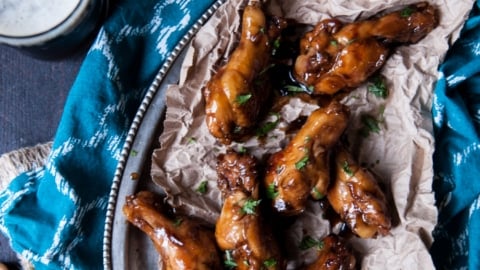 Crispy Honey Porter Sticky Chicken Wings
This was version 6 of this recipe.
Usually, it doesn't take me that long to get a recipe right. More often than not, I get it on the first try, maybe a few small tweeks, but this one took some trail and a lot of error.
None of the versions were bad, they just weren't what I was looking for. Like that guy you dated a few years ago that just wasn't a fit. Although I'm sure your issue with him had nothing to do with how crispy his skin is, or how thickly glazed he was. Although, I don't know your life.
I had a very specific vision. I wanted wings that are baked-not-fried, skin so crispy it could hold up to glaze without getting soggy, I wanted a thick glaze that was sticky and sweet, and although I'm Ok with a few steps, I didn't want it to be a huge pain in the ass. I've told you that I'd found the secret to crispy skinned baked chicken wings that are even better and crispier than fried (these crispy chicken wings) so I used that as a base. I brined them in beer, which made a remarkable difference in the fall-off-the-bone texture, and I finally got the glaze right.
This will officially be my go-to chicken wings recipe for this football season. Although I'm sure it won't be long until I make a spicy version. I tend to do that.
Crispy Honey Porter Sticky Chicken Wings
Ingredients
2.5

lbs

chicken party wings

1

tbs

4g salt

12

wt oz

355 ml beer (wheat, brown ale or pilsner)

2

tbs

16g baking powder

1

cup

226g porter or stout beer

½

cup

170g honey

2

clove

8g garlic, grated with a microplane

3

tbs

46g soy sauce

1

tsp

2g black pepper

½

tsp

1g smoked paprika

2

tsp

8g chili powder

2

tbs

16g cornstarch

Chopped cilantro

optional
Instructions
Add the wings to a shallow bowl or baking dish, sprinkle with salt. Pour beer over the wings, cover and refrigerate for one hour and up to over night.

Preheat oven to 250.

Remove from the beer, rinse and pat dry, making sure wings are as dry as possible. .

Add the wings to a large bowl. Sprinkle with baking powder, toss to coat.

Place a wire rack over a baking sheet, brush with oil or spray with cooking spray.

Place the wings on the wire rack.

Bake in the lower section of the oven for 30 minutes. Move to the upper 1/3 of the oven, increase oven temperature to 425. Bake for 35-45 minutes or until golden brown.

While the wings bake, make the glaze.

Add the porter, honey, garlic, soy sauce, black pepper, smoked paprika, chili powder and cornstarch in a pot over high heat. Boil, stirring frequently until thickened, about 5 minutes. Allow to cool.

Add the wings to a bowl, pour the glaze over the wings, toss to coat.

Serve warm.