Honey Porter Glazed Chicken Skewers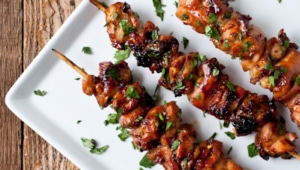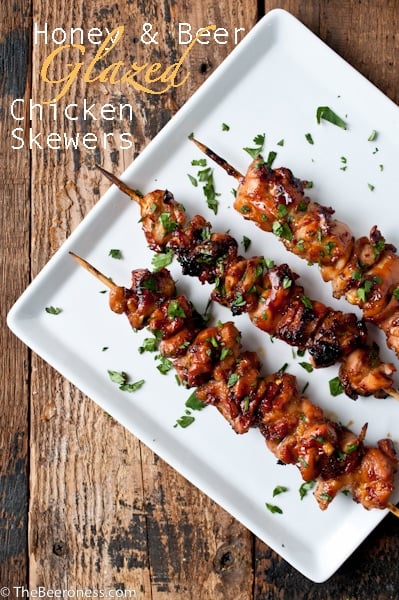 I have two very distinct sides to my personality, dueling forces that pull me in opposing directions with near cartoon ideation. Although Devil and Angel would be easier to deal with, mine are more Old Lady and Free Spirited Gypsy.
As much as I would like to tell you that Gypsy wins the battles, it's Old Lady that tends to run the show.
A few years ago Gypsy got ahold of the controls and decided to buy a motorcycle. Paying penance to Old Lady, I signed up for a Motorcycle Riders Training Course. It was a three-day crash course (pun intended) in how to ride a motorcycle without killing yourself.
I also allowed the Old Lady side of me to buy the safest helmet and motorcycle jacket with armor I could find.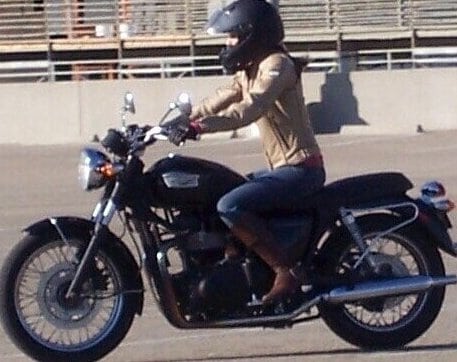 The first day of class I was equal parts nervous and intimidated, as I noticed I was the only novice in the group and one of the youngest. Most were crotch rocket guys wanting to "blast the Crest" as soon as possible. The only other girl was a woman who wanted to learn to ride so she could bike cross-country with her partner for their 20 year anniversary.
No one talked to me. Really, no one talked. We were all a bit insular trying to figure out how to learn not to kill ourselves, drowning in the Dead People Smeared On The Road stories told by the ex-bike-cop who taught the class.
On the final day of class we met early in the morning in a parking lot in Long Beach just as it started to rain. A little drizzle that scares the crap out of most of Los Angeles. We were given the opportunity to come back on a non-rainy day but collectively decided, with a series of sideways glances and nods, that we would all stay and ride like Bad Ass SoCal People in the very light drizzle.
The final segment of the day was an obstacle course through the gigantic empty parking lot.  Trying to make sure I was at least in the top half of the pack, time-wise, I set out a bit faster than I should have.
As I rounded the first curve, set over a large white arrow painted on the pavement of the parking lot, my bike slipped out from under me and began to skid along the wet ground as I tumbled in the opposite direction.
Ex-bike-cop was visibly relieved to see that I was fine and address the issue with the group by saying, "I think now is a really good time to tell everyone that paint on the pavement gets really slippery when it rains."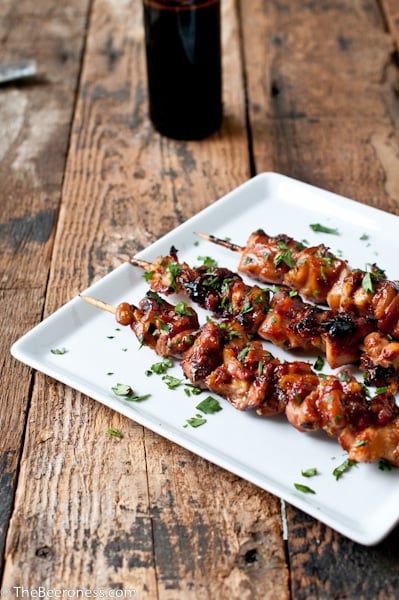 To which I responded, "No, ten minutes ago would have been a really good time to say that. At this point, it's pretty obvious."
Sometimes, when you are so immeshed in an activity, you don't think to state what's really obvious to you, like ex-bike-cop and the paint. For me, it's this chicken. Maybe you've noticed that I tend to lean away from that popular Boneless Skinless Chicken Breast that we all grew up with. Mostly because it's so often dry and flavorless.
If you favor that cut, try the boneless skinless chicken thigh fillets, so much more flavor and they can take some serious heat before they dry out. Chicken thighs are a bit of secret ingredient when it comes to chicken dishes, making your favorite chicken breast recipe taste at least 30 percent better if you use the thighs instead. They do take a bit longer to cook, but it's completely worth it.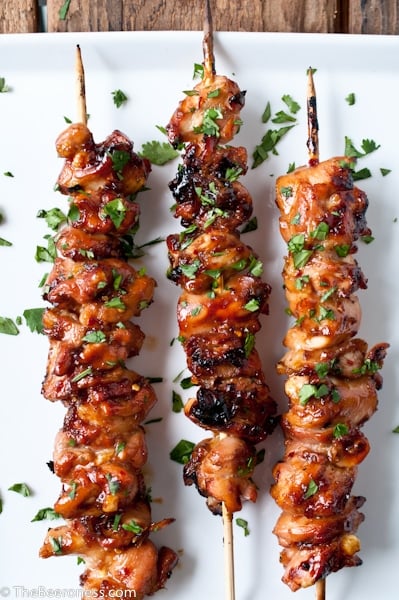 And that was the only time I ever dumped a bike. At least so far.
Honey Porter Glazed Chicken Skewers
Ingredients
2 cloves garlic, grated with a microplane (or minced)
1/3 cup honey
1/2 cup porter or stout beer
1 tsp red pepper flakes
½ tsp Dijon mustard
¼ cup soy sauce
¼ tsp pepper
1 tbs olive oil
¼ cup chopped shallots (about 1 medium shallot)
6 boneless skinless chicken thigh fillets, cut into cubes
oil for the grill
Chopped cilantro for garnish (optional)
Instructions
In a small bowl whisk together the garlic, honey, porter, red pepper flakes, mustard, soy sauce and pepper. Add the chicken cubes, refrigerate for 1 hour and up to overnight.
Remove the chicken from marinade (reserve the marinade) thread the chicken through wooden skewers.
In a pot over medium high heat, add the olive oil and shallots. Sautee until shallots have softened, about 5 minutes. Add marinade and boil, stirring frequently, until reduced and thickened, about 8 minutes.

Grill directions:

Preheat grill to medium high.
Brush the grill lightly with oil.
Brush the chicken with the glaze, place on the grill. Brush with glaze and turn every 2-4 minutes until cooked through, about 10 minutes.
Sprinkle with chopped cilantro prior to serving.

Oven directions:

Preheat the oven to 400. Place chicken on a baking sheet covered with aluminum foil. Brush liberally with glaze. Roast at 400 for 30-40 minutes, brushing with glaze every 8-10 minutes until cooked through.
Sprinkle with chopped cilantro prior to serving.
https://domesticfits.com/honey-porter-glazed-chicken-skewers/
Join me: Facebook, Twitter, Instagram