General Tso Sticky Beer Chicken Wings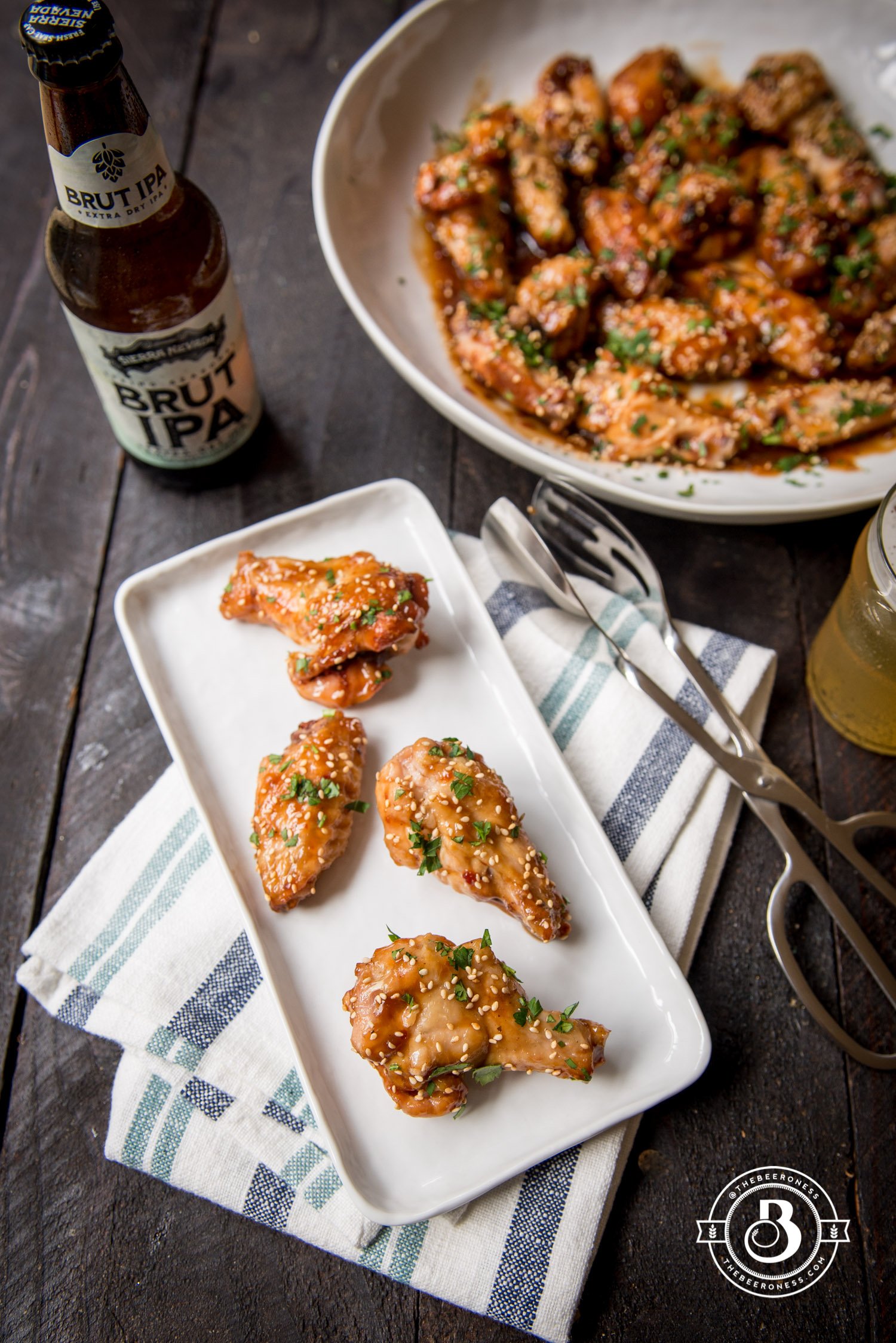 We need to talk. Sit down, and get your list ready. You know the one, the list of things you need to do. I have something you need to add to your list, it's very important.
You need to go out and drink yourself a Brut IPA, because it's your new favorite beer that you haven't had yet. What is a Brut IPA, you ask? Great questions.
I'll save you the beer nerd talk (but if you want that, Beer & Brewing does a great job of explaining it) and just tell you that it's a bone dry IPA with almost no malt character at all, and it finishes with a sparkling, effervescent champagne-like finish. It has almost none of the sweetness usually found in the malt flavors of a beer, and the hops are present but not overpowering. It's all sparkle and hops, no sweetness or heavy flavors.
I KNOW! I haven't had one that I didn't like, and now they are my go-to beer order when I see them.
For a hot minute they were almost impossible to find. Then Sierra Nevada does what they do and saved us all a lot of work by putting out an excellent example of the style that's fairly easy to find. What would we do without them, really?
So I did what I do and made a Beer Chicken Wings recipe with a sauce that usually calls for a wine-like-vinegar and swapped it for a wine-like-beer and all was well in the world. Which now gives you two reasons to seek this beer out.
I'm not saying that if your local bottle shop DOESN'T have it that you should throw a medium sized tantrum, but if you did I would understand. 100%.
Wings recipe adapted from America's Test Kitchen's Cooks Illustrated 
General Tso Sticky Beer Chicken Wings
Ingredients
For the wings:
3

lbs

chicken party wings

1

tablespoon

salt

12

oz

beer

wheat, brown ale, pale ale, or pilsner

2

tablespoons

baking powder
For the sauce:
½

teaspoons

fresh grated ginger

grated with a microplane

½

teaspoon

black pepper

1

tablespoon

garlic powder

1

tablespoon

sesame oil

1/3

cup

Brut IPA

Pilsner will also work

¼

cup

soy sauce

¼

cup

mirin

Japanese cooking wine

1

tablespoon

fresh ground chili paste

sambal oelek, sold next to the Sriracha at the store

2

teaspoons

brown sugar

1

tablespoon

cornstarch
Garnishes (optional):
Sesame seeds

Chopped cilantro
Instructions
Add the wings to a shallow bowl or baking dish, sprinkle with salt. Pour beer over the wings, cover and refrigerate for one hour and up to over night.

Preheat oven to 250°F.

Remove chicken from the beer, rinse and pat dry, making sure wings are as dry as possible.

Add the wings to a large bowl. Sprinkle with baking powder, toss to coat.

Place a wire rack over a baking sheet, brush with oil or spray with cooking spray.

Place the wings on the wire rack.

Bake in the lower section of the oven for 30 minutes. Move to the upper 1/3 of the oven, increase oven temperature to 425. Bake for 30 minutes or until golden brown (rotate the pan about halfway through cooking).

While the wings bake, make the glaze.

In a saucepan off heat whisk together the sauce ingredients until well combined. Add to high heat, stirring continually until thickened, about 3 minutes, remove from heat.

Pour the sauce over the wings until well coated, add to a plate.

Sprinkle with seeds and cilantro.