Bacon Beer Shrimp with Beer Cheese Grits
Bacon Beer Shrimp with Beer Cheese Grits
 Every few months I find myself here.
In a brewery, doing my best to learn how to turn what some see as an ugly industrial space with bad lighting into beautiful photos. Mostly, I'm a self-taught photographer. I took classes, read books, watched a decades worth of YouTube videos, sat in online workshops, and even joined an online photo mentorship group. But I always feel behind, always feel like I'm not quite there.
I've often wondered if I'll ever be where I want, if "arriving" in a creative sense even exists. I've worried that I'll never be able to give people the images I want to shoot. But I've never once thought about giving up. Not once.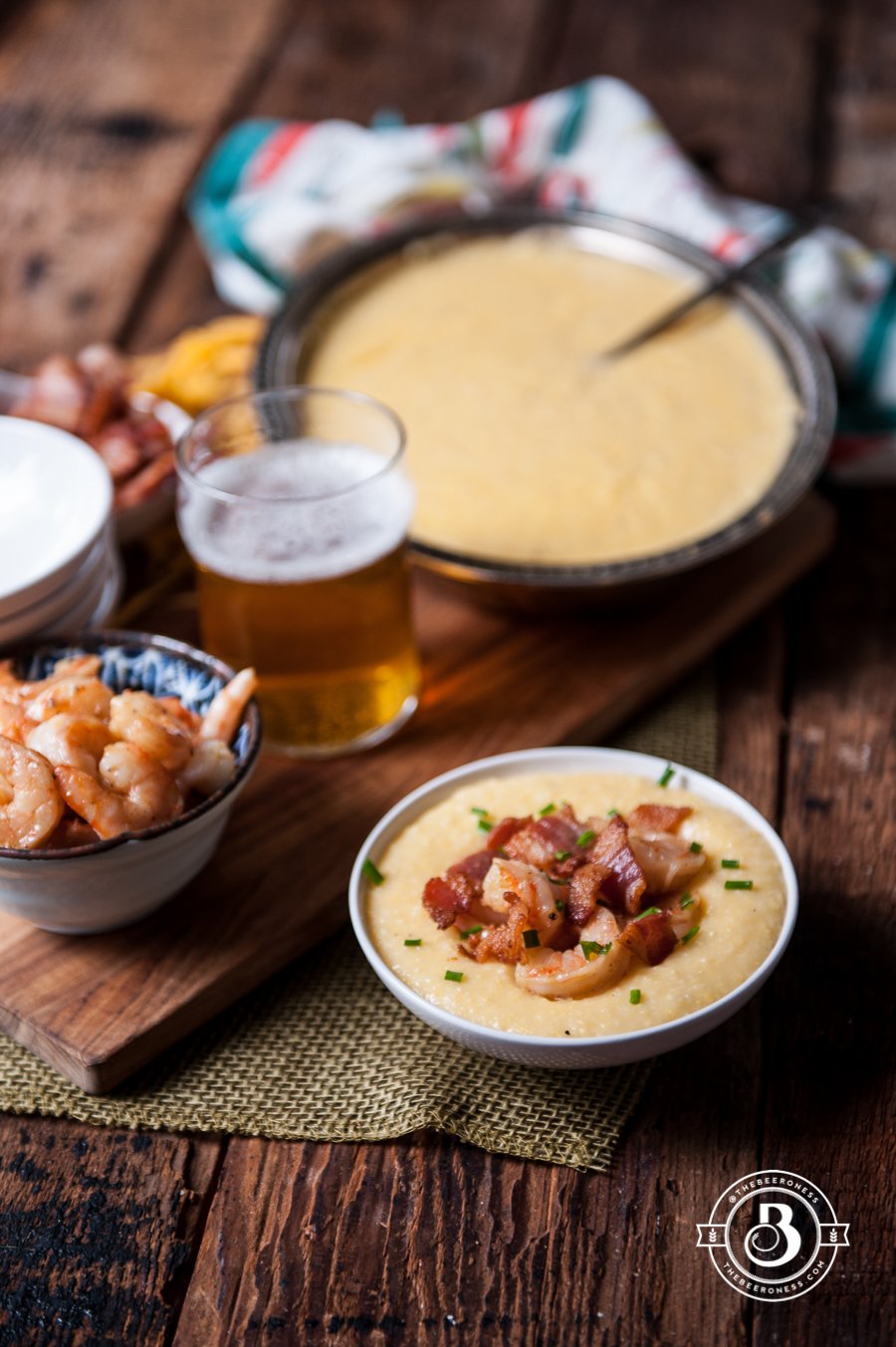 It's easy to get pulled into the undertow of comparison. It's easy to see more clearly how far we have to go rather than the long road we've already traveled. In those moments I tell myself, "Keep your head down and keep going." It works. It moves me forward. I get closer all the time to the place I want to be.
At the end of the day, that's all we have. We have the ability to move forward, to drive closer to the life we want and the people we want to be. Perfection is a dangerous myth that robs us of contentment. Let's just be able to sit here, in the gratitude that we are moving forward.
Let's take a few minutes each week, grab a beer, grab some food, and just be content. Harder than it sounds, but we can do. Even if we need a few beers first.
Bacon Beer Shrimp with Beer Cheese Grits
Ingredients
For the grits:

12 ounces wheat beer
2 cups water (plus additional)
1 cup yellow grits (not instant)
1 ½ cups grated sharp cheddar
2 tbs unsalted butter
1/4 cup heavy cream
1 tsp salt
1 tsp pepper

For the shrimp:

4 strips thick cut bacon, chopped
2 tbs unsalted butter
1 lbs raw shrimp, peeled and deveined
½ tsp salt
½ tsp black pepper
¼ tsp smoked paprika
½ tsp garlic powder
½ tsp chili powder
¼ cup wheat beer
2 tbs chopped chives
Instructions
In a large pot over medium heat add the beer and 2 cups of warm water. Bring to a simmer and slowly add the grits. Cook over a low simmer, stirring occasionally, until thick and tender. Add water ¼ cup at a time when the grits begin to dry out.
Once the grits are cooked stir in the cheddar, butter, cream, salt and pepper.
Cook the bacon in a skillet over medium heat (don't turn the heat too high, medium heat will render more fat than high heat) until the bacon is crispy. Remove the bacon, set aside. Pour off all the bacon fat except about 1 tablespoon. Return pan to heat, melt the butter in the skillet.
Add the shrimp and spices, toss to coat. Pour in the beer, cooking until shrimp are cooked through, about 5 minutes.
Add the grits to serving bowls, top with shrimp, bacon and chives.
https://domesticfits.com/bacon-beer-shrimp-with-beer-cheese-grits/