Chocolate Stout Mousse Brownies and What The Heck Is A Stout?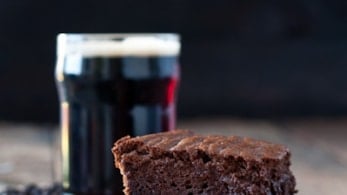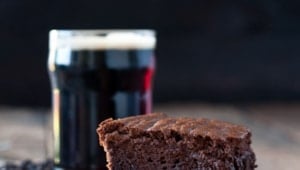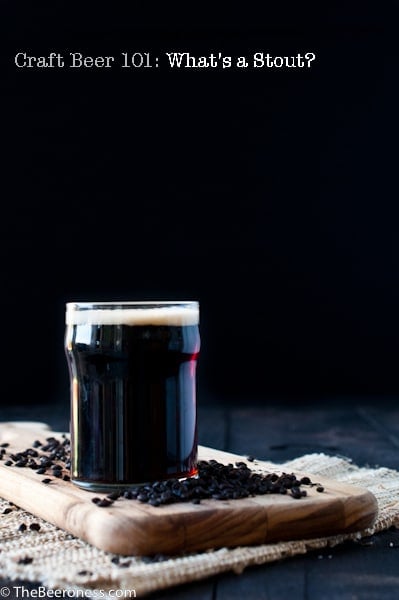 Dark beers, with their inky good looks and sinister darkness have a way of scaring away those new to the brew. But what is a stout? and what makes it so dark?
Don't let the color fool you, these gentle giants offer a smooth, malty, drinkability with much lower hop bitterness than their lighter counterpoints. Stouts were born from another dark beer, the Porter. Porters and stouts are both made with grains that have been roasted to a dark blackness, giving them their inky color and toasted flavors. Porters came first, gaining wide popularity across Europe in the 18th century. Once brewers started to tinker with the formula (as they often do) and the ABV (alcohol by volume) was raised, the term Stout Porter was born, referring to a stronger version of a porter. Although over time, the ABV of a dark beer has no bearing on weather a it will earn a stout or a porter designation, it's no longer part of the equation. For example, a Guinness, the worlds most popular stout, has an ABV of only 4.2%, very few porters are at or below that level.
To this day the differences between stouts and porters are well debated and the lines have been aggressively muddied. For the sake of cooking, stouts and porters are interchangeable. The difference between a stout and porter: what ever the brewer wants it to be. Try not to spend too much time on the differences of stouts and porters, for the most part, it just doesn't matter.
If you are a coffee drinker, or tend to favor the bourbon, the dark beers should be on your Must Try list. The flavor profiles in a stout often have notes of cocoa, espresso, and spices. They have richness that's easy to enjoy. Although within the genera, several styles exist.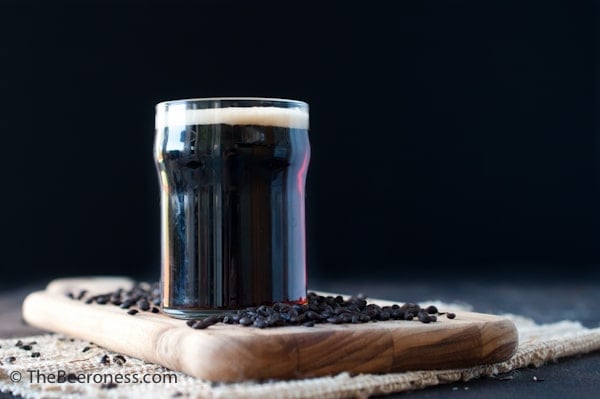 Imperial Stout (or Russian Imperial Stout): These days the term means a big bold stout, full of larger than life flavors and a higher than average ABV. These are generally sippin' stouts, made to savor and share. Don't be afraid of these giant beasts, brewers can pack some fantastic flavors in these beers.
A few to try: Old Rasputin Imperial Stout, Founders Imperial Stout, Rogue Imperial Stout

Milk Stout (or Sweet Stouts): These are beers made with the lactose from milk, one of the exceptions to the Beer is Vegan rule. The sweetness of the lactose gives a creaminess and a velvety texture to a tall glass of dark brew.
a few to try: Left Hand Milk Stout, 3 Floyds Moloko, Revolution Brewing Mad Cow Milk Stout
Smoked Porter: The mild hints of smoke in these beers make them great for a cold winters evening by the fire, as well as the perfect braising liquid of a large pork shoulder. This is my go-to style when braising beef or pork, and also adds a meatiness when cooking chicken or mushrooms.
A few to try: Alaskan Smoked Porter, Stone Smoked Porter with Vanilla Bean, Deschutes Imperial Smoked Porter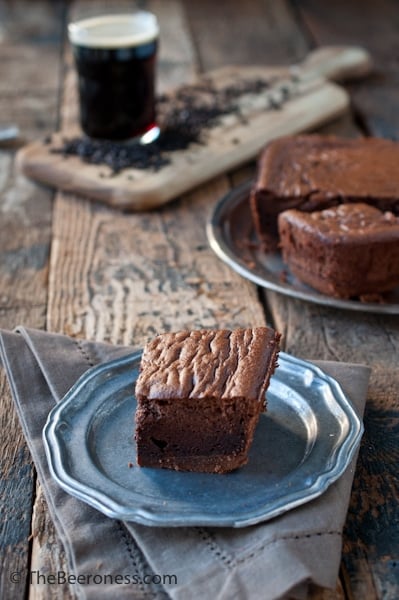 These brownies are a hybrid of the Chocolate Stout Mousse that will be in my Cookbook and my favorite brownie recipe. There is a light, mousse-like texture and deep richness all over a crispy chocolate shortbread crust.
Chocolate Stout Mousse Brownies
Ingredients
For the Crust:
3/4

cup

flour

¼

cup

cocoa

½

tsp

salt

1/3

cup

powdered sugar

6

tbs

unsalted butter
For the Filling:
8

tbs

butter

1 stick

8

wt ounes bittersweet chocolate

62% cocoa content about 1 ½ cups

5

eggs separated

¼

tsp

cream tartar

1/3

cup

sugar

1/3

cup

stout

2

tbs

cornstarch

2

tbs

flour
Instructions
Preheat oven 375.

In a food processor add the flour, cocoa powder, salt and powdered sugar, pulse a few times to combine.

Add the butter cubes and process until well combined.

Spray a deep dish 8x8 inch baking dish (for 9x13, double the recipe) with cooking spray.

Dump crust in the prepared dish, press firmly into an even layer.

Place 8 tablespoons of butter, stout and chocolate in the top of a double boiler (or a metal bowl set over a pot of water) over medium heat. Stir frequently until melted, remove from heat.

In the bowl of a stand mixer add the egg whites and cream of tartar, building up speed, beat on high until soft peaks form.

Move whites to a large bowl.

In the stand mixer bowl (no need to clean between jobs), add the egg yolks, sugar, cornstarch, and flour. Beat on high until light and slightly fluffy.

Slowly pour the chocolate mixture into the egg yolk mixture, beating until completely combined, scraping the bottom to make sure the mixture is well incorporated.

About 1/3 at a time, gently fold the egg whites into the chocolate mixture using a spatula. Stir until egg whites are well combined with the chocolate mixture. Add filling in an even layer on top of the crust.

Bake at 375 for thirty minutes or until the top has puffed and looks dry. Remove from oven and allow to cool to room temperature before cutting.