Kung Pao Porter Chicken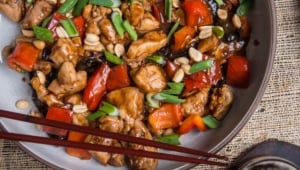 Kung Pao Porter Chicken
We ALL have that food. The food that you hated as a kid, assuming that you hated all such foods, and then you grew up and realized that you didn't hate it all all. You had just been force-fed some horrendous version of said food, and once you had a well-made version you realized the error of your ways. Or the error of your primary-caregiver-who-fed-you ways.
For me, it's Chinese food. Growing up I only had that horrible stuff that pretended to be chow mein, sloshed out of a large tin can, encased in an unidentifiable gelatinous substance. If you don't know what I'm talking about, I envy you. This "meal" was always served with previously frozen egg rolls that were mostly filled with mushy cabbage. I know, sounds fabulous, right? I was convinced that I must just hate Chinese food. Until I realized that I actually love it, and crave it on a regular basis, I just hate crappy supermarket version of food that should never be served in a can.
I was 18, freshly living on my own (when "on my own" meant three roommates and a crappy apartment), and a friend brought it over in a white plastic bag, with those adorable take-out containers. What? Nope. No. I can't. I just…but it smelled so good! Not like the roughage and slime I'd been previously served. I figured I'd try it, I could always apologize for gagging and offer up some dessert.
It was fantastic. And by that, I mean, fairly average Chinese take out that had spent zero time in a tin can. I was astonished and vowed to pretty much try anything offered to me from then on. Which probably led to my eating roasted ants in Bogota. Or maybe I just have questionable judgment and a penchant for danger. Either way, I'm all in when it comes to Chinese food and pretty much anything you can serve out of those little white take-out containers.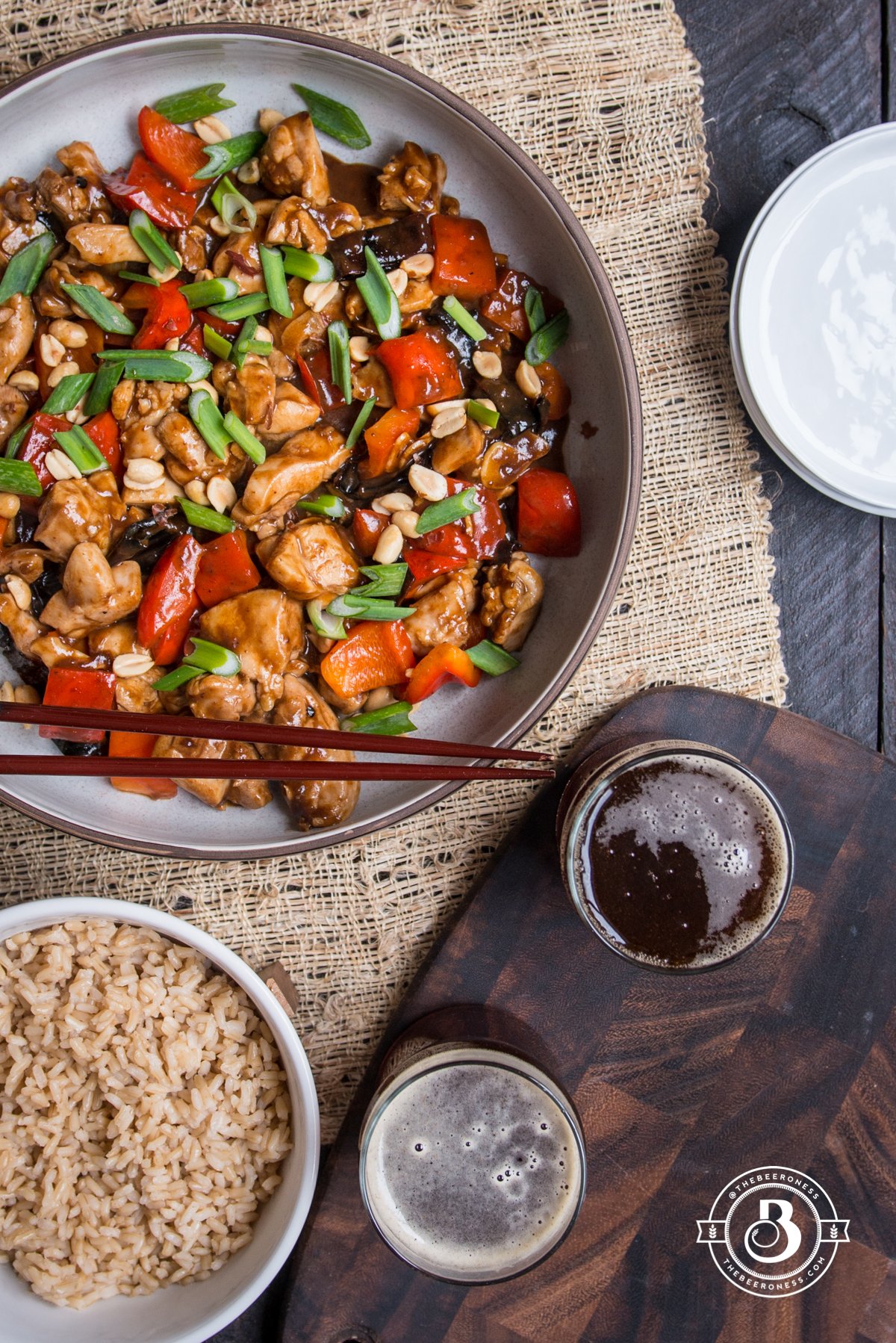 Kung Pao Porter Chicken
Ingredients
For the chicken:
1

tablespoon

cornstarch

2

tablespoons

soy sauce

2

tablespoons

porter beer

1.5

lbs

boneless, skinless, chicken thighs, cubed

1

teaspoon

salt
For the sauce
3

tablespoons

rice wine vinegar

2

tablespoons

hoisin sauce

1/4

cup

porter beer

1

tablespoon

balsamic vinegar

1

teaspoon

Asian sesame oil (or sesame chili oil)

¼

teaspoon

ginger grater with a microplane
For the stir fry:
1

tablespoon

Asian sesame oil (or sesame chili oil)

1/4

cup

chopped dried red chilies

1

large

red bell pepper, diced (stem and seeds removed)

¼

cup

thickly sliced green onions

2

large

clove garlic, thinly sliced

½

cup

shelled, roasted peanuts

rice for serving
Instructions
1. Whisk together the cornstarch, soy sauce, and beer in a small bowl.

2. Sprinkle the chicken on all sides with salt, add to the marinade, toss to coat.

3. Whisk together the sauce ingredients in a small bowl, set aside.

4. Heat the sesame oil in a large skillet or wok over medium-high heat until hot but not smoking. Add the dried chilies, cooking until fragrant, about 2 minutes. Add the bell peppers, stirring frequently until softened. Stir in the garlic.

5. Add the chicken and marinade, cooking for about 2 minutes.

6. Pour in the sauce, reduce heat to maintain a simmer. Cook until the sauce has thickened and the chicken is cooked through, about 10 minutes. Stir in the peanuts.

7. Add to a serving bowl, top with green onions.

8. serve over rice