Chocolate Stout Mousse Tart with Bourbon Stout Cherries
Chocolate Stout Mousse Tart with Bourbon Stout Cherries.
Just a few ingredients and 20 minutes! So good, and so easy! 
Growing up poor in America has its advantages. They are obviously less sparkly, with a much lower marquee value than growing up rich, but bear with me. You learn things you'd never learn if you had options to do otherwise. You earn a masters level education in problem-solving.
You learn that there are almost no limits to what you can do with needle nose pliers and duct tape. Your first instinct isn't "I need help," it's almost always, "I can figure this out." Like when you're a teenager,  stuck in Ireland without a ticket home and you're so sick that you've resorted to throwing up in trash cans in the airport terminal and find yourself suddenly alone (that's a story for another day), you go to your default mode of "how can I fix this?"
The same goes for cooking. You look around your kitchen and think, "what can I make with this?" rather than "I need to go to the store, or order pizza." You become a master of a slim pantry. Which, more or less, is where this recipe came from. What do I have and what can I do with it? This is a skill everyone needs to hone, a conservation of resources that draws out creativity.
I believe everyone should also know how to make a dessert in under 20-minutes without a recipe. Something that leans towards the homemade side.
So here it is, this Chocolate Stout Mousse Tart in cooker terms: "Make a graham cracker crust. Then slowly pour some melted chocolate into whipped cream. I like to melt the chocolate with some stout, and I add powdered sugar to the whipped cream because it's a stabilizer. Add it tot he crust. Then just chill it for an hour or so and you're all good"
But if you're the type that needs a bit more than that, the full normal-person recipe is below.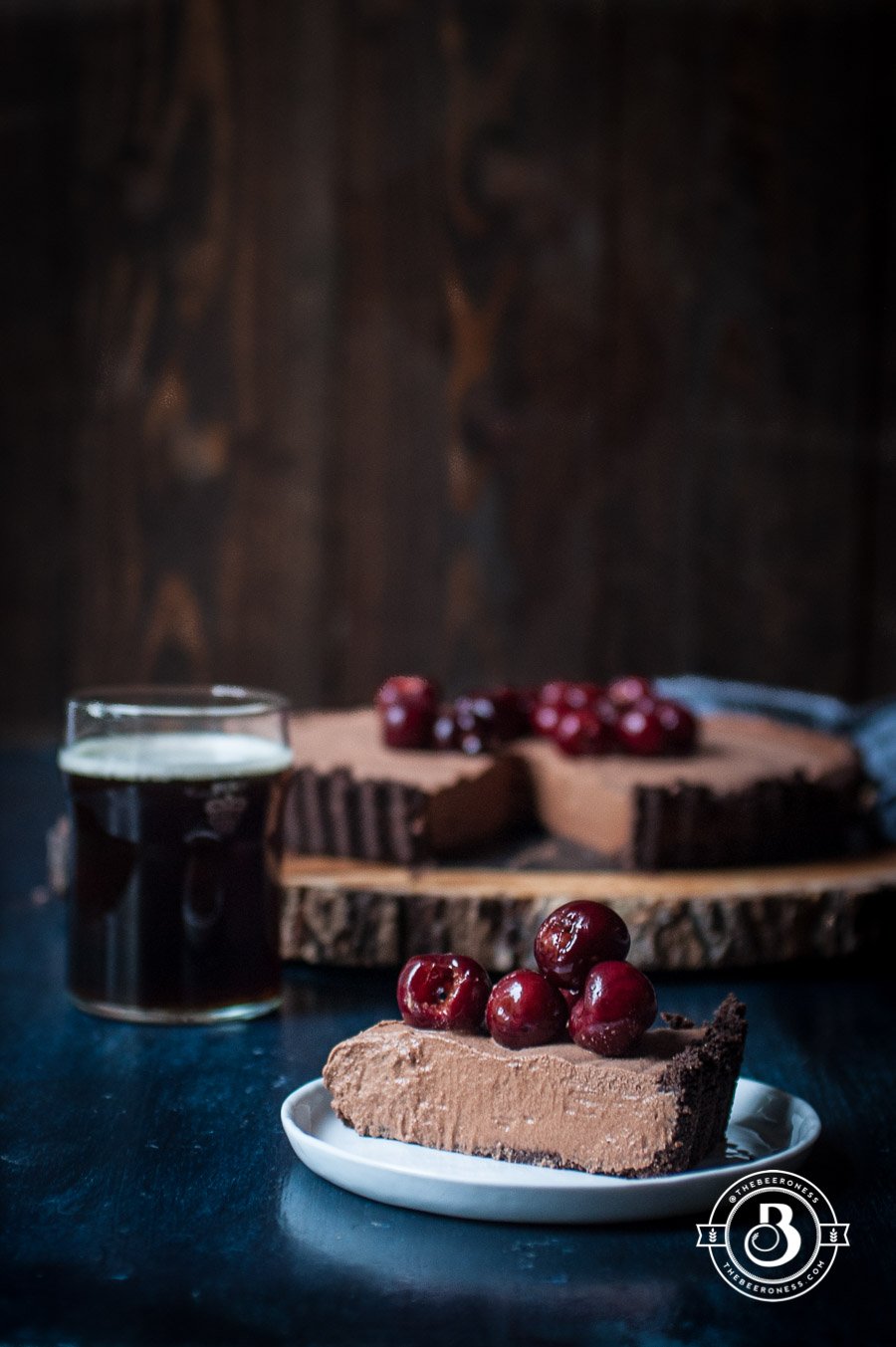 You'll need to make some Bourbon Stout Cherries for this recipe.
Chocolate Stout Mousse Tart with Bourbon Stout Cherries
Ingredients
1 sleeve (9 full sized) chocolate graham crackers
3 tablespoons brown sugar
4 tablespoons butter, melted
10 wt oz dark chocolate
½ cup stout beer
2 cups heavy cream
¼ cup powdered sugar
1 cup Bourbon Stout Cherries (recipe link above)
Instructions
Preheat oven to 350F.
Add the graham crackers and sugar to a food processor and process until just crumbs. While the food processor is running add the melted butter and process until well combined. Add to a 9.5 inch tart pan. Starting with the sides, press into shape. Press the crust very well until even and compacted.
Bake at 350 for 10 minutes. Remove from oven and allow to cool.
Add the chocolate and beer to the top of a double boiler set over gently simmering water. Stir until the chocolate has melted. Remove from heat, allow to cool slightly.
In the bowl of a stand mixer add the cream and powdered sugar, building up speed beat on high until medium peaks form. While the mixer is running slowly drizzle the chocolate into the mixer. Once all the chocolate has been added, stop the mixer and remove the bowl. Using a wooden spoon or spatula gently fold until the chocolate and cream have been well combined.
Add the mousse to the tart pan in an even layer, refrigerate until set, about 3 hours.
Top with cherries just prior to serving.
https://domesticfits.com/chocolate-stout-mousse-tart-bourbon-stout-cherries/