Triple Berry Blueberry Beer Cobbler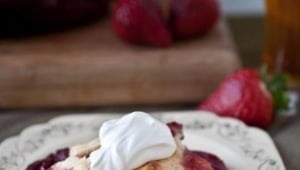 You inspire me. You really do. One of my favorite moments of my day is reading emails from you, those of you who read my blog and like what I'm doing.
And sometimes,the emails have a common theme. A thread that runs through out the world, across the internet, and remind me of how we are all connected, in one way or another, and more similar than we all think.
In the past month I've received four emails from all over the world about blueberry beer. Not so much along the avenue of, "I love this, you MUST try it!" but more in the vein of, "This is interesting, but not totally drinkable, what do I do with it?"
And to be honest, I feel the same way. At a beer event six months ago, an overly zealous beer server shoved a glass of Shipyards Smashed Blueberry into my hand. And, as one who will never let a beer go untasted, I began to drink. It was interesting. The presence of blueberry with bready, toasty notes that where really well balanced. It wanted to love it, but it just wasn't for me. It's a great example of a blueberry beer, one that you should go out and drink, if fruit beers are your thing, but just not for me. Even still, it stayed with me, because in my world there is a different place for cooking beers. And this was a great cooking beer. One that I believe in, in theory, a well crafted beer with great flavors, but one that I wasn't eager to run home and drink.
So here we are, me and you, with blueberry beers that we find interesting but not necessarily ones we want to fill our glasses with.
So here is what I propose: an easy berry cobbler made with this intriguing beer. And here are some great ones to go out and try:
Dark Horse Tres Blueberry Beer
Bluepoint Blueberry Ale
Triple Berry Blueberry Beer Cobbler
Ingredients
Six cups of berries

I used 2 cups each blackberries, strawberrries, and blueberries Frozen is fine

1/2

cup

brown sugar

plus 2 tbs divided

1/2

cup

powdered sugar

2

tbs

corn starch

1 1/2

cups

blueberry beer

2

cups

cake flour

2

tsp

baking powder

1/4

tsp

salt

12

tbs

butter

1 1/2 sticks cut into small cubes

1/2

cup

beer

1/4

cup

milk

1

cup

heavy cream

1/2

cup

powdered sugar

2

tbs

beer
Instructions
Preheat oven to 450.

In a pot over medium high heat, add 4 cups berries (reserve 2 cups mixed berries for the end), 1/2 cup brown sugar, 1/2 cup powdered sugar, corn starch and beer. Allow to simmer until reduced and thickened, stirring occasionally, about 15 minutes.

Remove from heat, add reserved 2 cups of berries, stir to combine. Add to a deep dish pie pan.

In a bowl, add 2 tbs brown sugar, flour, baking powder, salt and stir to combine.

Add the butter, rub into the flour until well combined and resembles course meal.

Add the milk and 1/2 cup beer, stir until combined.

Gently add the flour topping, a bit at a time, to the pie pan until the berries are covered.

Bake at 450 until the topping has turned a light golden brown, about 18 minutes.

In the bowl of a stand mixer, add the cream, 1/2 cup powdered sugar and 2 tbs beer. Whip on high until soft peaks form, about 3 minutes.

Serve the cobbler topped with whipped cream.