Thai Meatballs with Stout Peanut Sauce
Thai Meatballs with Stout Peanut Sauce


We need to make goals that are easily attainable. At least in equal measure with the difficult ones. For every goal you make that involves weight, money, or extended family, make one that's easy to keep. You know, for motivation. I have one for you, it's easy.
Your new goal is to never again, never ever, serve meatballs with pasta. Just say no. Serve meatballs with rice, it's way better. Meatballs and rice are a much more compatible match and I'll fight you over it. But I will win and afterward I'll feel bad and buy you a beer. So let's skip the fighting, move right to the beers, ok?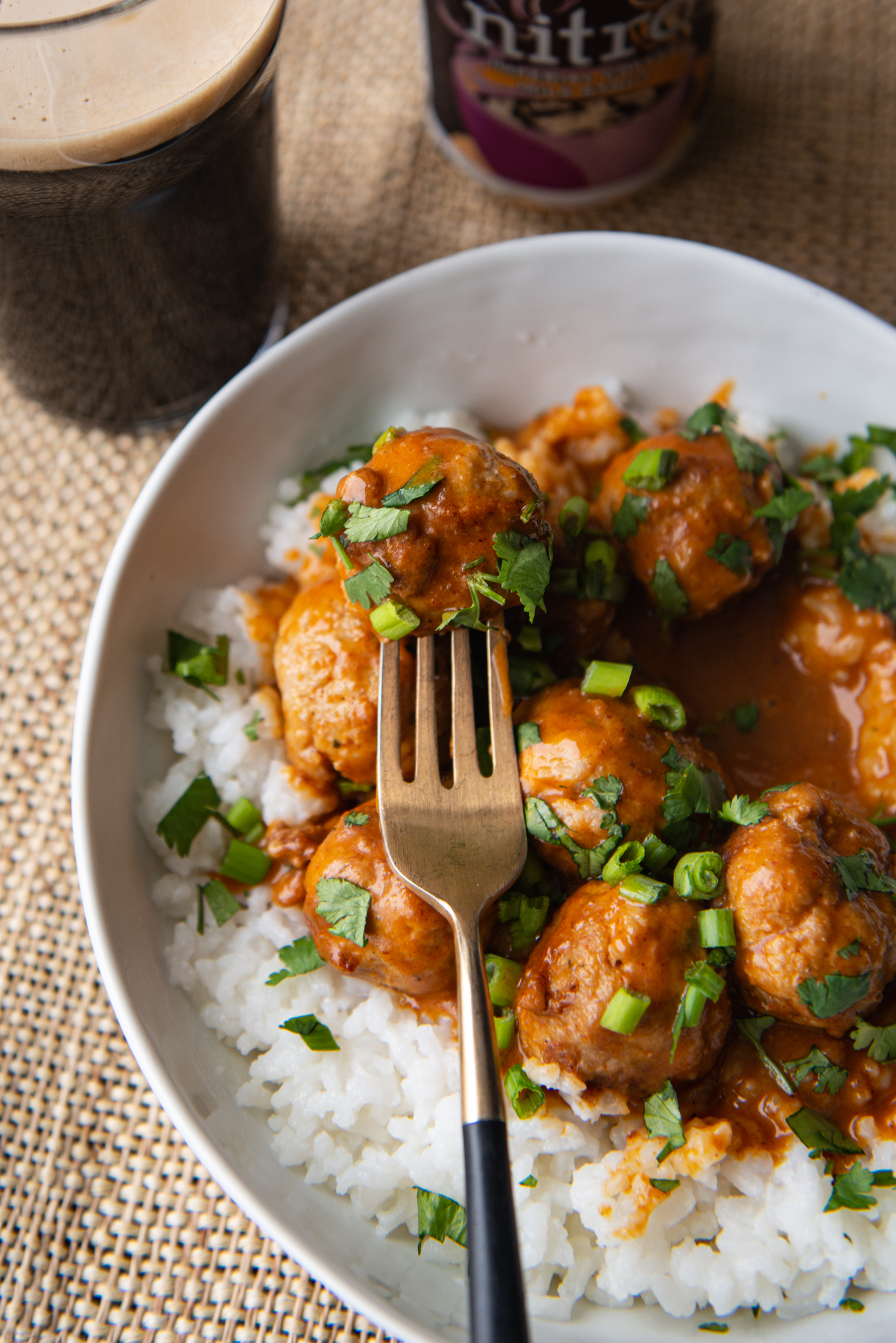 Thai Meatballs with Stout Peanut Sauce
Ingredients
Meatballs
1.5

lbs.

ground pork

1

teaspoon

salt

1

teaspoon

garlic powder

1

teaspoon

onion powder

1

large

egg

¼

cup

bread crumbs

1

tablespoons

sesame oil

½

cup

stout beer
Sauce
1

(13.5oz) can coconut milk

½

teaspoon

salt

1

teaspoon

garlic powder

¼

cup

(64g) crunchy peanut butter

1

tablespoon

(14g) fish sauce

2

tablespoon

(28g) low sodium soy sauce

1

tablespoon

(14g) brown sugar

2

tablespoon

(32g) Thai red curry paste

1

tablespoon

(14g) rice vinegar

1

tablespoon

(14g) sriracha (plus additional to taste)

3

tablespoon

lime juice

¼

cup

chopped green onions

¼

cup

chopped cilantro
Instructions
Add the pork, salt, garlic powder, onion powder, bread crumbs and eggs to a mixing bowl. Mix with your hands until just combined (don't over mix).

Using a cookie scoop, scoop out a ball of the meat mixture and add to a baking sheet that has been covered with parchment paper.

Freeze for 15 minutes (this will help the meatballs retain their shape).

While the meatballs are in the freezer, make the sauce.

In a mixing bowl add the coconut milk, peanut butter, fish sauce, soy sauce, brown sugar, curry paste, vinegar, sriracha, and lime juice, whisk to combine, set aside.

Heat the sesame oil in a large skillet over medium high heat until very hot but not smoking.

Add the meatballs, pull the pan back and forth across the burner allowing the meatballs to roll around in the pan. Cook in this manner until the meatballs are browned, about 6 minutes.

Lower heat to medium-low, add the beer, scraping to deglaze the pan.

Stir in the coconut milk mixture. Allow to simmer until the sauce has thickened and the meatballs are cooked through.

Plate the rice, top with meatballs and sauce, sprinkle with cilantro and green onions.