Beer Caramelized Apple Tarte Tatin with Maple Whipped Cream
Beer Caramelized Apple Tarte Tatin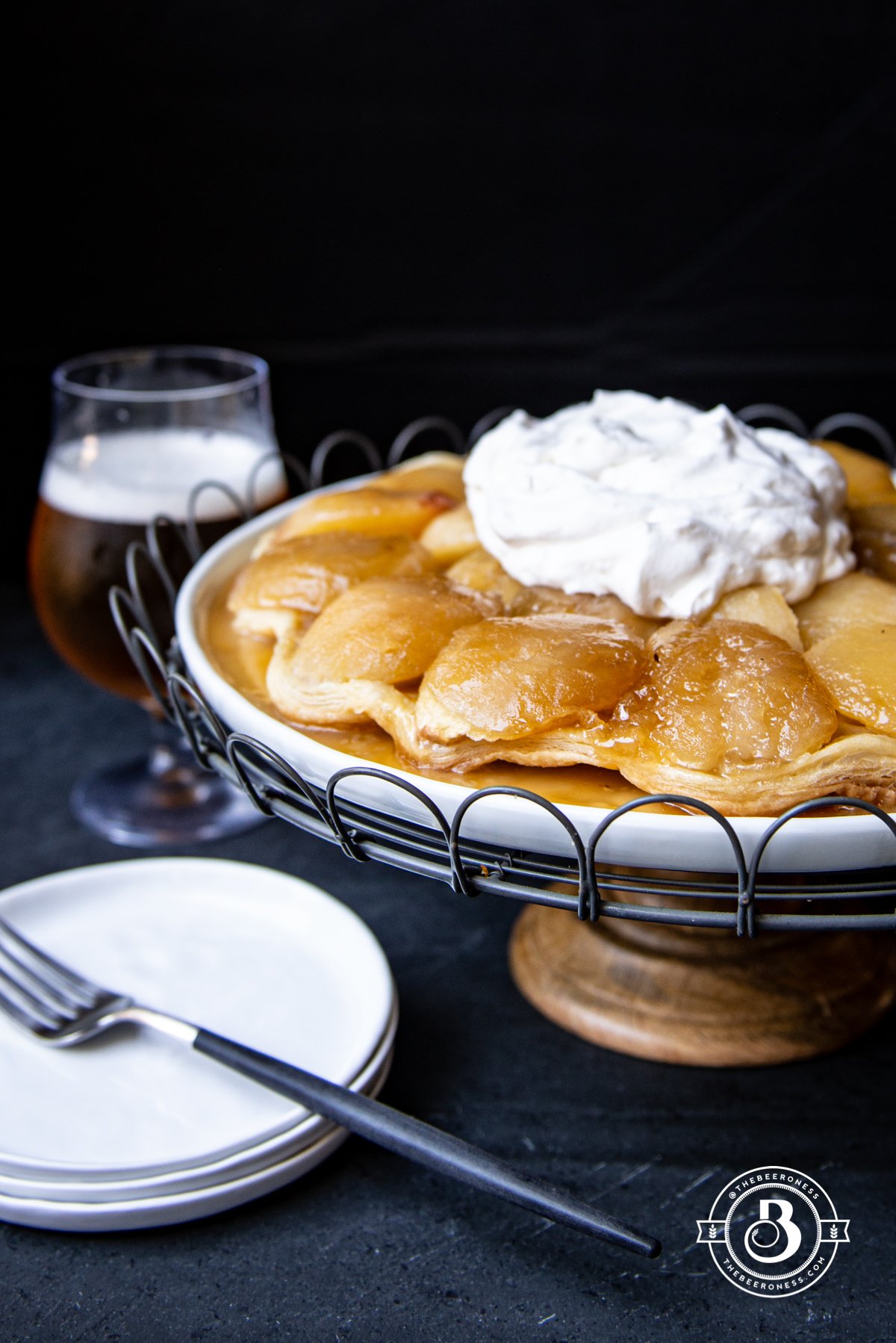 I wish I could tell you what apples I used for this, but I can't. And by CAN'T I don't mean WON'T, because I'd tell you anything, especially after a few beers.
But these apples came from my backyard apple tree of unknown origin. The Apple Tree of Resentment, as I call it. It's huge (obviously, it's an apple tree) and it spits apples all over my backyard all day long for months creating a squirrels buffet all over the ground. I hope you're not a squirrel enthusiast, I am not. They are rodents, they are rats with better branding, they are horrible and I hate them. Because of said tree, they love my yard and while they are here for a visit and a quick chat with their friends, they also eat all the other plats in my yard. Hence the resentment. Obviously, I needed to turn my feelings for this tree around before I went full Kill Bill on it.
It turns out, Resentment Tree has some pretty great baking apples. They are average eating apples, but they bake up really well. Baking apples need to stay firm after a long soak in a hot oven, not all apples can do this. Anything that ends in "delicious" should never be baked, they will fall apart and you will now have a Mush Apple Sauce Tart. Great for all of you who lack teeth, but not exactly what I had in mind.
If you don't have an Apple Tree of Resentment in your yard, congrats. Pick an apple, like a Granny Smith, that has a nice tartness and will hold shape once baking. And tell the squirrels to pick up after their parties, it's getting really annoying.
Beer Caramelized Apple Tarte Tatin with Maple Whipped Cream
Ingredients
For the tart:
½

cup

(100g) white sugar

½

cup

(100g) brown sugar

½

teaspoon

salt

¼

cup

(2oz) beer

¼

cup

(56g) unsalted butter, cut into cubes

3

pounds

Honeycrisp or Granny Smith apples peeled

cored, quartered

1

frozen puff pastry sheet
For the whipped cream:
1

cup

whipping cream

3

tablespoons

real maple syrup
Instructions
Preheat oven to 425°F

In a pot over high heat add the white and brown sugars, salt, and beer, stir until the sugar has dissolved, stop stirring.

Allow boiling until the mixture turns golden amber-colored. Turn off heat, stir in the butter.

Add the apples, rounded side down to a 9-inch skillet or deep-dish pie plate in overlapping concentric circles.

Pour the caramel over the apples.

Roll the puff pastry out on a lightly floured surface, cut a circle the size of the skillet.

Place the pastry circle over the apples, tucking the edges between the apples and the edge of the skillet.

Bake for 25 minutes or until the puff pastry is golden brown.

Remove from oven and allow to cool for 1 hour before inverting onto a serving plate.

Add all the whipped cream ingredients to a bowl, mix with a hand mixer on high until soft peaks form. Top the tart with whipped cream before serving.