Tandoori Beer Lamb Wraps with Mango Mint Salsa and Harissa Feta Sauce
Tandoori Beer Lamb Wraps with Mango Mint Salsa and Harissa Feta Sauce
Do you remember the first time you had lamb? or Naan? Maybe you don't, that's ok. Maybe you grew up traipsing around the Middle East, or with parents who would regularly bring home take out from exotic places. I did not.
My mom's idea of international cuisine was Taco Bell and Costco Lasagna. The good part of this (other than the fact that mom was able to feed 8 kids on a small income, thanks mom!) is that I have very, very clear memories of the first time I had the foods most people grew up with at least a passing experience with.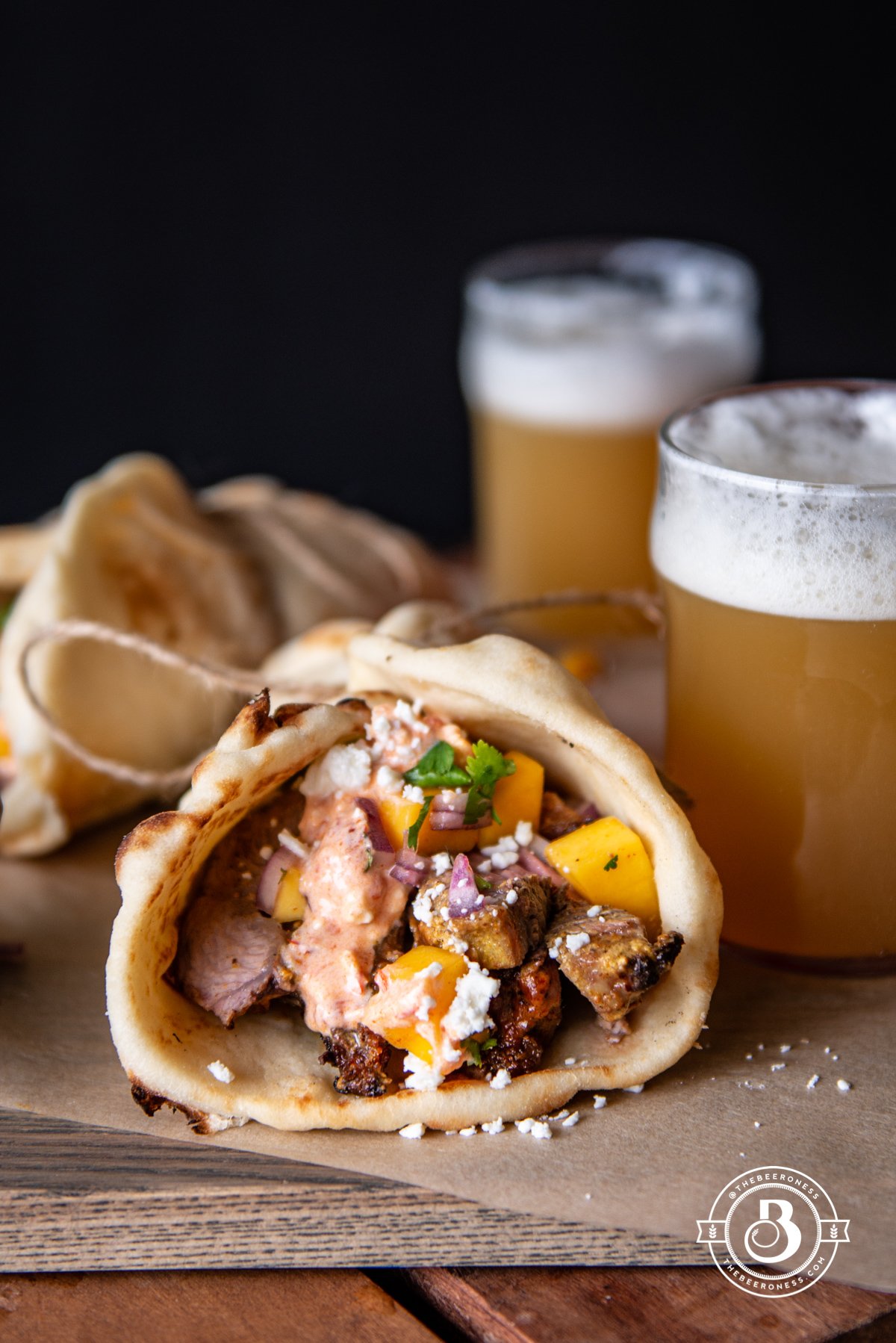 Prior to eating Naan for the first time, when I was 19-years-old, I actually said this sentence: "What do you mean NON-bread? Like, it's not bread?"
I know. I KNOW. THAT girl grew up to write cookbooks. I suppose anything is possible. But that meal I had, of naan and tandoori lamb, in a small restaurant in Pasadena, taught me that I love curry, and I love new food. It really inspired me to try things, all things, whenever I could. Sure, there were misses, lots of them. Restaurants I'd never revisit, terrible meals, poorly executed dishes, but in spite of that, I wouldn't change a thing I've eaten. You just have to go out, try things, see what sticks. You can't find what you love without finding things you don't. But it's always worth the trip.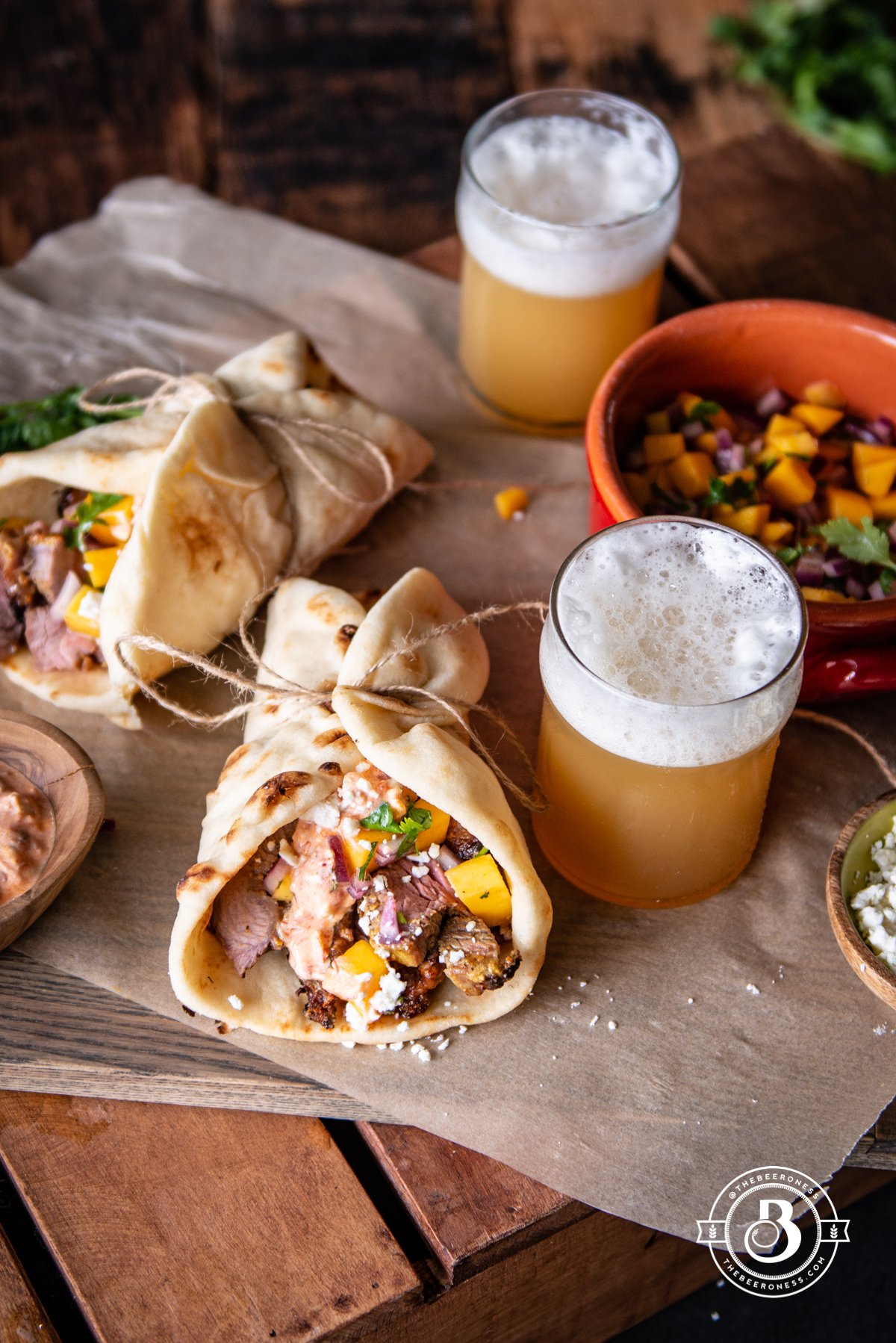 Tandoori Beer Lamb Wraps with Mango Mint Salsa and Harissa Feta Sauce
Ingredients
For the lamb:
2

lbs

boneless leg of lamb

½

cup

(113g) Greek yogurt

¼

cup

(58g) pale ale or IPA beer

2

tablespoons

(28g) lemon juice

2

large garlic cloves

grated with a Microplane

¼

teaspoon

ginger

grated with a Microplane

2

teaspoons

salt

1

teaspoon

garam masala

1

teaspoon

sweet paprika

½

teaspoon

ground cumin

½

teaspoon

turmeric

¼

teaspoon

ground cardamom

¼

teaspoon

dry mustard

pinch

ground cloves

pinch

cayenne
For the harissa sauce:
¼

cup

(56g) Greek yogurt

1

tablespoon

(15g) harissa

1

tablespoon

(14g) lemon juice

½

teaspoon

salt

2

tablespoons

feta
For the mango mint salsa:
1

medium

red mango

diced

½

large

red onion

diced

¼

cup

chopped cilantro

2

tablespoons

chopped fresh mint

1

tablespoon

(14g) lemon juice

¼

teaspoon

salt

¼

teaspoon

cayenne pepper
For the wraps:
4

pieces

Naan bread

Additional feta and cilantro

optional
Instructions
Add a long sheet of plastic wrap on a flat surface. Add the lamb to the center, fat side up.

Score the lamb in a diamond pattern on the top, just cutting through the fat layer.

In a medium-sized bowl stir together all of the remaining lamb ingredients.

Pour the mixture over the lamb. Gather up the plastic wrap and wrap the lamb tightly, using additional plastic wrap if needed.

Refrigerate for 1 hour, and up to 24 hours.

Preheat the oven to 400°F.

Remove lamb from plastic wrap, place the lamb on a wire rack over a baking sheet, place in the bottom 1/3 of the oven.

Roast until the internal temperature of the lamb is 135°F in the thickest part (use an oven-safe meat thermometer if possible), about 45 to 75 minutes. Remove from oven, allow to rest for 5 to 10 minutes (internal temp will rise to 140°F while it rests) before slicing into ½ inch strips.

In a small bowl, stir together all the mango salsa ingredients, set aside.

In a separate bowl stir together the harissa sauce ingredients, set aside.

Divide the lamb evenly between the four naan pieces. Top with desired amount of salsa, harissa sauce, and additional fetta and cilantro (if using). Serve immediately.