Beer Brined Lamb Chops with Herb Sauce over Fried Goat Cheese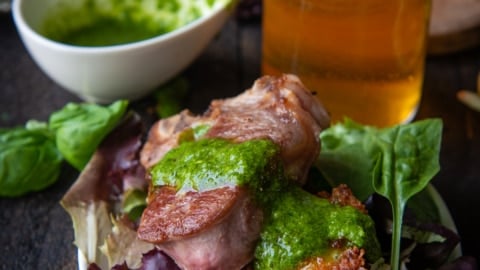 Beer Brined Lamb Chops with Herb Sauce over Fried Goat Cheese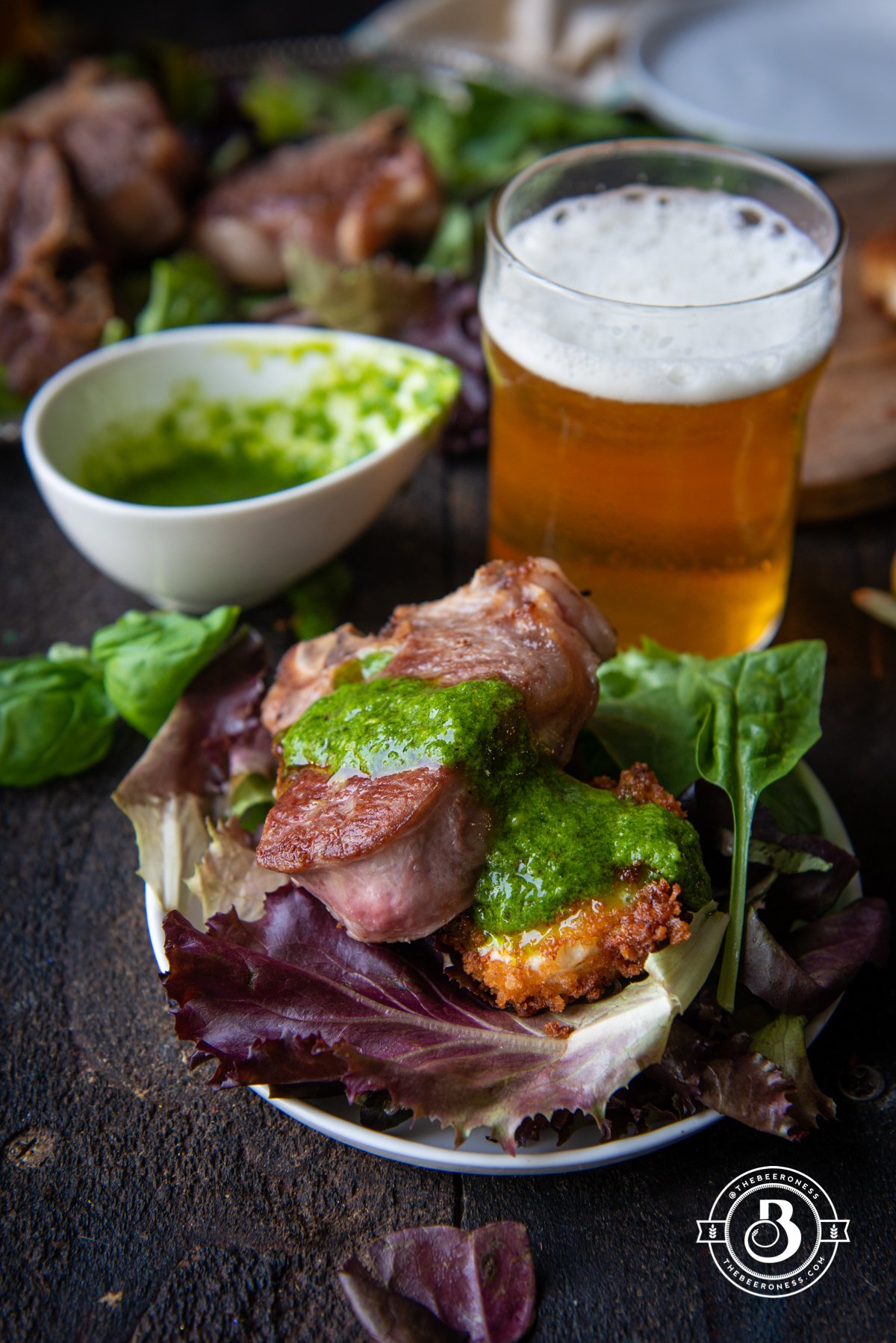 Let's say you made a playlist, but for food. Except I'm going to call it a mixed tape because it makes me happy. On my Mixed Tape of Food I would have to include goat cheese. You can't have complete dishes on your Mixed Tape, because I make the rules and I said so, just ingredients. It's a list of foods that make you happy and you always seem to get just a little more excited about a meal when it includes said food. Those hit words you read on a menu that makes you realize that you don't just want to order the dish, you need to.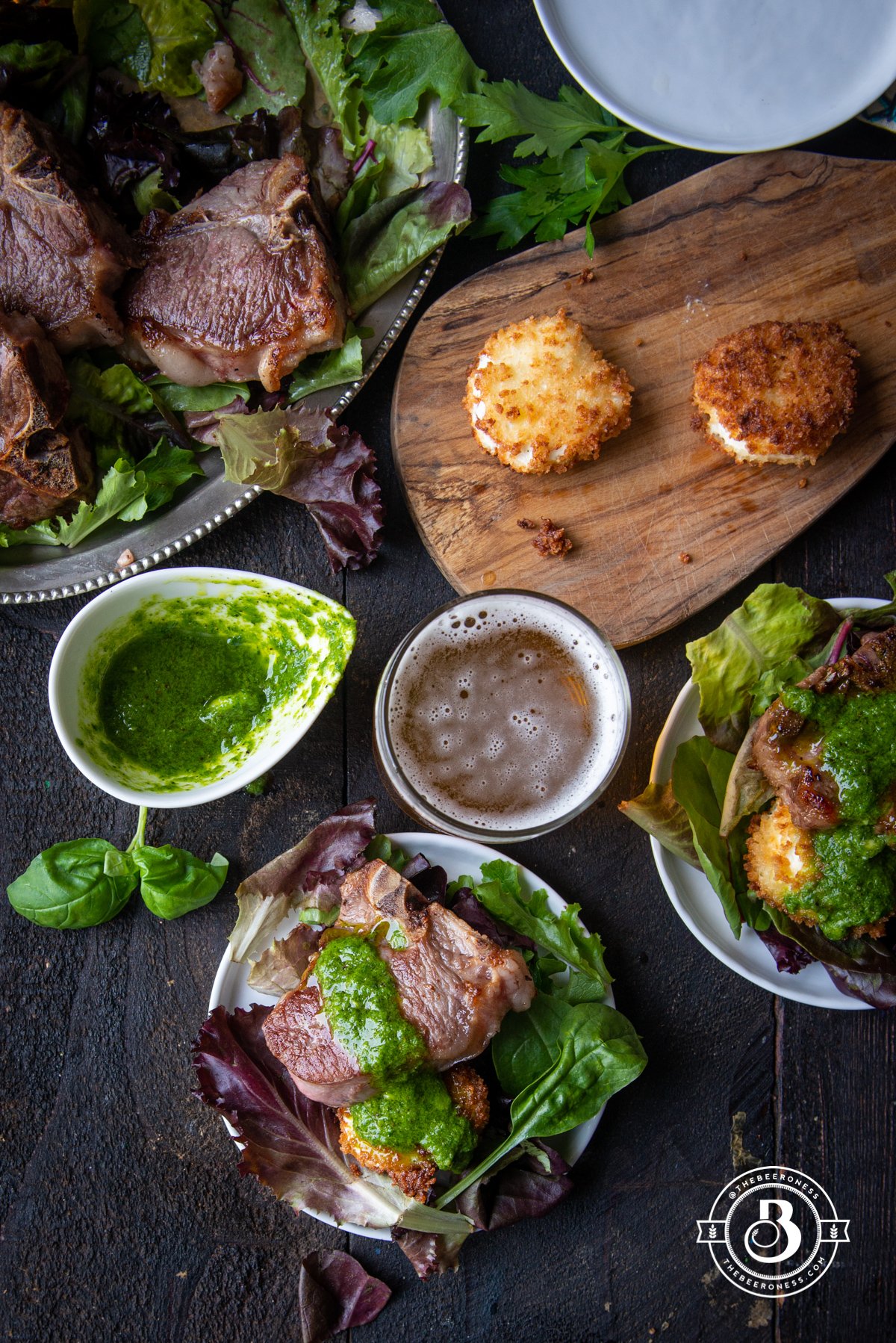 I'd add in some fresh English shelling peas, Bing cherries, yellowtail, and potatoes because Papas Rellenas and gnocchi, this gives us 5 tracks and I'm pretty sure we need to stop at 12. This is when it gets harder, it's down to the last few spots. Salted caramel makes the list, and so does burrata and capicola. This leads us to short ribs and lamb.
So now, anytime you're at a restaurant and you look at the menu, you will probably be able to guess what I'd order. Just don't forget to order me a beer, you know I want one of those, too.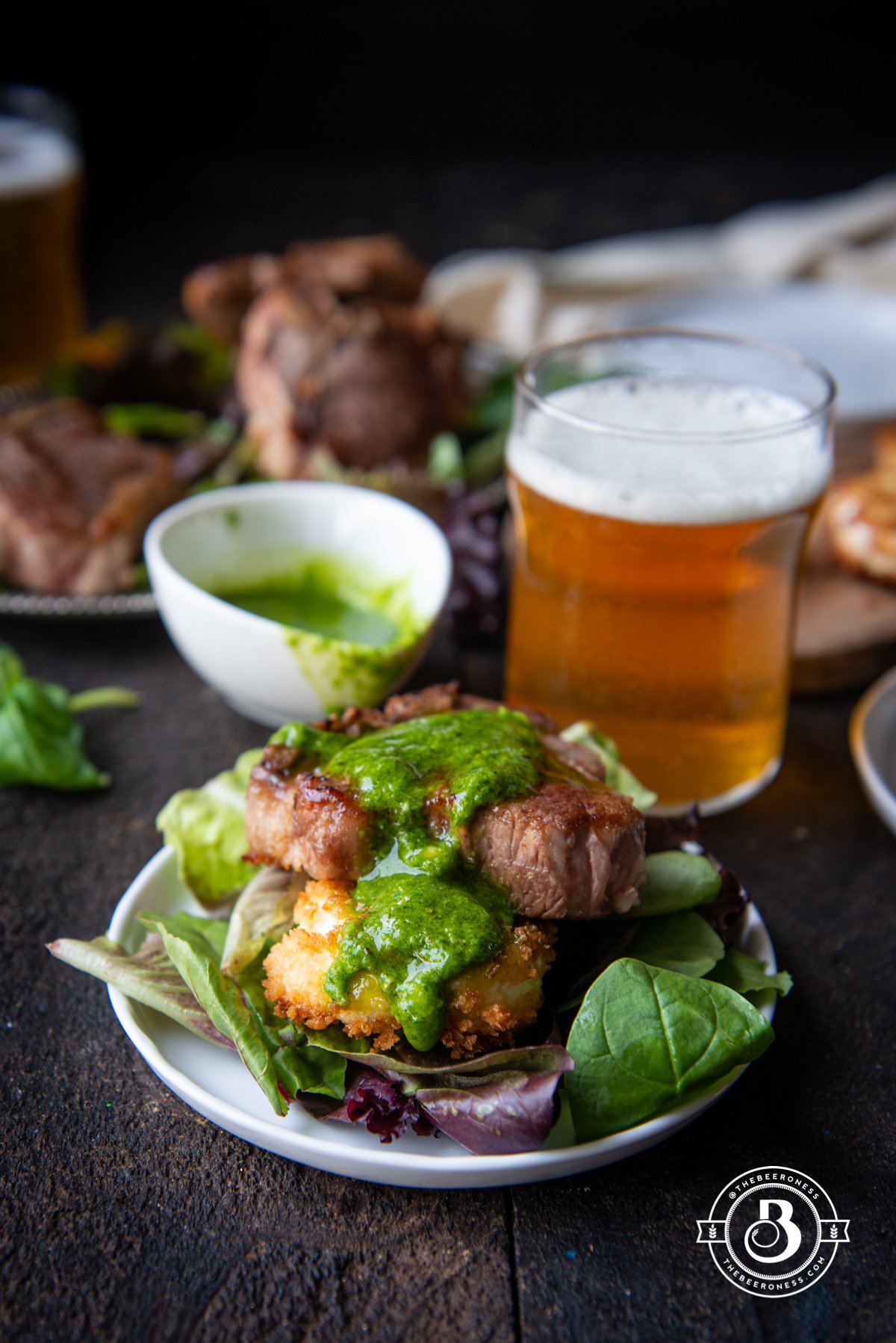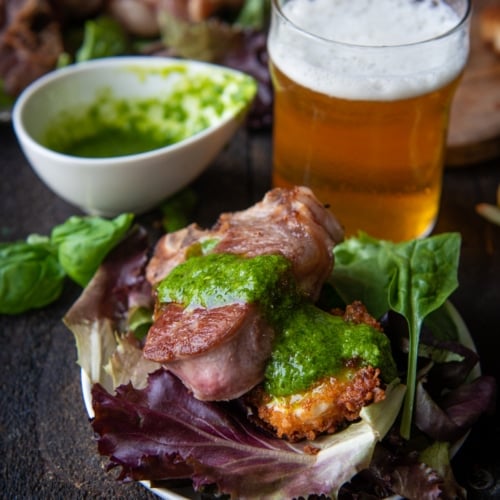 Beer Brined Lamb Chops with Herb Sauce over Fried Goat Cheese
Ingredients
Lamb chops:
12

ounces

beer

pale ale, pale lager, wheat beer

4

lamb loin chops

2

teaspoons

salt

2

cloves

garlic

minced

3

tablespoons

olive oil

8

cups

mixed greens
Goat Cheese:
4-

ounces

goat cheese

½

cup

panko bread crumbs

1/3

cup

flour

1

egg

3

tablespoons

milk

Oil for frying
Herb sauce:
¼

cup

olive oil

1

small bunch chives

Several sprigs parsley

5-6

large leaves fresh mint

5-6

large leaves fresh basil

2

cloves

garlic

½

teaspoon

salt

¼

teaspoon

black pepper

1

teaspoon

lemon juice
Instructions
Add the lamb to a baking dish or bowl, sprinkle with salt, and minced garlic. Pour the beer over the lamb, cover and refrigerate for 12 to 24 hours.

Slice the goat cheese into 1-inch thick slices. Add to a plate, and freeze for 20-30 minutes.

Add the panko to one bowl, flour to another, and whisk together the milk and egg in another.

Heat about ½ inch of oil in a wide skillet over medium-high heat.

One at a time, dredge the cheese in flour, then in the egg wash, then coat completely with panko.

Add to the oil, frying on each side until golden brown, about 2 minutes per side. Allow to drain and dry on a stack of paper towels.

Heat the olive oil in a pan over medium-high heat.

Remove the lamb from the marinade, dry completely with paper towels.

Add to the hot oil, cooking on both sides until seared on both sides and cooked to 140°F in the center, about 3 minutes per side.

Add all the sauce ingredients to a small blender or food processor, blend on high until well combined.

Divide the mixed greens between 4 plates. Top with goat cheese and lamb, drizzle with sauce.