Irish Beer Brownies With Mint Sour Cream Frosting
This week will be full of recipes for Guinness. Although I will always favor local craft beer, I do harbor a soft spot for Ireland and their World Famous Brewery. Just out of college I scraped together enough money to put myself on a flight from LAX to Dublin.  I landed in Ireland on a drizzly morning, jet lagged and confused. I had no idea where to go, or how to get there. Before I really knew what was happening, I was being dragged though the streets of Dublin by a charming Irishman, clad in a newsboy cap and green wool sweater.  Through his thick accent I was able to discern that he was taking me to a youth hostel at the foot of the Guinness brewery.  Once we arrived at our destination, he said goodbye with a smile and a cheerful wave and he was on his way, leaving me to realized that this kind stranger had walked at least a mile in the wrong direction just to make sure I found a bed for the evening.
Although most of you will be breaking out the famous Irish Stout this weekend, I will be sticking with beer brewed a little closer to home. Rogue Brewery makes several beers that would be perfect for this recipe, including the Chocolate Stout, the Double Chocolate Stout, or even the Hazelnut Brown Nectar, I choose to go with the Mocha Porter although the idea of the Irish Lager almost drew me in.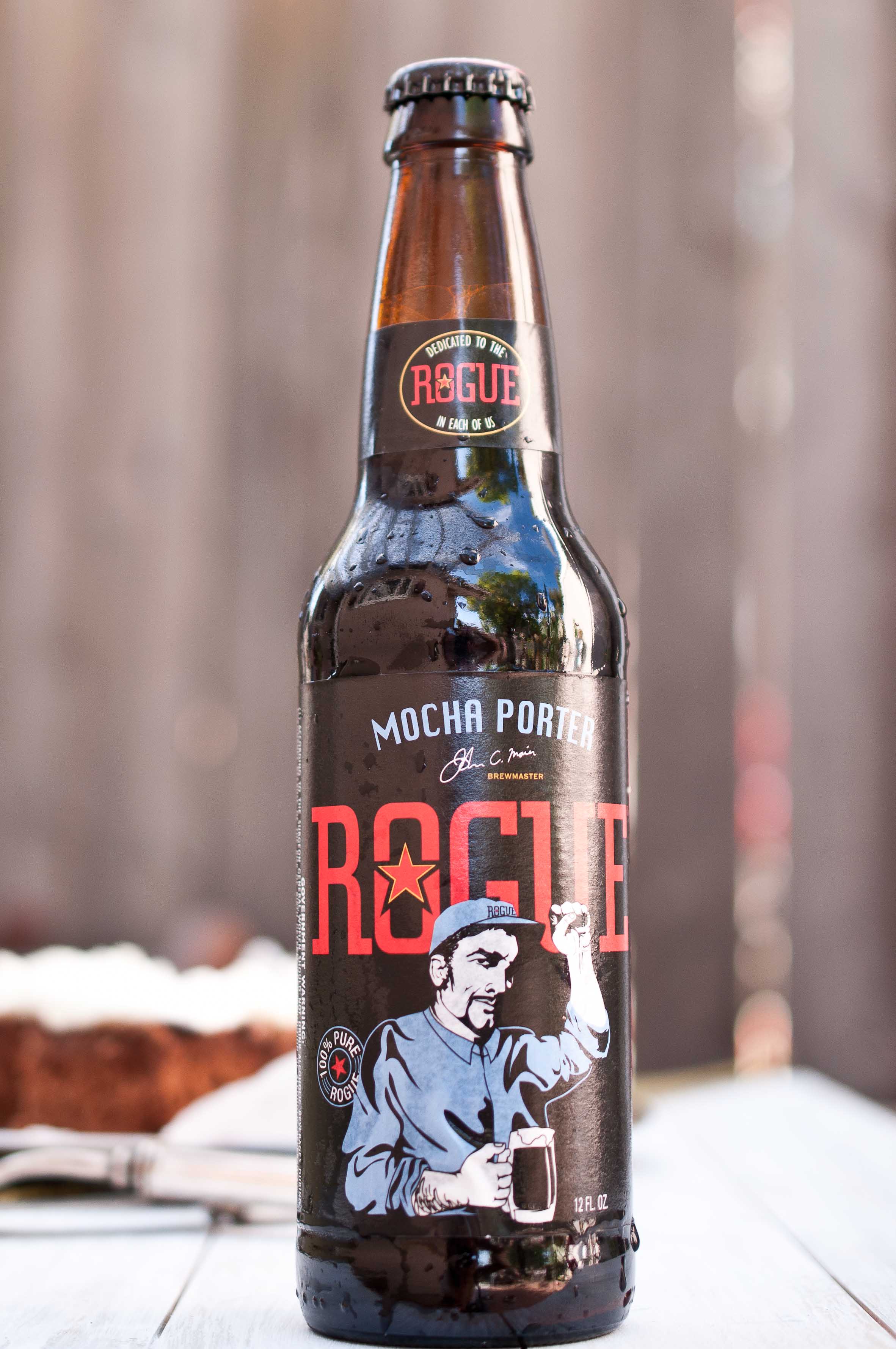 Whatever you decide to consume on St. Patrick's day, just remember:
Good beer does not need green food dye.
Drink well.
Irish Beer Brownies With Mint Sour Cream Frosting
For the brownies:
12 ounces dark beer, such as Rouge Mocha Porter
1 stick unsalted butter
10 ounces dark chocolate
3 whole eggs plus 2 additional egg whites
1 1/2 cups sugar
1 tsp vanilla
1 cup flour
For the Mint Sour Cream Frosting:
2 sticks of butter, softened
1/2 cup sour cream
2 1/2 cups powdered sugar
1/2 tsp mint extract
In a sauce pan over medium high heat, cook the beer until reduced to about 3/4 of a cup, about 10 minutes.
Add the butter, stir until melted. Remove from heat and add the chocolate, stirring until melted, remove from heat and allow to cool slightly.
In the bowl of a stand mixer, add the eggs, additional whites and sugar. Beat on high until very light and frothy, about 5 minutes. Add the vanilla and mix until combined. While the mixer is still on high, slowly add the chocolate mixture in a slow stream. Once about half the chocolate mixture has been added to the egg mixture, dump the remaining chocolate into the stand mixer allowing to mix until combined. Add the flour mixture and stir on low until just combined, don't over mix once the flour has been added or your brownies will be tough.
Generously spray a 9×12 inch glass baking dish with butter flavored cooking spray. Pour the batter into the pan. Bake at 350 for 45-55 minutes or until the surface of the brownies begin to look dry and cracked and a tester inserted into center comes out with a few moist crumbs attached.
Make the frosting:
Softened butter is important to this process. If you use cold butter your frosting will have the consistency of ground beef, but melted butter will give you frosting that is too soft.
Add the softened butter and the sour cream to a stand mixer and beat until well combined. Add the sugar and beat on low until the sugar is mostly mixed in. Add the mint and beat on high until frosting is light and fluff.
Allow the brownies to cool before frosting.