Honey Beer Glazed Salmon with Mango Avocado Salsa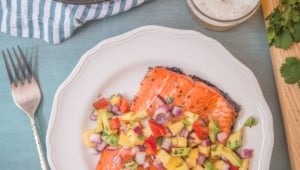 Honey Beer Glazed Salmon with Mango Avocado Salsa
I need this, it's rather necessary. Since I spend my life contractually obligated to drink beer and eat foods like this and this, I need recipes like this Salmon with Mango Avocado Salsa. For the sake of my liver and my skinny jeans, it's important. But I can also act like a spoiled child when it comes to food and really need something that tastes fun and indulgent.
So I make these recipes that I get really excited about and hope that I don't notice that it's also rather healthy, much in the same way you smuggle cauliflower into your toddler's mashed potatoes and hope they don't notice. I do this with myself, I'm really good it. I don't even notice that I've made a healthy meal because I got so excited to make it in the first place.
I know, it's ridiculous. But I have to do what I can before my liver figures out how to call the cops on me for widespread abuse.
Honey Beer Glazed Salmon with Mango Avocado Salsa
Ingredients
For the Salmon
4

salmon fillets

¼

cup

85g honey

½

cup

115g pale ale beer

1

teaspoon

6g salt

1

teaspoon

1g red pepper flakes
For the salsa:
1

large mango

peeled, pitted and diced

1

large avocado peeled

pitted and diced

½ 1

large red onion

diced

1

jalapeno

diced

1

red bell pepper

seeded and diced

¼

cup

cilantro

chopped

2

tablespoons

lime juice

1

teaspoon

salt
Instructions
Add the honey, beer, salt, and pepper to a wide, shallow bowl. Stir to combine (heat slightly if the honey is resisting combining with the beer. Make sure to cool before adding salmon to prevent the marinate cooking the salmon).

Add the salmon, turn over a few times to fully coat the fish. Cover and chill for 1 to 24 hours.

Preheat the grill to medium-high.

Add the salsa ingredients to a large bowl, toss to combine.

Place the salmon on the grill, skin side down. Close the cover, cooking until the salmon is cooked through (no need to flip over, the salmon will cook with the grill cover closed).

Remove from grill, add to a serving plate. Top with salsa before serving.