Thai Chili Stout Beef Skewers with Chili Ginger Dipping Sauce
Thai Chili Stout Beef Skewers with Chili Ginger Dipping Sauce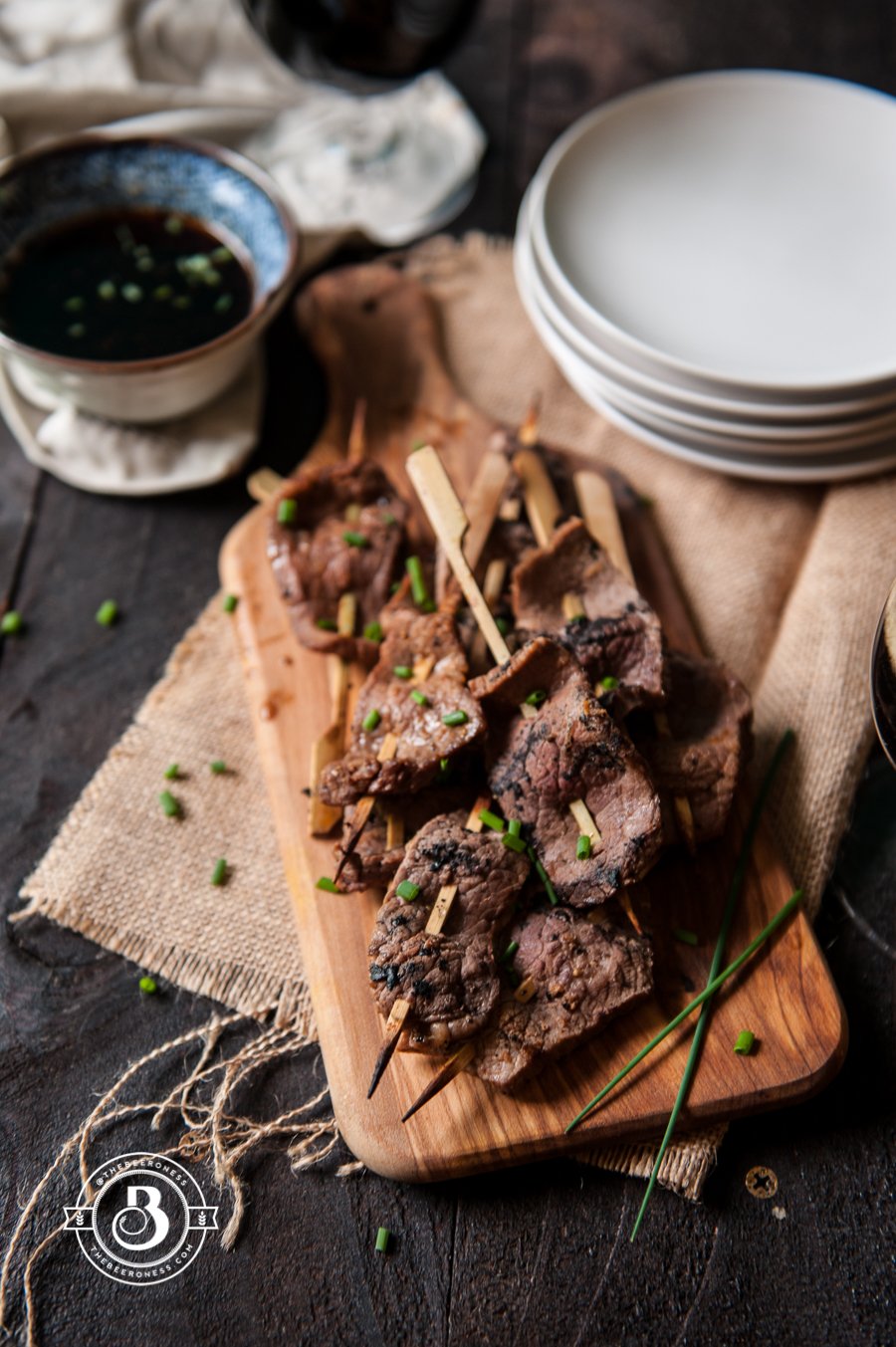 There are firsts that we lose quickly, gone into the recesses of our minds. Like pearls from a broken strand scattering across the floor, gliding under furniture and into corners. The firsts that I do remember are never more important than those that I've lost, it seems like a roll of the dice what sticks and what slides away.
The first time I had a stout is a stuck memory. I was 21 and it was 8 am. I'd taken a job as a waitress at a mediocre chain brewery in Los Angeles. Part of my orientation was a beer class. At 8 am. On an empty stomach. A few flights of seasonal beers later and I was drunk. Giggly and failing in my attempts to keep that secret to myself.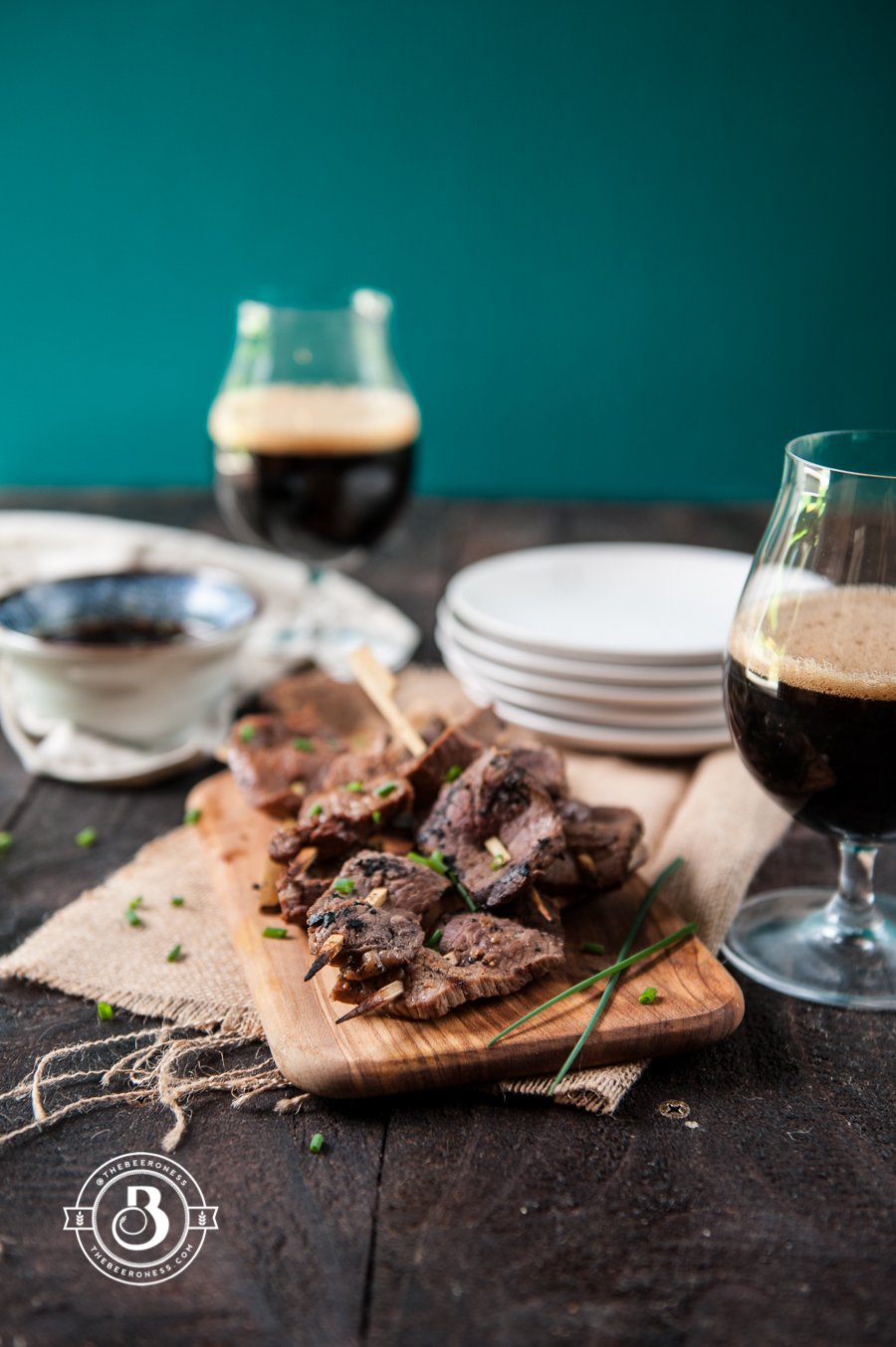 Next came a flight of darker beers: stouts, porters and brown ales all lined up on a wooden paddle. I was determined just to take a sip of each to avoid drunk turning into sloppy. I was convinced that I didn't like dark beers, assuming that they were too big and bitter.
The first sip, I was hooked. The beer was creamy, slightly sweet, roasty, and mellow. "What is this?" My attempt at staying quite came out in a loud drunken slur as I shushed by the bar-back-in-training sitting next to me.
"IT'S REALLY GOOD. WHY DIDN'T I KNOW THAT STOUTS WERE GOOD. I'M DRUNK." I have a strange habit of announcing my drunkenness, as if it'll come as a shock to those around me.
The guys teaching the class had me gently removed, escorted to a couch in the lobby with a pitcher of water. "It's really good. I like it a lot. Are they all good or just this one?" The brewery assistant that was in charge of handling me looked over his shoulder to make sure we were alone, "Honestly, it's not that good. It's fine. It's adequate. But there are much better stouts out there. You're just drunk, and you obviously don't have that much beer experience."
I was both offended and intrigued. If a mediocre stout was that good, what does a good one taste like? Turns out, he was right. My first stout was just OK, memorable but just adequate. The way a lot of firsts are.
I've forgotten hundreds of much better stouts since then, lost in my memory. Stouts will always be one of my go-to styles, although I'm much better at handling a few flights at a brewery now. Even if I still announce to the world when I'm drunk.
Thai Chili Stout Beef Skewers with Chili Ginger Dipping Sauce
Ingredients
Skewers:
½

cup

imperial stout

2

tbs

soy sauce

¼

tsp

fresh ginger

grated with microplane

1

large clove garlic

grated with microplane

1

tbs

hot chili oil

1

tbs

lime juice

1

lbs

thin cut beef

sliced into 1 inch strips

1

tsp

fresh black pepper

1

tsp

salt
Dipping sauce:
¼

cup

soy sauce

1

tbs

honey

2

tsp

hot chili oil

¼

tsp

fresh ginger

grated with a microplane

½

tsp

black pepper
Instructions
In a large bowl stir together the stout, soy sauce, ¼ tsp ginger, garlic, 1 tbs hot chili oil, and lime juice.

Add the beef, cover and allow to stand at room temperature for 30 minutes.

Thread onto metal skewers or pre-soaked wooden skewers.

Salt and pepper on all sides, brush liberally with marinade.

Grill: preheat the grill to medium high. Grill on both sides until cooked to your desired degree of doneness, about 3 minutes per side for medium.

Oven: preheat the broiler of the oven. Place a wire rack over a baking sheet, spray with cooking spray. Place the skewers on rack, place under the broiler for 6 minutes, turning once half way through.

In a small bowl stir together the remaining soy sauce, honey, chili oil, ginger, and black pepper (can be made a day ahead of time).

Serve skewers with dipping sauce.
*hot chili oil
is sold in the Asian section of the grocery store or can be bought online.